Donald Trump has left America's word worthless on the international stage
President has pulled US out of Paris climate accord - with Nafta and Iran nuclear deal to follow - and risked war with North Korea in dangerous game of brinkmanship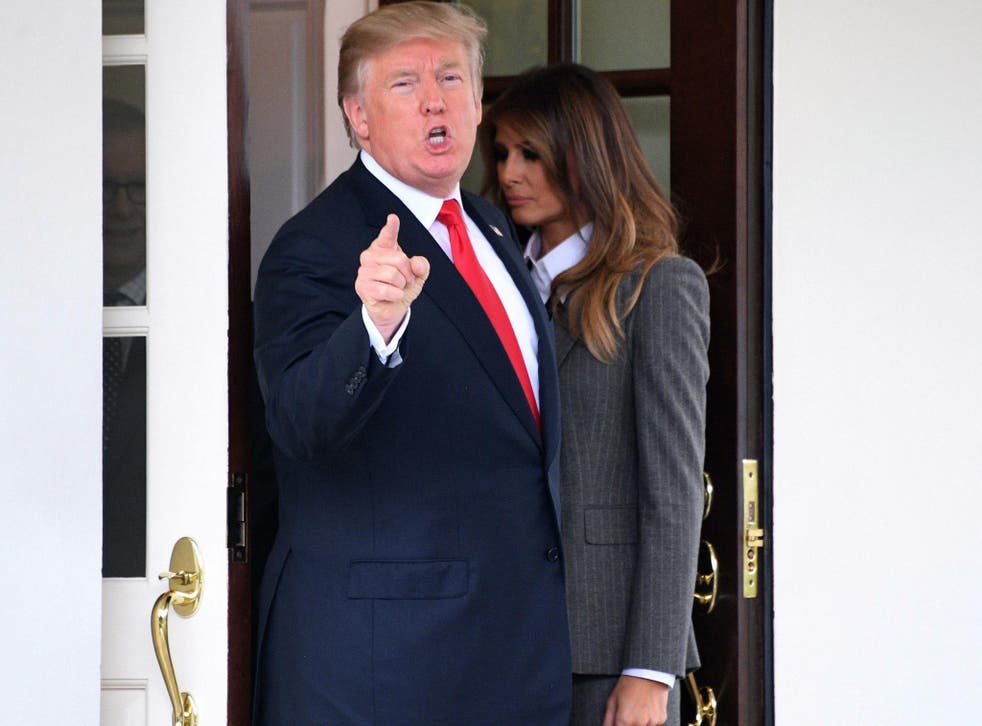 Donald Trump likes to say that no President in American history accomplished as much in as short a time as he has, and in a few ways, he's actually right. What other President could say that in less than nine months, they did this much damage to the future of American diplomacy?
Congratulations, Mr President: America's word is now practically worthless. And the damage will persist even after you're gone.
Trump has already pulled us out of the Paris climate accord, which was agreed to by nearly every country on earth. It's looking like he might pull out of Nafta. Perhaps most dangerous of all - and against the obvious wishes of his entire national security team - he's moving toward pulling out of the agreement we made in cooperation with China, Russia, Great Britain, France, Germany and the EU to restrain Iran's nuclear weapons programme. For the moment he is withholding certification of the deal and has proclaimed that it's not in America's interest as he sees it. Whether he pulls out completely will likely be a matter of how good his aides are at restraining his more lunatic impulses.
If the Iran deal collapses, there will be little reason for Iran not to restart that weapons programme, the result of which would be either them becoming a nuclear power or the possibility of another Middle East war to stop it from happening. But it goes beyond that. Imagine that you're Kim Jong-un, watching all this happen (as he most certainly is). What is the lesson you would take from seeing one American administration painstakingly negotiate an international nuclear deal, and then the next administration waltz in and toss it aside on the whim of its infantile new president, despite the fact that not only international observers but his own aides attest that Iran is complying with the terms of the deal?
There would be only one reasonable conclusion: America doesn't keep its promises, and there is no point in negotiating with them to give up your own nuclear weapons.
On the Sunday shows, administration officials were asked what North Korea ought to make of President Trump's actions, and with pained faces they struggled to come up with an answer that didn't sound completely nonsensical. Here's how UN Ambassador Nikki Haley responded to the question on Meet the Press:
"What we're saying now with Iran is don't let it become the next North Korea. So what this says to North Korea is, 'Don't expect us to engage in a bad deal. And also, if at any point we do come up with something, expect us to follow through with it. Expect us to hold you accountable. You're not just going to have a free-for-all.'"
Secretary of State Rex Tillerson got asked the question on CNN's State of the Union and delivered the same line:
"I think what North Korea should take away from this decision is that the United States will expect a very demanding agreement with North Korea, one that is very binding and achieves the objectives, not just of the United States, but the policy objectives of China and other neighbours in the region, a denuclearised Korean Peninsula. We intend to be very demanding in that agreement. And if we achieve that, then there will be nothing to walk away from, because the objective will be achieved."
So the idea here is that North Korea is going to see the steps this administration is taking with Iran and not say, "There's no point in signing an agreement with the United States, because they might just walk away from it," but instead they'll say, "Wow, those Americans sure are tough about making sure other countries stick to the agreements they make. We should start negotiating with them immediately!"
Haley and Tillerson are obviously not stupid enough to believe that, and I doubt they're even stupid enough to think that anyone watching would believe it, either. The only person who could possibly believe it is the one who's actually making the decision.
I've been arguing for some time that Donald Trump has a conception of "deal-making" that is fundamentally unsuited to politics, both domestically and internationally. In Trump's career as a businessman, he came to believe that all deals are zero-sum. They have a winner and a loser, and if you're not the former than you're the latter.
The measure of a "good deal" is whether you came out ahead and the other guy lost his shirt. In practice that meant running a series of scams, his assumption being that there were always more marks out there who only knew about his celebrity and didn't realise how he actually did business. He could stiff contractors or set up a sham university selling real estate "secrets," and no matter how angry those who got conned were, there would still be suckers lining up for the next grift.
But that's not how it works in politics. The number of potential partners for deals, whether it's members of Congress or other nations, is finite. And they all know what you did last time. Each potential deal is affected by what happened in the deal before it, and trust is absolutely vital.
But it goes even farther. When you're President, the deals you make will be affected by the deals your predecessors made, and this is where the long-term damage becomes evident. After Paris and (perhaps) Nafta and Iran, it isn't just that other countries won't be willing to sign an agreement with Donald Trump. They may not even be willing to sign one with the next President.
As a friend pointed out to me Monday in an email, when Barack Obama was elected, there was a gigantic sigh of relief around the world, as though the aberration of the George W. Bush presidency was over and now the United States' role as a force of moral authority and stability would be restored. But now it looks to the world like Obama was the aberration, an interregnum of reason and restraint before the US elected another President who would be a force of chaos and instability.
Donald Trump's least presidential moments so far...

Show all 30
So imagine if a Democrat wins the White House in 2020, then tries to restore America's place of leadership, which could involve agreements both with allies and adversaries. It would be perfectly rational for potential partners to say, "We accept your good faith, but how do we know that in four years your country won't elect another ignorant halfwit TV personality who will cancel this agreement?"
I wish there were a good answer to that question.
The Washington Post
Register for free to continue reading
Registration is a free and easy way to support our truly independent journalism
By registering, you will also enjoy limited access to Premium articles, exclusive newsletters, commenting, and virtual events with our leading journalists
Already have an account? sign in
Join our new commenting forum
Join thought-provoking conversations, follow other Independent readers and see their replies