Rex Tillerson and 'Mad Dog' Mattis are fine appointments to Trump's cabinet – precisely because of their questionable pasts
While the soundbite examples from his picks make one shudder, they also tend to distract attention from the fact that many of them have had extraordinary achievements in their careers outside politics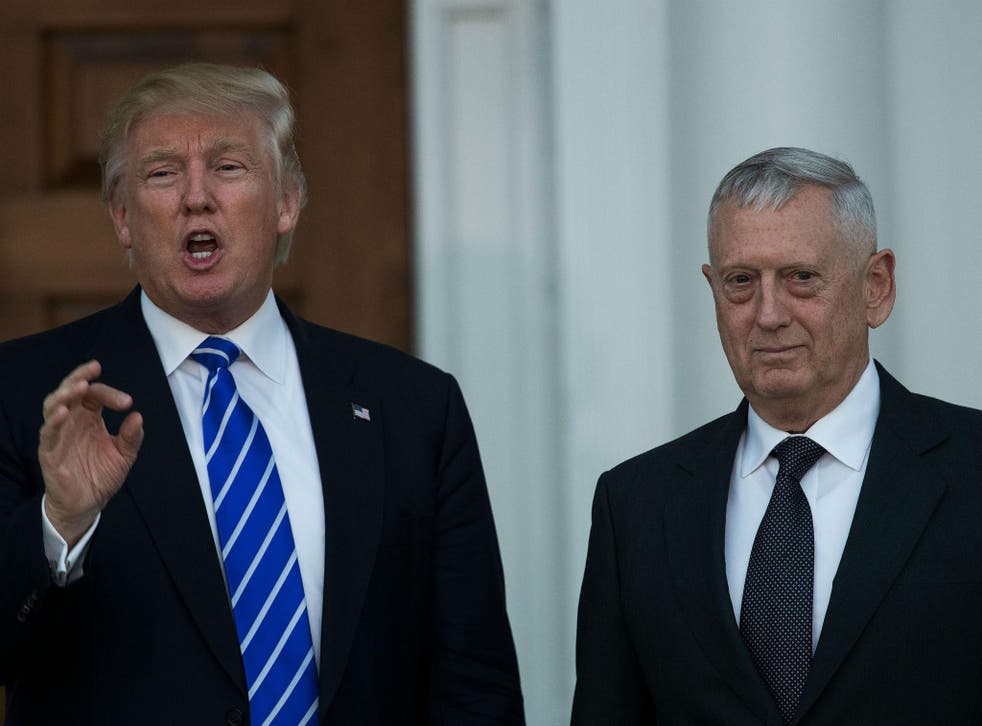 People have been free with their criticisms of President-elect Trump's nominations for his cabinet. To give just two examples out of many: Steve Bannon, the chief strategist to be, has been accused of pushing racist, sexist, xenophobic and anti-Semitic material on his far-right news and opinion website, Breitbart. And coming to terms with some advice said to have been once offered by James Mattis, the retired Marine Corps general who is nominated as secretary of defence, isn't easy: "Be polite, be professional, but have a plan to kill everybody you meet."
Actually I think that must have been meant as a joke.
While these examples make one shudder, they also tend to distract attention from the fact that many of the nominees have had extraordinary achievements in their careers outside politics. Indeed it is one of the merits of America's constitutional arrangements that the president can invite whom he or she likes to join the cabinet. In Britain's parliamentary system, on the other hand, cabinet members have to belong to the House of Commons or the Lords. They are professional politicians. Unlike, obviously, General Mattis.
US President-elect Donald Trump says Paul Ryan 'is like a fine wine'
A great fuss has also been made about the proposed appointment of Rex Tillerson to be secretary of state. He is chief executive of ExxonMobil, the oil company that is the sixth largest business in the world. That Tillerson joined Exxon as a production engineer in 1975 and 29 years later had become president, responsible for 84,000 employees, suggests that he is somebody of considerable ability.
Yet he has this supposed fault – friendship with President Vladimir Putin of Russia. I find it hard to see this as reprehensible. Tillerson first met Putin when he was representing Exxon's interests in Russia during Boris Yeltsin's time as president. Since then it is said that Tillerson has had more interactive time with Vladimir Putin than probably any other American, with the exception of Dr Henry Kissinger.
But given that Putin makes all the important decisions in Russia, what was Tillerson to do, stay away from the Kremlin? As it happens, in 2011, Tillerson signed an agreement with Russia for drilling in the Arctic that has been valued at many billions of dollars. It led to the discovery of a major new oil field. So in 2013, Putin awarded Tillerson the Order of Friendship. What exactly is Tillerson's fault here? Going to Russia in the first place? Seeking out the people with influence so far as the awarding of oil drilling rights is concerned? Finding out that to succeed acquaintanceship with the President would be necessary? Achieving that?
Women go on strike against Donald Trump

Show all 7
General Mattis is equally formidable and, despite the quotation attributed to him above, has an extraordinary backstory. Admittedly I have been disposed to admire the US marine corps ever since I read a book by a decorated former officer, Donovan Campbell, called The Leader's Code: Mission, Character, Service and Getting the Job Done. Mattis seems to have exemplified the leader's code.
More than that, he seems to have been an eccentric in uniform. He is said to have carried a copy of the Meditations of Marcus Aurelius throughout his deployments. Mattis's own library is said to comprise 7000 volumes and he was wont to give his subordinates compulsory reading lists. His officers had to understand the culture and history of the country where they were stationed. In his last job before retirement, he was responsible for all American military operations in the Middle East, northeast Africa and central Asia.
But as with nearly all Trump's appointments, there is something to explain. In 2004 Mattis was the commander in Iraq at what was known as the Mukaradeeb wedding party massacre in which 42 civilians were killed. According to the report in The Guardian, the military admitted there had been a raid on the village at 3am but said it had targeted a "suspected foreign fighter safe house". "During the operation, coalition forces came under hostile fire and close air support was provided," it said in a statement. Soldiers at the scene then recovered weapons, Iraqi dinar and Syrian pounds (worth approximately £800), foreign passports and a "Satcom radio", presumably a satellite telephone. And Mattis was scathing of those who suggested a wedding party had been hit. "How many people go to the middle of the desert ... to hold a wedding 80 miles from the nearest civilisation? These were more than two dozen military-age males. Let's not be naive". Mattis admitted later that that it had taken him 30 seconds to decide whether to bomb the house.
Now do you want the US secretary of defence to have experience of making brutal decisions in real time? I would say yes.
Register for free to continue reading
Registration is a free and easy way to support our truly independent journalism
By registering, you will also enjoy limited access to Premium articles, exclusive newsletters, commenting, and virtual events with our leading journalists
Already have an account? sign in
Register for free to continue reading
Registration is a free and easy way to support our truly independent journalism
By registering, you will also enjoy limited access to Premium articles, exclusive newsletters, commenting, and virtual events with our leading journalists
Already have an account? sign in
Join our new commenting forum
Join thought-provoking conversations, follow other Independent readers and see their replies