Donald Trump vowed to 'drain the swamp' – yet he uses Air Force One like an Uber
The 'distractor-in-chief' is now being outdone by some of his own staff, with Tom Price resigning after racking up a reported $1m on private flights and Jared Kushner using a private email account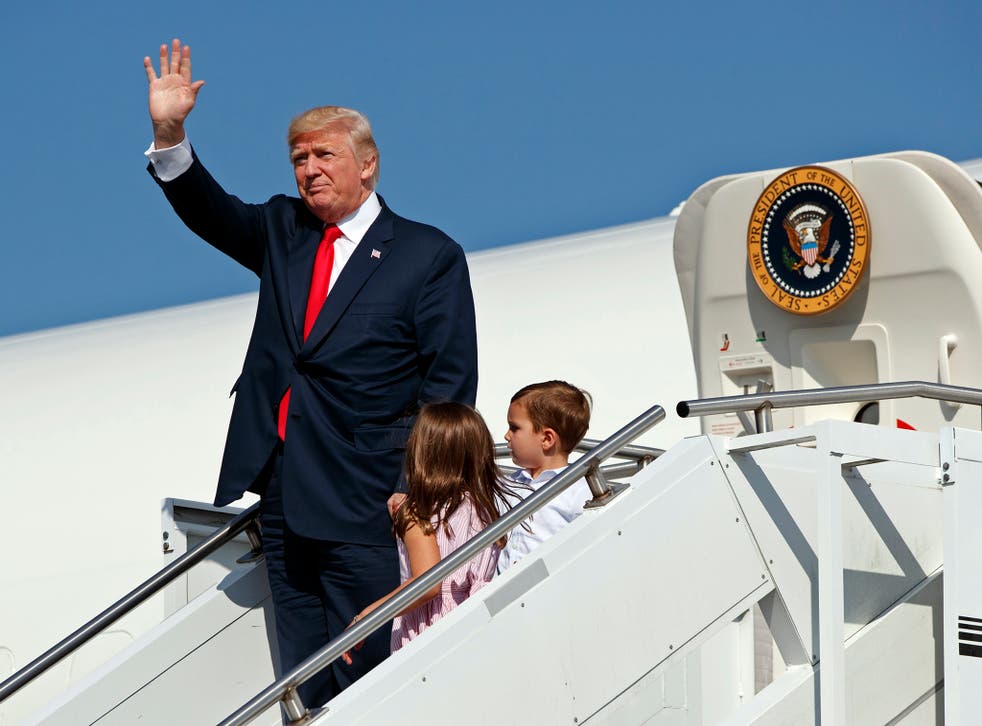 Donald Trump has demonstrated a special skill for diverting our attention from pesky news that threatens his agenda. Even his missile attack on Syria in April was seen by some as an attempt to distract us from a first rush of allegations about contacts between his campaign and Russia. "The distractor-in-chief has struck again," blared one headline in the Washington Post.
As he enters month nine of his presidency, Trump is discovering that his powers of distraction only take him so far. And can even get him into serious trouble (we shall get to Puerto Rico in a moment). Worse is the inevitable reality that other matters have an annoying habit of popping up to distract him. Two cases in point right now: members of his cabinet indulging in unnecessary private-jet travel at mighty cost to the taxpayer and West Wing advisors using private email accounts for government business.
It's tricky to gauge which of these two oopsies is worse. Both scream everything from hypocrisy – what was that about locking up Hillary Clinton? – to what the hell (or something worse).
World news in pictures

Show all 50
Tom Price resigned late on Friday as Health and Human Services Secretary after racking up a reported $1m (£750k) or so for taking either military or private charter flights for his assorted trips when commercial flights – or in one case a train – would have done. We'd been hearing for a couple of days that the President was already livid with him. We aren't privy, though, to conversations he may have had with his son-in-law, Jared Kushner, over the uproar that has erupted over his allegedly using a private email account for months and then failing to divulge the fact to a committee on Capitol Hill investigating Russia and its election meddling.
Price's Gulfstream gallivantings were indeed egregious, much of it unveiled in technicolour detail last week by Politico. He took a $25,000 (£18,700) charter flight from Washington to Philadelphia when he could have ridden the rails for $72 (£54) return. That's like ordering up a Lear Jet to get from Bristol to London. He similarly took private jets to a resort in Georgia where he owns some land and to Nashville, Tennessee, sneaking in lunch with his son. How he thought he'd get away with this is a good question.
Trump promises 'giant, beautiful, massive' tax cut to US firms
It's not that Price didn't have official business at each stop, he did. Speaking at health conferences and whatnot. But there is nothing to indicate why private flights were necessary. Beyond the joy of swivel leather seats at 35,000 feet, finger sandwiches and the absence of any hoi polloi (you know, the voters). It appears that in the short time he was in his job he took 26 private charter flights. We are also now learning that he commandeered military aircraft so he could attend events in Europe, Asia and Africa. For his predecessors, taking commercial flights wasn't a problem.
So, it's not a huge amount of money Price has wasted, in the scheme of things. Compared, for example, to the $1.2bn (£900m) he wanted stripped from the budget of the Centers for Disease Control and Prevention. But that's part of the problem, of course. Price was for years the main evangelist for scrapping Obamacare – too expensive – even if, in Trump's eyes, he was partly responsible for the failure of Congress to make it happen. If your main mission is to cut costs and save public money, it'd be smart to practise a little frugality yourself. And how does all this champagne travel sit with Trump's avowed desire to "drain the swamp" in Washington?
Trump: NFL owners are scared of their players
Price attempted damage control, admitting the error of his high-life ways and offering to reimburse $51,887.31 (£38728.86) from his pocket. That was the exact sum, he claimed, that his seats on the charter flights cost. If the actual bill was much higher it's because he usually took aides with him (oh, and his wife across the Atlantic). "I look forward to gaining, regaining the trust that the American people, some of the American people, may have lost in the activities that I took," Price said in an appearance on Fox News. Well, that won't do him much good, even if he may not be the only one who bent the rules. Also under scrutiny for their champagne travel habits are Environmental Protection Agency Administrator Scott Pruitt and Treasury Secretary Steven Mnuchin.
Trump hadn't exactly set a good example himself, using Air Force One like a flying car service to get him to Mar-a-Lago and other choice properties he owns at weekends. Air Force One is not Uber, though. Just taking that thing out of the hangar once probably cost more than all of Price's little tripettes combined.
Price's goof matters because it is easy for voters to understand. That's their dime paying for the hot towels. The problem Kushner created for himself isn't too hard to grasp either even if the legal questions it raises are murkier. Why did he and, reportedly, four other West Wing aides, think it was OK to use a private email when it wasn't OK for Hillary Clinton when she was Secretary of State? Her private server was the main cudgel Trump used to beat her. Yet there it is. Kushner, who is married to the president's daughter, Ivanka Trump, is accused of setting up a private email account in December so he could communicate with other top Trump officials, including ex-Chief of Staff Reince Priebus. There are statutes that demand that all White House communications become part of the public record. They can't be private.
Donald Trump says battling Atlantic Ocean in hurricane relief is difficult
It is especially problematic if the White House in question is already being investigated for possible wrongdoing. Kushner's predicament possibly worsened with reports that he had omitted to mention the existence of additional email accounts while under questioning about Russia and contacts with the Trump campaign by a Senate investigating committee. "The Committee was concerned to learn of this additional email account from the news media, rather than from you, in your closed staff interview," Senators Richard Burr and Mark Warner, the two leaders of the panel, wrote in a letter sent last week to Kushner's lawyer.
Trump might be wondering this weekend what distraction he can conjure up to distract us from these distractions. But he should be careful with that. His other big problem last week was Puerto Rico and how, when the full impact of Hurricane Maria was coming into view a week ago, he was tweeting endlessly about athletes kneeling during the national anthem to protest racial injustice instead of that. He was distracting the nation and himself from what it should have been focusing on, namely the desperate plight of the 3.4 million US citizens on the island.
It's tricky this distracting business. He'd be better off leaving it alone.
Register for free to continue reading
Registration is a free and easy way to support our truly independent journalism
By registering, you will also enjoy limited access to Premium articles, exclusive newsletters, commenting, and virtual events with our leading journalists
Already have an account? sign in
Join our new commenting forum
Join thought-provoking conversations, follow other Independent readers and see their replies