How Donald Trump could end up accidentally reigniting conflict in the Balkans
The Kremlin specialises in supporting endless violations of UN borders – in Moldova, Georgia, and Ukraine, and backs Belgrade in its demands for Serb nationalist separatism in Kosovo and Bosnia. If Putin asks Trump for a favour in support of Serbia, the West Balkans risks falling back into open conflict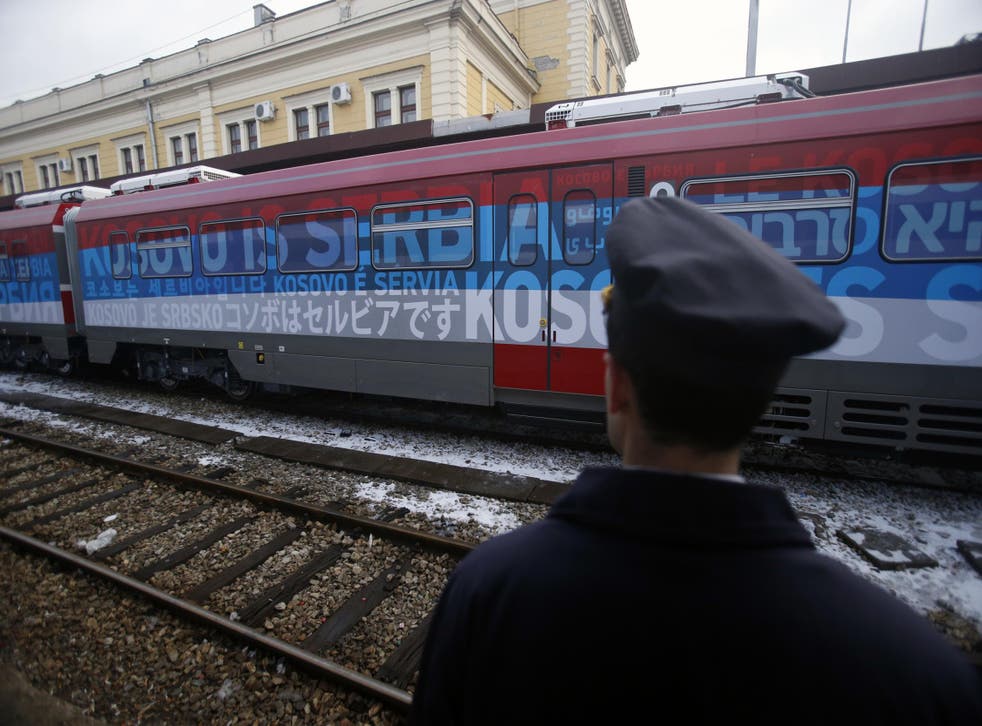 Poor Frederica Mogherini, the EU's Foreign Policy Supremo. As she waits to greet the prime ministers of Serbia and Kosovo in Brussels this week, she must feel as Winston Churchill did in the concluding pages of his history of the First World War when he wrote: "As the deluge subsides and the waters fall short, we see the dreary steeples of Fermanagh and Tyrone emerging once again. The integrity of their quarrel is one of the few institutions that have been unaltered in the cataclysm which has swept the world."
There is something Ulster-like in the extraordinary inability of the Serbs and the Kosovans ever to live one with another. The Serbian prime minister, Aleksander Vucic, says that Kosovo is "the cradle of Serbia", which is like saying "Normandy is the cradle of England" because William the Conqueror came from there and the great medieval battles between the English and the French were fought on Norman fields.
The latest surreal flare-up is over a brand new train which was meant to link Serbia and Kosovo. Instead of making it a moment of reconciliation, the Russian-made train was covered with giant colourful slogans saying "Kosovo is Serbia" in 21 languages, with posters inside it invoking Serb Orthodox saints and heroes.
In pictures: Protests, pomp and Donald Trump

Show all 30
It would be comic book stuff except, for Serb nationalists, it is a deadly serious provocation. As their April presidential elections approach, this is a good way of whipping up voters' fervour by creating yet one more artificial confrontation with Kosovo.
Vucic is two years younger than the Kosovan president, Hashim Thaci, and far removed from the communist-era Milosevic generation. Yet it seems impossible to make a final peace with Kosovo even if the 1998-99 war which saw 900,000 Kosovans fleeing across borders belongs to another century.
The Serbs remain close to their fellow Orthodox believers in Russia and are hoping that President Trump will side with Russia and Serb nationalists against the rest of the region. On the other hand, Trump may know something of the need to escape from rule by Belgrade from his third wife, Melania, who lived in her native Slovenia at the start of the Balkan war decade in 1990.
Certainly, the Kremlin specialises in supporting endless violations of UN borders – in Moldova, Georgia, and Ukraine, and backs Belgrade in its demands for Serb nationalist separatism in Kosovo and Bosnia.
Jack Black compares Trump to Charlie Sheen 'when he was on crack'
But not all the fault lies with Serbia. There is also a strong nationalist identitarian party in Kosovo, called Vetevendosje – Self-Determination. It accuses Thaci and the current prime minister, Isa Mustafa, of betraying Kosovo by agreeing a border with Montenegro which the Kosovan nationalists say means handing over unpopulated Kosovan territory to Montenegro.
Vetevendosje Kosovan nationalists let off smoke bombs in the Kosovo parliament and organise protests that are borderline violent using very similar rhetoric to hardline Serb nationalists.
When the Kosovo government made clear it would not permit the "Kosovo is Serbia" train to enter its territory, the Russian foreign minister, Sergei Lavrov, stoked up the tension by warning of "a new armed conflict" in the region.
It is doubtful if President Trump knows much about Kosovo, though plenty of Republicans like Senator John McCain and former Vice President Bob Dole, whom Thaci met on a pre-inauguration trip to Washington, are firm supporters of Kosovo and close to the large American-Albanian diaspora.
But if Putin asks Trump for a favour in support of Serbia, the West Balkans risks falling back into open conflict.
Can Fredrica Mogherini bang heads together? The European Bank of Reconstruction and Development is putting €9.5bn into the west Balkans and its president, Sir Suma Chakrabarti, says "firms will one day re-open Kosovo's shuttered factories and build new plants to stand alongside them."
Certainly Kosovans in Germany, Austria and Switzerland are known as hard workers, good at business, and, in the case of Switzerland, excellent at providing players for the national Swiss soccer team.
But nothing will really work until there is more reconciliation and mutual recognition between Serbs and Kosovans and between all the nations in the region. Or are they condemned like the Catholic nationalists and Protestant unionists in Ulster to maintain the "integrity of their quarrel" for another century?
Denis MacShane was the UK Foreign Office minister responsible for the Balkans 2001-2005 and regularly visits and writes about the region
Join our new commenting forum
Join thought-provoking conversations, follow other Independent readers and see their replies