One year on, Donald Trump has refilled the swamp with the murkiest, stickiest characters in recent history
Cronyism is hardly new in Washington. Remember Travelgate under Bill Clinton?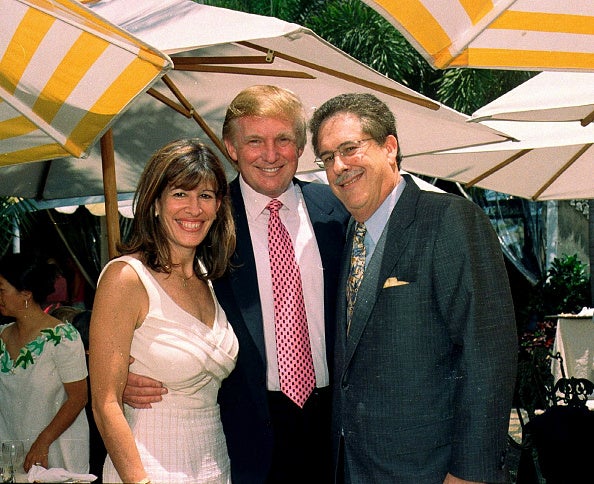 Frankly, I am surprised it has taken this long and her prize isn't a little grander. But the fact that last week's disclosure from the White House, which named Robin Bernstein as Donald Trump's nominee for envoy to the Dominican Republic, caused such a furore did catch me off guard, however.
Of all the folk I met on the campaign trail last year, Bernstein made a particular impression. She was just so darned sure Trump was going to prevail at the ballot box – even when all the pundits were saying otherwise. "Never bet against Donald Trump, that's my motto," she said to me, winking over her cocktail at a sleek restaurant in Palm Beach. "He is a fighter; he knows how to win."
This was in September 2016, about six weeks out from election day.
Donald Trump says 'Im the only one who matters'
I had two reactions. The first was that she might be right, because by then I already had a creeping feeling that something was afoot in the land that we the media were not properly recording. Something that wasn't good for Hillary Clinton. And I also thought (and said): "If you're right, you will be in line for a nice ambassadorship somewhere." I can't quite remember if she smiled or scoffed at that.
Bernstein's misfortune is that the announcement of her putative Santo Domingo gig coincided with a spike of interest in Trump giving juicy jobs to people who either bucked the Republican establishment to support his White House bid, or showed loyalty in other ways – like patronising his various private clubs – and who otherwise seem entirely unqualified for those assignments.
A fixture on the Palm Beach social circuit, Bernstein, who runs an insurance business in town, ticks all the boxes. As she eagerly pointed out to me, she and her husband, Richard, were charter members at Mar-a-Lago, the club that Trump has turned into Camp David-by-the-Sea. And during the campaign she boosted Trump to a sceptical South Florida Jewish community.
Donald Trump's least presidential moments so far...
Show all 30
Also, she might not be the best person for the job in question, on account of this detail in the White House info bulletin about her. Bernstein boasts only "basic Spanish", it said. I could claim the same, but basic Spanish really means no Spanish. The Twittersphere went briefly bonkers, along the lines of: "Really? Would it be so hard to find a Spanish speaker for the job?"
Also in the news right now is Sam Clovis. I met him too, in Dubuque, Iowa, in August 2015. He had just been made chair of Trump's campaign in the state, as a reward for siding with him from his perch as a popular conservative talk show host. Once in the Oval Office, Trump nominated him to be chief scientific adviser at the Department of Agriculture in Washington DC.
Clovis, again, was a talk show host. He is as much a scientist as Bernstein is a Spanish speaker. Athough, he did have views on genetics and homosexuality. They aren't linked in his mind – something he likes to talk about.
Clovis was a poster boy for the worst of Trump's nobody-is-too-dumb approach to making appointments. Last week, he dropped out from taking the job – though not because he was uniquely unqualified for it.
When Robert Mueller revealed he had secured a guilty plea from a former foreign policy adviser to the Trump campaign, for having lied about pursuing Russians for dirt on Hillary Clinton. it turned out that it was Clovis who had encouraged him to do so.
World news in pictures
Show all 50
Cronyism is hardly new in Washington. Bill Clinton, elected 25 years ago this weekend, was investigated for firing all the travel staff in the White House and replacing them with friends (of Hillary, in particular). That was "Travelgate", if you recall. Giving ambassadorships to wealthy donors is a tradition that has long frustrated career diplomats at the State Department. Woody Johnson, Trump's envoy to the Court of St James, is a billionaire owner of an American Football team.
Nonetheless there has been a special fecklessness to the process since Trump came in, particularly when it comes to slightly lower grade jobs in Washington that normally get little attention – except from outfits like American Oversight, which is on the look out for ethical lapses in government.
In a recent paper, it catalogued a series of cases of former helpers to the Trump campaign landing spots in DC they surely had little aptitude for. There is the former manager of exhaust pipe and tyre shops named as assistant to the Secretary of Energy, for instance. And the fellow who, from 2009 to 2015, was a "cabana attendant" at a country club outside New York City – he became a "confidential assistant" at Agriculture. Trump, remember, vowed to bring the best and the brightest to Washington if he was elected.
On Friday, USA Today identified senior officials in the government who, like Bernstein, also happened to have been long-standing members of one of Trump's private clubs, among them Callista Gingrich. Or Ambassador to the Vatican, to you. She may not know much about diplomacy, but she and her husband, Newt Gingrich (the former House speaker) belong to a Trump golf club in Virginia. Andrew Giuliani, the son of the former New York Mayor, frequents a Washington-area club of Trump's. He is now a public liaison assistant in the White House.
People like this didn't just enrich Trump's campaign. They have been enriching his businesses.
Bernstein may have wanted Santo Domingo over, say, Pristina, on account of its proximity to Palm Beach. Weekends back home would be a cinch were her Santo Domingo digs to fall beneath the opulent standards of Mar-a-Lago.
I am guessing the fuss over her nomination will blow over. She struck me as a person well able to complete an online language course with flying colours. But the scrutiny of Trump and his record of sprinkling largesse to anyone who has sent largesse his way, pecuniary or political, will only intensify. It's partly his fault, with his promise to "drain the swamp". Seems he forgot to follow through on that one.
Join our commenting forum
Join thought-provoking conversations, follow other Independent readers and see their replies