Ed Miliband's speech was the political moment when New Labour gave way to One Nation Labour
Stunningly artful in positioning and projection, this speech by the Labour leader will resonate with many of the Liberal Democrats in government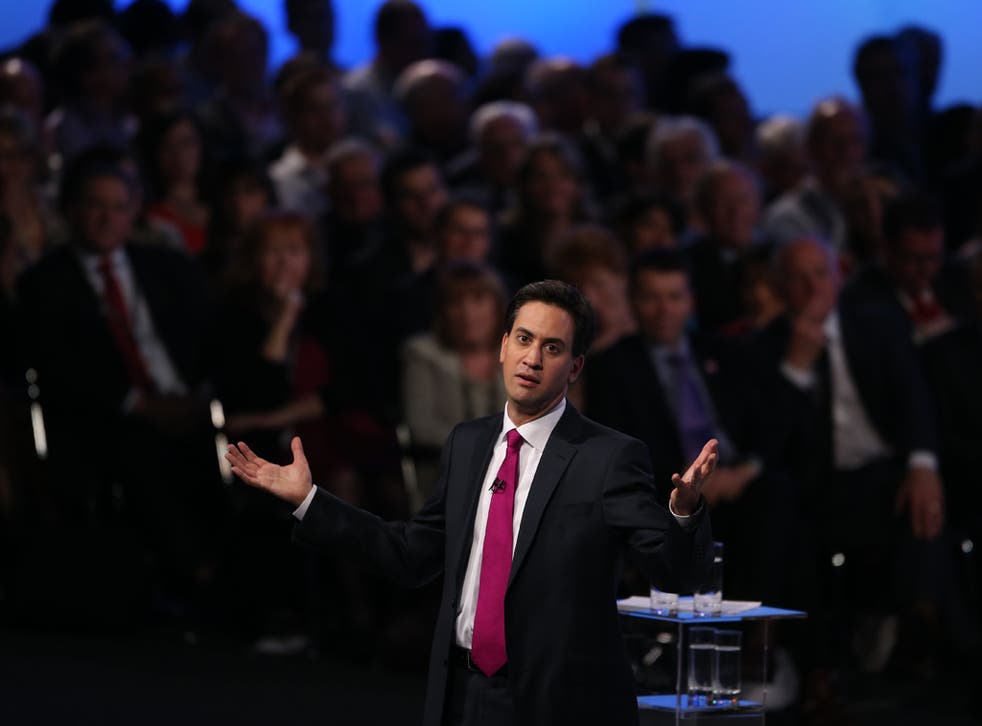 Navigating his party from New Labour to One Nation Labour, Ed Miliband has delivered one of the cleverest and most significant party conference speeches in recent years, one that will make a difference to the way he and his party are perceived.
Already much attention has been given to the deft delivery, speaking without notes for more than an hour and managing a Blair-like tonal variety as he did so. The style was important, making it harder for his Tory and media opponents to portray him as a weird, detached geek. No geek can grip a hall with an informal style that managed to be humorously conversational while rising at times to an oratorical flourish. The fact that he spoke with such apparent ease cements his relationship with his party and gives him the chance to engage with the wider electorate, too.
But the substance was far more important than the manner of the delivery. Miliband has seized a rare opportunity, claiming for his party the One Nation label associated with the Conservatives when they were an election-winning machine in the last century.
George Osborne's Budget with the tax cut for high earners, the wider sense that a group of "posh boys" from David Cameron downwards lead a "two nation" country, the "pleb" jibe from Andrew Mitchell, the support of Nick Clegg for the some of the radical right-wing policies unveiled like bullets in the autumn of 2010 – all of these things make it at least feasible for a Labour leader to suggest he can speak for the wider electorate currently disillusioned and frightened by what is happening.
One Nation
In a way that was hardly noticed, the local elections last May gave some greater credence to his narrative when Labour was the only party to secure a decent level of representation across most of the UK.
Seizing the label is easy and has been tried before. What Miliband did with his "one nation" theme was the key to the speech. Some saw the move as an imitation of Tony Blair. But it was subtler and more ambitious than that. Having claimed the consensual middle ground, he hinted at the radical policies that the one nation would expect, explicitly moving on from both old and new Labour. Indeed, he led a third way between the two, insisting that he would not neglect the private sector as old Labour was perceived to have done and yet was not relaxed about the few at the top getting richer without scrutiny as New Labour was.
Instead of falling into the trap of outlining precise policies, which is daft two-and-a-half years before an election, Miliband gave the outlines of his radical course, challenging cartels, overhauling the banks, limiting price rises of the private monopolies, revising the Coalition's expensively chaotic reforms of the NHS.
Speaking for more than an hour he made no spending pledges. As key figures in Labour's 1997 election campaign, he and Ed Balls are too experienced to fall into "tax and spend" traps this time.
Yet the speech can only be a beginning. Miliband faces 1,000 thorny issues that were not addressed. He has attacked the "Tory tax cut for millionaires" but does not say whether he will raise taxes for high earners at the election. He still has not gone into very much detail about how he plans to reduce the costs of train fares, energy bills and petrol that he rightly detects are becoming a potent political theme.
More widely, his vision of a more responsible capitalism remains more or less as ill defined as last year when he first raised it. He and Balls still have some very big decisions to take on public spending, although as I wrote yesterday, they have taken one of them. Like New Labour in 1997 there will be few spending commitments in their manifesto.
Projection
In advance of the other big, contentious decisions, Miliband used the space for positioning and personal projection, the relatively easy stages of the long sequence.
Still, the positioning and projection were stunningly artful. Cameron and Osborne, a duo that persistently misread the political scene, have been telling friends they had a winning trump card in the form of Miliband's leadership. They will not make the assertion with the same swaggering confidence for the time being.
Read the diaries of Labour cabinet ministers from the 1970s and they were all delighted when the Conservatives elected Margaret Thatcher, assuming that she could not win an election. Political leaders are terrible judges of their opponents.
Miliband still has a huge amount of work to do and big decisions to make. He cannot next year deliver another almost policy-free speech.
But I suspect that quite a lot of Liberal Democrats were more enthused by Miliband's speech yesterday than they were by Clegg's last week and all Conservatives will be worried about it.
As for Labour, the party faces many daunting tests before the election but it is more at ease with its leader than the other two are with theirs. Few thought that would be the case when Miliband was elected two years ago.
Register for free to continue reading
Registration is a free and easy way to support our truly independent journalism
By registering, you will also enjoy limited access to Premium articles, exclusive newsletters, commenting, and virtual events with our leading journalists
Already have an account? sign in
Join our new commenting forum
Join thought-provoking conversations, follow other Independent readers and see their replies