Comment
We locals love to whinge about the Fringe — but Edinburgh would be deadly dreich in summer without it
Bring on another month of garish lighting and overpriced, artisan falafel trucks, writes Alice Florence Orr. The Edinburgh Festival is a microcosm of the world at large — and guaranteed to drive us citizens of Edinburgh mad for a month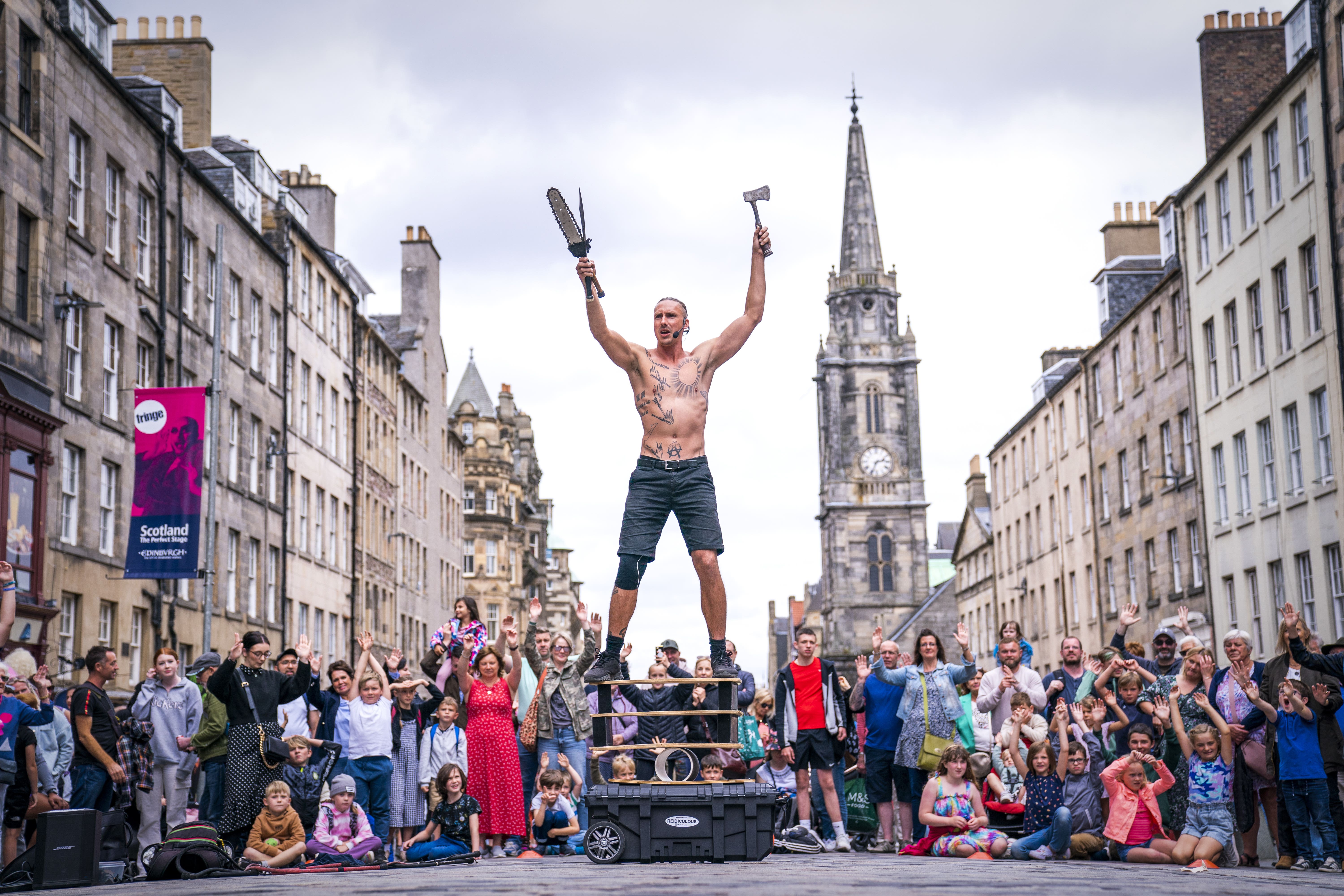 If you live in Edinburgh, it's easy to be cynical about the Festival. It's the same muscle we flex when complaining about the trams. When I started my first Festival job at 18, I was giddy and eager to please. My bright yellow lanyard didn't just represent a paycheque. It was my official designation as an "insider" at the most famous arts festivals in the world.
I was delighted when tourists asked for directions, ecstatic when we sold out a show that was notoriously hard to pitch. Not everyone gets excited about Tibetan drumming like I do. But that's the best part of the Edinburgh Festival: you will find an audience for anything. It just might take a while.
But after a few years of working front-of-house, standing in the rain for hours lost its original appeal. I saw fewer shows, spent less time making friends. Even with an employee discount, the plastic cups of beer ate into my measly paycheque. When I met new people, I couldn't help asking "Will they remember my name tomorrow?" You meet so many new faces at the Festival. After a while, the lights and costumes and posters flatten out into a series of impressions, flashes of colour, a vision constructed of glances and changing light.
As a local, the influx of new people into Edinburgh's cobbled streets is overwhelming enough without attempting to remember the names of every new face. Hundreds of thousands flood the temporary venues for a few short weeks, not to mention my favourite coffee shops, turning typically quiet places into hotbeds of din.
I couldn't say what's more annoying, a slow tourist or the jaded local complaining about them. With countless comedians to choose from, I'm always surprised there are any laughs left in the city come September. The exception may come from the arts council offices as they calculate profit margins. Making new friends is inevitable, but I speak from experience when I tell you this obvious fact: everyone will disappear as quickly as they came.
The exception to my own rule about learning names came in the form of a young wannabe actor I had a festival fling with nearly eight years ago. He had a roguish face and a Cambridge accent. These things mattered a lot to me back then. We quickly lost touch — the way most Festival encounters tend to end — and eye hath not seen, nor ear heard from him again.
You can imagine my surprise when I wandered through my mum and dad's house one evening to see his handsome face framed by a terrible wig grinning out at me from the television screen. "You're joking!" I cried, earning a condescending look from my mother. "The Independent gave it four stars," she quipped back.
But I wasn't listening. On-screen was my Fringe fling — with whom I'd once shared a mushy falafel wrap while being harassed by a busker with a ukelele — playing a suspected child molester on a popular Netflix series. That's the sort of life experience we specialise in up here in Edinburgh.
This year's festival was baptised by a multi-day downpour that had the plastic poncho sellers singing louder than some of the performers. For locals, the Old Town has become a dreich, impenetrable destination, not unlike Mordor in The Lord of the Rings. English and American friends sent me enthusiastic texts about hitting some comedy shows, but I'm not inclined to shiver in a soggy tent to the same extent. Maybe they think it'll come naturally to me. I'll stick to a cosy coffee shop in Portobello.
In truth, Edinburgh suits its premature autumn clothes. You can attribute it to the rounded hue of the buildings, a grey that always leans warm, even in bad weather. An indelible charm. When I think of all the other destinations I've passed through, none quite come close to this place. What other city has a Starbucks opposite a 900-year-old castle? We could only be rivalled by a McDonald's slap bang next to an ancient pyramid.
Of course, you'll meet plenty of people at the Festival whose names you already know. Celebrities and writers. Radio DJs and television presenters. I've startled several companions by loudly exclaiming "My god, it's Will Gompertz!", as a recognisable bald head bobbed past. "Will who?" they asked. I stared at my friends, aghast.
It's easy to be cynical about the Edinburgh Festival. But watch a cultural event successfully resurrect itself after Covid and suddenly the crowds, the traffic, and the silent discos become bearable. While we'll never stop moaning, we're pretty proud of the spectacle.
At its best, the Festival is a microcosm of the world. Bring on the garish lighting and overpriced, artisan falafel trucks. What's the place without it? Unbearably dreich.
Join our commenting forum
Join thought-provoking conversations, follow other Independent readers and see their replies