Hong Kong protesters are fighting for the rights Britain assured them
Tomorrow marks 20 years since Hong Kong was returned to China under an agreement that allowed the city state to remain independent, but now Beijing is slowly asphyxiating the city's political freedom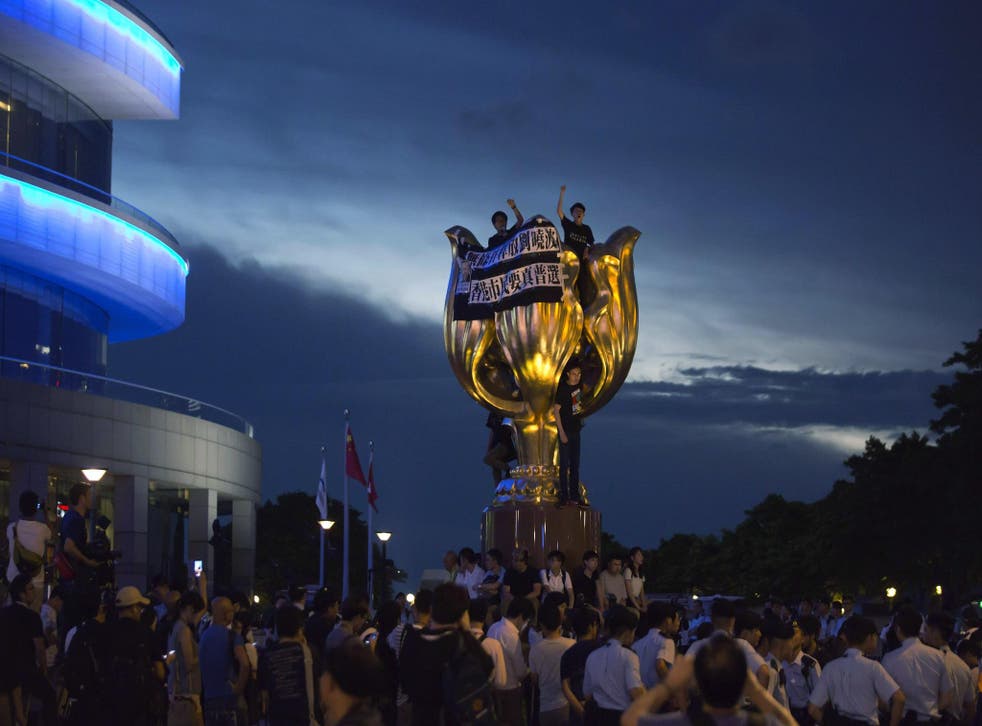 In Hong Kong they don't gild the lily, they gild the bauhinia. A giant golden statue of the orchid-like flower, which is the symbol of the rambunctious Asian city state, stands in the middle of a harbour-side square in the Wan Chai district. It was erected 20 years ago to commemorate the official handover of Hong Kong from British colonial supervision to the authority of Beijing and the Chinese Communist Party.
In the shadow of the golden bauhinia on Saturday China's President, Xi Jinping, will deliver a speech in front of city officials to mark the occasion on 1 July 1997 when, after 150 years of British colonial rule, Hong Kong reverted back to the sovereignty of Beijing. He will also swear in Hong Kong's new political "chief executive" Carrie Lam. In the evening fireworks will explode over Victoria Harbour.
But the bauhinia's golden sheen of Hong Kong-Beijing unity has been badly tarnished. And Xi, for all the warm and bland words he will deliver, knows it.
On Wednesday the statue itself was occupied by local pro-democracy activists, who draped a black cloth over the six-foot flower to symbolise "the hardline rule of the [Beijing] authoritarian regime".
Donald Trump's closest advisor Steve Bannon thinks there will be war with China in the next few years
The demonstrators were arrested. But there will be further protests on Saturday, with a pro-democracy march expected to attract tens of thousands of supporters. Xi will deliver his speech amid unprecedented security. Around a third of the Hong Kong police force, some 11,000 officers, will be deployed to keep order.
Twenty years ago, London and Beijing agreed to a "one country, two systems" compromise over Hong Kong. A "Basic Law" constitution, guaranteeing a high level of autonomy for the region and respect for its citizens' civil and political rights (far greater than anything enjoyed by the citizens of mainland China) was put into effect. Under a joint declaration, the former colony's way of life was supposed to remain unchanged for 50 years.
And some things haven't changed. The territory's GDP growth rate has averaged just over 3 per cent since 1997, roughly half the rate of the previous two decades. But this reflects the natural slowdown of a maturing economy and the backwash of global economic forces more than malign influence from the mainland. The reality is that Hong Kong's economy has been largely left alone by Beijing. And a surge of mainland money and tourism have helped Hong Kong's economy, rather than hindered it.
The People's Liberation Army, which moved a garrison into the territory 20 years ago, has been a relatively unobtrusive presence. The courts are still independent. The press is still largely free. The civil service is still uncorrupted.
Yet there has been a subtle political asphyxiation. A move to a wider suffrage, which democracy activists insist they were promised by Beijing in 2007, has not materialised. Lam was selected by a committee of just 1,200 Hong Kong residents. The favoured political candidates of Beijing have ascended to power in the territory and around half of the members in the 70-seat legislature are loyal to Beijing. There have been attempts to enforce a "patriotic" and pro-Communist Party education in Hong Kong schools.
But the most chilling manifestation of Beijing's authoritarian infiltration has been the kidnapping in 2015 of five Hong Kong booksellers for peddling works making salacious claims about top Communist Party officials. Few expect these kinds of incursions to end. One thing Xi has proved since he became China's president in 2012 is that he is no political reformer, as his Government's record of locking up bloggers and civil rights lawyers on the mainland shows.
Lantern festival marks last day of Chinese New Year

Show all 17
Hong Kong's massive pro-democracy Umbrella Revolution of 2014 was divisive. Some of the older generation of Hong Kongers were alienated by the zealousness of the polite children, who occupied downtown districts for weeks. But the general restiveness in Hong Kong is real, and certainly not just confined to a minority of young hotheads.
Frustration, often sadly manifesting itself as outright bigotry, towards the one and a half million mainlanders who have moved to Hong Kong, pushing property prices into the stratosphere, is expanding. A growing number of Hong Kong's residents say they would like to emigrate. Fear over the future – political, economic and cultural – is palpable.
Twenty years have now passed since the royal yacht Britannia, bearing the last Governor of Hong Kong, Chris Patten, glided out of Victoria Harbour. But what do the next 20 hold for Hong Kong?
The International Monetary Fund expects its growth rate to pick up to 3 per cent a year, as China's gradually declines to below 6 per cent. But the city's economic fortunes are likely to increasingly ebb and flow with those of its giant neighbour, which is struggling to pivot to a more sustainable, less debt-driven and polluting, form of growth.
The same, whatever was agreed by London and Beijing two decades ago, is likely to be true of Hong Kong's political fortunes. British ministers lacked the courage to stand up to Beijing over Hong Kong's political freedoms even before the Brexit vote. Now, sucked into the vortex of extricating Britain from the European Union and desperate to do a major trade deal with Beijing to offset the economic damage of Brexit, London lacks even that ability or desire to speak out. More than ever, the people of Hong Kong know they are on their own.
Ben Chu is the author of 'Chinese Whispers: Why Everything You've Heard About China is Wrong'
Join our new commenting forum
Join thought-provoking conversations, follow other Independent readers and see their replies