This is what Trump should do about Iran at his first UN General Assembly meeting
Trump should approach Federica Mogherini, the EU's high representative on foreign affairs – she has the ear of the Iranians like no one else – and should push for what President Obama didn't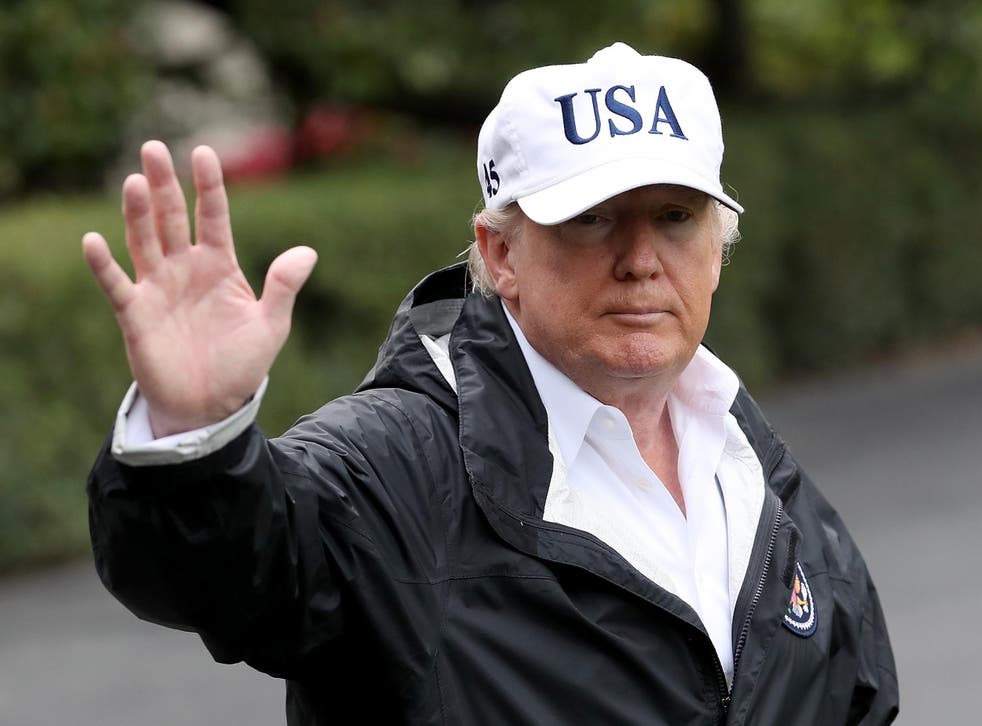 "You'll see what I'm going to be doing very shortly in October," said Donald Trump last Thursday as he missed a deadline to give the Islamic Republic of Iran what-for on the Joint Comprehensive Plan of Action, better known as the nuclear deal. (October is when Trump is due to certify the deal, which most believe he will do, if with a volley of disgruntled tweets.)
In London, US Secretary of State Rex Tillerson struggled to get Boris Johnson on side in what is a lesson for the Americans: Britain doesn't cherry-pick its murderous Islamist states – we love them equally, at least since 2015 when the nuclear deal was signed.
But if the US president is hell-bent on needling Iran, he should at least needle them on the right topic: human rights.
All Trump would need to do, were he minded, is listen to Rex Tillerson's June statement on Iran three minutes in. He said it has "one of world's worst human rights records", adding: "Political opponents are either jailed or executed, reaching the agonising low point of executing juveniles and individuals whose punishment is not proportionate to their crime".
Nearly 40 years after its inception, the Islamic Republic fears freedom of speech and ideas just as it did on day one under Ayatollah Khomeini, the mother of all Islamic extremists.
Benjamin Netanyahu urges Theresa May to back fresh sanctions for Iran
Freedom of speech and the right to protest would energise young Iranians who crave the opportunities their peers have in the West. The problem is the US shows itself barely interested in backing waves of dissent that would help to boot religion out of government in Iran – and not just under Trump who wants to empower the church at home.
President Obama failed to even offer a few words of support for those young people who were being killed, injured, locked up and tortured by their government during the Green Movement protests.
As Mitt Romney later put it: "When millions of Iranians took to the streets in June of 2009, when they demanded freedom from a cruel regime that threatens the world, when they cried out, 'Are you with us, or are you with them?' – the American President was silent."
So what should Trump do as he attends his first UN General Assembly as President? Easy.
Approach Federica Mogherini, the EU's high representative on foreign affairs – she has the ear of the Iranians like no one.
Mogherini forged a special relationship with Javad Zarif, Iran's foreign minister, after the pair painstakingly hammered out "every word" of the JCPOA.
She is also something of a superstar in the Iranian parliament. When she visited this hub of democracy last month, off came any pretence of being respectable politicians, and out came the mobile phones as the supposedly distinguished parliamentarians, scourge of Washington and Tel Aviv, mobbed her for selfies.
It was highly embarrassing, both for the reactionary establishment and those of us still struggling to accept such a wonderful country could be in the hands of backwards Islamist bumpkins acting as if they've never seen a woman before (at least not one of Mogherini's status). In one photo, she looks distinctly worried.
Just like General Zod used Lois Lane to get Superman's attention, Trump should implore Mogherini to pile pressure on Iran's foreign minister Zarif – who denies Iran even has a human rights problem – to push his government about the plight of innocent people in the country's jails and outside, and those in judicial limbo having paid a paralysing amount of money for bail.
I'm talking about people like the Rajabian brothers. Hossein is 32 and Mehdi is 26. Hossein is a filmmaker and Mehdi is a musician. Together they ran a music distribution website which promoted female artists – it was shut down in 2013.
The pair, along with their friend Yousef Emadi, were released in June after a year and a half in jail, having endured hunger strikes and torture, and following an international campaign.
Iran's 'Trumpism' contest

Show all 10
Mehdi was stuck inside the harshest wing of Evin prison, where Iran keeps its captured Somali pirates. A classical musician, his hobby of cartooning won him support from cartoonists around the world who doodled in support.
In the West, millennials with a creative bent are celebrated as artists and entrepreneurs – in Iran they are guilty of "propaganda against the state".
Last year, when the 16-year sentence being served by human rights activist Narges Mohammadi was upheld on appeal, Amnesty International called it "another cruel and devastating blow to human rights in Iran, which demonstrates the authorities' utter contempt for justice".
Zarif recently intervened in the case of an Iranian woman who was wrongly imprisoned in India and helped to secure her release – he shows no such compassion towards those wrongly imprisoned in Iran. In fact, he is as ruthless as the Supreme Leader when it comes to free speech.
In 2015, he told Charlie Rose: "People who commit crimes, who violate the laws of a country, cannot hide behind being a journalist or being a political activist. People have to observe the law."
President Trump could step in where President Obama failed to, and push for freedom of speech and the right to protest in Iran. My feeling is that the man who thinks that a rally of neo-Nazis versus anti-fascist demonstrators had "wrong on both sides" is unlikely to crusade for global justice. Still, we can live in hope.
Register for free to continue reading
Registration is a free and easy way to support our truly independent journalism
By registering, you will also enjoy limited access to Premium articles, exclusive newsletters, commenting, and virtual events with our leading journalists
Already have an account? sign in
Join our new commenting forum
Join thought-provoking conversations, follow other Independent readers and see their replies