Isis leader Abu Omar al-Shishani's 'death' in a US air strike will leave a big hole in the jihadist's high command
Diplomatic Channels: 'Omar the Chechen' was the groups most successful military commander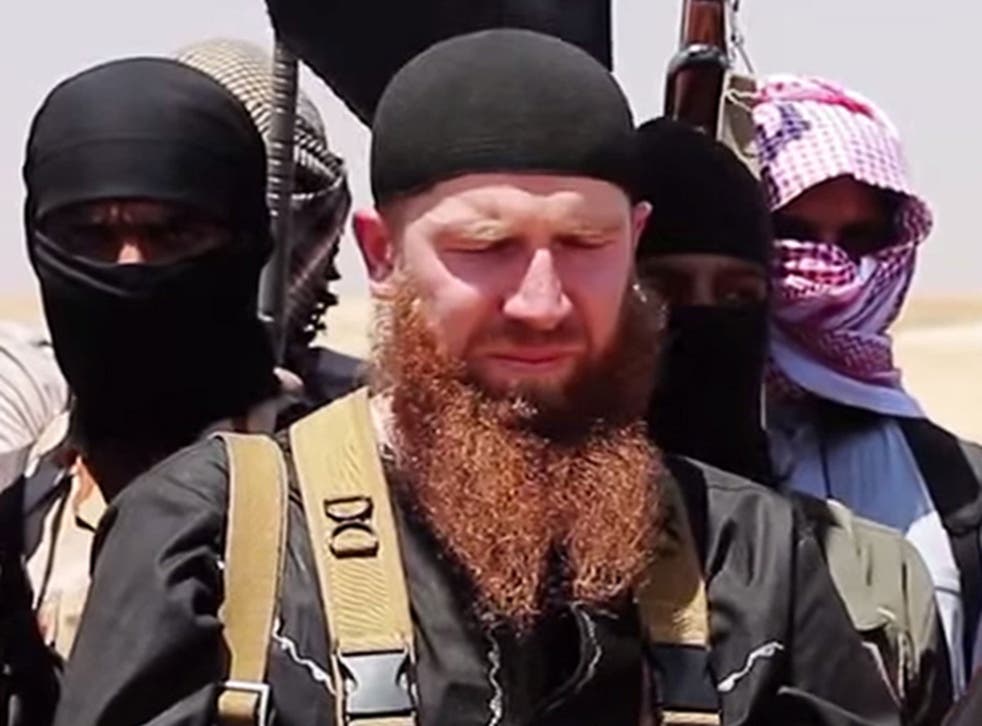 The death of Mohammed Emwazi, the murderer "Jihadi John", received the widespread publicity earned by his notoriety. However, the demise of another lesser known foreign fighter, Abu Omar al-Shishani, will have a far more damaging impact on the fortunes of Isis.
Emwazi, the Londoner who became a beheader of hostages, was a useful propaganda tool for a group that glories in its savagery. But Shishani, of Chechen and Georgian background, was its most successful military commander, playing a key role in the victories that enabled Isis to expand its territory at lightning pace.
He has been killed off several times before, only to re-emerge with his flowing red beard at the frontlines. This time, however, it seems that "Omar the Chechen", the "ginger jihadist" may well have died, or, at least, been severely injured in a US air strike on the road to Raqqa on 8 March.
Shishani – who had a Christian father and a Muslim mother – had a $5m US bounty placed on his head. The Pentagon described him as a "battle-tested leader" who had led Isis fighters in "numerous engagements". His elimination would "negatively impact", it said, on Isis's ability to recruit fighters "especially from Chechnya and Caucasus regions," making it harder to defend its strongholds in Syria and Iraq.
Shishani had the task of organising Raqqa's defence; his removal would, indeed, make it easier for anti-Isis forces, led by the US-backed Syrian Kurdish YPG, to advance towards the Isis "capital", Raqqa.
It is also the case that Shishani's growing reputation and seniority helped to attract Muslims from the Caucasus to Syria and Iraq, with fighters taking jihad back to Russia and former Soviet states. That threat of returning Islamists was used by Vladimir Putin to justify Russian military intervention in Syria.
The Russians, too, have been trying to kill Shishani and his comrades. Moscow claims its aircraft were targeting Caucasian fighters when one was shot down by the Turks last year. Russia's intelligence service, the FSB, is suspected of being involved in the killing in Istanbul of Abdulvakhid Edelgiryev, a Chechen who fought with Shishani in Syria.
By targeting Shishani, the US military has thus done Russia a favour. Yet it was the Americans who trained him in the first place. Known at the time as Tarkhan Batirashvili, the future Isis commander was in the Georgian army and joined a special forces unit being prepared by US instructors for missions behind enemy lines – with Russia seen as the adversary.
Batirashvili fought in Georgia's war against Russia in 2008, but was later jailed for possessing explosives. While in prison he embraced Wahabi Islam and began his journey to becoming the jihadist Abu Omar al-Shishani.
This is not the first time, of course, that the Americans have had to fight Islamists they have trained themselves. In Shishani they have helped produce a highly proficient jihadist. Colonel Steve Warren, chief US military spokesman in Iraq, said: "He was probably their most important subordinate leader, after Abu Bakr al-Baghdadi. There isn't a second guy, to our knowledge, to step up and operate at that level."
For Isis to find an adequate replacement for Shishani is likely to take time. It will face no such problem finding replacements for the Mohammed Emwazis, volunteers from the West only too willing to murder prisoners in the name of jihad.
Join our new commenting forum
Join thought-provoking conversations, follow other Independent readers and see their replies