The chance to hang on to my EU passport has handed me a Brexit lifeline
Send your letters to letters@independent.co.uk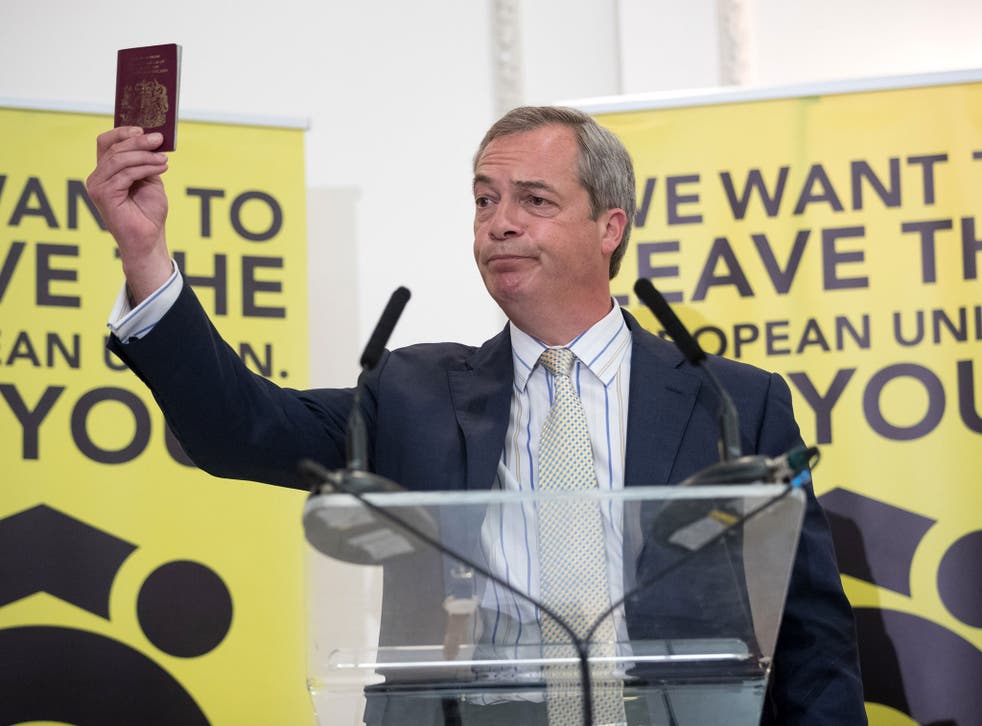 The suggestion of the EU Brexit negotiator that I can maintain my EU passport is like a lifeline. As a European, I was devastated by the Brexit vote. I feared this result, just as I had years ago when it looked like Margaret Thatcher was taking us out. Back then I wrote to Jacques Delors to ask if I could retain my European status.
Now this new offer must surely mean that Theresa May must withdraw her tactic of using the "human shield" of EU nationals here – something I never thought I would see a civilised, let alone a British government use.
Peter Downey
Bath
As an infrequent reader, I am unaware of exactly how many Supreme Court judges are accused of being pro-Europe. However, as nearly half of voters in the EU referendum actually wanted to remain in Europe, it is good that our judges are is representative of the population as a whole. Maybe the Brexiteers would think it fairer if all were anti-Europe?
Geoff Forward
Stirling
While appearing on BBC1's The Andrew Marr Show, the Chief Minister of Gibraltar, Fabian Picardo, called for a special status for Gibraltar in Brexit negotiations, while reaffirming loyalty to the Crown whatever the result. Isn't it instructive for our patriotic UK-based Brexiteers – the defenders of our "sovereignty" – that in ultra-loyal Gibraltar, 97 per cent of those who voted supported membership of the European Union, they see little conflict between Britishness and the EU? We in England and Wales got a little muddled on the issue. But we are on a journey and there is time to refine our position.
John Gemmell
Birmingham
The wrong trousers
I don't care whether Theresa May's trousers are made of leather, fur, paper or pure gold. What bothers me is that, just because she can afford to spend £1,000 on a single article of clothing, she goes ahead and does it. What's that if not a thumbs up to the Jams?
Elizabeth Morley
Aberystwyth
Clocking off
This weekend's article from Janet Street-Porter was excellent. However, in my view, it could have gone further. Long-term investment deficiencies have put a brake on productivity and need to be boosted in many sectors of the economy. An additional fillip would be provided by harnessing the energy of the young.
It is a travesty that so many young people in the UK struggle to find a decent job. Older people who work for purely economic reasons should be incentivised to give up work to provide openings for the younger generation. Support and education could then be provided to help these older retirees utilise new-found leisure time enjoyably.
For the vast majority of jobs, it is delusional to think that the much-trumpeted life experience of older workers can match or outweigh the energy, enthusiasm and ability to learn possessed by the young. Promoting policies which allow more of the young to work (with more older people enjoying leisure) would be bold and productive.
Ashley Naylor
Poole
Bowled over
Will Gore's appreciation of the fluent, modest and self-effacing candour of the 19-year-old Haseeb Hameed on Test Match Special is exactly right and yet more confirmation of how good it is to live in a multicultural and inclusive society inhabited by open-minded young people. It should be noted also, that he was guided to talk so freely of himself by the consummate ease – and genuine interest – of his equally self-deprecating interviewer, Jonathan Agnew. How good to see that the world is not inhabited solely by those who pursue shallow celebrity and personal aggrandisement.
Graham Powell
Cirencester
No laughing matter
If the 10,000 people who complained to the BBC about the behaviour of Jonathan Ross and Russell Brand – about leaving lewd voicemails for the late actor Andrew Sachs – had instead written to the police as I did, the despicable pair might have finished up in court.
William W Scott
North Berwick
Torture is returning to America
The latest survey on American attitudes towards torture reveal a staggering 46 per cent approve of using cruel methods to extract information from enemy combatants, ignoring repeated studies which completely counter the effectiveness of such techniques. On the contrary, such methods only intensify the hostility towards the US.
One need only reference the pioneering work on crime and punishment by Cesare Baccaria in 1764, who called for the total abolition of torture not only on the grounds of its immorality but also because it simply doesn't work. Victims will say anything to stop the torture.
President-elect Donald Trump wants to bring back waterboarding and, in his words, "much worse". How brave of a future president who used his wealth to avoid being drafted to the killing fields of Vietnam. Trump needs to remember that torture is a war crime which has been banned by international law.
President Obama can help prevent torture from making a comeback by releasing the "Torture Memo" which highlights the dark deeds of the CIA during the Bush years. If he fails to do so, torture will surely re-emerge under President-elect Trump who has shown an appalling fascination in it. The fact that torture is a Federal crime under the US anti-torture statute hasn't damped his enthusiasm for its practice.
President Obama made a tactical blunder refusing to prosecute high level officials responsible for the torture program under the Bush presidency. His administration's insistence of looking forward, not back, created a sense of impunity.
Jagjit Singh
Los Altos, California
Register for free to continue reading
Registration is a free and easy way to support our truly independent journalism
By registering, you will also enjoy limited access to Premium articles, exclusive newsletters, commenting, and virtual events with our leading journalists
Already have an account? sign in
Register for free to continue reading
Registration is a free and easy way to support our truly independent journalism
By registering, you will also enjoy limited access to Premium articles, exclusive newsletters, commenting, and virtual events with our leading journalists
Already have an account? sign in
Join our new commenting forum
Join thought-provoking conversations, follow other Independent readers and see their replies