Police clashing with women weakens Britain's stance on human rights
Please send your letters to letters@independent.co.uk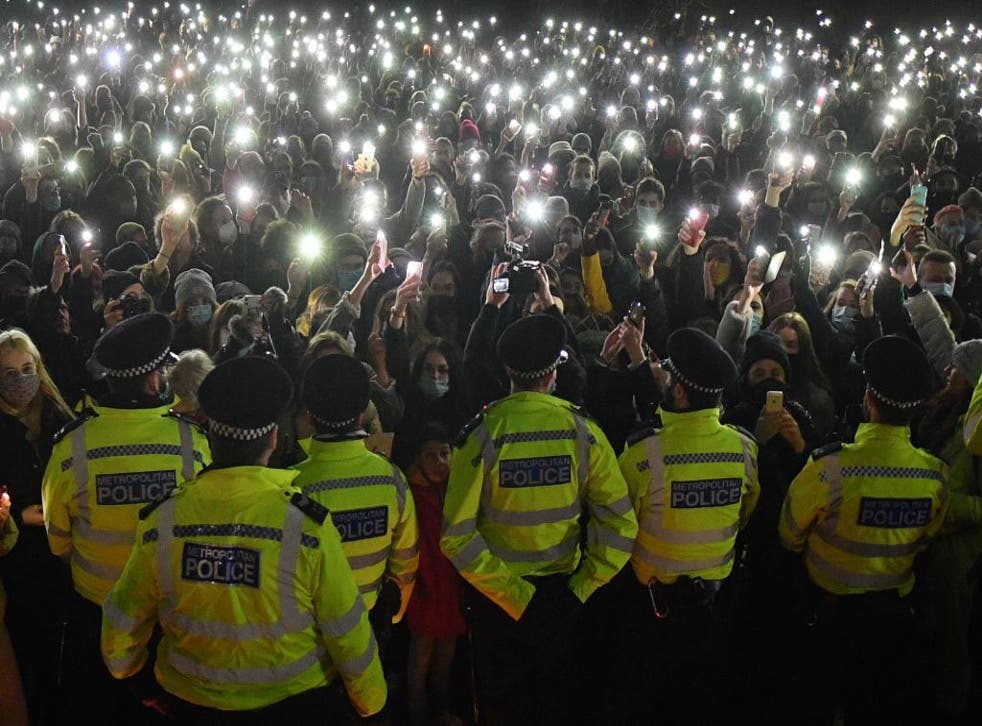 The recent gruesome images of police officers clashing with women send shudders down the spine. Is this the democracy that prides itself on being a beacon of equality, tolerance, openness, social justice and solidarity, tranquillity, women's empowerment and citizen engagement? This does not bode well for the health of the nation in a post-Brexit era. Moreover, such images send the wrong message to dictators and weaken Britain's stance to mitigate human rights violations. Time to rebuild trust, engage constructively with people and grant women the esteem they deserve. 
Dr Munjed Farid Al Qutob
London
Global rights
Rob Merrick's piece on foreign aid may not be encouraging reading for anyone working in foreign aid, but we have at least seen a promise to restore our contribution to 0.7 per cent of GDP. Regardless of when that happens, it won't be a moment too soon.
This isn't just about developing our role as "Global Britain" and projecting soft power. It is about rights. Our contribution to foreign aid plays a key role in the inclusion of disabled people and in reducing global inequalities, and indeed the government has been a leader in promoting inclusion. Foreign aid empowers us to do yet more. It enables the UK to provide more equitable and sustainable development overseas in line with UN commitments. It helps countless girls and young women with disabilities to access education and work, and secure basic rights. In a year when we are hosting the G7 and the Cop26, we have to – visibly – take the lead on these issues.
Gemma Hope, director of policy for Leonard Cheshire
British brains
If Boris Johnson wants British brains to lead the world, then he must lead by example and eliminate the government's cackhandedness in almost everything it does. Clear objectives will help, such as governing for the good of the whole electorate rather than for popularity among part of it.  But the really important role of a leader is to ask searching questions, listen and ensure everything is thought through so that all the policies fit together into a coherent whole. 
Read more: If we value democracy, we must protect our right to hold peaceful direct-action protests
A common thread in many issues is privacy. The government needs to draw the distinction between privacy that enables individuals to protect themselves from others and privacy that hinders that objective. Individuals with smartphones surrender an enormous amount of information for the convenience of the apps knowing a lot about them yet there is resistance to that data being available to curb the pandemic or for the police to identify offenders.  The government must build trust with the electorate if it is to use technology to protect the population from infection and assaults.  The proposed "Crime Bill" does the opposite, it demonstrates a desire to be repressive and will create distrust in the government.
Jon Hawksley
London
Think pubs
Since pubs and restaurants closed there has been nowhere to discuss and potentially resolve issues of the day in an amicable manner. It is quite clear that politicians, police and local government are incapable of sorting out problems, both old and new. Get the pubs open and allow the people's "think tanks" to operate.
John
Newcastle
World vision
You included a 14 point summary of Boris Johnson's world vision.  Ninth on the list was: "Making the fight against climate change and biodiversity loss the government's 'number one international priority' in the coming decade".  I wonder how a "number one priority" found its way that far down the list.  Would it be cynical to think it is not really his top priority?
John Harrison
Wokingham
Little Britain
In Tom Peck's sketch referring to Boris Johnson's "little Britain" he reminds us that this hugely damaging Brexit project was voted for by a section of the population who couldn't cope with foreigners coming here – too much immigration. I remember a conversation with a Brexit-supporting client at the time who justified his view by talking about the large number of Bangladeshis who now live in the suburb of Birmingham where he grew up. Well, Johnson, Priti Patel, Dominic Raab et al have spectacularly succeeded in "getting immigration under control". Not by implementing sensible measures like, say, counting those leaving as well as those entering the country, but by making the country so dismally unattractive that no one wants to come here in the first place.
Anne Wolff
Maidenhead
Nuclear stockpile
Clearly, Boris Johnson and his cabinet are an "irony-free zone". On the same day that the PM announces an international agreement breaking plan to increase the UK's nuclear stockpile, which will probably cost almost as much as the ill-fated test and trace initiative, the foreign secretary says democracy is in retreat (but he forgot to include the UK in his list of regimes), and the health secretary denies that NHS staff are facing a real-term pay cut. Meanwhile the government defends paying for a £2.6m Downing Street press room.
As icing on the cake, the "Crime Bill" received approval in the House of Commons – if it becomes law, which seems increasingly likely, it would effectively prevent UK citizens from protesting about nuclear proliferation, lack of effective democratic decision making, the absence of any effective initiatives to make women safer and a proposed insulting pay deal for nurses and other NHS staff.
David Felton
Wistaston
End of lockdown anxiety
Hurrah for Jenny Eclair. We have had so many great articles from her during the lockdown and her latest is no exception. I, fortunately, haven't an ill elderly relative to come to terms with and I have eaten at a dining table each day with my husband, but her other sentiments are ones that I am certainly in sympathy with. Will we still be wearing a mask when shopping? Will we feel happy touching and handling clothes? And will we be allowed and feel comfortable trying on clothes again? I am not sure.
Rosemary Watt
Address supplied
Join our new commenting forum
Join thought-provoking conversations, follow other Independent readers and see their replies