A hard Brexit would be near-fatal for UK science and other countries around the world
Please send your letters to letters@independent.co.uk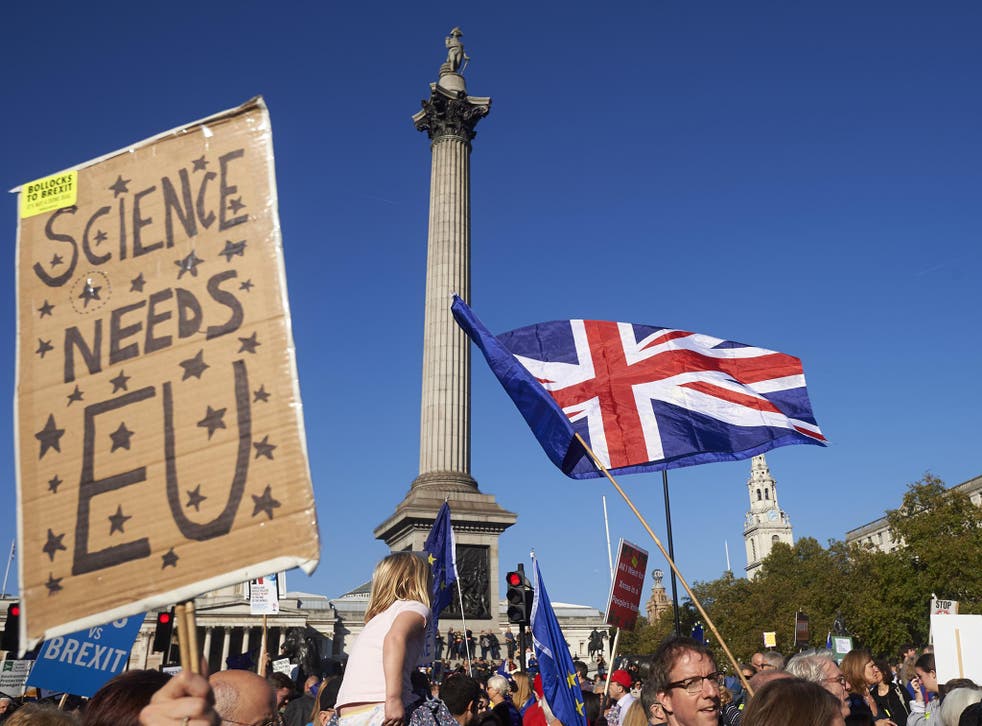 The Francis Crick Institute's research, and letter this week from the Nobel laureates, has exposed a critical issue facing not just science in Britain, but science around the globe (Hard Brexit 'could cripple UK science', warn Nobel laureates). A hard Brexit would be near-fatal for scientific endeavour in Europe, and the consequences would be felt even further afield. Successful research relies heavily on successful collaboration – some of the biggest breakthroughs in science have come from joint international efforts.
It is vital that all of those involved in the pursuit of new knowledge and discovery – from the life science and pharmaceutical industry to startups, academic institutions and global regulators – can continue to work together and advance research. Whether it's curing cancer, treating rare diseases, or stopping the spread of pandemics, the pooling of our knowledge is vital. We join the Francis Crick Institute and Nobel winners in urging the government to ensure scientific collaboration is a key facet of any Brexit agreement. Failure to reach a deal will stifle innovation and leave Britain severely disadvantaged, and ultimately, it will be patients across the UK who will pay the price.
Sir Alasdair Breckenridge and Dr Steve Arlington, The Pistoia Alliance
The nightmare can stop
Our parliament is leading the breakup of the EU just at the time when China and Russia are competing with Trump's US for political instability and chaos. It is the beginning of an Orwellian nightmare.
What hope then for us little Englanders?
But, apart from that little matter, democracy demands a second referendum because of the contentious nature of the negotiations and the wishes of those who were too young to vote in 2016.
Tony Moy Honiton
I had cancer. Now I'm being punished financially
Relating to your article about cancer survivors demanding the "right to be forgotten" – we do and we should. I have been clear of cancer since 21 January 2014. I have, however, had ongoing treatment due to being fitted with synthetic meshes twice.
Recently, I left a job that had provided me with private medical care. Bupa contacted me, offering the opportunity to continue my cover at special rates. One policy is based on me having hit the magical five years, the other not (and much more expensive). I'm a non-smoker, who doesn't drink alcohol or take recreational drugs – it does rather feel like I'm being punished. The same applies to holiday insurance: cover for me is more than my husband and two children together.
Samantha Butterworth Address supplied
Power to the people
I marched for a people's vote last Saturday. It was my first ever protest march and though the atmosphere was determined and good-natured, there was also an almost palpable sense of frustration. Frustration that we seem to be sliding inexorably towards a place of nobody's choosing. After two and a half years, which incidentally is longer than the interval between some general elections, people have changed their opinions and there have been significant demographic changes as well.
Against this backdrop, politicians bicker and plot, deaf to the cries of young people, in particular, who desperately want to stop this madness from damaging our country and their futures. Notions that we cannot vote on the outcome of Brexit negotiations because it would be an affront to democracy are frankly silly.
The people began this process. Surely it is their right to end it.
Colin Attree​ Bracknell
SMEs will be hit hard by Brexit
As someone who has spent the last 12 years building a small specialist import/export business and having done what the government has told us to do – "build business with the EU" – I think Brexit is frankly a complete disaster, and not only for my business (which will lose over 40 per cent of its business overnight unless we have a permanent free trade arrangement with the EU).
The arguments to leave make no sense whatsoever. I trade with Japan, the US, South Africa, Brazil, Australia and New Zealand in addition to many EU counties. I do not need "trade deals" with any of these countries to do business now, so why do I want to leave my largest market for a bunch of trade deals which will take years to bring to fruition?
There are many businesses in the UK in exactly the same boat as myself. We have suffered a massive drop in the value of sterling already and after a screwed up Brexit, it will probably fall to parity with the US dollar, which will not only screw my business even further but will escalate import prices on all goods including raw materials, oil and associated products (further increasing inland UK distribution costs) and many consumer goods, all of which are paid for in US dollars.
This government is being driven by the wealthy far right whose only concern is to protect their ill-gotten gains in offshore accounts which, strangely, will come under EU legislation on the date we are due to leave the EU.
Andrew Brown-Searle Address supplied
Support free-thinking journalism and attend Independent events
Trump has odd priorities
Maybe if the US spent an equal amount of money creating jobs to avert climate change, they would not be experiencing ever-increasing bad weather events.
No matter how much they get in arms deals with various countries, no amount of hi-tech military equipment is going to be a match for category five hurricanes.
Liam Power County Louth, Ireland
Join our new commenting forum
Join thought-provoking conversations, follow other Independent readers and see their replies