Northern Ireland just voted to keep the abortion ban in cases of rape and incest - and David Cameron is silent
Basil McCrea spoke of young couples having to abort their terminally ill foetuses in England and bring home their remains in a suitcase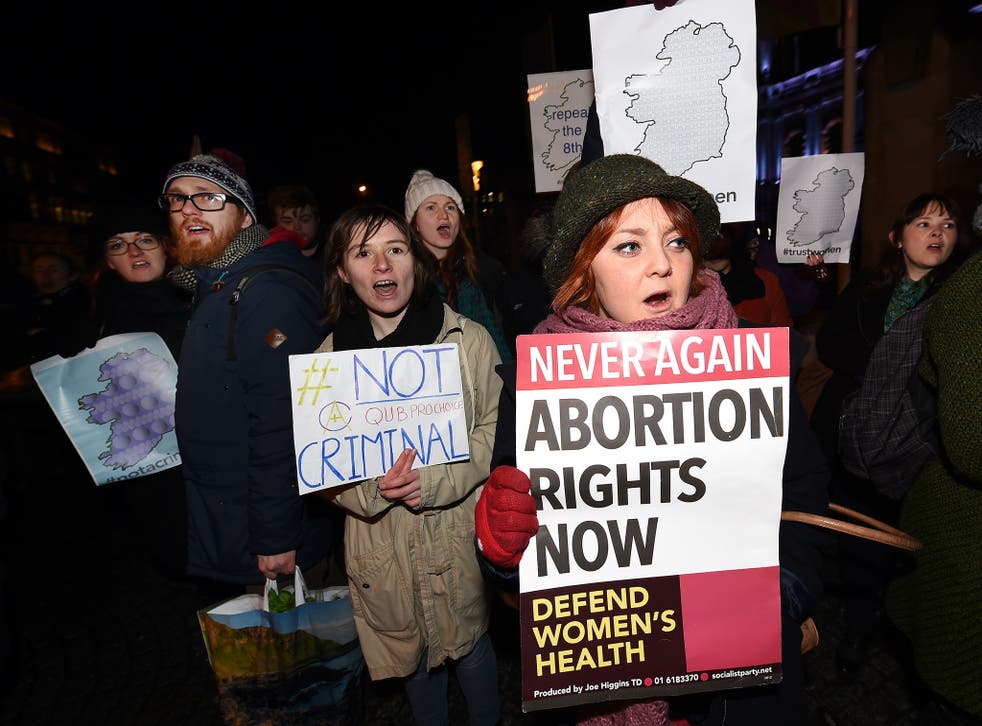 This week, Protestant and Catholic politicians came together in a rare move of solidarity across the political divide at Stormont. In Northern Ireland's divided society, there's perhaps one thing on which 'both sides' can always agree: women do not deserve rights.
A vote was held on whether to amend the region's abortion ban, which is currently among the most restrictive in the world. After the Belfast High Court ruled the ban is a breach of human rights legislation back in November, Stormont was given one last opportunity to amend it to allow abortions in the event of rape or incest, as well as a fatal foetal diagnosis which meant survival outside the womb would not be possible.
One politician, Anna Lo, who proposed the amendment in the case of rape or incest, telling her colleagues her experiences of working as an interpreter for the Northern Irish police and coming face-to-face with the distress of vulnerable women immediately after being raped – a distress compounded by fears of being forced to give birth to their rapists' babies.
Another, Basil McCrea, spoke of young couples devastated to learn that their much -wanted pregnancy involved a defect which meant the foetus could not survive outside the womb, and who were forced to travel to England for an abortion and bring their child's remains home in a suitcase.
Among Stormont's otherwise often macho-posturing and aggressive politics, the vote was a rare one of raw emotion.
After hours of debate, on the cusp of midnight, Stormont voted no to both amendments and the abortion ban will remain in all cases.
It's an extraordinary moment both for Northern Ireland and the rest of the UK, whereby a UK legislature has voted to commit a human rights breach against its own citizens. We're now in an unworkable situation whereby abortion is a human right according to the judiciary and a criminal offence according to the parliament.
Two women are currently awaiting trial for "committing" an abortion in Northern Ireland or helping another person to "commit" one. One woman stands accused of helping her teenage daughter to access abortion pills. The other is a 21-year-old woman accused of "attempting an abortion" using pills believed to have been ordered online and shipped into Northern Ireland. Under the legal system which equates abortion will murder, both women may now face life in prison following Stormont's vote.
No comment has been made on the situation from either Prime Minister David Cameron or Minister for Women and Equalities Nicky Morgan, despite the fact this is a human rights breach against UK citizens. Nor, sadly, do Northern Irish women expect any such comments to come.
The British government has long held a policy of not getting involved with Northern Ireland's ongoing 'abortion problem'. Their argument seems to be that the seldom secure peace process in Northern Ireland is so delicate that British involvement on devolved Northern Irish issues would cause too much outrage from Stormont. In other words, they're best left to work things out for themselves. But this excuse simply isn't enough any more.
Westminster's refusal to get involved is simply (primarily male) English politicians letting (primarily male) Northern Irish politicians abuse women because the situation is mutually convenient to both legislatures. It is unthinkable that this would be allowed to happen on any other issue than women's rights.
It's a common theme in Northern Irish peace-time politics and has been dubbed "sextarianism". Politicians who previously fought to deprive each other of rights on ethno-religious grounds are now channelling this approach into people deemed 'sexual deviants', including LGBT people who wish to marry, sex workers or women who wish to have reproductive rights. We've seen this happen with the ongoing ban on same-sex marriage, criminalisation of sex work and the constant campaign against abortion.
Essentially, it suits Westminster for Stormont to deprive these groups of rights because, so their logic goes, at least Northern Irish politicians' energies are being spent this way instead of being at each other's' throats.
But by propping up this system, Westminster is allowing human rights breaches against its own citizens. The price to pay for Northern Irish devolution should not come at the expense of women's rights. But in male-dominated negotiations between politicians on both sides of the Irish sea, they always have and always will.
Register for free to continue reading
Registration is a free and easy way to support our truly independent journalism
By registering, you will also enjoy limited access to Premium articles, exclusive newsletters, commenting, and virtual events with our leading journalists
Already have an account? sign in
Join our new commenting forum
Join thought-provoking conversations, follow other Independent readers and see their replies