Saudi Arabia is to execute 14 young men for protesting – where is Theresa May's condemnation?
There are 14 pro-democracy demonstrators who face execution after being caught up in protests against the royal family which turned violent. What's even more disturbing is the fact that British police may have directly helped arrest them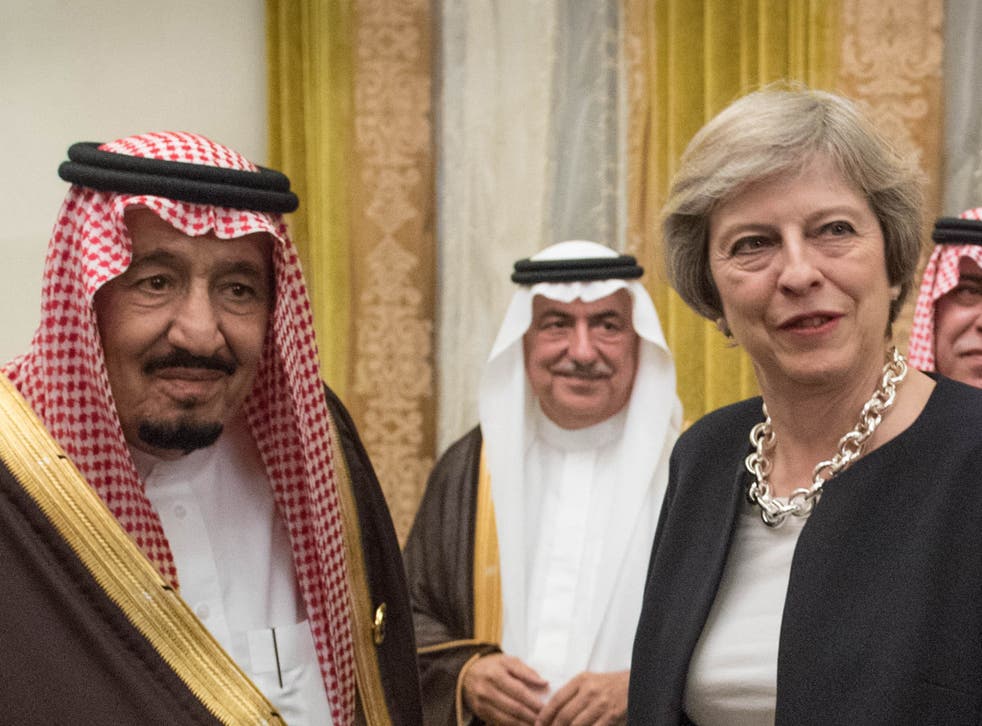 In most countries organising an illegal demonstration on Facebook might get you a fine or, if you're unlucky, a short jail sentence.
But there is one place where it can actually help get you the death penalty.
In Saudi Arabia today there are 14 pro-democracy demonstrators who face execution after being caught up in protests against the royal family which turned violent.
One of them, Mujtaba al Sweikat, was on his way to take up a place at the University of Western Michigan when he was arrested at one of the country's airports.
On his charge sheet the teenager, who was just 17 at the time, was accused of "supervising" a group on Facebook and "photographing the demonstrations, which is punishable according to the cybercrime bill".
World news in pictures

Show all 50
So he wasn't exactly arrested at the scene, Molotov cocktail in hand.
Another death row juvenile, Ali al Nimr, was convicted of: "Setting up a page on his Blackberry with over 800 people, naming it 'The Liberals', with the goal of inciting demonstrations by way of sending pictures of the demonstrations , their time/locations and inviting people to participate."
Hardly storming the barricades but, again, enough to appear on his charge sheet.
It's a bit like the famous Not the Nine O'Clock News comedy sketch from the time of the Brixton riots when the racist police officer is berated by his sergeant for his over exuberance in arresting black people.
Offences include "wearing a loud shirt in a built-up area", "walking on the cracks in the pavement" and "loitering with intent to use a pedestrian crossing".
Funny if, as in this case, it wasn't so serious.
For not only were these men's, sorry children's, confessions of violence made after prolonged torture but they were also denied access to lawyers and a fair trial.
What's even more disturbing is the fact that British police may have directly helped arrest them.
May denies suppressing report into Saudi Arabia's funding of extremism to protect arms deals
The human rights group, Reprieve, has warned that training from British officers was equipping Saudi police with skills that could be used to "identify individuals who later go on to be tortured or subjected to other human rights abuses".
Britain's secretive training of foreign regimes with dubious human rights records was heavily criticised in a parliamentary report last year.
The Home Affairs Select Committee found that the College of Policing had generated more than £8.5m in revenue through international work which included training in forensics, child abuse investigations and counter-terrorism.
The trouble is, as we all know, that one man's freedom fighter is another man's terrorist.
So those swept along by the Arab Spring who took to the streets of Saudi Arabia in 2011 may seem like romantic musketeers to some of us, but to the authorities there they are terrorists, pure and simple.
MPs were told that hundreds of Saudi Arabian police officers had been trained by the UK, but specific areas were not gone into so as not to identify Saudi "areas of weakness".
However, according to the BBC, there were plans to widen the training from forensics to cybersecurity, mobile phone analysis and CCTV systems.
Does this mean that people like young Mujtaba and 20-year-old Munir al-Adam who was born disabled with an eye and hearing defect, are being spied on through social media with the help of British police?
Munir's charge sheet included the accusation that he had saved messages from rioters onto his mobile phone.
In essence, the Saudi authorities claim the protests turned violent and the men are being executed for "attacks on police".
But the families and campaigners claim confessions were extracted under torture and so are not safe.
As Munir's mother, Um, 50, put it: "Even if we suppose that, hypothetically, Munir is guilty as charged, is it fair and just that he receive a death sentence? Has he shed blood or killed someone?"
Saudi Arabia wasn't the only place to have riots in 2011. We did as well, following a police shooting in Tottenham, North London.
But even the man who went on Facebook urging rioters to "put Manchester on the map" only got three years, much the same as those who actually did the looting.
The families of both Munir and Mujtaba don't deny that they were at the protests. But they do deny that they acted violently.
The United Nations and Human Rights Watch have said the demonstrations at the time were generally peaceful but often erupted into violence when Saudi forces used excessive force against the demonstrators.
Now a group of MPs, including former Labour leader Ed Miliband, have written to Theresa May calling on her to "personally urge" Saudi Arabia's King Salman to halt the executions.
Their letter went on: "We also ask that you take urgent steps to confirm that UK assistance played no role in these individuals' conviction under Saudi Arabia's anti-cybercrime law".
Maya Foa, director of Reprieve, was a bit more blunt when she condemned the Prime Minister's "deafening silence" on the issue.
"When 14 young men face imminent beheading for protest-related offences, simply raising the cases in private doesn't cut it," she said.
Let's hope the PM does something to make a difference before any royal assent to the executions is given. It's currently down to crown prince, Mohammed bin Salman, because his father, King Salman, is on holiday.
The things they delegate when they go on a break.
Anthony Harwood is former foreign editor of the Daily Mail
Register for free to continue reading
Registration is a free and easy way to support our truly independent journalism
By registering, you will also enjoy limited access to Premium articles, exclusive newsletters, commenting, and virtual events with our leading journalists
Already have an account? sign in
Register for free to continue reading
Registration is a free and easy way to support our truly independent journalism
By registering, you will also enjoy limited access to Premium articles, exclusive newsletters, commenting, and virtual events with our leading journalists
Already have an account? sign in
Join our new commenting forum
Join thought-provoking conversations, follow other Independent readers and see their replies