The Tories may as well accept that new education proposals target Muslims alone
Any pretence of faith neutrality was left in tatters after a series of statements by ministers this week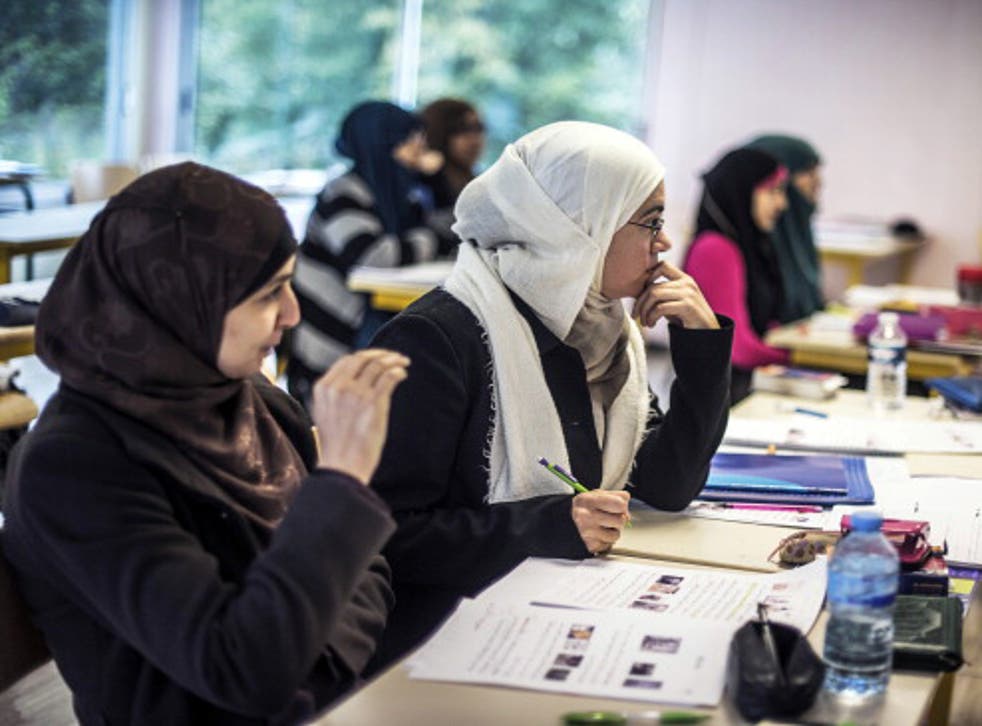 If there's one thing that David Cameron needs to learn from "the buffoon" Donald Trump, it is to be honest about religious profiling in the fight against extremism.
Whilst "the Donald" states publicly that he believes that Muslims should be targeted as they are more predisposed to terrorism, a view rightly ridiculed by many politicians at home, the British government has thus far maintained the position that it is not targeting Muslims. It argues that it is fighting all forms of extremism – whoever it comes from, and regardless of faith.
Yet this pretence was left in tatters after a series of statements this week by ministers on the topic, tacitly admitting the targeting of Muslims, whilst retaining the façade of faith neutrality.
On Channel 4 News, when asked if "recent and rapid conversion to a new religion", one of the warning signs of radicalisation list on the new government sponsored website, applied to young children converting to Christianity, the Education Secretary Nicky Morgan replied: "No, of course not." Mrs Morgan clearly acknowledges that the language of the site was actually targeted at converts to Islam and was not intended to be faith-neutral in its scope.
Similarly, the Prime Minister denied the claim by Ofsted chief Sir Michael Wilshaw that the out-of-school education settings proposal will be used to regulate Christian groups and Sunday schools as well as Muslim "madrasahs". His reasoning was that the faith-neutral language in the proposal specifically targeted schools providing education for at least "six to eight hours a week", which would exclude Sunday schools.
When asking why Northern Ireland (which like the broader international threat has an MI5 threat rating of "severe") was not included in the counter-extremism strategy, Gavin Robinson MP claimed he was told by a government official, I assume on the condition of anonymity: "Don't push the issue too far. It is really a counter-Islamic strategy".
This view of the government targeting Muslims in particular, is also supported in how the government's documented Counter-Extremism Strategy targets Sharia courts – but not Jewish Beth Din courts, which work in a remarkably similar way.
Even in counter-terrorism prosecutions, there are fears that Muslims have been targeted. For example, EDL member Ryan McGee received a two year sentence and avoided a terror charge after building a workable nail bomb as he was "not a terrorist but an immature teenager", yet Runa Khan charged with promoting terrorism on Facebook was sentenced to six years and Yusuf Sarwar and Mohammed Ahmed received 12 years apiece after returning from Syria.
This perception has been supported by government rhetoric, including for example, when the Prime Minister claimed that Muslim communities "quietly condone" Isis. Such inflammatory language is also found in the Prime Minister's Munich speech on radicalisation and Islamic extremism and Lord Chancellor Michael Gove's Celsius 7/7.
Taken together, one cannot help but feel that this is less to do with tackling the terrorist threat and more to do with meeting the insatiable demands of the moral panic against Muslims generated in some sections of the media.
The government has previously argued that such accusations of targeting Muslims do not paint a fair picture of their approach. Ministers point to the faith-neutral language of the terrorism legislation and how "neo-Nazis" as well as "Islamists" are targeted, a claim they justify using figures which show a small proportion of Prevent cases are from far-right groups. The stock response to the burgeoning number of cases of young Muslim children at schools being referred to counter-radicalisation teams for often spurious reasons is that it is merely a problem of poor training and implementation.
But this position is no longer tenable. It is now clear that it is not just the implementation of the law which causes a perception that Muslims are being targeted – it is the very intent of the legislation itself, as Nicky Morgan and the Prime Minister divulged this week.
The government now needs to be honest and explicitly admit it is intentionally targeting Muslims. It can then try and justify its position, not only with public opinion but also with the courts who are likely to have something to say on an issue of explicit discrimination. To abide by the Human Rights Act, for example, the government would have to provide the "objective or reasonable reason" why it is discriminating (Article 14), demonstrating why it is "necessary and proportionate" given the impact on freedom of religion (Article 9). Failure to do so leaves the government open to a judicial review, the culmination of which could result in the legislation itself being declared unlawful.
There's little doubt counter-extremism policy will be at the heart of national debate over the coming years. My hope is that David Cameron will remove this pretence of non-discrimination once and for all so the issue can be publicly debated and its legality understood once and for all – but I'm not holding my breath.

@miqdaad
Join our new commenting forum
Join thought-provoking conversations, follow other Independent readers and see their replies