Emperor Trump visits Poland with no new clothes and is met with rapturous applause – but it won't work at G20
Trump took the chance to soak in the sunshine – and the applause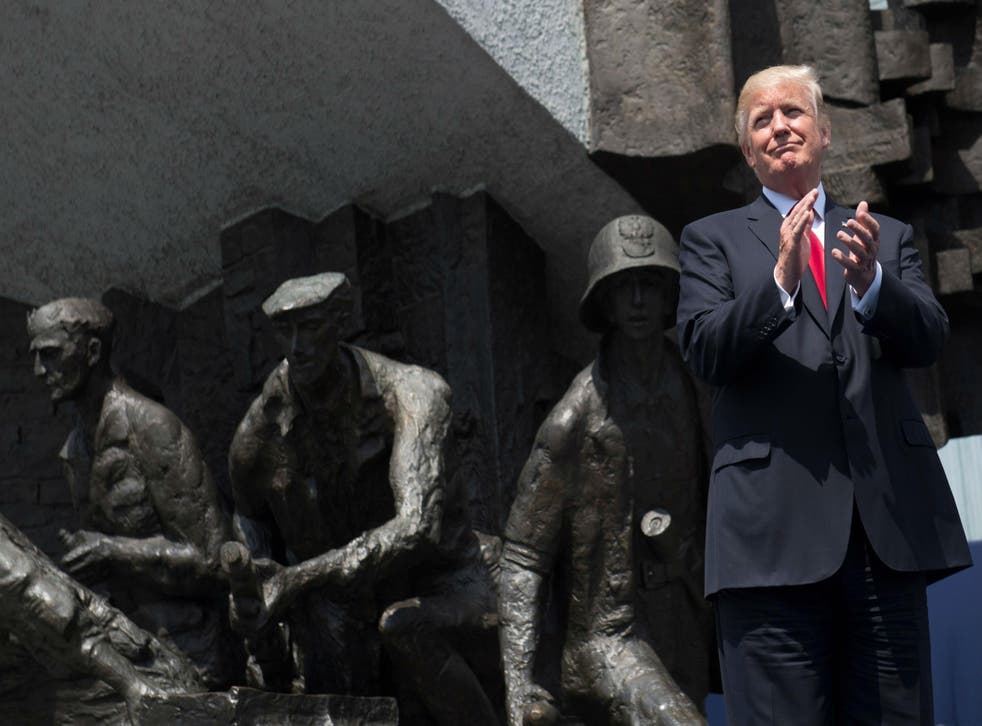 The crowds that cheered for Donald Trump in Warsaw's Krasinski Square may have been specially bussed in, but that did not seem to bother him.
As he spoke about Poland's history and its role in defending what he claimed was a threat to Western civilisation, he repeatedly stopped to acknowledge cheers from the crowd. "Thank you," he grinned, almost purring. "Thank you."
And in case anyone missed all that cheering and the chanting of his name, the White House made sure to include it in a transcript of his remarks. It noted in parenthesis, that there was "applause" on 54 occasions in a speech for that lasted for around 35 minutes. Not bad.
It was easy to see why the Poles were happy. Here was the US President telling them how wonderful they were, and finally confirming America's commitment to Nato's Article Five, that part of its constitution that binds its 29 members to the notion of mutual defence. If someone attacks you, they attack all of us.
Trump had churlishly refused to do so on his previous visit to Europe, and had been criticised for his behaviour. But in Warsaw, a city that has for long periods echoed with the boots of foreign armies, there he was, spelling things out clearly.
"To those who would criticise our tough stance, I would point out that the United States has demonstrated – not merely with its words but with its actions – that we stand firmly behind Article Five, the mutual defence commitment," he said.
Trump and Polish president Duda connect over disapproval for 'fake news'
If Trump's ticking off of some of Poland's most celebrated sons – "You are the proud nation of Copernicus, think of that" – sounded as if he'd been scrolling through Wikipedia or the Lonely Planet on Air Force One, it was well received by his audience. Who could not cheer, when he declared: "Poland is a land of great heroes."
It was easy, too, to see why Trump was so happy. There he was, 4, 457 miles from Washington DC, and a universe away from all his problems – the faltering progress of a health bill, his low approval ratings, the outcry over his misogynistic Twitter posts.
Speaking not so far from where, 30 years earlier, Ronald Reagan had gazed out over the Brandenburg Gate and urged Mikhail Gorbachev to "Tear down this wall", Trump was standing at the geographic centre of Europe and offering himself as the man who for this generation would do no less than protect its people and its values.
World news in pictures

Show all 50
"Just as Poland could not be broken, I declare today for the world to hear that the West will never, ever be broken," he said, to more (applause.) "Our values will prevail. Our people will thrive. And our civilisation will triumph."
It would be easy to say, that it is easy for Trump to appear presidential. But he has shown, repeatedly, that it is not. During the election campaign, and since his victory, the 71-year-old has shown himself to be anything but. Petty, narcissistic, mean-spirited, bullying and abusive, yes. But not presidential.
Yet what he confirmed on Thursday, is that when he is speaking before a crowd of people who like him – or at least a crowd of people who are cheering his name - he can be an effective communicator. He is not Reagan, he is not Obama, but he is a better orator than his opponents would have it.
In truth, this was just a warm-up for the real action. Trump now has to go to the G20, where he is going to be confronted by trade, climate change, and the fresh challenge of North Korea. There, it will not be enough for him to simply make speeches, but he will need to deliver. That will be when his pre-election boasts come true, or are shown up as mere bluster.
Bear in mind, he will be dealing with Angela Merkel, Xi Jinping and Vladimir Putin. They're going to be a much tougher audience than the crowd that was cheering in the Polish sunshine. The Emperor will certainly need new clothes.
Register for free to continue reading
Registration is a free and easy way to support our truly independent journalism
By registering, you will also enjoy limited access to Premium articles, exclusive newsletters, commenting, and virtual events with our leading journalists
Already have an account? sign in
Join our new commenting forum
Join thought-provoking conversations, follow other Independent readers and see their replies