The year of the woman? Let's hope 2019 is more inspiring
While 2018 has certainly been one for the feminist history books, if that was the year of the woman then I think I'll turn in my ovaries and give up right now. Let's take a look at how it went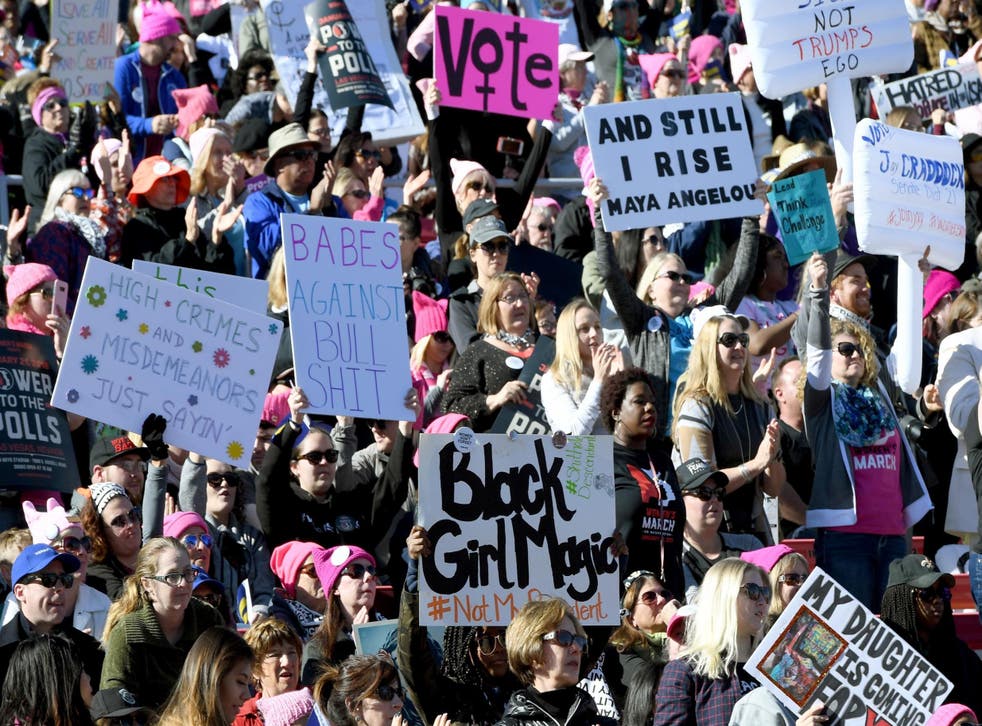 "This will be the year of the woman" – the phrase that was sung, jubilantly, shouted proudly through megaphones and pasted across newspaper headlines as the world rubbed its bleary eyes and woke up to 2018. Worldwide women's marches were planned to mark a year since Donald Trump matriculated to the White House – a year since he was voted in by millions of Americans despite almost two dozen sexual assault allegations hanging over his head. Celebrations punctuated the calendar to mark a centenary of women's vote. The nascent #MeToo movement against blind-eye turning to sexual assault was picking up momentum.
Curiously, not many questioned why women only deserved one year. Just 365 days dedicated to putting things right for the fairer sex? Presumably afterwards (much like on March 9th every year following International Women's Day or all the programmes that air after Woman's Hour on Radio 4) everything would go back to male-led thinking and priorities in 2019. While 2018 has certainly been one for the feminist history books, if that was the year of the woman then I think I'll turn in my ovaries and give up right now. Let's take a look at how it went.
There was the good. The global clap back against sexual harassment continued when multiple women stood up to reveal their experiences at the hands of an "unknown business man" in the UK. When the accused was revealed to be high street mogul Philip Green in October, the news was largely met with the same disheartening response across Whatsapp groups and offices UK-wide that it was "no surprise". Witnesses had just reported seeing him tear down a display of feminist books and the women were no longer staying silent. December saw women speak up at another high street store that designs clothes primarily for young women – this time Ted Baker – where, employees claimed, the firm's founder Ray Kelvin had long fostered a culture of unwanted sexual contact. By December, #MeToo had become the most-used hashtag of the year on Instagram, garnering 1.5m uses across 2018.
2018 will be remembered for its activism, too, much of which was led by grassroots feminist groups and unwavering individuals. Women marched, protested and celebrated everything from women's vital role in the First World War to their tenacious fight for the vote. March saw an International Women's Day for the ages, with numerous feminist books released that celebrated women's historical achievements and events across the country, which felt like a galvanising moment of sisterhood. Activist Caroline Criado-Perez once again campaigned for women's visibility, seeing the unveiling of a statue of the first ever woman in parliament square in April: suffragist Millicent Fawcett sculpted in bronze by Turner prize-winning Gillian Wearing. In November, Emmeline Pankhurst was commemorated in St Peter's Square in her hometown of Manchester.
In May, we saw the real power that grassroots activism could harness, when the Republic of Ireland voted overwhelmingly to repeal the eighth amendment and legalise abortion after months of campaigning by feminist groups. Now, Northern Ireland remains the only country in the UK where abortion is illegal and rumblings to overturn the law there have already started.
Despite the wins, the patriarchy proved too powerful a force to be brought down by a catchy year moniker – for with the good there came also the bad. Somehow, despite our constant speaking out, women continued to be publicly shamed, lambasted and torn down. I'm speaking, of course, about the Duchess of Sussex. We saw a mixed-race divorcee join the royal family and challenge the outdated customs of the monarchy in a wedding watched by millions. The viewers saw her walk the aisle alone, do her own speech and celebrate black culture. And, just like clockwork, this new royal woman became the focus of media speculation over how she compared to her new husband's deceased mother, her "catfighting" with her sister-in-law and whether or not her clothes went against royal protocol. No proof of said bickering existed, and it didn't need to. Women just needed to exist to bear the brunt once again. It was as if, by magic, we'd forgotten how salacious gossip like this killed her would-be mother-in-law.
Men's abuse directed at women was allowed to reign free on the Twitter newsfeeds – so much so that Amnesty International declared it to be a toxic place for women. Twitter, of course, explained away the abuse saying that its policy strictly prohibited any sort of harassment, intimidation or silencing of other people's voices. Curious, that, given the silencing of women continues endlessly on its platform. How could we curtail this sort of attitude, anyway, when it's seemingly being spouted by the potential leaders of our country? Or have we forgotten Jeremy Corbyn's apparent muttering of "stupid woman" while Theresa May spoke?
And it didn't stop there. Despite rallying cries from women across all sectors, the patriarchal structures that had enabled men to get away with feeling women up and threatening to destroy their careers if they spoke up about it proved to be fixed firm as dry concrete.
November saw a teenage girl's knickers described to jurors as evidence to discount her credibility in a rape trial.
The so-called "evidence" was similar to the case of the Ulster Rugby players who were acquitted of rape in March following a trial that saw the female complainant subjected to seven days of cross-examination (compared with the defendants' one day) and her bloodied knickers passed around the jury. Acquittal or no, the text messages sent between the two defendants referring to the then teenager as a "slut" and themselves as "top shaggers" reveal eye-opening truths about many men's attitudes to women.
Support free-thinking journalism and attend Independent events
It's no wonder so few women come forward to report rape. Convictions this year were down 12 per cent, making it the lowest year of rape convictions in 10 and an End Violence Against Women Coalition survey found that more than a third of people aged over 65 didn't believe rape in marriage was in fact rape.
But how could we ever make progress when faced with layers of legislation stopping it dead in its tracks? This year, our chief of police Cressida Dick spoke on national radio about how she was keen for the force to focus on violent crime and dismissed any suggestion that misogyny would be treated as a hate crime, in turn belittling women's plight and leaving the men responsible for the abuse and murder of women with more lenient sentencing.
In December, the Femicide Census revealed that the number of women being killed by men had remained at the same level as it has been for the past decade. Absolutely no progress had been made when it came to tackling domestic violence. This year, murders which had been committed using such excessive force that it was more than was required to kill the victim (known, harrowingly among the campaigners as "overkill") counted for almost half of all femicides. Of course, let's not expect the government to do anything about that. Its attitude to domestic abuse has done nothing to help – in fact, quite the opposite. In November the UN described the UK's austerity measures as so sexist they may as well have been compiled by a group of misogynists in a room. December saw millionaire John Broadhurst charged with mere manslaughter and given a sentence-lite of less than four years after he claimed his girlfriend died accidentally following "rough sex". The victim, 26-year-old Natalie Connolly, was found with serious internal trauma, a fractured eye socket and facial wounds.
So, no, 2018 was not what we'd hope for from the year of the woman. It exposed far greater and far stronger currents against the tide of progress than perhaps we ever expected. While the pay gap will take 202 years to close, violence against women and girls is terrifyingly prevalent and sexist outbursts come from those we least expect, there's much, much more to be done. Come on 2019. We can do much better than this.
Register for free to continue reading
Registration is a free and easy way to support our truly independent journalism
By registering, you will also enjoy limited access to Premium articles, exclusive newsletters, commenting, and virtual events with our leading journalists
Already have an account? sign in
Register for free to continue reading
Registration is a free and easy way to support our truly independent journalism
By registering, you will also enjoy limited access to Premium articles, exclusive newsletters, commenting, and virtual events with our leading journalists
Already have an account? sign in
Join our new commenting forum
Join thought-provoking conversations, follow other Independent readers and see their replies