The new generation of sommeliers making wine cool again
It's got a history of being pale, male and stale but the world of wine is finally starting to wake up – and woke up. Tomé Morrissy-Swan speaks to the chefs, sommeliers, influencers and podcasters challenging stuffy stereotypes and, well, making it all a lot less boring
Saturday 11 February 2023 12:27 GMT
Comments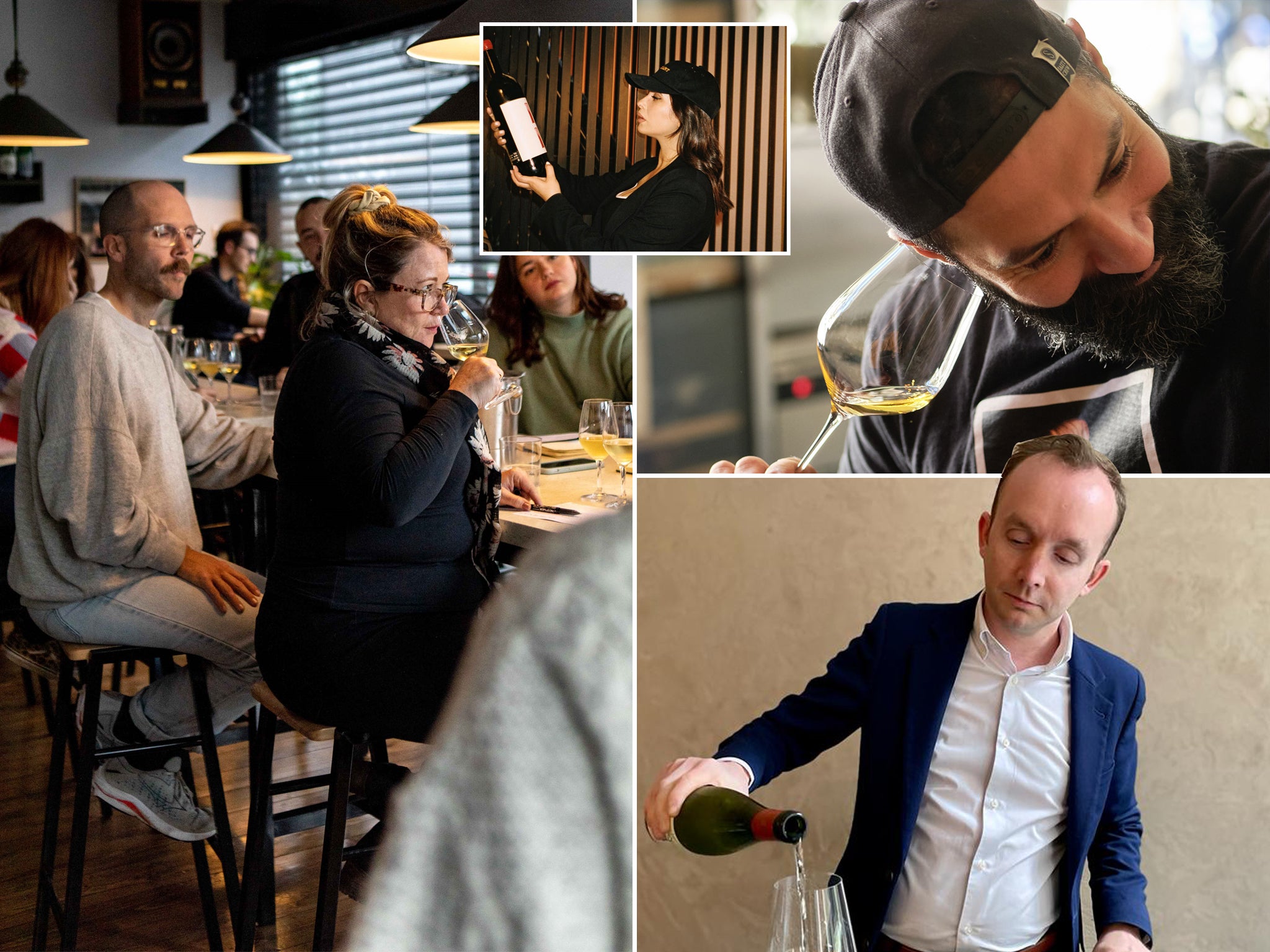 At the Drunken Butler, a fine-dining restaurant in Farringdon, London, the wine is served a little differently. Normally, a sommelier brings a series of expensive-looking bottles to match each course, complete with a lengthy, often immediately forgotten, presentation. But here the wine is served blind, the sommelier only later revealing the bottle.
It's a fun take on what can sometimes be a stuffy premise. Yuma Hashemi, the Tehran-born, Berlin-raised proprietor who, unusually for a chef, often takes the reins in the dining room too, introduced the idea after trialling it on a sommelier friend who guessed every wine but one correctly. "For a guest who doesn't have much of a wine education, maybe wants to look good on a date, there can be a lot of pressure [when choosing wine]," says Hashemi. "We took the pressure away by serving all the wine blind."
Ordering wine, particularly in high-end restaurants, has always been fraught with fear for the uninitiated. The traditional image of an intimidating sommelier (tall, white, besuited, snooty, testing your knowledge). The endless questions: what wine do you like? "Don't say chardonnay, don't say chardonnay." Am I swirling my glass right? Do I need to sniff it first? How do I describe the wine without feeling stupid? Can't I just get the second cheapest bottle?
"Many people feel they must live up to what one might call this 'old-school' mentality of what enjoying wines means," says Charles Carron Brown, sommelier and restaurant manager at Simon Rogan's Aulis in London. In fact, he's worked across Rogan's restaurant empire, including the three-Michelin-starred L'Enclume in Cumbria. "It certainly doesn't need to be frightening. It's all about creating that experience that makes guests feel comfortable."
A growing number of people across the industry, from producers to sommeliers, social media influencers to wine teachers, are on a quest to make wine more accessible.
"Things are getting much better because of the ambition and drive from a new generation coming through," says Paris Barghchi, a former GM and wine buyer at the now-closed Peg in east London, who leads a course at Provisions Wine School aimed partly at making wine less intimidating. "I came out of the WSET [Wine and Spirit Education Trust] exam and there was such a mixture of people in attendance. Lots of languages, different ways of communicating, different clothing. That really gave me hope."
Barghchi's approach to making customers feel comfortable is to start with emotion rather than knowledge. "The first thing I ask is how are you feeling? What do you feel like drinking? I always engage in conversation first, learn a bit about them." If they don't know what they like, Barghchi asks what classic mainstream wine they go for. "It's all about personal interaction, not what you are selling."
Carron Brown takes a similar line. Rather than starting with incomprehensibly complex tasting notes, he prefers a story – of a vineyard, perhaps, or meeting a farmer. It becomes more personal and relatable than talk of salinity or dustiness.
Social media has played a key role in demystifying wine, with young influencers like Wine Gini, The London Wine Girl or Carron Brown's The Natural Sommelier presenting it as exciting and aspirational, just not in a traditional expensive-claret-in-the-cellar way. When wine writer and host of the I'll Have What She's Having podcast Hannah Crosbie began posting wine reviews to Instagram during lockdown, she quickly drew a large following, particularly among younger generations.
"Social media democratises learning about wine," says Crosbie, whose interest emerged when working at a fine-dining restaurant at 17. A growing profile led to her launching Dalston Wine Club in 2020, a wildly popular monthly event aimed at demystifying wine. For £35, attendees are given four glasses of quality wine tied to a theme in an unintimidating environment. "The language I use when presenting wine is inclusive," says Crosbie. "I gauge people's knowledge so I can talk about the same wine in different ways to different people, it's not a vibe where I'm lecturing you. It's a young and diverse crowd, and as more and more people get into wine, that crowd is naturally going to become more diverse."
Natural wine – a term with no universally accepted definition but is generally considered to incorporate environmentally friendly farming techniques and minimal intervention in the production – is arguably the biggest wine trend of the past decade, to the delight of young eco-conscious oenophiles and the ire of restaurant critics who turn their nose up at its funky (some say farmyardy) notes. Restaurants and wine bars focusing on natural wine, such as P Franco in London or Erst in Manchester, offer high-quality wines in casual settings. When the Portuguese vinho verde Chin Chin made by the team at notable wine bar Noble Rot – with its playful Millennial-pleasing label typical of natural wines – became the talk of the town during the lockdowns of 2020 and 2021, it seemed practically everyone under 30 in London had a bottle. (Ironically, it turns out not to be a natural wine, despite the common misconception.)
Nevertheless for Crosbie, the natural wine world was an easier avenue into the industry, though she still describes it as something of a "white boys' club". But the movement has been "completely instrumental in getting loads of young people into wine. Traditional wine lovers looked down on it, and young people felt like it was their space, where they could ask questions and learn." She points out that words commonly used to describe wine in this sphere, like "juicy" or "crunchy", help young people find their own wine vocabulary.
Barghchi, who this year will begin her own journey into winemaking in Wiltshire, points out that there are plenty of natural wine bars where she's had a bad experience, and many fancy restaurants where the sommeliers aren't intimidating at all. "The head sommelier at Chez Bruce [a Michelin-starred restaurant in Wandsworth] is in many ways your typical sommelier, but his approach to talking about wine and sharing his passion is incredibly accessible and inspirational."
The wine industry's image is beginning to change. While it is still seen as pale, male and stale (a recent Diversity in Wine Survey said there was a "significant" lack of diversity in the industry), a new generation of writers, sommeliers, podcasters, influencers and importers are beginning to challenge that stereotype.
Back at the Drunken Butler, guests are given a piece of paper and pen and asked to provide their reaction to the wine. Some write detailed descriptions, some focus on their feelings, others make drawings – there are no rules. Hashemi keeps all the notes and hopes to one day publish them. And in fact, not knowing what you're drinking removes any fear of "getting it right". It's just one example of how the wine world is beginning to loosen up.
Join our commenting forum
Join thought-provoking conversations, follow other Independent readers and see their replies