Children's craft kits – a phrase so full of good intentions that it can be hard to reconcile it with the shouty, harassed, paint and glue-covered reality. We've found the best ones for children of all ages, and tested them out so that you didn't have to. Be warned – we cannot guarantee you will not end up covered in paint and glue.
1. Melissa & Doug Decorate-Your-Own Horse Figurines: £4.49, Ocado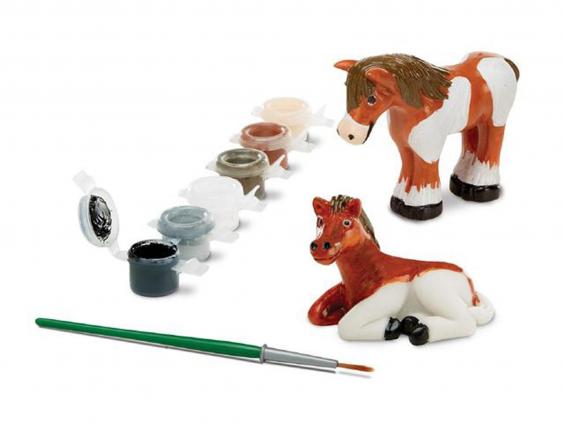 Ideal for any horse-obsessed child, or, in our case, any child who has ridden a pony once, this lovely set has two good quality, ready-to-paint horses and plenty of paint to complete the job. We'd have happily painted several more before getting bored. It's suitable for children aged five and up, but older children would enjoy this too as the intricacy of the painting is up to the child.
2. Pirate Peg Dolls: £3.99, Book People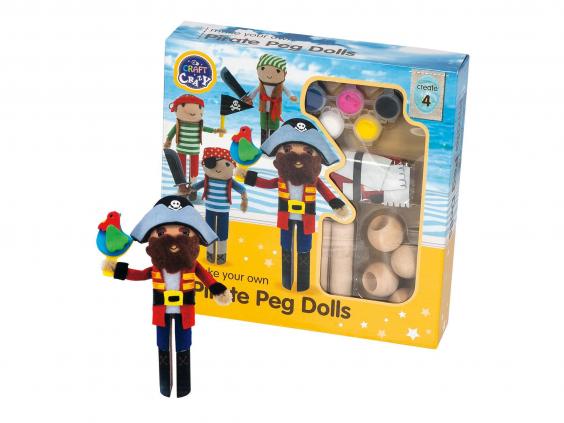 The beauty of this peg doll set, that allows you to create four pirates, is that you can make any pirate character you want to. Four girl pirates? Well, why on earth not. A flag-wielding, telescope-touting, parrot-waving captain? Aye aye aaaar indeed. They're sold as being suitable for three-year-olds to make with minimal supervision – but that would be a very dexterous, responsible three-year-old indeed. We'd recommend it for children aged five and up, and with supervision.
3. Aquabeads Frozen Playset: £18.50, Argos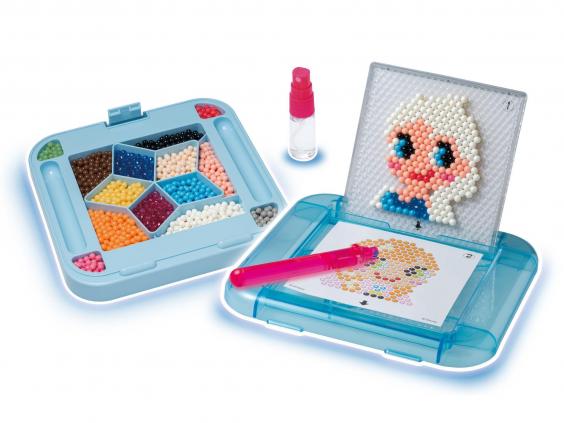 A craft kit containing hundreds of small beads is clearly enough to send shivers up the spine of even the most vacuum cleaner-phobic parent. And yet Aquabeads almost makes the potential disaster of dropping the whole set on the floor worth it, so nice is it when the beads stick together with just a spray of water. There are many different kits but these beads make beautiful snowflakes, so the Frozen-themed set is our favourite. (Sets of spare beads are available to buy, and recommended as each set has just the right amount to make one of each design). Suitable for any age once your child has the required dexterity – most likely about six and upwards.
4. Hobbycraft Suncatcher: from £1, Hobbycraft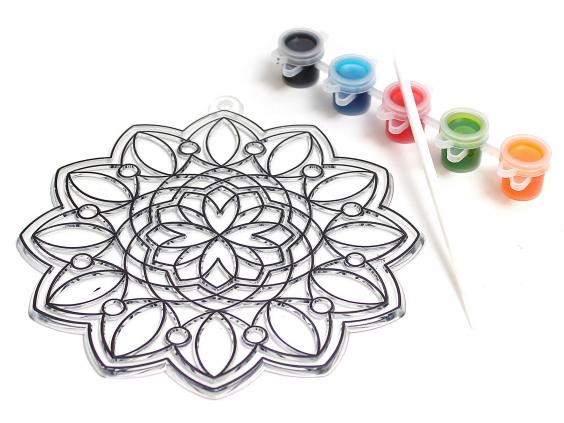 The Hobbycraft suncatcher range is vast – dragons, letters and numbers, unicorns, fairies, even a skull and crossbones. They come with small quantities of special paint (so don't spill it) that is quite tricky to apply to the smaller sections, so we're not sure we would let anyone younger than about seven loose on these. But they look fab and are cheap enough to try several to hang up by a window and let the sun pour through.
5. Make Your Own Landmark Tower Bridge: £3.95, dotcomgiftshop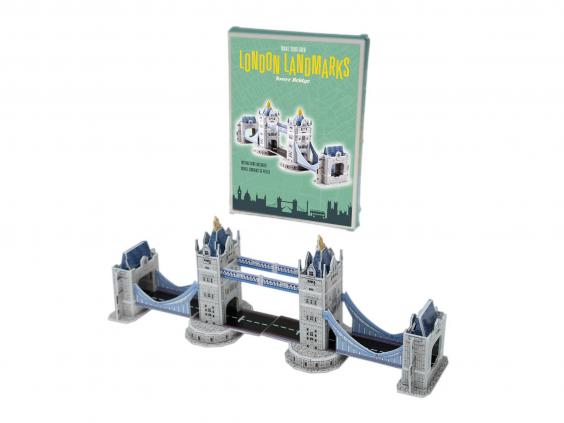 Part of a range that includes Make Your Own Routemaster Bus, Big Ben, London Taxi and Eiffel Tower, you pop out the pieces, made of foam and cardboard, and slot them together in a kind of 3D jigsaw, according to the instructions – which, if you follow closely, help you work a whole lot quicker than if you don't. As such it is for slightly older children – perhaps eight years plus would be a good place to start. The results are great.
6. Silk Painting Card Kit: £19.99, House of Crafts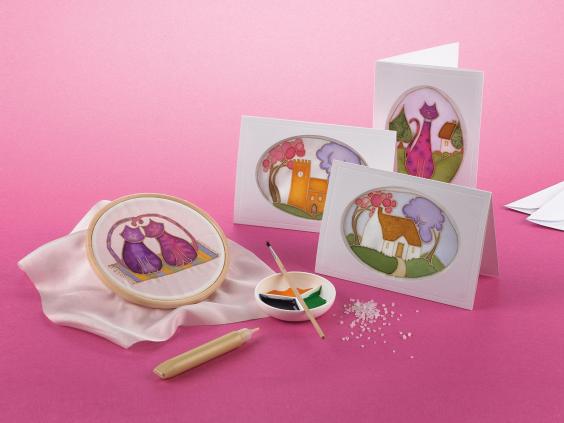 Officially a kit for adults, this lovely set allows you to paint onto silk, edge your designs with gold and turn them into beautiful greeting cards. How good the results are depend on your own skill but for an artistic teenager with skills in accuracy, concentration and confidence (there are only enough materials to have a go straight away – no trial runs!) this is a great activity. 
7. Disney Princess Jelly Stickers Light & Sparkle Fairy Lights Kit: £14.99, Argos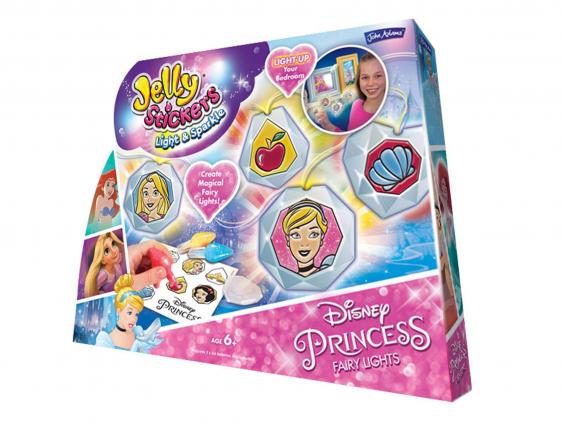 If you judge a craft kit by the excitement the idea generates and the twinkliness of the finished product then this set is a winner. Use the paint provided to colour in the princess stickers then, when dry (so only suitable for children with at least a little patience) stick them to the fairy light casing, turn on and watch them twinkle. Sparkly lights, paint, stickers and Disney Princesses – we're not sure they could tick any more boxes for certain five-year-old children we know. 
8. Buttonbag Cross Stitch Kit: £20, John Lewis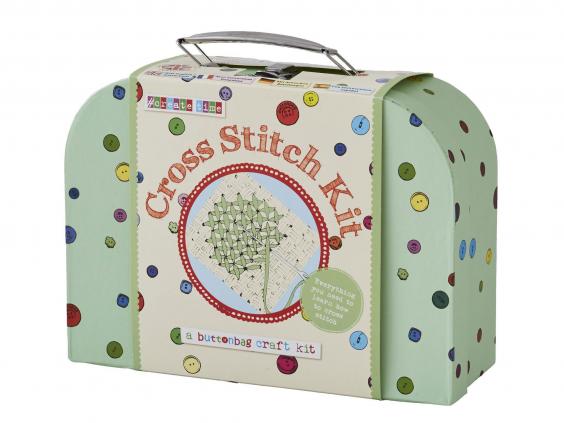 A confession – we love cross stitching, so this was always going to be a winner for us. But it's particularly good because the simple designs and clear instructions mean that children can see the results of their labour quite quickly, yet still have the challenge of having to stick at a project for some time. For kids aged six plus.
9. Calafant Castle: £15, Nubie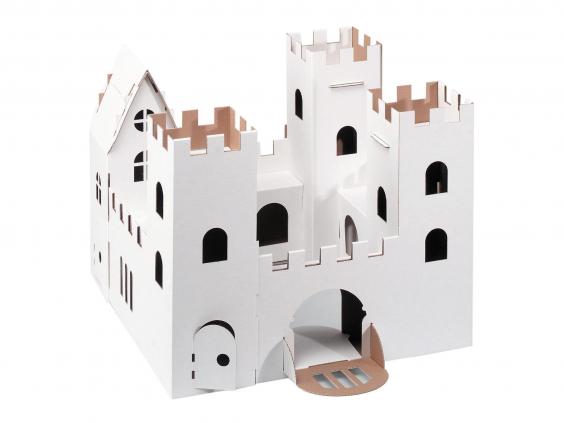 Officially, this is a colour-your-own product aimed at children aged six and over, and kids are meant to draw or paint their own designs all over the castle. But we never got that far as our three-year-old tester commandeered it as soon as we finished making it for them (took about five minutes, and everything fits together without glue) and then played with it every day for the entire duration of a two week holiday. So far, it has survived being dismantled and brought home with us too. Perhaps we'll get round to colouring it at some point but it's already a winner. 
10. Galt Bead and Braid Party: £14.99, Galt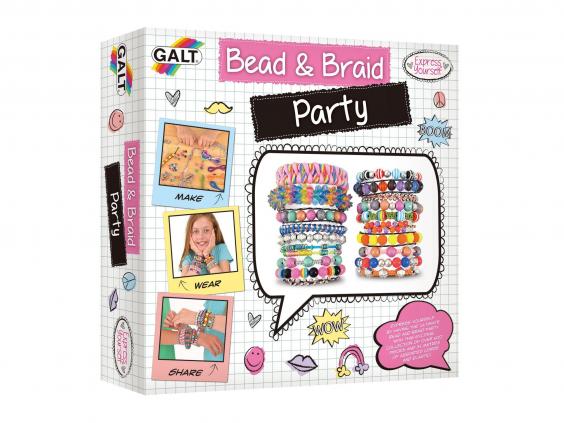 To be fair, you don't really need a specific kit to make bracelets, just some thread and some beads, but this is a nice selection that combines the materials for making traditional beaded bracelets with those for making corded "friendship" bracelets. Whether you can follow the instructions to do so is another matter. For ages eight and above. 
Verdict
For the amount of joy per pence, the Hobbycraft suncatchers are superb, though they are hard to do particularly accurately even for, ahem, an adult. For sparkle alone the Disney Princess Jelly Stickers Light & Sparkle Fairy Lights Kit is lovely. But our Best Buy is the Melissa and Doug Decorate-Your-Own Horse Figurine set, which provides an entire activity they can do alone and then keep to play with for under a fiver. The Calafant castle was great fun for both us and the kids when we tried it out, and if only we'd been allowed to paint it ourselves rather than give it over to the children to play with, then we'd have had hours of fun.
Reuse content