Christmas might be on the horizon but the winter months certainly do not bring comfort and joy in the lip department. The biting cold weather leaves many of us with dry, chapped lips that make us wince at the thought of mistletoe kisses. The good news is that the right lip balm can work wonders in a matter of hours, so there's no need to leave your festive spirit dampened for long.
Finding the most effective, easy to use and best value for money products on the increasingly saturated market involved personally testing each balm to see whether they lived up to "long-lasting" promises, left our lips feeling soft and protected and actually relieved discomfort both in the short and long term, as well as asking four respected dermatologists to share their lip care tips and the balms they recommend to their patients. 
Here's what they had to say…
Lips lack the waterproofing outer layer that skin has and are devoid of oil-producing sebaceous glands. This means they are sensitive to moisture loss, especially in dry, cold air. Drinking enough water will keep the body, skin and lips hydrated, as will upping your good fats, so reach for the oily fish and walnuts.
Stop licking your lips. Saliva contains digestive enzymes that break down the lipid barrier and further aggravate dryness, leading to soreness and inflammation.
Beeswax, shea butter and petrolatum are good ingredients to look for as they seal water inside the lips, helping to prevent and repair chapping. Coconut, jojoba and almond oils are good moisturisers. Ideally opt for agents that are free of flavour, fragrance and parabens, and avoid anything that stings or tingles after application.
Protect, protect, protect. Lips are susceptible to sunburn since they lack melanin, the pigment that helps shield skin from the sun. Lip cancers are prevalent, so it makes sense to ensure your balm or lipstick contains an SPF too, particularly when in the mountains.
So which lip balm will be your savour this winter? Here are our top picks.
1. Bioderma Atoderm Lip Moisturising Stick: £5.10, Escentual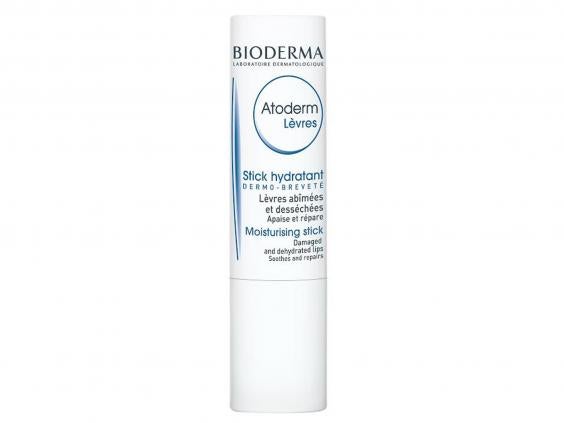 Bioderma's clinical-looking balm may not scream sexy but, as an all-year round lip conditioner, it's hard to beat. Dermatologist Dr Anjali Mahto cites it as her favourite chapstick product on the market for its nourishing and strengthening qualities, and particularly recommends it to anyone with sensitive skin as it is hypoallergenic and paraben-free. Golden seaweed extract, shea butter and avocado oil help to restore the film of very dry lips while the yummy natural raspberry flavouring is an unexpected bonus and tastes like candy floss. Take this balm on a night out – it sits brilliantly under lipstick.
2. Elizabeth Arden Eight Hour Cream Lip Protectant: £18, Debenhams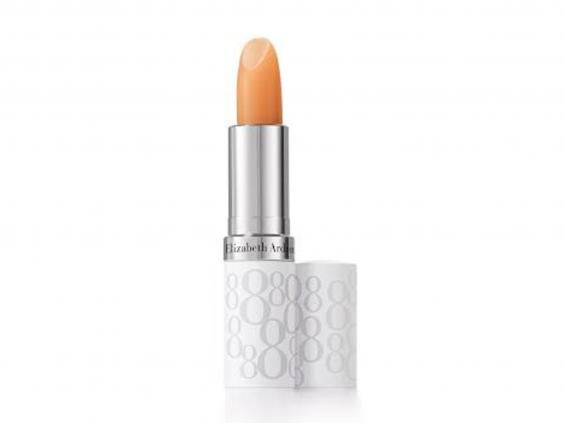 This travel-friendly, emollient balm from Elizabeth Arden was the big hit among the dermatologists we spoke to. They raved about its power to heal broken skin and form a protective layer, thanks to ingredients including petrolatum, lanolin and beeswax. Unusually for a balm, it is both packaged and shaped like a lipstick, making it easy to reach the corners of the lips where chapping often occurs. There is a mild, non-irritant citrus fragrance while SPF15 is useful in the winter sun. If you want a hint of colour, try sheer tints plum, honey, blush and berry. 
3. Sisley Confort Extreme Nutritive Lip Balm: £39.60, John Lewis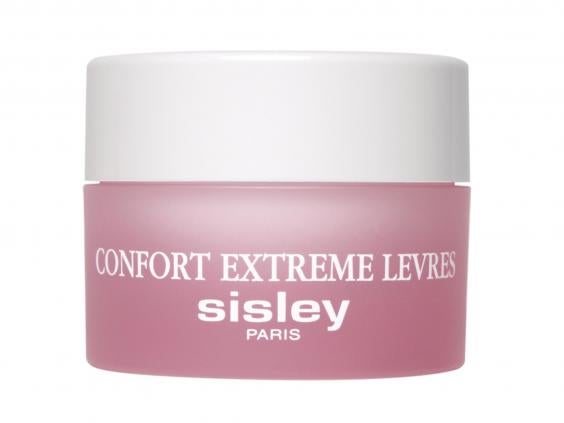 If your lips are extremely dry it's worth splashing out on this sumptuous balm from classic Parisian brand Sisley. Its luxurious melting butter texture is fabulously moisturising and lasts for hours, with a tiny scoop going a long way. Its efficiency has been dermatologically proven, with tests promising softer lips after a month of twice-daily use. This fragrance-free balm's natural amber colouring comes from a combination of hazelnut, plum and sunflower oil which, along with shea and kokum butters, helps to hydrate and repair. Put off by the pot format? Fear not – this balm comes in pretty pink packaging with a hygienic mini spatula to keep it finger-free. 
4. Dr Bronner's Naked Organic Lip Balm: £2.99, Essentials Pharmacy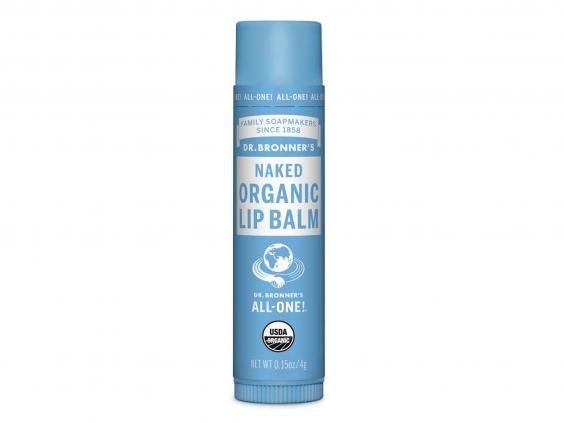 This organic balm from family soapmaker Dr Bronner's is sure to be your pocket's new best friend. Made purely from protective beeswax, healthy Vitamin E and moisturising avocado, hemp and jojoba oil, it clings to the lips without the need for constant topping up. Unlike many sticks, it is not overly waxy, and glides on with a subtle plant-like taste. The naked balm comes in attractive baby blue packaging, with peppermint, lemon lime and orange ginger flavours also available, all fragranced only with finest natural oils. It's a steal for the price.
5. Eucerin Dry Skin Intensive Lip Balm: £6, Look Fantastic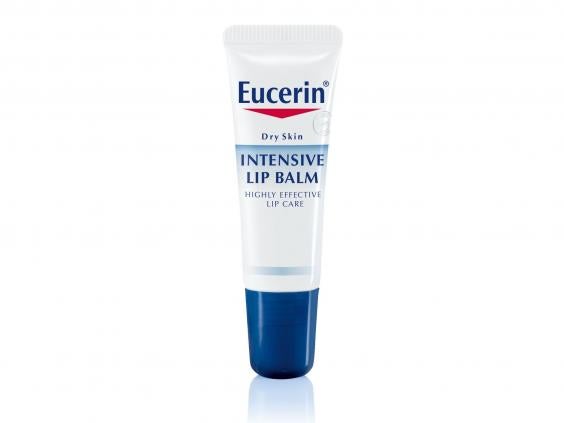 Those who suffer from eczema, cheilitis and dryness caused by medication will find relief in this heavy duty gel. Dr Anjali recommends it for anyone struggling with painfully cracked lips as its efficiency is clinically proven and its formula tolerable even for the most sensitive skin. Soothing liquorice extract reduces redness and calms stinging while glycerol gets to work intensely moisturising. There is no fragrance and only a slight medical taste while the packaging is unglamorous but compact enough to fit in your jeans pocket. For a product that really works, it's a bargain.
6. Burt's Bees Ultra Conditioning Lip Balm: £3.69, Look Fantastic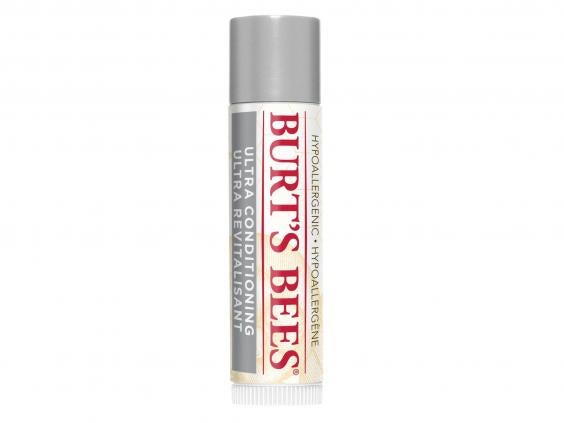 This soothing balm is creamier than others in the range, infused with the rich kokum, shea and cocoa butters that dermatologists love. It is petroleum-free for the anti-Vaseline brigade and has been scientifically proven to offer four hours of moisturisation with a single application – a promise that delivered during our testing. The super-hydrating formula is 100 per cent natural and comes in a variety of flavours, with new scents strawberry and ginger spice the latest to hit the shops. The matte finish of Burt's Bees balms will appeal to men wishing to avoid glossy lips while the price is easy on the pursestrings.
7. Malin + Goetz Lip Moisturiser: £10, Space NK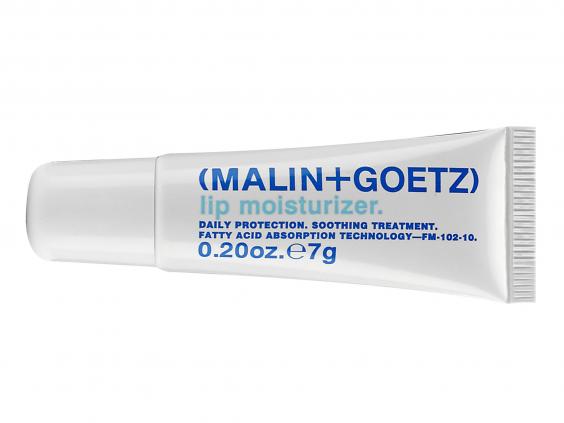 This thickly-textured replenishing lip gel is made of absorbent fatty acids that are harder to lick off than many oils and waxes, offering impressive all-day protection. Its smart, modern packaging and lack of fragrance gives it unisex appeal, as does its finish – spread generously over lip colour for a shine, or use a smaller amount for a matte result. Though heavy in feel, the gel is non-greasy and absorbent, keeping the pores safe from clogging. Use overnight for gloriously soft lips in the morning. 
8. True North Protective Lip Balm: £10, Harvey Nichols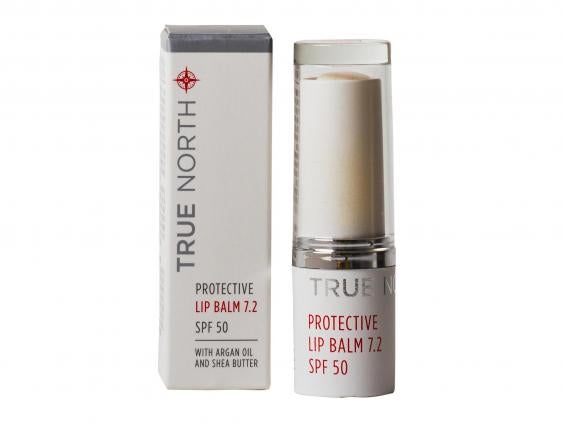 This one's for the skiers. Scandinavian brand True North's balm is the best defence against the sun's harmful rays with a high SPF of 50 and, packaged like a lipstick, it's a classy product to carry with you onto the slopes. The balm encourages healthy cell renewal to actually solve the problem of chapped lips, thanks to generous doses of argan oil, shea butter and rejuvenating vitamins. Silky soft, it glides onto the lips – the downside is that it leaves behind a creamy white sheen, but this can easily be covered up with lip colour if it bothers you.
9. Jack Black Intense Therapy Lip Balm: £7.25, Look Fantastic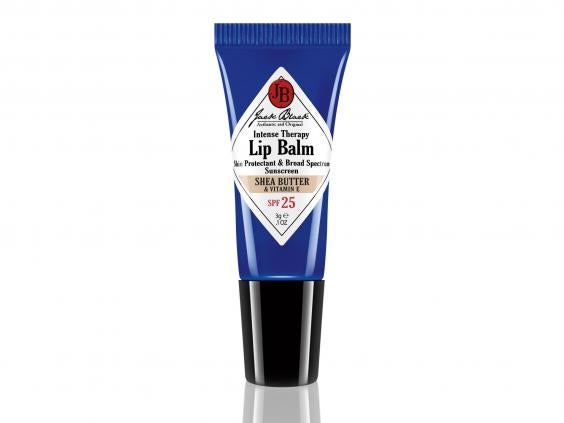 If you spend a lot of time outdoors but don't need something quite as heavy as the True North balm, try Jack Black's handy tubes. This one comes loaded with beeswax, shea butter, avocado oil and vitamin E to relieve irritated lips, with the melty salve penetrating quickly to offer instant hydration and guard against windburn. Its SPF25 means you can enjoy the sun without worrying while the flavour is sweet but far from overpowering. Often voted a must-have male grooming product, it lasts for hours meaning you get a lot of balm for your buck. If you prefer a stick format, a natural peppermint one has just been released, though some find this oil irritating.
10. EOS Vanilla Bean Lip Balm: £7, Topshop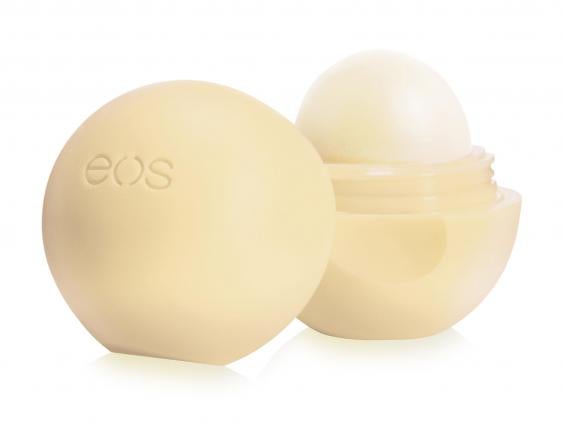 The slick and modern sphere design eliminates the problem of sticky hands by coating both lips in soft, 95 per cent organic balm with one quick application. It is small but easy to find in your bag thanks to its unique shape and colourful packaging, which is recyclable. Sweetly warming vanilla bean is the newest flavour but the others, from coconut milk to blueberry acai, are also delicious and packed full of antioxidant Vitamin E, shea butter and jojoba oil. Gluten-free, hypoallergenic and not tested on animals, this balm ticks a lot of boxes and gets the thumbs up from dermatologists. Best of all, it's a bargain at under a tenner. 
11. Limited Edition Lulu Guinness Vaseline: £2.99, Superdrug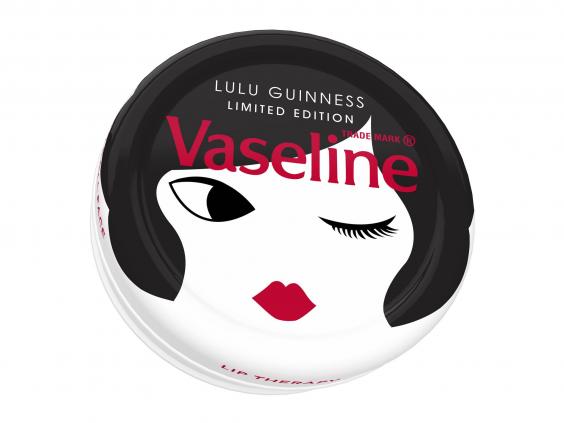 Lip balm users have a love-hate relationship with good ol' Vaseline, but dermatologists recommend it as a cheap and simple solution for damaged lips. Containing nothing but highly refined petroleum jelly, it provides a first-rate seal that reduces natural moisture loss and coats lips with a non-sticky glossy shine while also working to repair the lip barrier. Its usual boring tin has had a bold, Sixties-style makeover by British designer Lulu Guinness, so there's no reason to count out this timeless handbag essential for unappealing packaging. 
The Verdict: Lip balms 
Bioderma's balm stick might not be a glamorous addition to your handbag but for a fiver it is medically effective and tastes scrumptious too, making it our number one all-round choice. The dermatologists raved about Elizabeth Arden's balm and it deserves those plaudits, but at £20 it might be a bit steep for some, with the likes of Dr Bronner and Burt's Bees offering cheaper alternatives that do a similarly good job. The innovative quick-to-use design of the EOS balms impressed us while for men, Malin + Goetz and Jack Black's tubes are hard to beat.
Thank you to the following dermatologists for their advice: Dr Edward Seaton, consultant dermatologist, Londerma - The London Dermatologist; Dr Anjali Mahto, consultant dermatologist at Cedars Dermatology, London; Dr Ross Perry, GP with specialist interest in dermatology and medical director at Cosmedics Skin Clinics; and Louise Thomas-Minns, celebrity skin therapist and company director.
IndyBest product reviews are unbiased, independent advice you can trust. On some occasions, we earn revenue if you click the links and buy the products, but we never allow this to bias our coverage. The reviews are compiled through a mix of expert opinion and real-world testing
Reuse content