Increasingly, we want to know exactly what's in those bottles, jars and tubs on our dressing tables and in our bathroom cupboards. According to the Soil Association, the UK's leading organic-certification body, the organic beauty and wellbeing sector grew 13 per cent in the last year.
Brands are responding to demand and the variety of organic skincare products on offer has soared in recent years, as have companies' jumping on the bandwagon. It means shops are awash with products calling themselves "organic", even if only a very small percentage of a product's ingredients were organically farmed. You can cut through the green-washing noise if you look out for certification logos that show a brand has had to prove its credentials. 
Confusingly, there are a number of different organisations setting the standard, all with slightly different criteria and calling for a different percentage of organic ingredients. The main stamps to look out for are the Soil Association's COSMOS organic-certified products; ECOCERT, a French certification body; Biogro, New Zealand's alternative and Natrue's internationally recognised "organic cosmetic" category. 
Generally, organic-certified products will also be free from genetically modified ingredients, and be made up of components that are traceable, natural and not tested on animals. If you have any concerns check the certification bodies' individual websites. 
All the products on this list are certified organic and have been tried and tested by the IndyBest team over a course of weeks. These cleansers, toners, moisturisers, creams, oils and serums are generally part of larger skincare ranges, so we've just picked our hero product from each one as a jumping-off point to explore that brand's offering. These could all be incorporated into your usual skincare regimen too. 
1. Green People Orange Blossom Moisturiser, 50ml: £20, Green People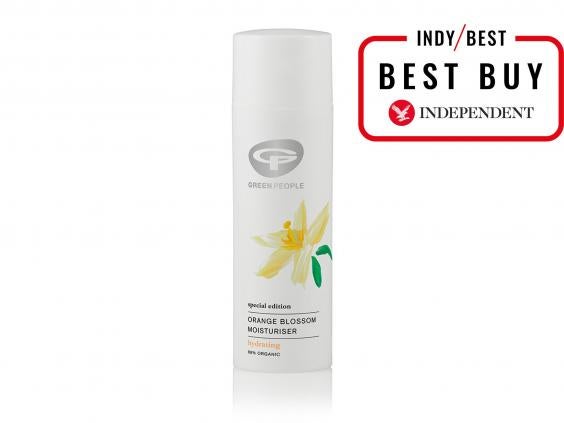 To celebrate its 20th anniversary, Green People has developed two new ranges. This cream from the orange blossom collection has a gorgeous but gently sweet smell of the natural blossom. It's a lightweight, daily moisturiser designed to apply to cleansed skin in the morning, and is a pleasure to use, leaving skin feeling softer and replenished. It is also rich in antioxidants, meaning it's perfect for combination and oily skin as the willow bark and skin-balancing prebiotics help keep break-outs at bay. We found that it made our pores visibly smaller and clearer. It's also free from parabens, lanolin, alcohol, artificial perfumes, and colourants, which means it's suitable for people who can be susceptible to eczema and psoriasis.  
Certified by the Soil Association, Organic Food Federation and EcoCert
2. Antipodes Grapeseed Butter Cleanser, 75g: £24.99, Feel Unique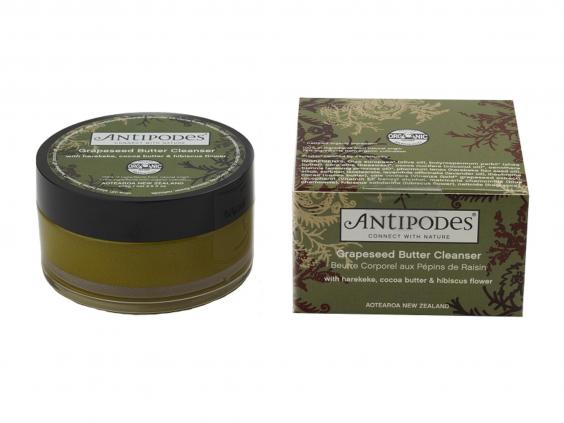 This thick cleanser from the New Zealand brand really feels like it is tackling problem areas. Exfoliating ingredients such as vinanza grape extract and hibiscus flower renew skin and the creamy texture, thanks to the cocoa butter and olive oils, helps to keep things moisturised and soothed. Antipodes recommends it for most skin types especially those that are oil-prone as the plant oils contain qualities to regulate oil production. Apply to a damp face morning and evening then rinse off with organic cotton cloth or your hands. 
Certified by BioGro 
3. Neal's Yard Frankincense Intense Lift Serum, 30ml: £75, Neal's Yard Remedies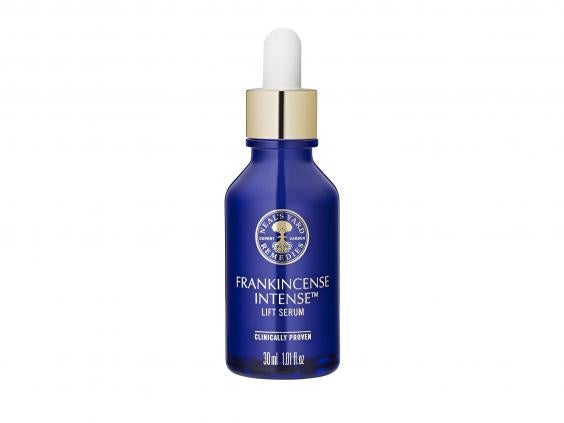 Organic stalwart Neal's Yard advises customers to inhale the smell of the serum while applying, both in the morning and at evening, and we can see why. The aroma is calming and relaxing – almost lavender-like despite the flower not being an ingredient – attesting to the anti-stress claims of the product, so is particularly nice in the evening when you want to wind down before bed. We found our skin felt brighter and smoother after use as well as more hydrated and nourished. Made with 71 per cent organic ingredients, you only need a drop to get the full effect.
Certified by the Soil Association 
4. The Organic Pharmacy's Carrot Butter Cleanser, 75ml: £39.95, Feel Unique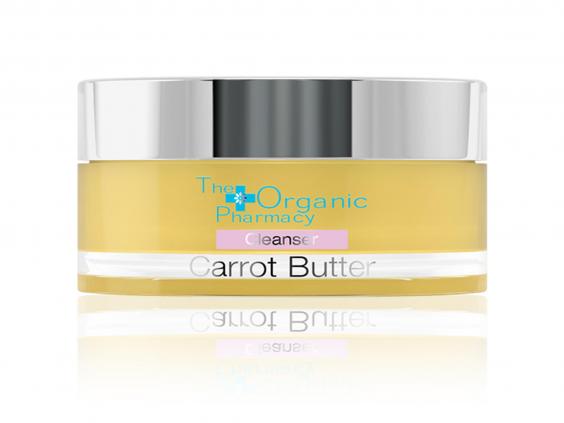 This product smells so strongly and beautifully carrotty that you actually notice its odour before opening the pot. It is a balm cleanser so melts as soon as it comes into contact with the skin, when washed off with a muslin cloth (also available from the Organic Pharmacy) all the day's grime and make-up goes, leaving skin noticeably refreshed. Combining rosemary, carrot and shea butter, it is not hard to see why the product is the brand's best-selling cleanser. Use in the evening (you can use a lighter cleanser for the morning).  
The Organic Pharmacy brand is EcoCert certified, and this specific product is in the process of being certified. It is made with 98.7 per cent organic ingredients
5. Trilogy Certified Organic Rosehip Oil, 20ml: £19.99, Holland & Barrett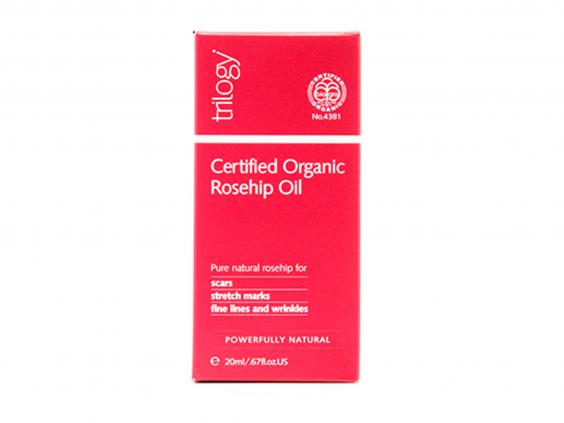 The Duchess of Cambridge is said to love this hardworking oil that helps nourish and repair skin, as well as combat the signs of aging. You can easily add it in to your usual skincare routine. Trilogy recommends using two or three drops on cleansed skin, morning and night. We found that even after a week, it left our face looking more radiant and feeling soft and hydrated. It also comes in a 40ml size and for our money, is more effective than many more premium serums. If you are using it on a scar, make sure the wound has healed before applying.
Certified by BioGro
6. Weleda Almond Soothing Facial Cream, 30ml: £12.95, Look Fantastic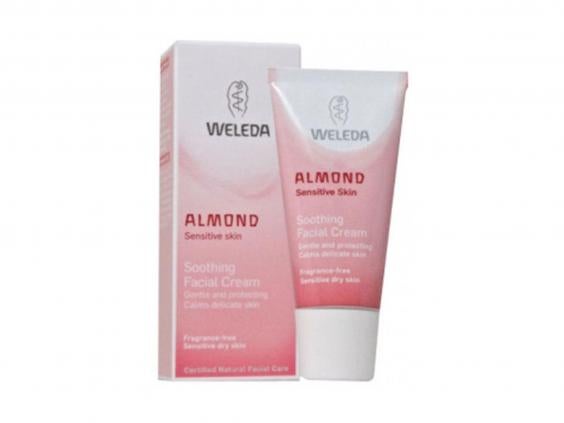 We know organic skincare can carry a hefty price tag, but Weleda's range is competitively priced. This one is a simple, really hydrating moisturiser that left our tester's dry skin feeling smooth and supple. It's fragrance free and also helps to calm sensitive skin. If you like this one, the German brand also has a haircare range as well as a plethora of other good-value but effective skincare products. 
Certified by Natrue 
7. Odylique Essential Care Lemon Tea Tree Purifying Facial Wash, 200ml: £18, Feel Unique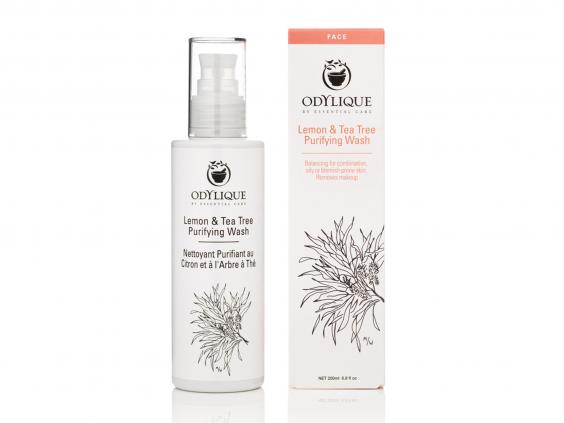 This face wash from the British brand Odylique certainly packs a punch. The combination of organic essential oils, including lavender and antibacterial tea tree, pep up the face and leave skin feeling squeaky clean. If used in the evening, you'll wake up with skin noticeably rejuvenated. It is particularly good for those with combination, oily or blemish-prone skin because it is lightly antiseptic – but we still think it could be also be used by anyone. All of Odylique's products are wholly free of synthetic perfumes, colourants and preservatives. The brand also makes organic-certified make-up.
Certified by the Soil Association  
8. Bentley Organic Skin Blossom Facial Cleansing Gel, 150ml: £6.95, Ethical Superstore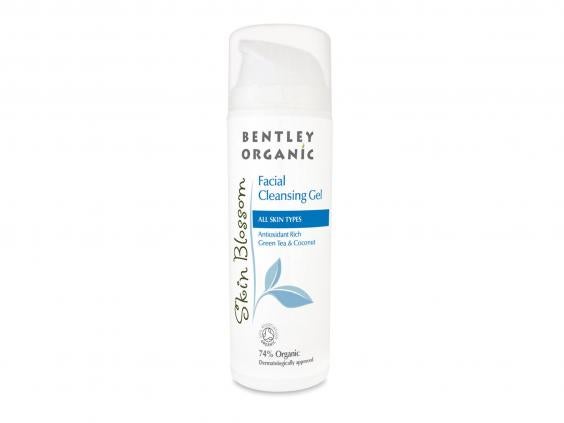 This brand might be called Bentley, but its products are some of the most keenly priced on our list. Giving a gentle, bubbly foam once it comes into contact with water, the cleanser somehow feels easier to use than many others, and left our skin feeling clear. Suitable for all skin types, its combination of anti-oxidant green tea and coconut has a very subtly fragrant smell. Made of 74 per cent organic ingredients and cruelty-free, it is free from parabens, phenoxyethanol, petrochemicals, silicones, synthetic colours and fragrances. Bentley also makes home cleaning products, if you want to go organic in that department. 
Certified by the Soil Association 
9. RawGaia Organic Hemp Glow Mist, 50ml: £22, RawGaia by Jessica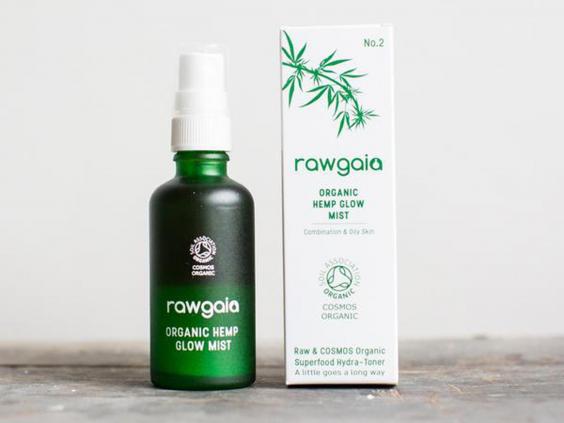 Suitable for combination, oily and teenage skin, this hydra-toner leaves skin looking refreshed and nourished. To be used in the morning and at night, it leaves skin supple and glowing. Certified by the Soil Association, Cruelty Free International and the vegan society, it's made from a combination of cold-pressed and essential oils as well as organic floral waters. 
Certified by the Soil Association 
10. Little Butterfly Cocoon of Bliss Stretch Mark Butter, 150ml: £27.50, Little Butterfly London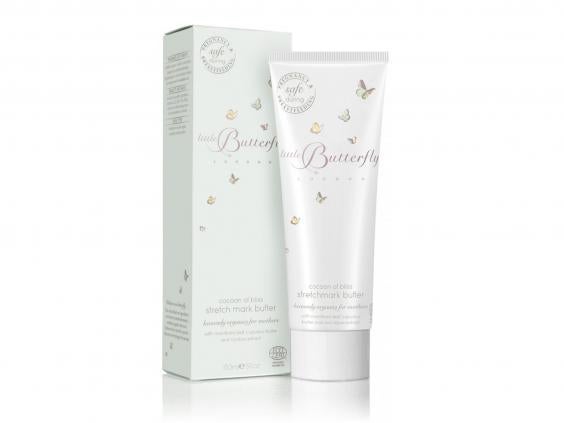 From the luxury organic skincare brand for mums and babies, this creamy body butter feels rich but doesn't take ages to absorb, unlike some stretch mark creams. It has a fresh scent that makes us think of summer. Our mum-to-be tester applied it morning and evening during pregnancy and after birth and has reported back that her stretch marks are slightly less pronounced than before and that it helped reduce the itchiness that can plague pregnant ladies. There is also a day cream, body serum and massage oil in the range, as well as lots of products for a new arrival that all would make nice baby shower presents. 
Certified by EcoCert
11. Ekia Organic Crème Originelle for Normal to Combination Skin, 30ml: £15.49, Holland and Barrett 
While we can't say this made us look like Angelina Jolie – the actress is allegedly a fan – this lightweight cream from the French anti-aging specialists did make those fine lines around our eyes seem to fade slightly after two weeks of use. This anti-ager contains dragon's blood sap, which might sound other-worldly, but comes from an Amazonian tree and is a powerful antioxidant. Ekia suggests using this for three months at least, morning and night, but early signs were good, with skin appearing brighter, too. Currently on offer. 
Certified by EcoCert  
12. Pai Skincare Rosehip BioRegenerate Oil, 30ml: £22, Look Fantastic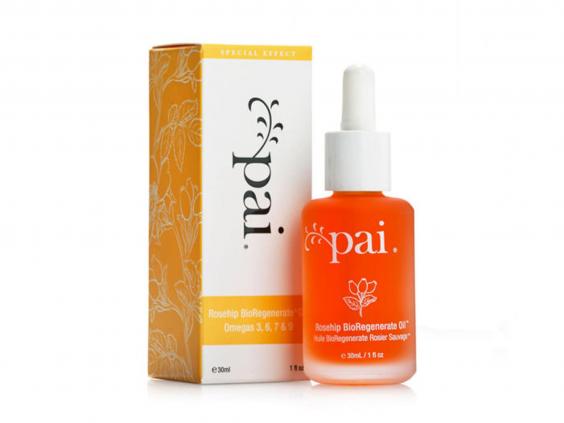 This facial oil has a subtle, almost earthy scent, but it's one that disappears after being rubbed into the skin. Apply a few drops after your cleansing routine and then gently rub in, letting it fully absorb into the skin before putting your clothes on. It's suitable for all skin types, and is free from irritants, if your skin is particularly sensitive. We found it kept our face feeling supple and hydrated, and was effective at helping to reduce blemishes. 
Certified by the Soil Association 
13. Herbfarmacy Enriching Hand Cream, 60ml: £8, Herbfarmacy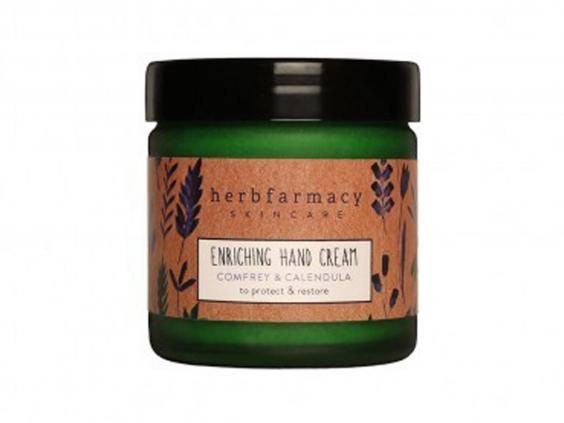 From the Herefordshire-based Herbfarmacy, this cream is aimed at the hands, although there is another specifically for feet available as well. It smells amazing, with a mix of herby and floral scents coming through. The calendula herb helps to repair damaged skin, calendula soothes it and the final, somewhat surprising ingredient, marshmallow, is a good hydrator. It left our skin feeling very soft, even after using just once a day.
Certified by the Soil Association
14. Skin & Tonic Rose Mist, 100ml: £20, Wolf & Badger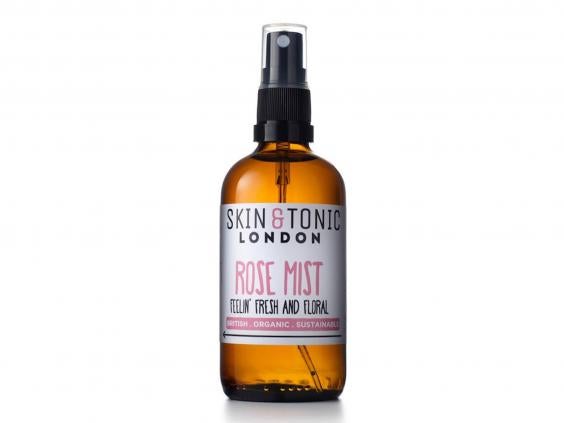 Founded by a couple who met over a gin and tonic, this brand creates skincare packed with organic ingredients. Our pick is this rose mist with a strong floral scent. Made from pure organic flower water extracted from roses grown in the French Alps, it has a calming and soothing aroma that's ideal to spritz at stressful moments. We also used it to set our make-up in the morning, which it held in place for a reasonable couple of hours (you can always top up throughout the day). It's also suitable for vegans and 100 per cent natural.
Certified by the Soil Association
The Verdict: Organic skincare 
If you're looking for a hardworking daily moisturiser with impeccable organic credentials, try Green People's orange blossom one (or indeed any from this British brand's other ranges). For an oil that can help combat the signs of aging, try Trilogy or Ekia. Or anyone buying for someone with sensitive or allergy-prone skin, we recommend Odylique's gentle products. 
Follow IndyBest on Twitter and Pinterest
IndyBest product reviews are unbiased, independent advice you can trust. On some occasions, we earn revenue if you click the links and buy the products, but we never allow this to bias our coverage. The reviews are compiled through a mix of expert opinion and real-world testing
Reuse content