We know the sun might not have fully come out, but that doesn't stop us dreaming of sunny days and pre-emptively investing in some new shades. 
All on this list are made by either eyewear specialists or fashion brands known for making particularly well-designed or innovative sunnies. There are established names here like Ray-Ban and Le Specs, alongside relative upstarts like the UK's own Taylor Morris and Ollie Quinn. There are sustainable options and exciting, under-the-radar companies like 1950s and jazz-world-inspired Black eyewear that we kind of wish could stay our little secret. 
From angular cat-eye and butterfly shapes to this season's most-wanted – and most-Instagrammed – round frames, there should be something here to suit every face shape and budget. We recommend finding out the key measurements of the frames before you buy. You need to get the lens width, bridge width and temple length of the frame – you can usually find this information on the website. Compare that to a pair you already own so you can get an idea of what they might look like. All of these pairs offer 100 per cent UVA/UVB protection, filtering out the harmful rays. 
1. Tens Taylor Cat-eye Sunglasses: £80, Tens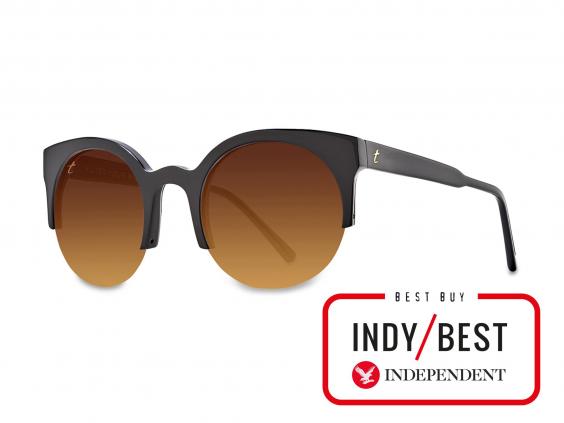 Where real life meets Instagram, Tens' strapline is #filteryourworld. The brainchild of three photographers and filmmakers, the idea was to recreate the vibe you get from a filtered photo, where colours look richer and warmer, and in their words, "10 times better". All its frames come with the brand's signature brown lenses and they do as they promise – the streets around IndyBest's offices in west London looked that much more vibrant and bright when we compared them with the view through our usual shades. The Taylor is a half cat-eye frame made from top-quality acetate, with the edges of the lens exposed. It comes in a pearly pale pink or this striking black. The glasses come in a wooden box that we reckon would be more useful to put trinkets in as it's a bit bulky to carry around with you, but you also get a more handbag-friendly bag to pop them in. 
2. Ollie Quinn Oury Sunglasses: £98, Ollie Quinn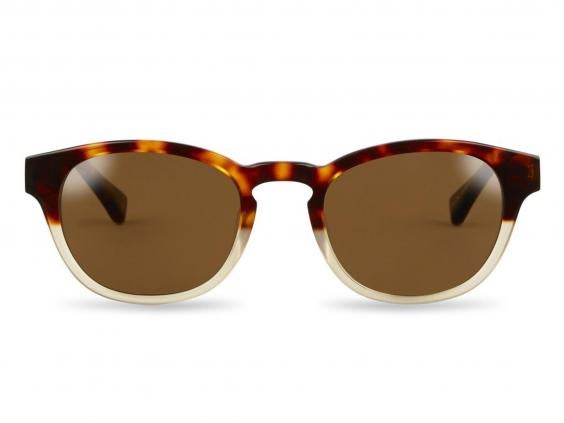 Ollie Quinn designs all its frames in-house and aims to keep costs as fair as possible. All the glasses and lenses come in at £98 as a full package, both across its sun and optical ranges. The feel of the collection is understated cool – think tortoiseshell in a range of hues made from top-grade acetate with quality lenses. There's a handy frame fit guide for each pair online. Frames tend to be on the smaller side so if you're looking for oversized numbers, this might not be the brand for you. If you want to try before you buy there are five London shops as well as stores in Bristol and Leeds, all staffed by trained optometrists to help you pick the right pair. Our pick of the lot is the unisex Oury in an unusual two-tone "whiskey x champagne" design. Cheers. 
3. Taylor Morris Eyewear H.F.S Sunglasses: £240, Taylor Morris Eyewear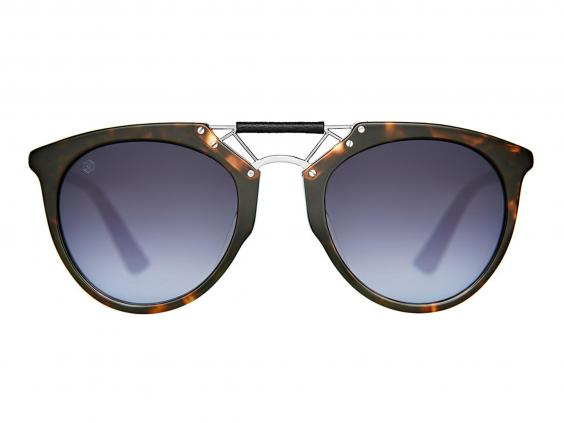 Forget that this brand is the brainchild of former Made In Chelsea cast member Hugo Taylor and a pal, we're impressed with its selection of vintage-inspired frames. There are lots of round styles with mirrored lenses – these are sunnies for the Instagram generation, after all – and also some with distinctive exposed metal framework. For us, the standout pair is the H.F.S, named after the founder of the Morgan Motor Company, the British sports car manufacturer. The design of the part leather-wrapped metal bridge is inspired by the brand's three-wheeler and the overall shape channels 1930s racing goggles. We can imagine wearing these on a summer's drive with the top down– or just to look cool in down the pub. They come in three different tortoiseshell hues and have polarised lenses, available in different colours. 
4. Missoni Oversized Sunglasses: £150, Missoni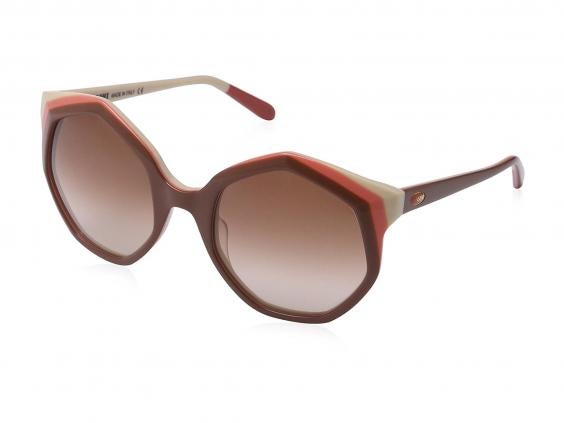 The Italian brand Missoni is known for the use of distinctive zig zag stripes in its designs, often knits in bold, bright colours. We might not be able to afford the brand's rather fabulous beachwear – just the thing for beach lounging in the Med – but we can just about stretch to a pair of its sunglasses. We love these oversized hexagonal frames with those distinctive stripes on the wings and elegant, slim arms. This pair is in shades of the colour of the season – pink – and comes in a hard case in a 1970s orange. Available from Amazon. 
5. Quay Australia After Hours Sunglasses: £40, Quay Australia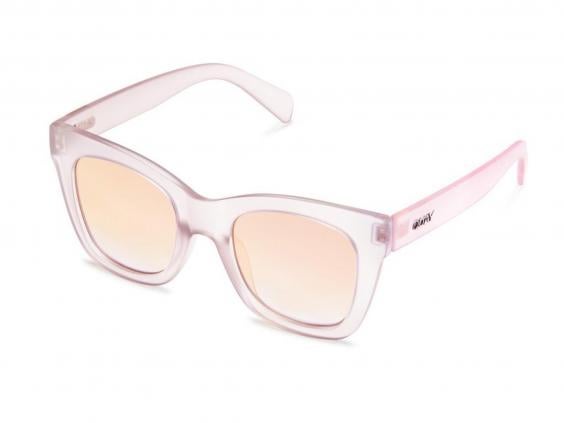 If you don't want to spend more than £50, we'd recommend looking at Aussie brand Quay's range of festival-inspired sunnies. Frames are typically oversized – ideal to hide behind when you're suffering the morning after the night before – and there are lots of styles and lens colours to choose from. After Hours is a new design, with slightly winged polycarbonate square frames. These are chunky and the thick arms mean they're not quite as comfortable as some on the list, but it also means they're super robust if you do happen to drop them when you're raving. They come in matte black, tortoise, or this Glastonbury-ready pink. 
6. Black Eyewear Alice Sunglasses: £177, Black Eyewear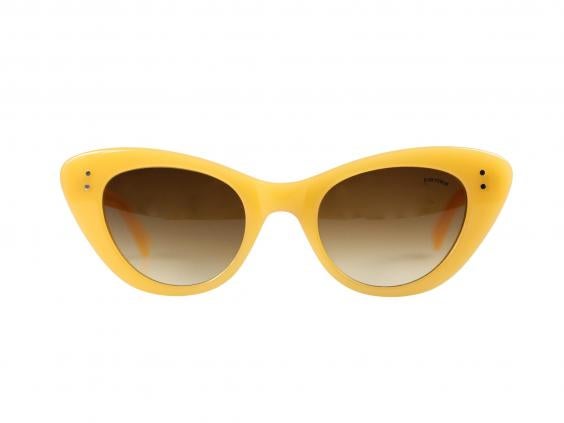 Founded by Robert Roope, an optometrist, Black Eyewear's frames are inspired by 1950s designs and pairs are named after jazz musicians from decades past. The Alice is dedicated to the American polymath Alice Coltrane and is a take on the cat-eye frames that were popular in the 1950s with the likes of Marilyn Monroe, Grace Kelly and Audrey Hepburn. There are over 20 different colours to choose from, ranging from black through to this summery yellow. The lenses are either brown or black tinted. If you don't like these, there are 100-odd other styles to choose from in a large range of bridge sizes. 
7. Roland Mouret Audrey Sunglasses: £265, Roland Mouret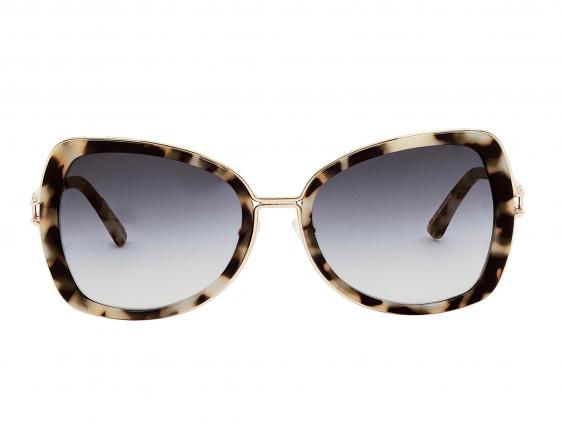 From the French fashion house, the smoky cream tortoiseshell on these coupled with the over-sized angular acetate frame made us come over all Holly Golightly. The slight angle looks chic, as do the graduated grey lenses. These are comfortable on and the distinctive two-tier arms amp up the glamour factor too. 
8. Illesteva Wynwood III: £170, Selfridges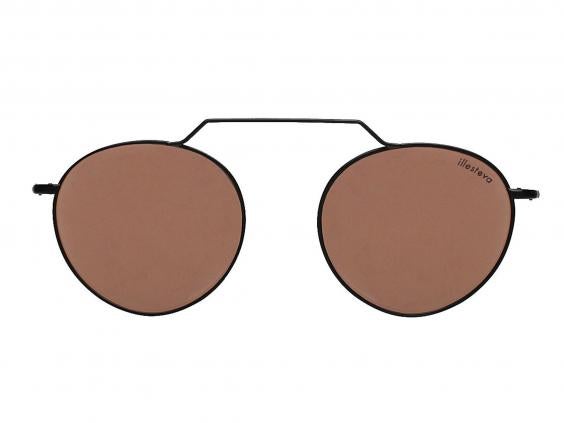 If these look familiar it might be because Kylie Jenner's been photographed in an earlier incarnation of this design from the New York-designed, Italian-made brand. Illesteva's USP is classic shapes with a super-contemporary twist. Here, you get on-point round-frame glasses in lightweight black stainless steel with red-tinted mirrored lenses. Instead of the bridge sitting on the nose, the top bar is raised and sits in line with the eyebrows, giving them a distinctive, Insta-friendly look. 
9. Le Specs The Prince Sunglasses: £64.99, Le Specs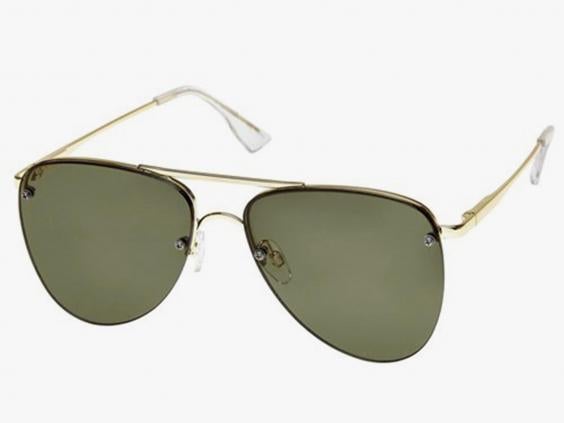 Here's a very now take on an aviator shape: flat lenses and a minimal-looking double bridge. There are frames available in gold, silver and matte-black and mirrored and non-mirrored lenses. These good value sunnies have caught the eye (ha) of the A-list and have been seen on the likes of Margot Robbie and Bella Hadid. They come with a handbag-friendly blue and red branded pouch. Available from Zalando. 
10. Ray-Ban Clubmaster Classic: £125, Ray-Ban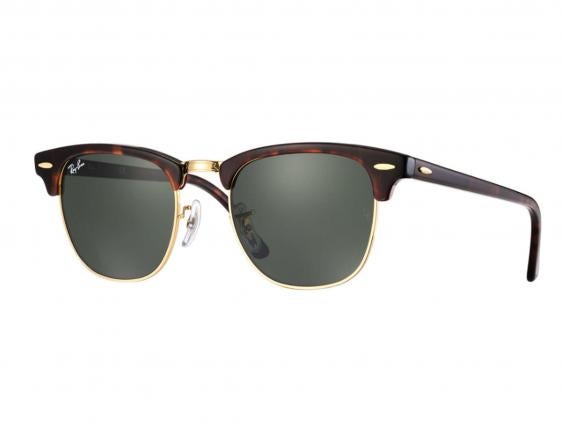 Everyone has heard of Ray-Ban and with good reason. Its sunglasses are on trend season after season, making them a great investment. There's a pair to suit most face shapes but we've gone for the Clubmaster here. Inspired by the 1950s, they have gold rims around the lenses and over the bridge of the nose, teamed with a horizontal-style, tortoise-colour frame. If you like the shape but aren't sure about the colour, you can customise your pair. Want to try out the latest mirrored lenses trend? Pick from six options. If you'd like to get them engraved there's an option for that too. 
11. Kylie Minogue Kylie Sun RX 04 Sunglasses: £99, Specsavers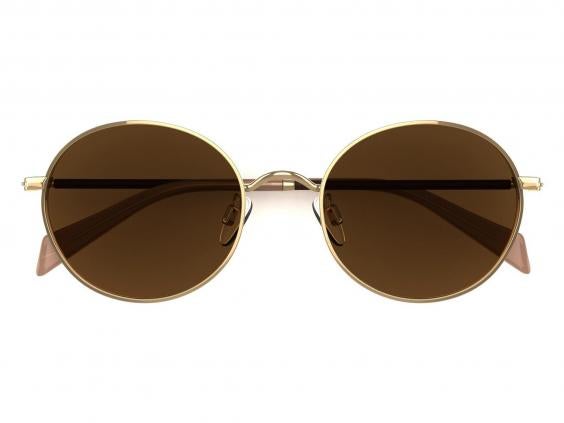 Kylie Minogue has branched out from music and designed a range of sunglasses and frames for Specsavers, all with a reasonable price tag. Our pick is this round pair with gold rims around the lenses. The pretty pink casing that rests on your ears makes them comfortable to wear too, while the contrasting brown leather sewn onto the arms with white thread adds some style. They're a fairly small size in comparison to others in this round-up, so may not suit bigger face shapes but they are extremely lightweight and rest comfortably on your nose. You can get these with prescription lenses as well as polarised, and ones optimised for driving. 
12. Monkeyglasses Maria Sunglasses: £125, Monkeyglasses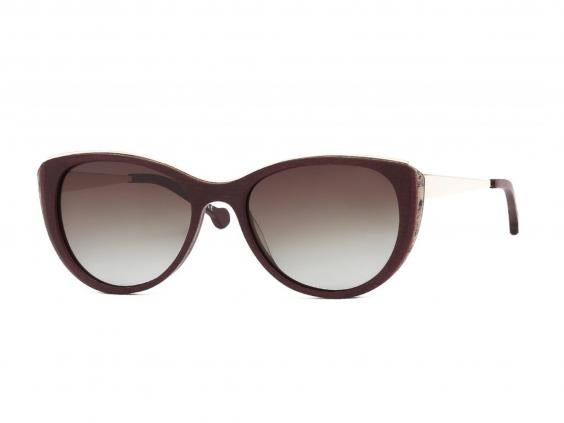 The Danish brand Monkeyglasses makes some of the coolest sustainable eyewear we've seen. At first glance, these frames look like they're wooden, but it is actually biodegradable cotton acetate, made of mostly cotton fibres and wood pulp. As well as using eco-friendly materials, Monkeyglasses also keeps the carbon footprint as low as possible during the production process and you can post any old pairs back to the brand and it will send them to a centre in India that helps to provide eyewear for people who cannot afford the cost of glasses. They are super-light and come in a range of styles, including polarised and mirrored options. You also get a case made from recycled paper. This shape, Maria, comes in black and this red wine hue. 
13. Miu Miu Rimless Sunglasses: £235, Miu Miu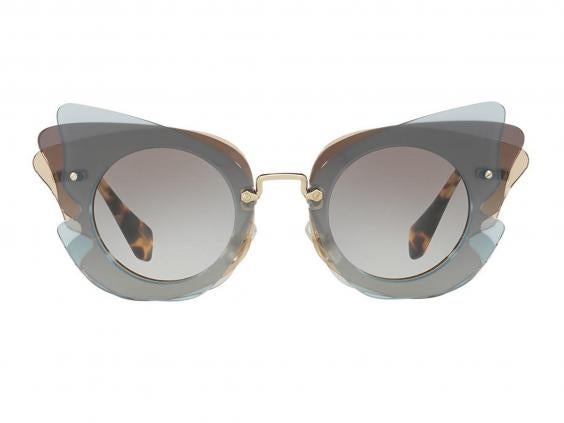 If you're after some conversation-starting frames, try Miu Miu, Prada's younger, more out-there sister brand. Our pick from the latest weird-but-still-wearable collection is this butterfly-inspired design made from layered acetate with gold-tone arms and bridge and tortoise tips. These don't feel quite as robust as acetate-only frames but they made us feel like a far more fabulous version of ourselves as soon as we put them on. Available in three colour combos from Sunglass Hut. 
14. Mosevic Eyewear Kepler Sunglasses: £139, Mosevic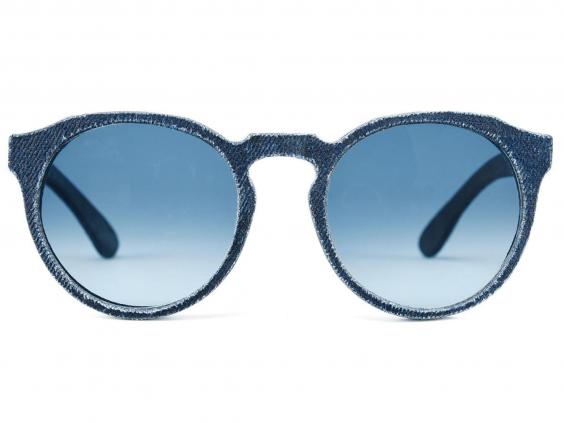 We know jeans are a wardrobe staple, but what about as eyewear? Cornish start-up Mosevic uses recycled denim in its production process. Layers of the material are set in resin to create strong, plastic-like frames. Lenses are polarised with graduated grey tint. The combo makes for out-of-the-ordinary, quality-feeling glasses, and we think the sustainable process, all done in the UK, adds a certain summer feel-good factor. They're comfortable on, too. They come five different shapes and either blue or grey denim, or a lighter "worn" colour. 

Buy now 
15. Bird Wren Sunglasses: £140, Bird Sunglasses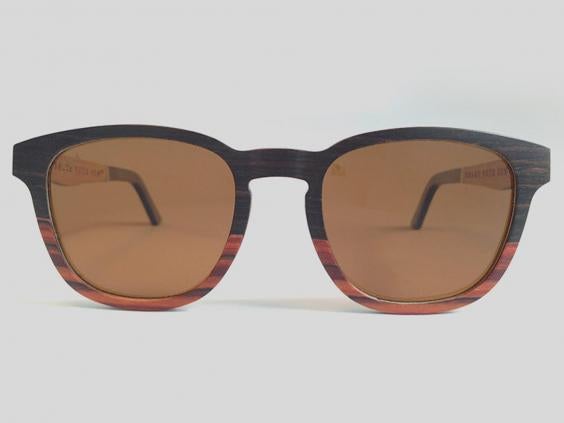 Bird's slogan is "Share Your Sun" and this young British brand practises what it preaches. Thanks to collaboration with charity SolarAid, for every pair sold, a family in Malawi, Zambia or Uganda will receive a solar light. The glasses themselves deliver in the looks as well as the sustainability stakes thanks to the distinctive use of natural-looking, eco-friendly materials like bamboo and various woods. Little details like feather patterns and the etched slogan on the arms further helps them stand-out from the pack. We like the two-tone Wren, a bamboo, beech and sandalwood combo with polarised amber-tinted lenses. These premium styles in the Strata range come with a handmade leather case.

Buy now
The Verdict: Women's Sunglasses 
For a quality pair under £100 that will genuinely make life look that bit brighter, try Tens. If it's vintage-inspired frames you're after, we like Black Eyewear's huge array of retro pairs or Taylor Morris's distinctive H.F.S.
Reuse content