Experts suggest that you need four types above all else – a paring knife (otherwise known as a vegetable knife), all-purpose serrated knife, cook's knife (large all-purpose knife) and bread knife (with long serrated blade). Other nice-to-haves that you might want to consider are boning, calving, filleting and santoku. 
Stainless steel is the cheapest, but these knives can go blunt quickly and take a long time to sharpen again. Carbon steel is more expensive, but the metal is harder and simpler to keep sharp, although it can rust. Or you could try ceramic blades, which are 10 times harder than carbon steel and they don't rust. They are extremely lightweight, and they don't need to be sharpened, although they can chip. Then there's Damascus, the daddy of knives. These very costly mottled knives are made from carbon steel core, surrounded by layers of soft and hard stainless steel, which results in an extremely hard and razor-sharp edge. Always avoid knives that say they don't need to be sharpened as they aren't particularly sharp and when they lose their edge, you'll have to throw them away.
As well as taking these factors into consideration in our testing process, we made sure the knives in our round-up feel comfortable and are a good weight. A lightweight knife is great for speed and precision, but a heavier one can be better for more solid foods like ginger and nuts. The balance is important to make the cutting action more effortless – good knives don't have too much weight in the handle of blade.
We also checked for signs of poor joining or welding, especially in the hilt of the knife, which may cause a weak point and cause the knife to bend or break, as well as trapping food and breeding bacteria. A knife made from a single piece of steel – and better still, hand-forged (although this costs a bomb) – will last you a lot longer than cheap, think knives with clumsy joins and handles covered in plastic. 
In support of a Government initiative to tackle knife crime, some stores no longer sell knives online. We've indicated where this is the case.
1. Victorinox Swiss Classic Utility Block: £54, Victorinox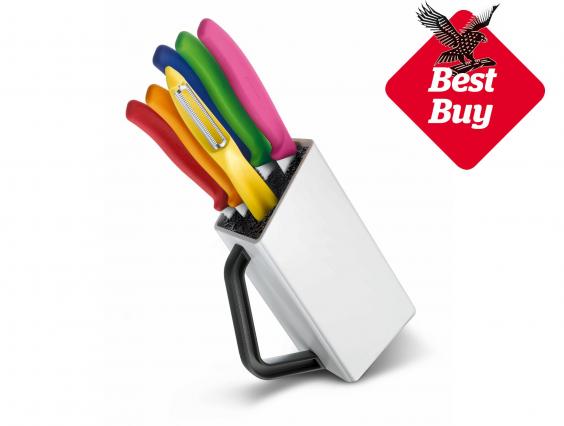 These are the makers of the original Swiss Army Knife and they make a vast array of excellent knife collections. This award-winning, compact set is a bargain, containing six high-quality, stainless steel-bladed knives – teak and pizza knife, tomato and sausage knife, three paring knives and a handy peeler, all of which are colour coded to help you distinguish between them. Best for those who prefer lightweight knives and they fit beautifully into the hand.
Buy in-store or ring 020 7647 9070
2. Robert Welch Signature Knife Block Set with Sharpener: £280, amazon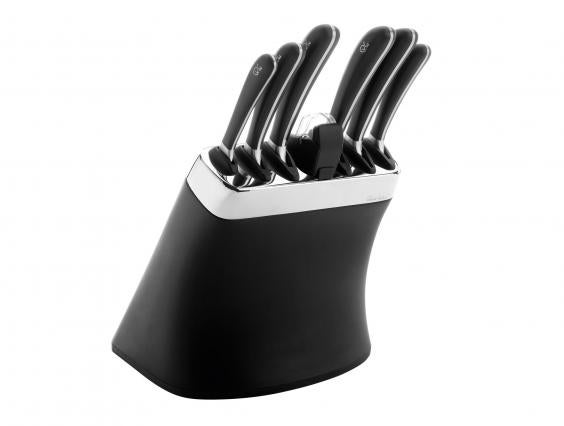 This range of six award-winning knives is great quality at an affordable price. Huge thought and attention to detail has gone into the design, from the tactile handles to the strength and edge of the blade. Includes bread, carving, cook's, kitchen, serrated and vegetable knifes, plus block with integrated ceramic wheel sharpener and magnetic locators, which draw the spine of the knife to the block, preventing damage to the edge when inserting or pulling out. Need more than six? You can buy others separately.
3. Anolon Nouvelle 6 Piece Knife Block: £96, Amara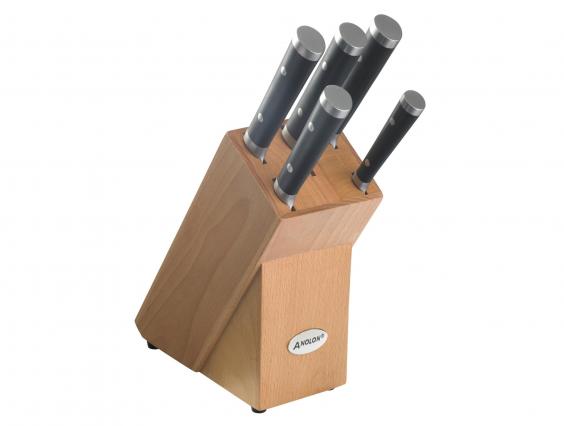 Made from top-notch German steel, Anolon knives are used by the likes of Raymond Blanc. This set includes paring knife, utility knife, chef knife, bread knife and slicer, all presented in a stylish wooden knife block. We found the knives extremely well balanced, largely thanks to the weighted cap at each end, while the rounded handles are more comfortable than most to hold.
4. Global 5 Piece Knife Block and Knives: £399, Lakeland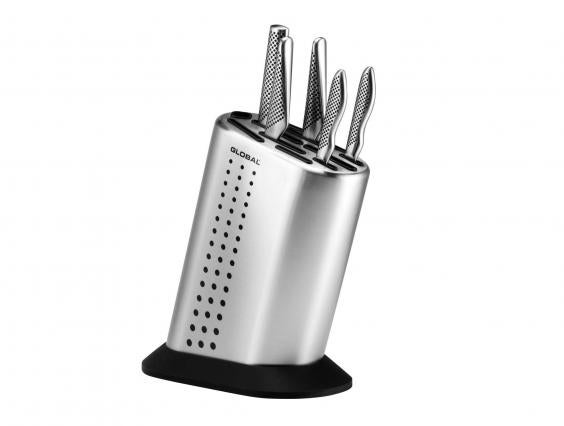 Global's handmade, sharp and distinctive looking knives are used by many top chefs, who rave about how well balanced they are, and this set is likely to be the only knives you ever need to buy. Made from a single piece of high carbon stainless steel, there are five knives in this set – paring, utility, vegetable cleaver and two cook's knives – all with ice-tempered blades.
5. Kuhn Rikon 5 Piece Set with Knife Block: £46, amazon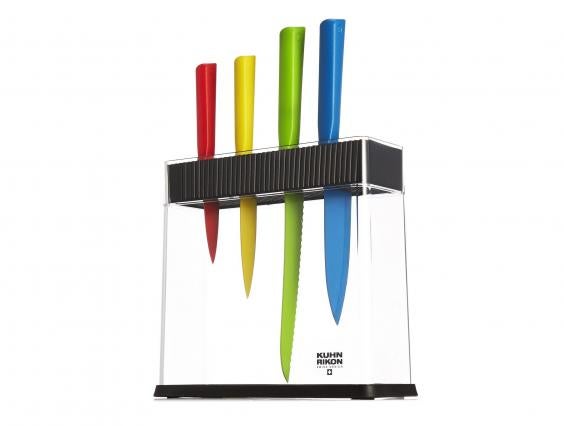 This colourful set of knives come in a handy see-through block, so you will never find yourself pulling out the wrong one. The block has other benefits – you can unfold it and put it in the dishwasher; it dries out knives if you wind up putting them in slightly wet; and it has room for storing your other kitchen knives too. The knives themselves – utility, santoku, paring, chef's and bread – have non-stick coated carbon steel blades and stay sharp for years. 
6. Lakeland Fully Forged Stainless Steel 5 Piece Knife Block: £69, Lakeland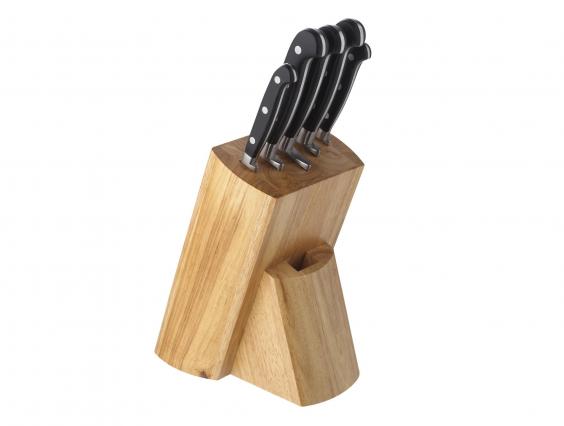 Each of these traditional and professional looking knives – paring, cook's, all-purpose, carving and bread – is made from a single piece of hardened stainless steel, making them a robust option that will see you through years of chopping. Well-balanced, they are good for people who like a bit of weight to their knives.
7. ProCook X100 VG10 6 Piece Damascus Knife Set: £449, ProCook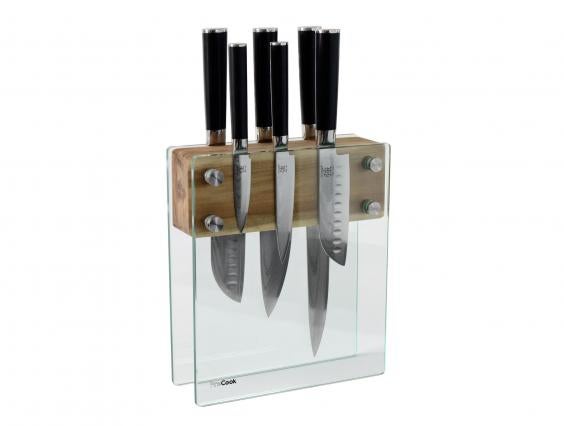 If you spend a lot of time in the kitchen, this set of Japanese stainless steel knives tick all the boxes, in terms of hardness rating and percentage of carbon for sharpness, as well as being exceptionally comfortable to hold, with a good bit of weight and hard, but rounded handles. The contemporary-looking magnetic glass and acacia block looks great on the worktop, although be careful if you have kids as these are seriously sharp. Contains paring, utility, chef's, carving and two santoku knives.
8. Brooklyn Copper Fan Shaped Knife Block Set: £39, Cookshop Clearance Co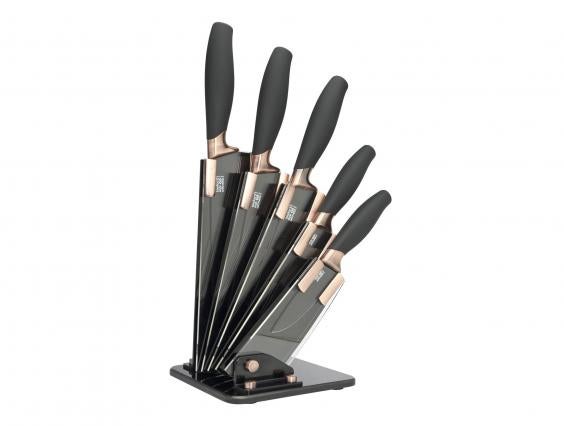 Designed in the UK by Taylor's Eye Witness, which was founded in Sheffield in the 19th century, this fan-shaped block makes a real statement of your kitchen knives – and looks aren't all that are going for this five-piece set, with good quality, anti-bacterial ceramic coated knives that are dishwasher safe and help stop discoloration and tainting of food when cutting. They started life as £80, so grab yourself a bargain. Contains paring, utility, cooks, bread and carving knives.
9. Kitchen Devils Lifestyle Knife Block: £25, amazon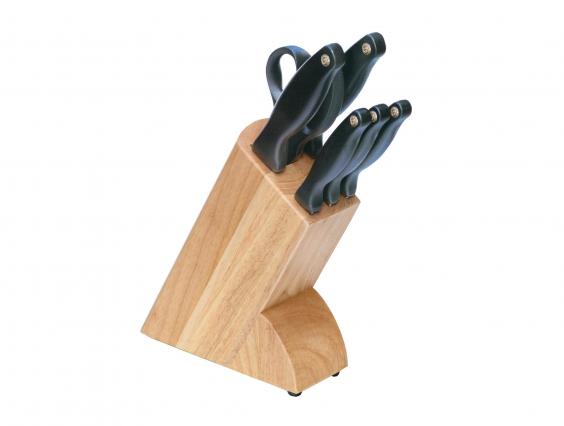 While these are not in the same league as more expensive knife sets in this round-up, they are great value, making them our top recommendation for students, anyone feeling the pinch or people who only cook occasionally. The six knives – vegetable, peeler-paring, multi-purpose, bread and carving – plus scissors, are lightweight and dishwasher-friendly, as well as being comfortable to hold, while the block is sturdy and has wide slits that will fit other knives too. 
10. JosephJoseph Lock Block: £150, JosephJoseph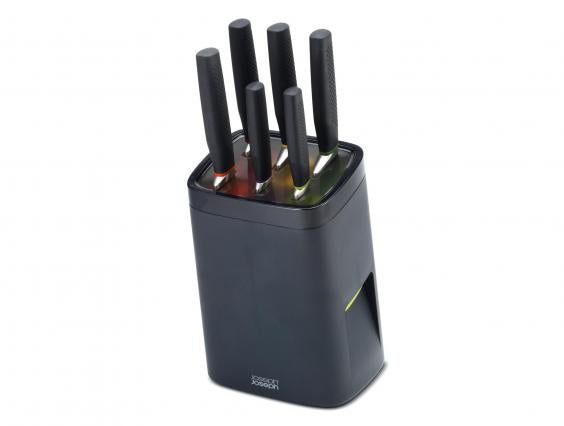 This Japanese stainless steel set – which includes paring, serrated, santoku, chef's, bread and carving knives – is a great option if you've got young children who like exploring your kitchen. The knives are super sharp, but you don't have to worry about kids getting their mitts on them as the block (which can be bought on its own, without knives) locks the knives inside their colour-coded slot, requiring an adult-sized hand to operate the release button. We love the soft, textured handles for easy grip.
11. Jamie Oliver Filled Knife Block: £175, John Lewis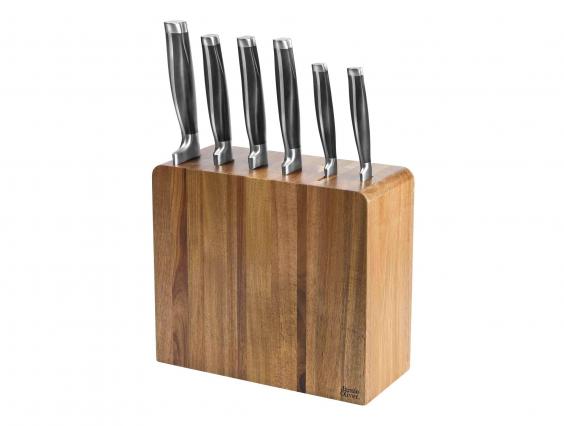 Wooden knife blocks can look old-fashioned. Not so with this smart acacia wooden one that contains six knives with Japanese stainless steel blades and chunky sculpted handles, all lined up in a neat row. Best for people who prefer their knives with a bit of weight to them, the set includes a paring knife, santoku knife, utility knife, chef's knife, carving knife and bread knife, each of which is named at the end for easy identification in the block. Don't wash them though – they'll last a lot longer if you just wipe them clean.
12. Vonshef 21 Piece Stainless Steel Knife Set: £25, Domu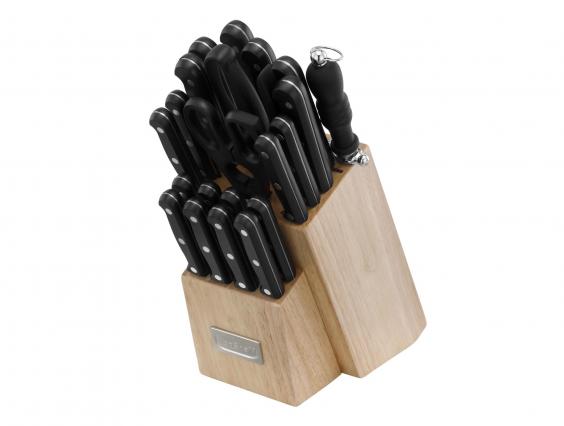 Despite being the cheapest knife set in our round-up, this is also the most comprehensive, boasting a whopping 21 knives, including eight steak knives, plus bread, chef, carving, ham, boning, utility, paring and fillet knives and sharpener, poultry scissors and kitchen sears. Whilst a chef would almost certainly turn their nose up at them, they are fine edged and will do well for occasional use or for anyone on a budget.
13. Judge Sabatier 5 Piece Knife Block Set: £55, Amazon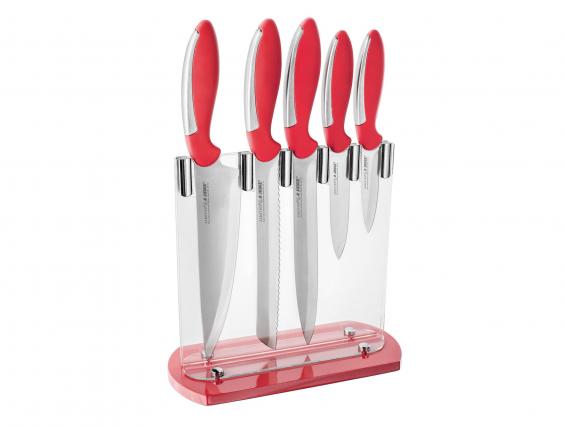 Bring some colour to your kitchen with these red and silver handled knives that are stored in a chic acrylic knife block. They boast anti-slip handles and are dishwasher safe, as well as coming with a 25-year guarantee. Comes with paring knife, utility knife, carving knife, bread knife and cook's knife. Black handled knives are also available. We found them lightweight, ergonomic and sharp, although the edge isn't as thin as some.
14. Stellar James Martin 5 Piece Knife Block: £80, amazon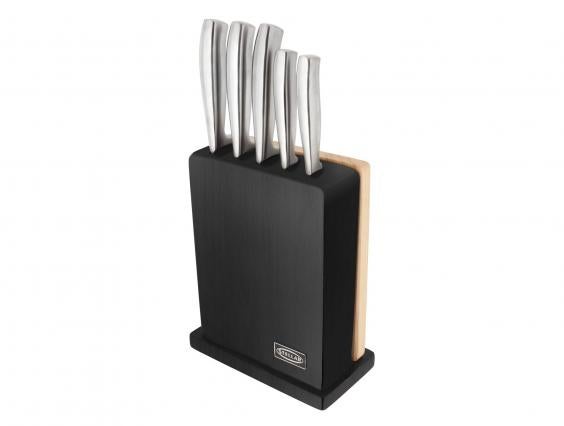 This silver and black set has been exclusively designed by chef and TV presenter James Martin for Stellar. Containing paring, utility, carving, bread and cooks knives, these sharp knives are dishwasher safe and made from extra-durable molybdenum steel. The handles aren't textured, but they are well-balanced and well-rounded to fit neatly in the hand. These ones come with a lifetime guarantee. 
15. JosephJoseph Elevate Knives Carousel: £65, amazon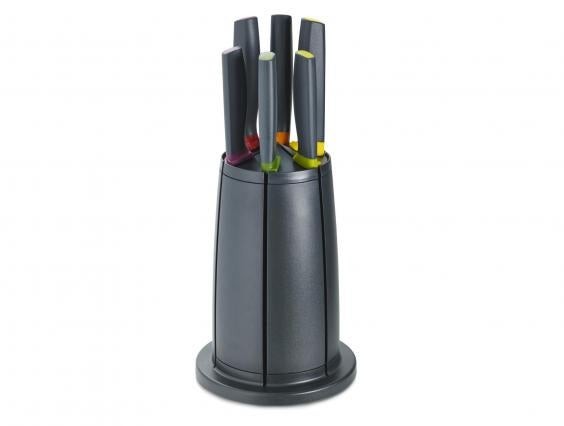 JosephJoseph is known for its contemporary aesthetics that are married with innovation and practicality, and this knife set epitomises all these qualities with these stainless steel knives that are well-balanced, high-quality and whose blades never touch the surface when put down between tasks – a great feature for clean-freaks. The rotating knife block is space-saving and all slots fit all knives – paring, serrated, santoku, chef's, carving and bread knife – holding them in place magnetically.
Verdict
We have three clear favourites: the Global 5 Piece Knife Block, ProCook X100 VG10 6 Piece Damascus Knife Set and the Robert Welch Signature Knife Block Set with Sharpener. For a cheaper set, the award-winning Victorinox Swiss Classic Utitlity Block is great value for excellent quality.
IndyBest product reviews are unbiased, independent advice you can trust. On some occasions, we earn revenue if you click the links and buy the products, but we never allow this to bias our coverage. The reviews are compiled through a mix of expert opinion and real-world testing
Reuse content