Of all the culinary gadgets that are now available, nothing is as important as a good set of knives. Ask any chef and they'll confirm it. In fact, top chefs protect their knives as if they were their own children.
But where to start? There are so many knife sets available for all budgets that it's hard to know which to buy to suit your cooking needs. Our round-up will help you choose correctly so that your knives become the most essential tools of your kitchen.
1. JosephJoseph Elevate Knives Carousel Set, £65, amazon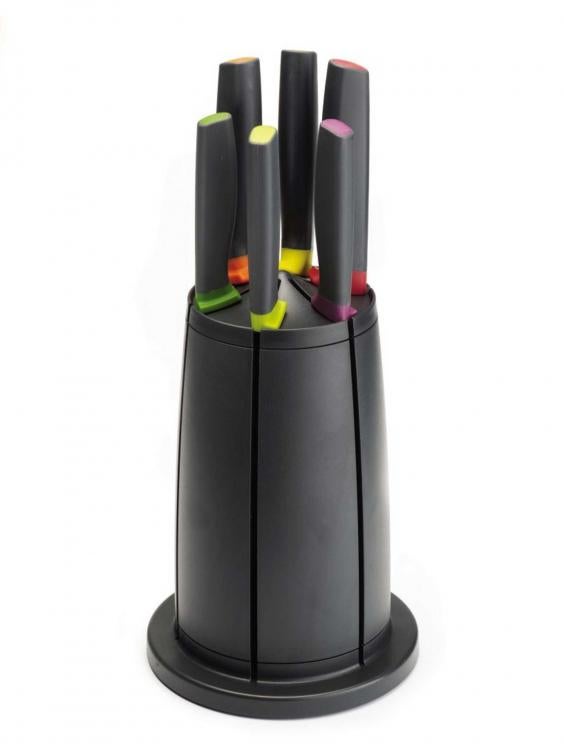 You won't need to give up much space on your worktop for this set with a magnetic base. The knives have soft-touch, non-slip handles, but the blades are of such high quality that you may need to stock up on plasters. 
2. Taylors Eye Witness Dexterity, £25, amazon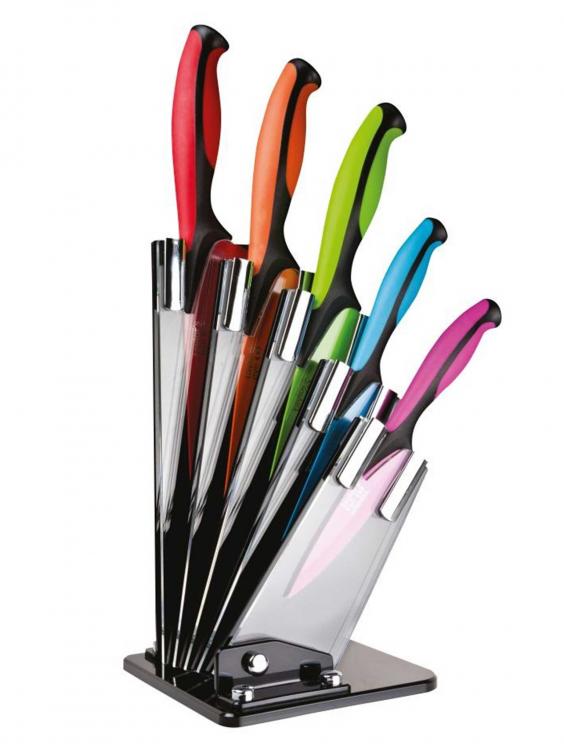 If you're after something to brighten up your kitchen surface, this set will do the trick. There are five knives, including chef's knife, bread knife, carving knife, all-purpose knife and paring knife. The blades are easy to clean and there's a finger guard.
3. Robert Welch Signature Block Set with Sharpener, £280, amazon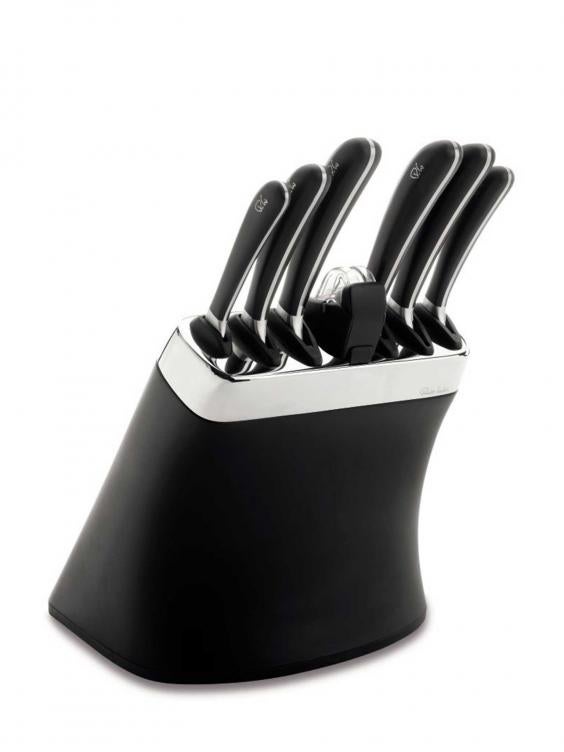 Each of the six blades is honed and tempered to razor sharpness, using technology inspired by Japanese master sword craftsmen – and the block has a magnetic locater in each slot to keep knife edges safe.
4. Viners Naxos, £55, Argos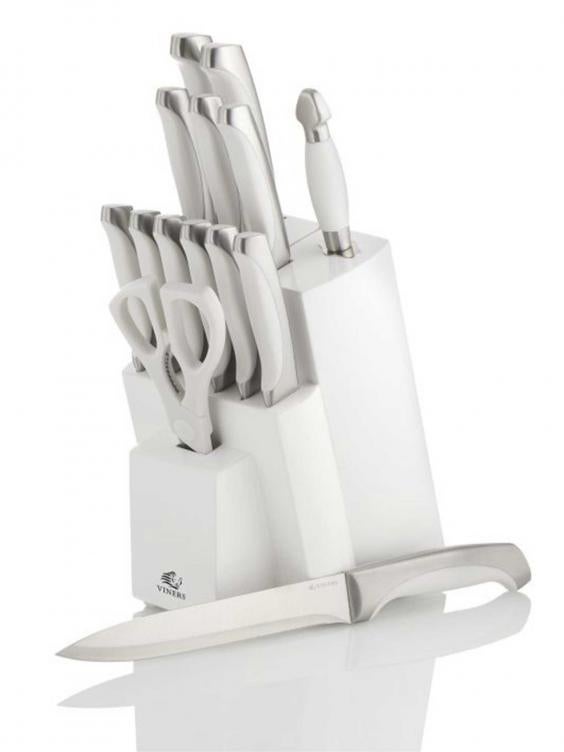 This is as comprehensive as they come, with six kitchen knives and six steak knives, and scissors. It's also unusual to see a knife set so gleaming white. 
5. Maxwell & Williams Slice and Dice, £34, Maxwell & Williams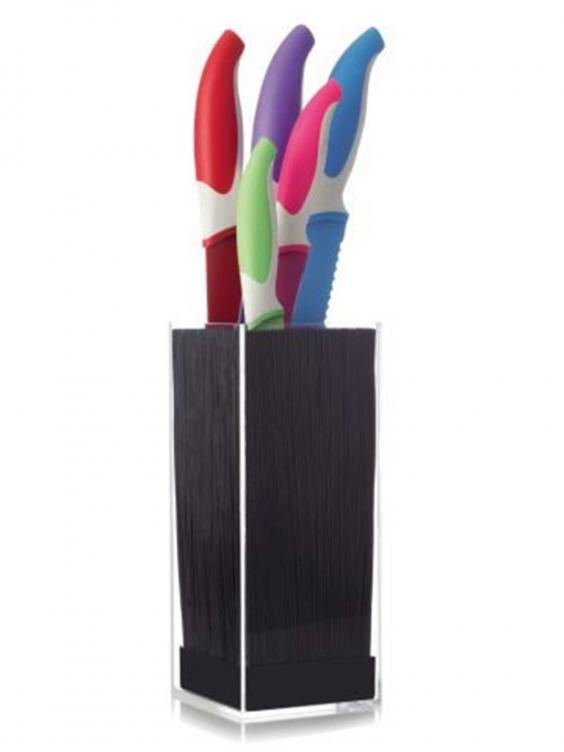 One for anyone going off to university, this six-piece set is on offer at half price. There's a coloured non-stick coating on the stainless steel rubber grips on the handles. 
6. Judge Spada Professional Knife Collection, £40, amazon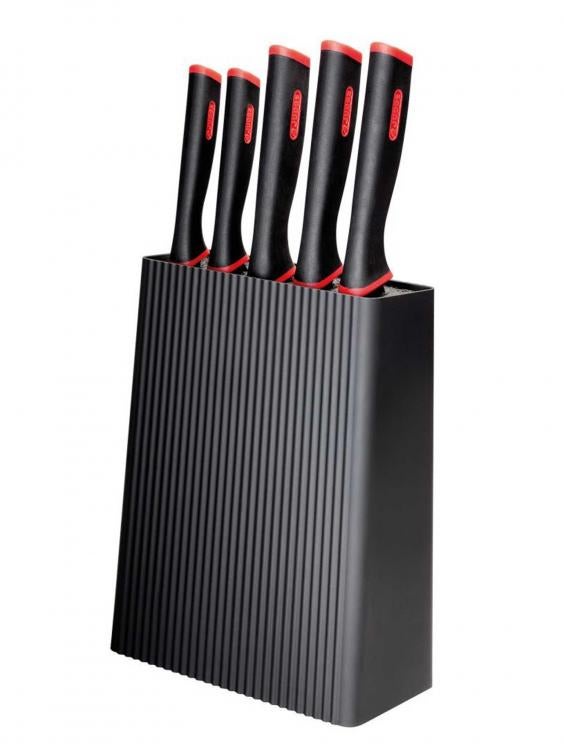 This black-and-red set comprises of five knives – carving, bread, cooks, santoku and paring – with stainless steel blades that are super-sharp. The soft-grip handles are well-designed for comfort and don't slip out of your hands.
7. Lakeland Fully Forged Knife Block, £68, Lakeland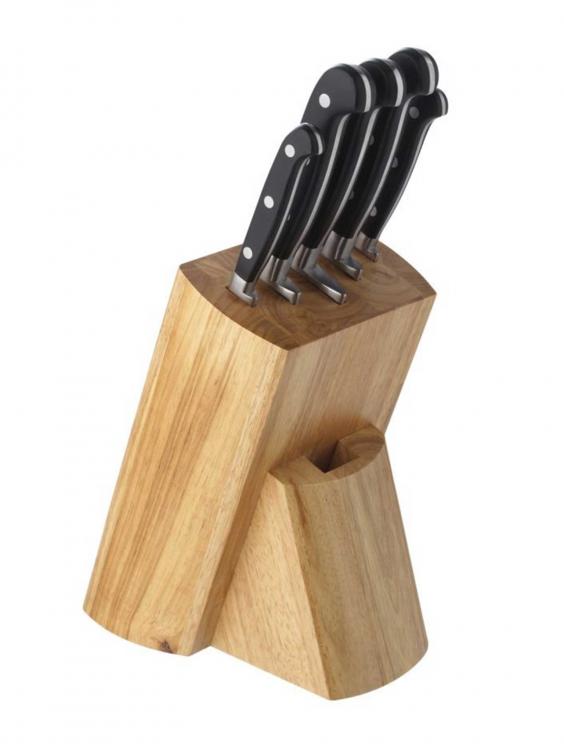 This contains the five knives every kitchen needs – paring, cook's, all-purpose, carving and bread – each made from a single piece of hardened stainless steel. They are sufficiently heavy without being too weighty. Sharpen them little and often and they'll last years. 
8. Global Knife Block Set, £300, Amara
This is the ultimate set of razor-sharp knives. With their contemporary appearance, Global knives are used by many top chefs, not least because they are so perfectly balanced and hygienically seamless.
9. Pampered Chef Small Bamboo Knife Block Set, £130, John Lewis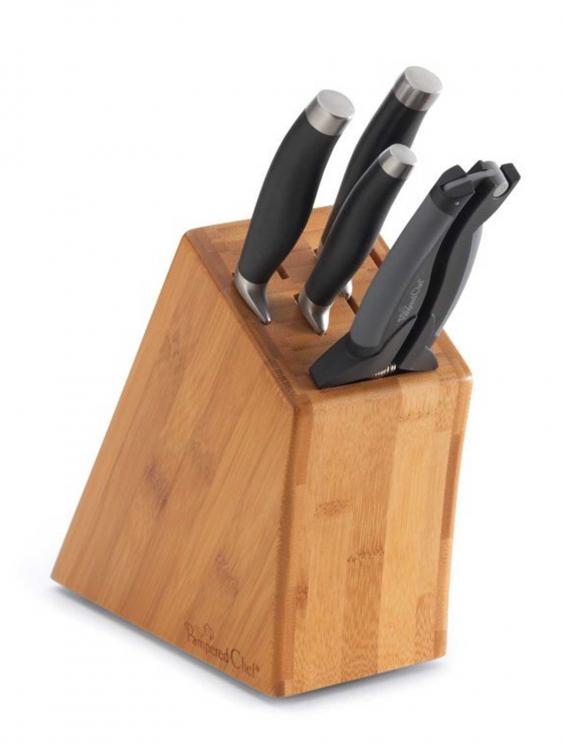 Pampered Chef makes a great nine-knife block set to cater for your every chopping need, but at £380, it's beyond most people's budget. Why not go for their starter set instead, which includes three excellent, long-lasting knives and a honing tool, plus two extra slots so you can add to your set. 
10. Anolon Advanced SureGrip Knife Block Set, £150, John Lewis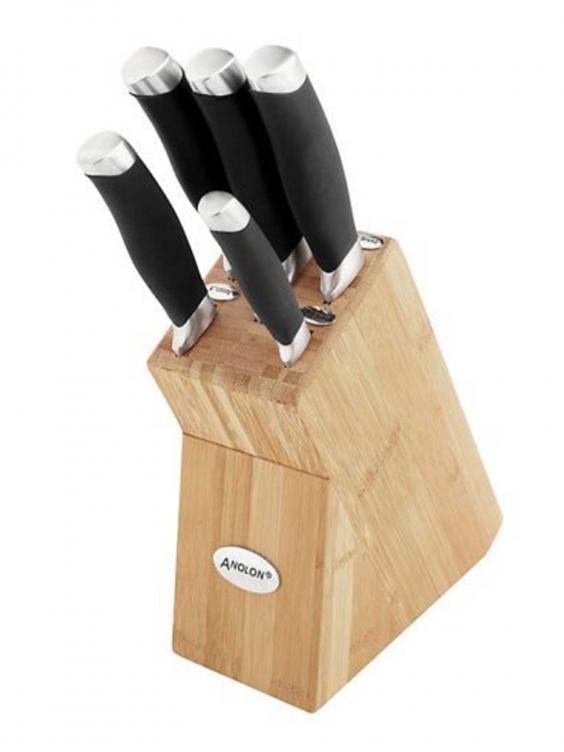 The five knives in this set have one of the best grips we've experienced, while the blades are made from heat-treated, ice-hardened Japanese steel, which helps ensure lasting sharpness, as well as resistance to rust and stains. 
Verdict:
Keen cooks will love the Global Knife Block Set, which will last them a lifetime, while our recommendation for a great starter set is Judge Spada Professional Knife Collection.