If The Great British Bake Off – OK, Selasi – has inspired you to trade in your hundreds and thousands for a piping bag and nozzle, we've put together a collection of clever, hard-working pieces to get you started. 
From the basic offset palette knife to the perfect nozzle for piping swirls on cupcakes, each of these have become permanent fixtures in our kitchens for their ease of use and serious usefulness. And the beauty of decorating is that the basic kit is relatively inexpensive, so you can try your hand without shelling out a huge amount. 
1. Sugarflair Concentrated Food Colours Mixed Set of 10: £20.73, Amazon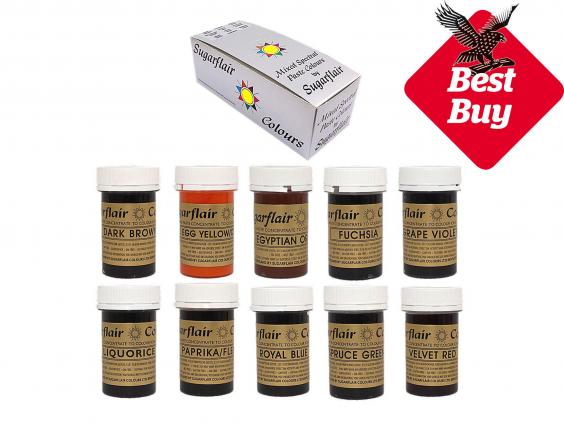 Anyone who has ever tried to colour icing red with a basic supermarket food colouring will know that it's almost impossible to get the intensity of colour you want with a liquid formula: the more colouring you add, the slacker the icing texture becomes, and the more icing sugar you have to add to thicken it, which in turn weakens the colour. The solution is a highly concentrated set of pastes, such as these from Sugarflair. Just a tiny dot on the end of a cocktail stick goes a long way.
2. 50 Disposable Piping and Icing Bags: £6.59, Lakeland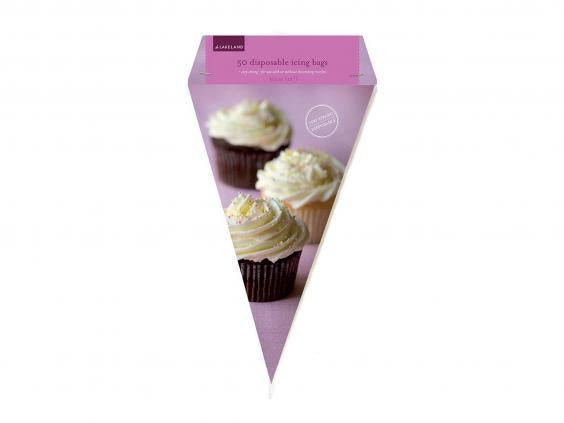 We find old-fashioned fabric piping bags both unhygienic and annoying, as you have to use them with the right size coupler for your nozzle. Instead, bulk-buy plastic ones that you can snip the end off to fit your nozzle. They fare well in the dishwasher for two or three washes, so you don't have to throw them away after one use.
3. Wilton 1M Piping Nozzle: £1.58, Cake Decorating Store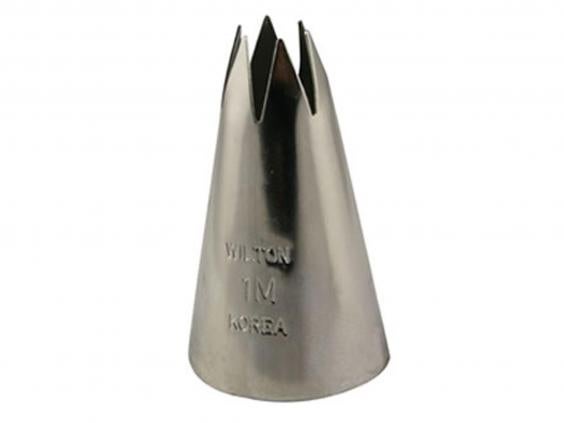 Piping nozzles are a really easy and fairly inexpensive way to experiment with decorating. Use them to pipe swirls or even roses on top of cupcakes, or to add trims and embellishment to larger cakes. The 1M is a classic and a particular favourite of ours for a beautifully ruffled cupcake swirl.
4. Tala Cake Leveller: £3.50, John Lewis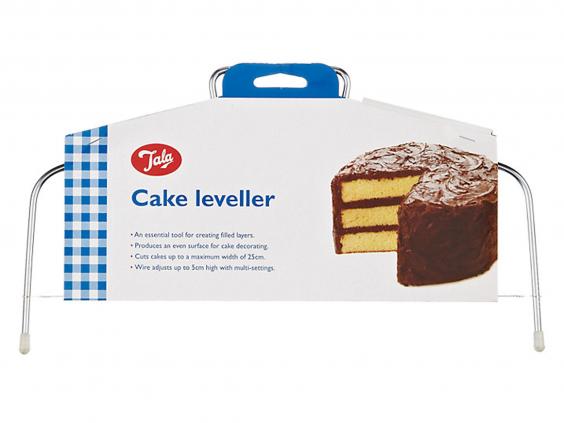 If you need to trim off an uneven rise before icing or cut one large sponge into several layers for filling, a leveller helps you do it – you've guessed it – levelly. Adjust the blade to the height you want and cut using a light sawing motion, keeping the feet of the leveller on your flat work surface all the time. This one from Tala can cut up to 5cm high and accommodate cakes 25cm wide.
5. Cake Boss 1-Piece Decorating Turntable: £17.99, Amazon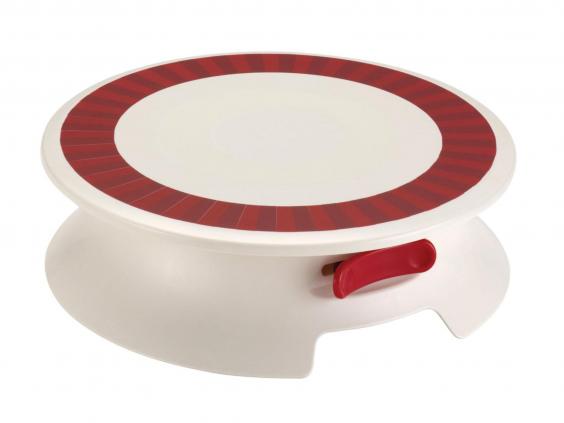 A turntable isn't a necessity, but it does make decorating work a whole lot easier. Work on all sides of a cake without having to lift and turn it (or just move yourself) by placing your cake on top and spinning it as necessary. We particularly like the Cake Boss version for its turn lock and rubberised ring around the edge so your cake doesn't slip.
6. PME Veined Rose Leaf Plunger Cutter Set of 3: £8.06, PME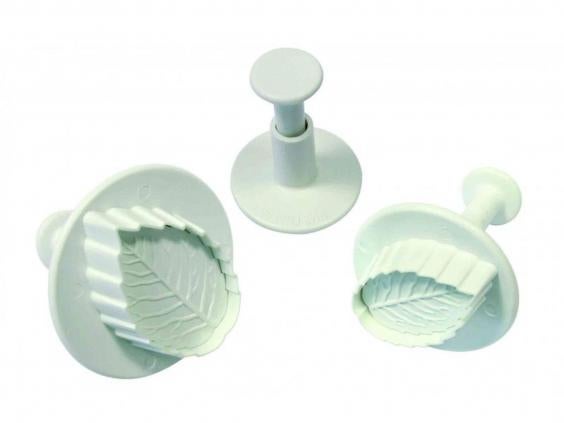 These plunger cutters are a really easy way of getting detail into sugarpaste or marzipan leaves, both cutting and veining in one step. Rose leaves are a versatile choice: use the edge of a circular cutter or back end of a piping nozzle around the edge to turn them into holly leaves, or skip the veining and cut fringes around the edges for a more tropical leaf.
7. Cake Icing and Marzipan Smoother: £2.99, Lakeland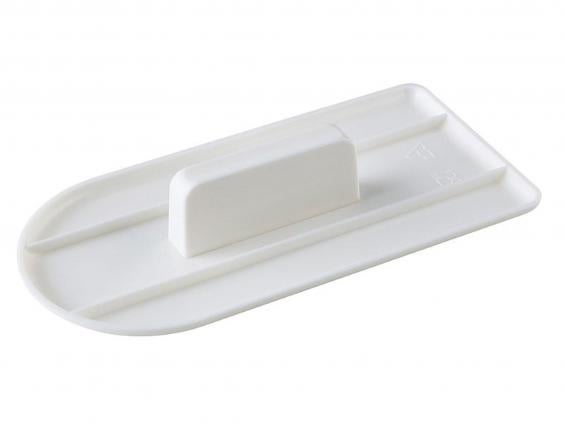 For a smooth finish when covering a cake the traditional, formal way in marzipan and fondant, this inexpensive tool is invaluable. The non-stick surface glides across the top and sides of your iced cake to level the surface, work out any bubbles and smooth any tucks. This one's round and square ends means it works on both curved and angular cakes.
8. TinkerTech Rose Jubilee Petal Cutters: £4.50, Squires Kitchen Shop
If you want to have a go at making your own sugarpaste flowers, roses are a really beautiful but simple place to start. Cut one small petal and roll it up to form the central bud, then add petals around it – preferably in odd numbers – increasing the size of petal cutter as your flower gets bigger, until you are happy.
9. Professional Sabatier Angled Blade Palette Knife: £5, Ocado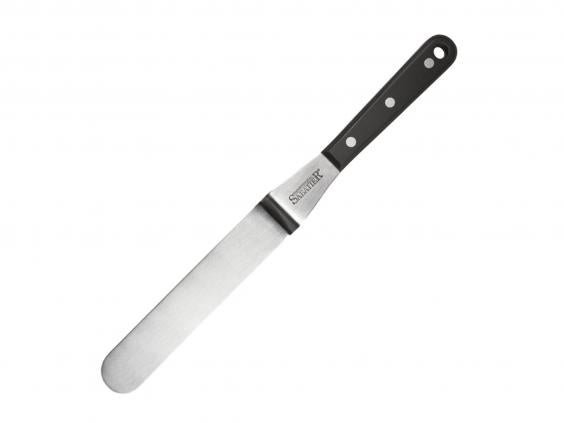 An offset palette knife is a simple way to make covering a cake in buttercream far easier, and to improve the quality of your finish as it allows you to work the top of your cake with a flat blade, without the handle getting in the way. This one does the job excellently.
10. Set of 4 PME Patterned Side Scrapers: £4.70, Cakes Cookies and Crafts Shop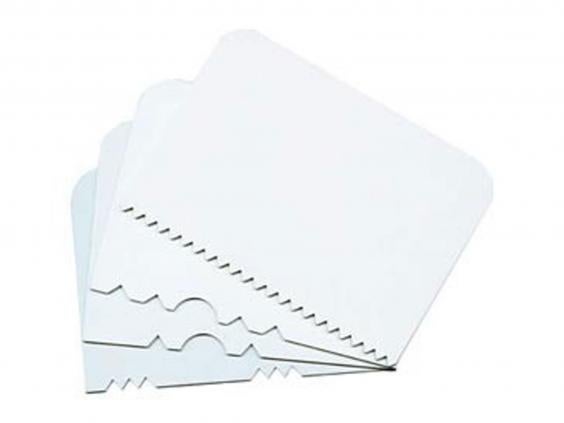 As the vogue for pared-down buttercream-iced cakes continues, this set of patterned side scrapers really comes into its own. Simply run around the edge of your iced cake to create a subtle pattern in the buttercream. This set has four varieties of pattern so you can experiment.
Verdict
The most important thing to consider is what kind of cakes you want to make. For piping perfect swirls on cupcakes, Lakeland's piping bags and Wilton's 1M nozzle is the perfect starter combo, while a cake leveller and angled palette knife are must-haves for buttercream layer cakes. If you dream of moulding sugarpaste masterpieces, PME's leaf cutters and TinkerTech rose petal cutters are a fairly simple place to start. But for all of the above, a basic foundation of paste colourings is an essential that you won't regret investing in. 
IndyBest product reviews are unbiased, independent advice you can trust. On some occasions, we earn revenue if you click the links and buy the products, but we never allow this to bias our coverage. The reviews are compiled through a mix of expert opinion and real-world testing