Although National Chocolate Week ended last weekend, chocoholics don't generally need an excuse to tuck into some really good chocolate, whatever the time of year. Our round-up includes the most delicious and decadent selection boxes available for this year – with something for everyone, from traditionalists to those who seek imaginative and unusual explosions of flavour.
1. Lauden 20 Mixed Chocolates: £18, Lauden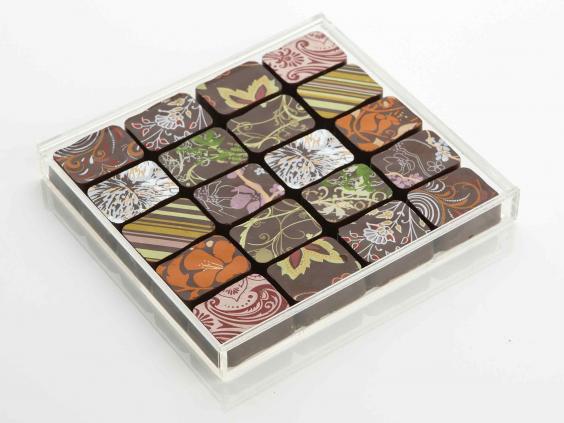 This multi-award winning company was founded by husband and wife team, Sun and Stephen Trigg, who started making chocolate on their kitchen table in 2008. Driven by a passion for sourcing the best cacao and ingredients from around the world, their chocolates are now served in some of the best restaurants in the country, as well as British Airways First Class. This collection includes flavours such as fresh mint, lychee & rose, sour cherry, salted caramel, and our favourite, Mediterranean orange.
2. Du Rhône 16 Piece Chocolate Assortment: £36.95, Harrods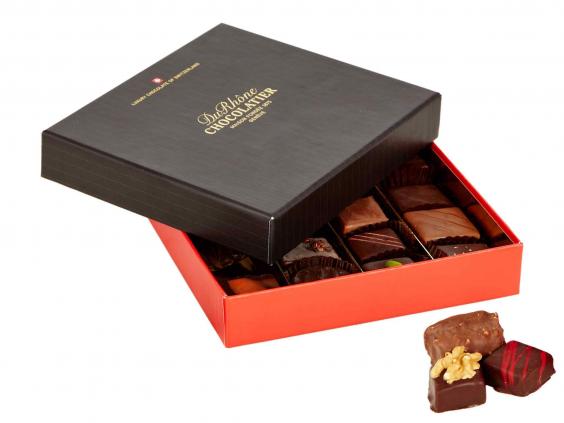 The Du Rhône tearooms are a popular haunt in Geneva, which is famous for its handmade hot chocolate and pralines. For those that want to recreate the experience at home, this master chocolatier has created a delicious selection of top-notch treats, featuring both dark and milk chocolates and all kinds of textures including pralines, mousse and ganache.
3. Sylvia and Terry Eat Me Keep Me Collection: from £10, Sylvia and Terry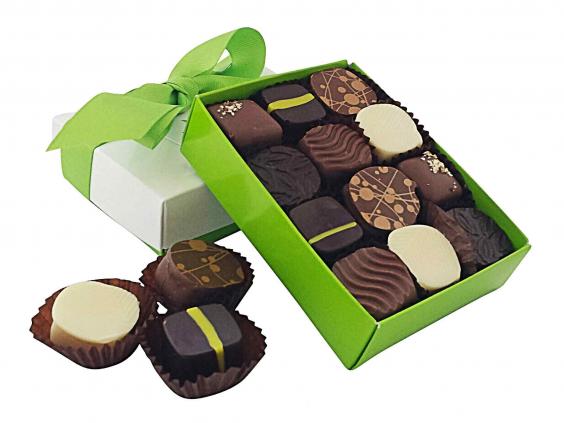 This company is named after the owner's late mum and dad, whom she says are wholly responsible for her chocolate obsession, which started early in life. This range of handmade cream chocolates, truffles, bars and French macarons have no nasties – only fresh, local ingredients such as Kentish cream and butter, combined with seasonal produce from across the globe.
4. Choctails Pick Your Own Chocolates: £14.95, Choctails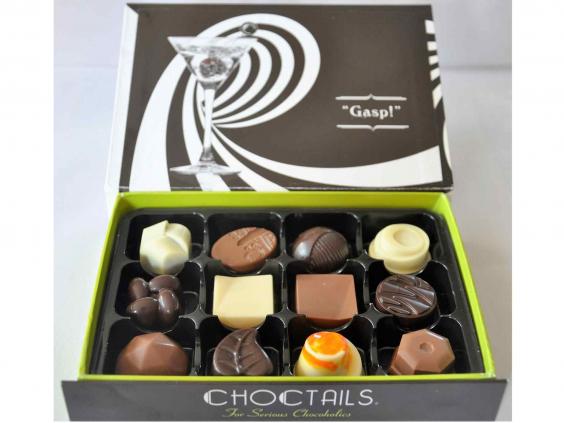 This award-winning company was created after Simon Delamere suggested his wife introduce cocktails into her home-made truffles. By 2012, it had become a full-time business – the only one in the market focused exclusively on cocktail chocolates. There are a vast number of options to pick from to create your selection, such as Harvey Wallbanger, mojito, piña colada and Singapore sling.
5. Jeff de Bruges Square Box: £20.16, Jeff de Bruges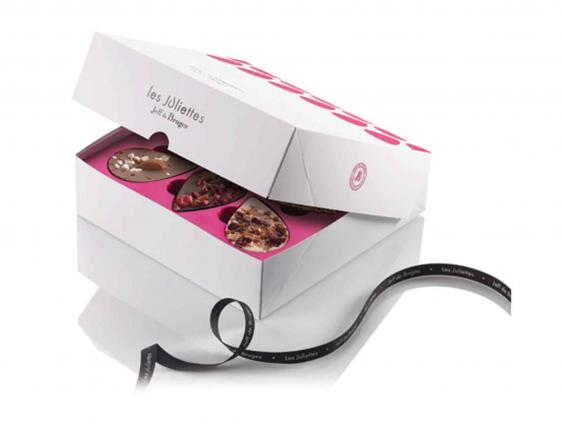 With over 500 stores in France and a further 50 around the world (including one in South Kensington), this leading French chocolatier has become renowned for creating innovative chocolates that combine Belgian indulgence and French cocoa chic. We love the way he revisits traditional recipes and gives them a contemporary twist. The teardrop-shaped options here include dark chocolate, raspberry chips and almond sticks, along with white chocolate, caramel chips, cranberries and many more.
6. Paxton Signature Thins: £25, Not On The High Street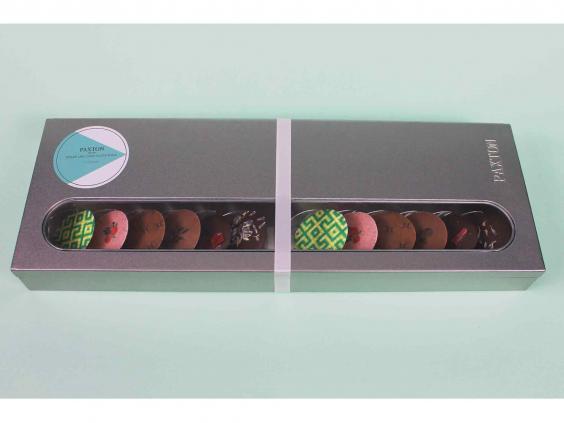 This fashionable chocolatier is known for pushing boundaries. Caitlin Paxton, who graduated as a pastry chef from the Cordon Bleu, even designed a chocolate dress for this year's National Chocolate Week. But she's become best known for her striking chocolate discs, which are made by hand in small batches and include scrumptious flavours such as dark chocolate and lavender; milk chocolate, orange and earl grey tea; and white chocolate clementine, lime and lemongrass. 
7. Belinda's Kitchen Sea Salted Caramel Truffles: £13.50, Yumbles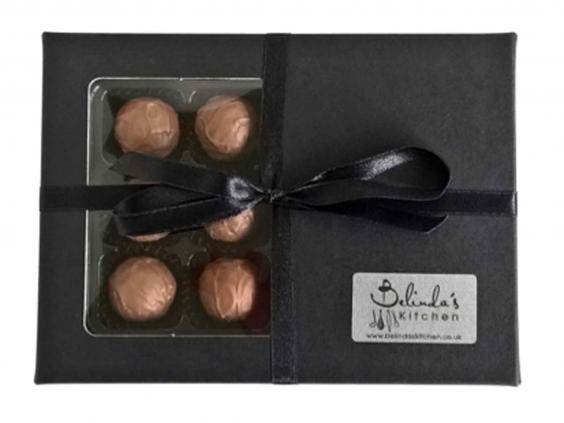 There's no shortage of sea salt truffles out there, but these award-winning ones stand out for their rich, fresh flavour and melt-in-the-mouth texture. The 40 per cent Ghanaian milk chocolate provides a perfect foil to the fresh brown sugar caramel ganache and the result is complete indulgence, making it practically impossible not to eat the whole lot in one go. Available in a box of 12 or 24.
8. Chococo Large Selection Box: £19.95, Chococo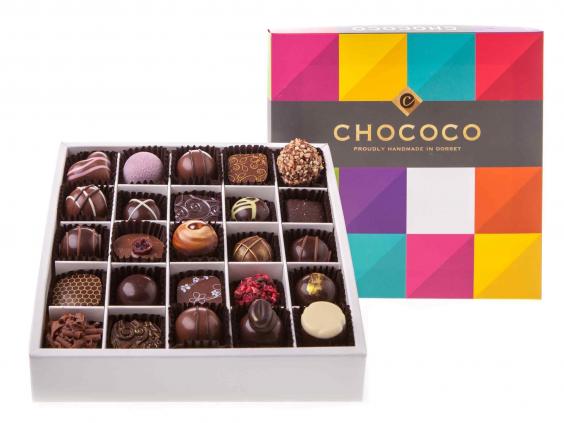 These chocolates are so fresh that they only have a two-week shelf-life. But that shouldn't pose a problem as they're far too good to leave untouched. Indeed, this Dorset-based chocolatier has won nearly 65 Great Taste Awards in its 12 years of trading. Our favourites include salt sweet smoke (Cornish smoked sea salt liquid muscavado caramel encased in dark chocolate) and lemon zing (locally made fresh lemon curd in a white chocolate ganache). Also available in a smaller size.
9. Artisan du Chocolat Black and Gold Couture Ecrin 48: £49.99, Artisan du Chocolat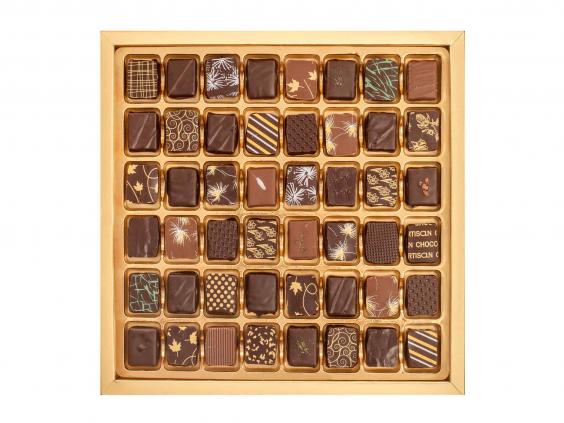 One bite of one of these and you'll instantly realise why this company, which hand-makes every chocolate from scratch in its Kent kitchens, supplies many Michelin-starred restaurants. With flavours including single origin ganaches, tarragon, fresh mint, Indian black and green cardamom and Mexican tonka beans, there's nothing ordinary about these delicious morsels. Fear not if you can't stretch to £50 for a box of chocolates as they are available in smaller sizes, and if you've got very deep pockets, there's also one available at twice the size.
10. Rococo Large Couture Autumn Collection: £17.95, Rococo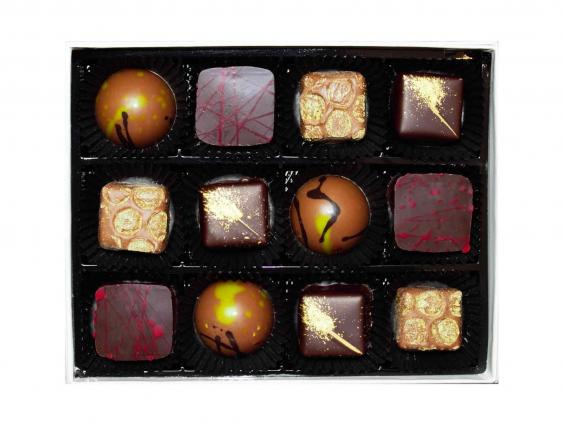 This seasonal collection has been inspired by the annual autumnal harvest of nuts, grains and coffee beans from all around the world. Handmade in a London kitchen by head chocolatier Karen Waller, it includes flavours such as Macadamia Gianduja (Australia), popcorn ganache (USA), coffee praline (Costa Rica) and malted barley and sourdough (UK).
11. Hotel Chocolat The Large Chocolatier's Table: £100, Hotel Chocolat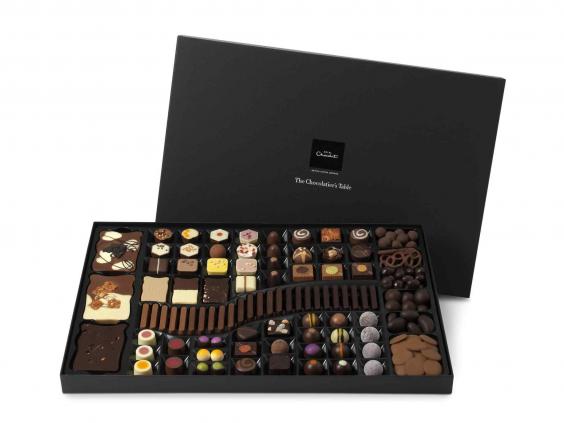 This magnificent array of mouth-watering chocolates is a feast for the eyes and doesn't disappoint when you get to the tasting. Indeed, the delicious morsels include just about every flavour and range you can think of, providing something for everyone – from lively floral gin to classic rhubarb and custard, plus chocolate pretzels, posh Maltesers and Mississippi mud pie slabs. There are even two menus in case everyone jumps in at once.
12. Fortnum & Mason Rose & Violet Creams: £38.50, Fortnum & Mason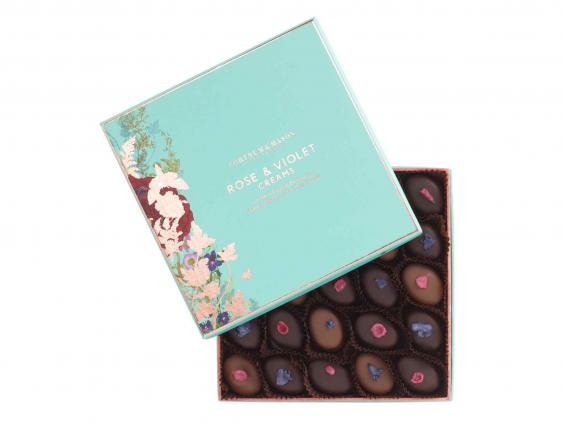 No self-respecting chocoholic should miss a visit to the ground floor of this glamorous department store, which is an Aladdin's cave of delectable chocolates in every shape, size, colour, texture and flavour you can think of. It's nigh on impossible to pick a favourite, but if forced, our vote goes to these quintessentially English rose and violet creams that so many other chocolatiers make overly sweet and perfumed. Not so with these, which are both delicate and delicious.
13. Bettys Cru Sauvage Truffles: £19.95, Bettys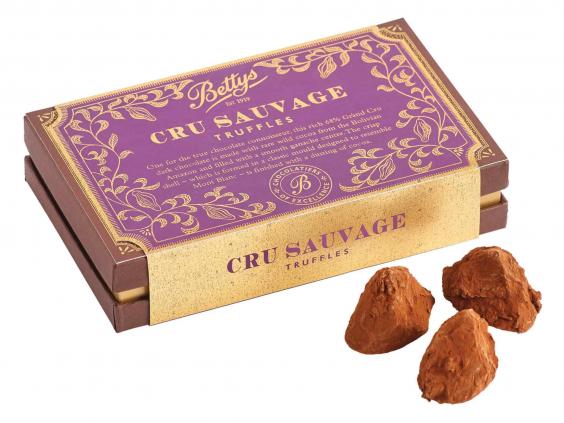 If you're a fan of rich truffles made from only the best ingredients, these will blow you away. The smooth, melt-in-your-mouth ganache is surrounded by intense grand cru chocolate, which is made with wild cocoa from the Bolivian Amazon, while the crisp shell (moulded to look like Mont Blanc) is dusted with just the right amount of cocoa. It's a party for the taste buds.
14. Godiva 90 Year Anniversary Box: £22, Godiva Chocolates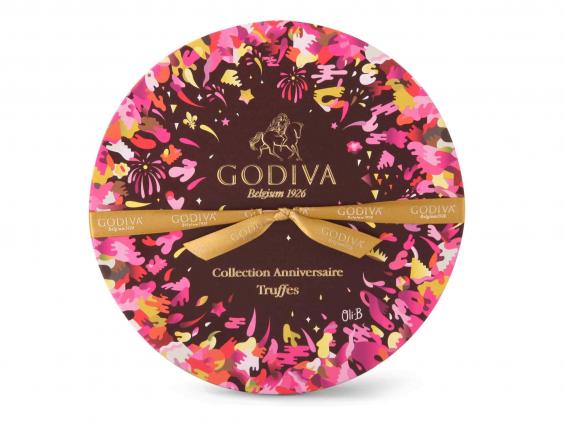 Ninety years is an impressively long time to have been making great chocolates, so it's no wonder that this famous Belgian chocolatier is celebrating with a brand new selection box – a 12-piece assortment of airy, cloud-like truffles, including old favourites such as the mousse truffles and brand new creations such as the pistachio truffle. The box itself looks vibrant and sophisticated and makes it a great gift.
15. Fifth Dimension The Journey Box: £24, Fifth Dimension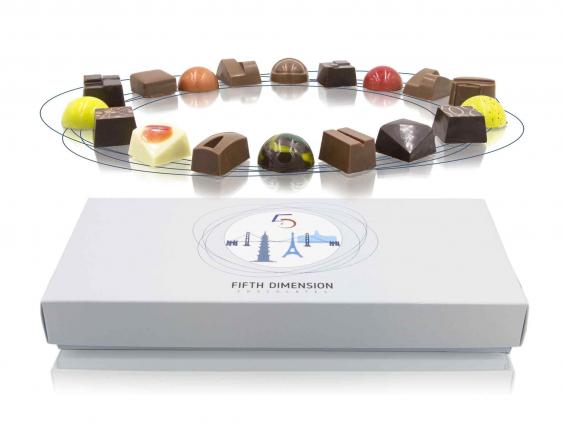 A relatively new kid on the block, this chocolatier has certainly made up for lost time, scooping prestigious award after prestigious award for its exciting and unconventional flavours that take you round the world, including Hong Kong (soy caramel), Sydney (mint and miso), Orleans (raspberry Chambord), Meaux (wholegrain mustard) and Nadiad (lemon chutney). If you want something to really awaken those taste buds, these are remarkably good.
16. G.org.e Raw Organic Truffles: £16.99, Yumbles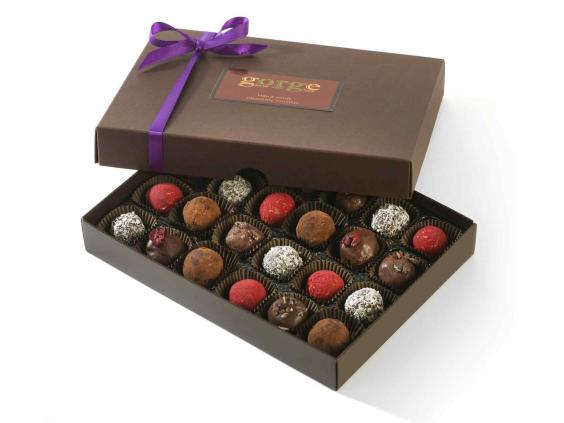 These intense and generously sized chocolates and truffles are as raw and organic as they come, making them suitable for diabetics, coeliacs, vegans and those on a paleo diet. But don't let that put the rest of you off – they are absolutely gorgeous, despite having no dairy, gluten, soya, egg, grains, yeast or sugar. The coconut truffle is particularly good and the raspberry truffle is also up there with the best you'll taste. Be sure to store them in the fridge.
17. Demarquette Gift Selection Box: £26.95, Demarquette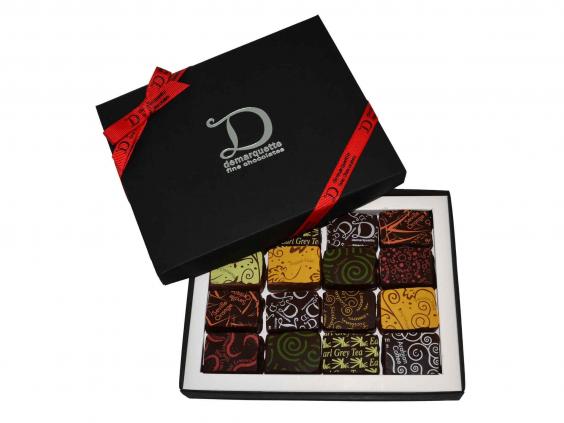 Another award-winning British chocolate producer, Demarquette has been going for a decade this year and is known for its fresh, high-quality, handmade chocolates that bring natural flavours to the fore. We particularly like the Moroccan mint tea, Seville orange, Canadian maple and Earl Grey.
18. Sweet Art Lab Chocolate Tuile Cigars: £25, The Sweet Art Lab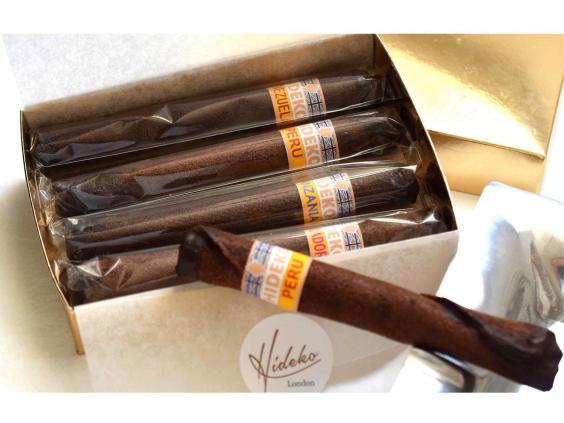 You could be forgiven for thinking you'd been given real cigars when presented with this box, but actually they're hand-crafted sticks made from bitter dark chocolate and filled with chocolate tuile. Created by Hideko Kawa, former head pastry chef at the Fat Duck, each one has chocolate from a different country – Peru, Venezuela, Ecuador and Tanzania, while the exotic ingredients include coffee chocolate ganache, a marmalade made from Yuzu fruit and 18-year-old whisky chocolate ganache.
The Verdict: Luxury chocolate boxes
We love the Lauden chocolates, which come stunningly presented in a clear plastic case and are stupendously delicious. We also got very excited about the Choctails Pick Your Own Chocolates. Just make sure you get a piña colada in there. Cheers.
IndyBest product reviews are unbiased, independent advice you can trust. On some occasions, we earn revenue if you click the links and buy the products, but we never allow this to bias our coverage. The reviews are compiled through a mix of expert opinion and real-world testing
Reuse content