There are many benefits of having your own reusable coffee cup, rather than using countless disposable ones for your caffeine fixes. For one, keeping and reusing one mug is obviously better for the environment than chucking away ones you get from the coffee shop. According to the latest statistics, the UK throws away around three billion disposable cups a year. A lot of the cups used in your high street coffee chains aren't actually recyclable. The problem's the polyethylene that makes them waterproof that can only be recycled at a tiny number of specialised plants. By reusing a cup then, you can help cut down on harmful landfill waste. 
And there's also practicality – no need to deal with those flimsy plastic lids, which seem as if they could unleash scalding hot coffee onto your hand at any given moment. 
Here, we've rounded up the best of the lot. Many of them are called travel mugs, although we've focused on ones that will work best as mugs to use around the home or office, rather than flung into a backpack for a bumpy commute. Some are designed to use in place of the cup you'd get in the coffee shop and some will insulate your coffee, keeping it hotter for longer. 
1. KeepCup Coffee Mug: £11.50, Oliver Bonas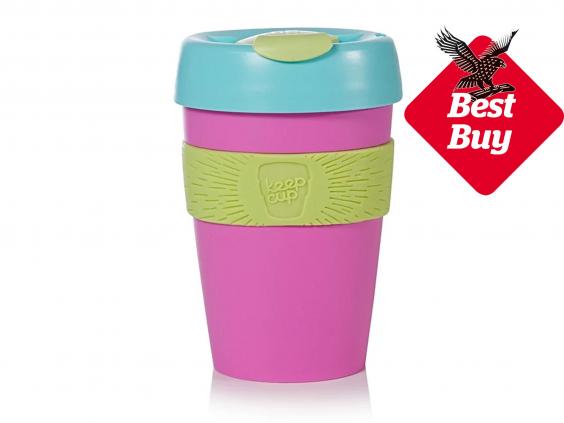 Australian brand KeepCup is leading the march to ditch disposable cups and has a huge range of options in its arsenal, whether your morning cup is a long latte macchiato or a double espresso. Its cups come in five sizes (120ml to 454ml) and a range of colour combos, as well as three different designs. There's a secure clasp that stops any spillages and there are glass and cork options, but the brand's original model, made from BPA-free plastic that's recyclable at the end of its life, is our pick. 
2. Joco Glass Reusable Coffee Mug, 340ml: £19.99, Trouva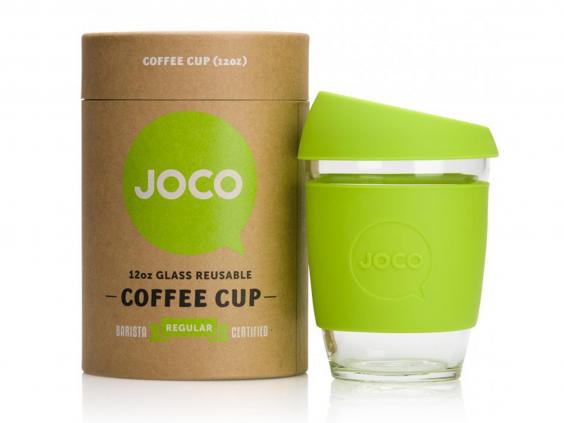 We love Joco's bright, reusable coffee mugs made from sturdy, non-porous glass with a coloured silicone sleeve (it's strong enough to survive a drop or two). Unlike some plastics or paper, glass will not affect the taste of your brew and as with all the cups on the list, the silicone is free from all nasties. These come in three different sizes that should fit your barista-made brews, and there are over 20 colours to choose from. 
3. Ecoffee Cup Lily William Morris 14oz: £10.80, Ocado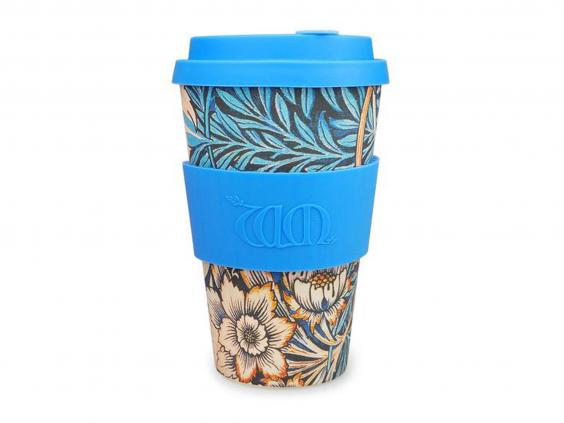 This might feel a bit like it's crafted from cardboard, but the cup is actually made from bamboo fibre and corn starch. That means that when you're done with it, it can go on the compost heap (the silicone lid and sleeve are also recyclable). These come in loads of designs, and for one to jazz up your desk, we like the William Morris collection. Just be careful not to put too much pressure on these when you're carrying it about as the nature of the natural fibres used means these can crack. 
4. Byocup Coffee Cup: £9.95, Onya Bags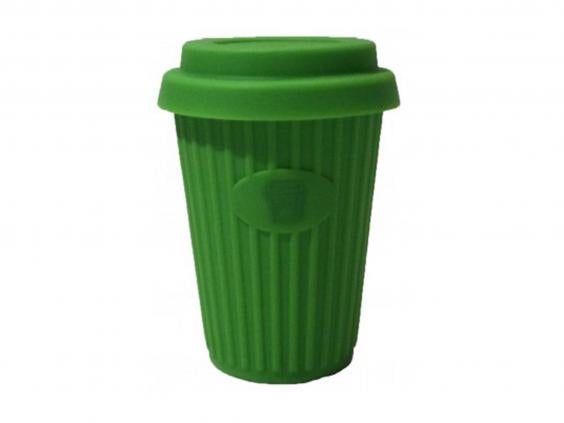 Made from silicone, Byocup's option is a simple but effective reusable cup. It'll hold a decent-sized brew (340ml), and as it's not rigid like a glass cup, it's not one that's going to break. The lid might not look quite as stable as some on the list but it is reassuringly secure. These come in black, white and tan colour combos, as well as a bright green that you will always be able to spot in your bag.
5. Thermos ThermoCafe Challenger Travel Mug: £9.95, Thermos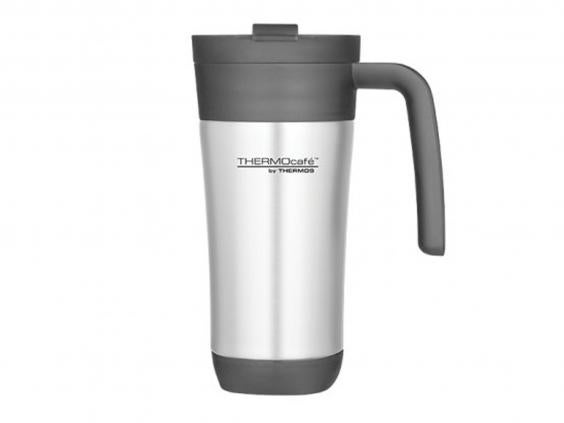 Thermos is one of those brands that, like Hoover, has become synonymous with the type of product it specialises in. It's a sign of the quality it provides, apparent in this stainless steel mug. The addition of an easily graspable handle is simple but adds a lot in terms of practicality. The flip-top gives easy access when you need it, and the capacity is 420ml – enough to house around the same coffee as one-and-a-half decent-sized mugs' worth. 
6. Bodum Travel Mug: £12, Currys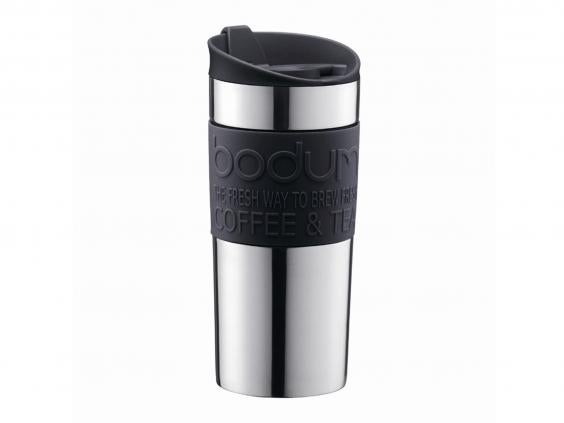 Bodum is one of the most reliable names out there when it comes to reusable coffee cups. While this stainless steel one isn't 100 per cent leak-proof, it's certainly secure enough to keep the vast majority of liquid inside should it be knocked over on your desk, say. The rubber grip – which comes in a range of different colours – means you can easily drink from it without a handle, and the mouthpiece is large enough to allow a good amount of coffee through with each sip. Capacity is 350ml, which is enough for an average-sized mugs' worth.  
7. The Rice Way Travel Mug: £12.95, Amazon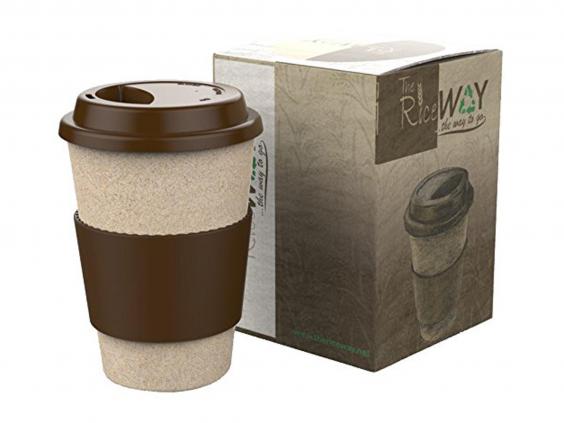 Re-using a coffee mug time and time again is good for the environment in itself, but this product takes things one step further. It's made from rice husk, the waste material gathered during the milling process, which is durable enough to hold your drink, but also biodegradable when disposed of in the right way. The material's insulating properties keep your drink warm, and there's none of the metallic aftertaste that some other mugs give. The lid is made from silicone and the capacity is 400ml.
8. Contigo Vacuum Travel Mug West Loop Monaco: £30, Debenhams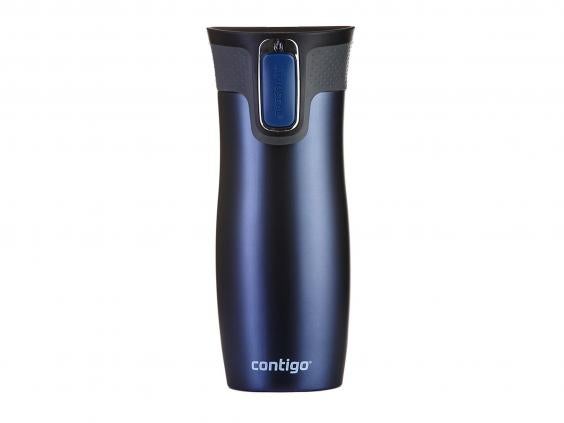 This mug may be the most expensive on our list, but it's probably also the most secure. The button you press to open the cup (and then release to re-seal) is lockable – so once you've closed the hole, you can be double sure that it won't accidentally get pushed open again. There's a double wall of stainless steel, which makes it especially effective at retaining the heat of your coffee for hours on end. Has a generous capacity of 470ml.
The Verdict: Reusable coffee cups
We're big fans of the KeepCup range – thanks to all the different sizes, colours and materials on offer, you're bound to find something to suit your needs. If you want to nail your eco-hero colours to the mast, go for the Ecoffee cup.
IndyBest product reviews are unbiased, independent advice you can trust. On some occasions, we earn revenue if you click the links and buy the products, but we never allow this to bias our coverage. The reviews are compiled through a mix of expert opinion and real-world testing
Reuse content