An electric water kettle is a must-have for any kitchen, but if you're an avid tea or coffee drinker, you're much better off getting one which boils at different temperatures to bring out the best flavours. Green and white teas, for example, are best made with water at about 70°C, while black and oolong teas need water around 85°C. For herbal infusions, you're looking at 100°C, and for chamomile, around 90°C. Meanwhile, the optimum temperature for coffee is between 91°C and 96°C. Boiling water will in fact burn the coffee. 
Don't be fooled by looks alone. We tested one of the most expensive so-called "intelligent kettles", but aesthetics were pretty much all it had going for it. It was slow to boil, didn't automatically switch off when boiled and the limescale filter was poor. It was a nightmare to keep clean and it was uncomfortable to hold. 
Other questions to consider are: does it have all the temperature settings you need? How noisy is it? Is it energy efficient, allowing you to boil just one or two cups at a time? How easy is it to use? Can you see the water levels? Is it sturdy and durable?
1. Bosch Styline TWK8633GB: £46.89, Argos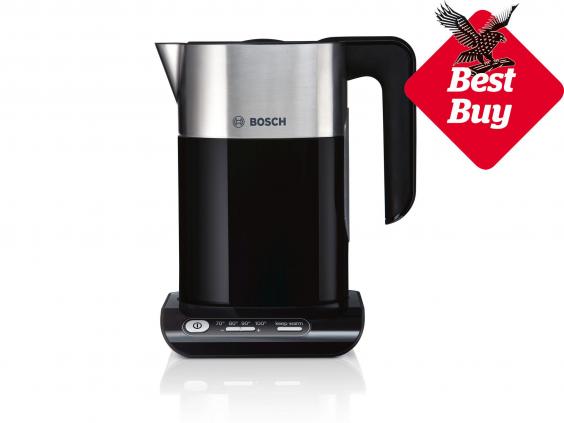 Available in black or white, this kettle is really quick to boil, yet boasts great energy efficiency, allowing you to heat as little as one cup's worth at a time. It's got four settings from 70-100°C and will keep the water at that temperature for 30 minutes. It's easy to fill and has one of the best limescale filters we came across. But it's quite noisy.
2. Hotpoint Ultimate Collection Kettle: £59.99, Amazon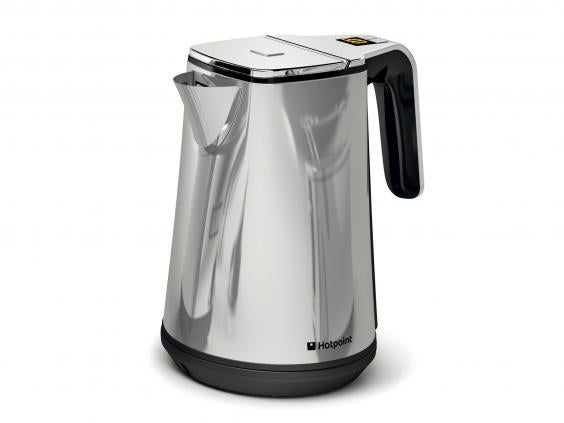 This eye-catching kettle is intuitive and practical, with a particularly good pouring action. The temperature options range from 50-100°C, in 10-degree intervals, and it will keep water warm for 30 minutes. We like the fact that you can see as the temperature builds and drops on the LED display, and although it marks quite easily, it's not hard to clean.
3. Sage The Smart Kettle: £89.99, Lakeland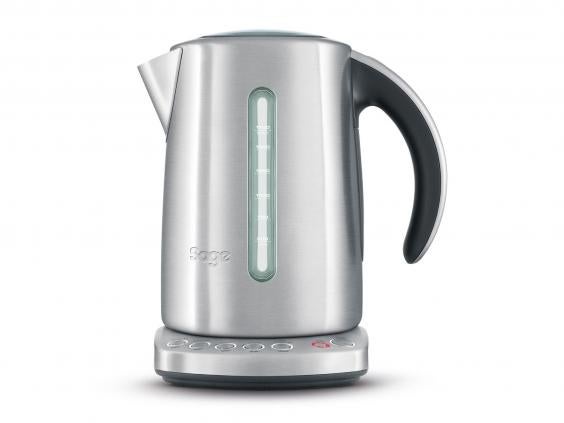 This Australian-made, Heston Blumenthal-endorsed kettle is another fast boiler and we like the clear windows that save you squinting to see how much water there is. There are four settings from 80-100°C, plus a 20-minute keep-warm button. It's easy to lift, but it's not great for hard water areas as it's got a poor limescale filter.
4. Cuisinart Multi-Temp: £85, Cuisinart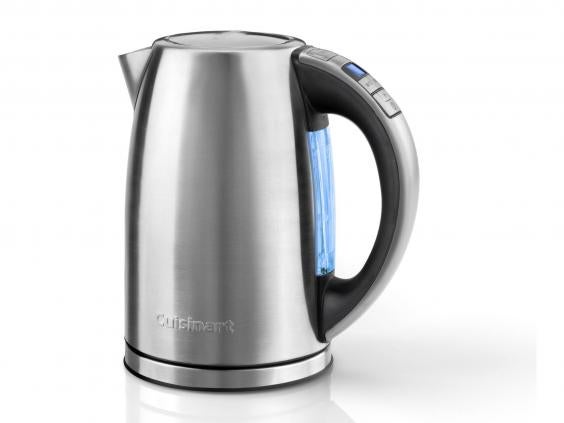 This is quick and easy to use, with an ergonomic handle and clear temperature buttons that heat water to either 85°C (for speciality teas and instant coffee) or 100°C (for ordinary black tea). Fear not if you want more choice, however, as a third button allows you to vary the temperature between these ones in 5°C increments. There's a good limescale filter and a great matching toaster, but it's tricky to clean and it's loud.
5. Vonshef Variable Temp Kettle: £31.99, Domu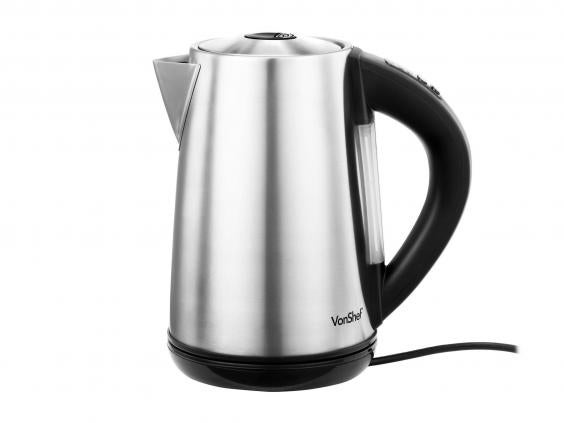 This great value kettle has an impressive six settings from 40-100°C, along with keep-warm options that last up to half-an hour. It's easy to see how much water there is and there is a swivel base, but it is prone to limescale build up and it's noisier and slower than others in this round-up.
6. Smarter iKettle: £99.99, Lakeland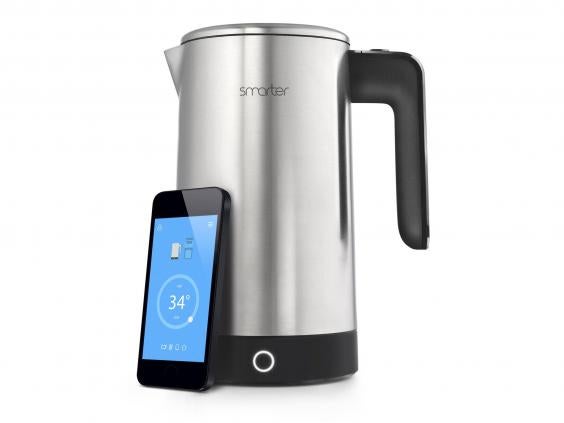 This app-controlled kettle, with temperature ranges from 20-100°C, puts an end to irritating bleeps and whistles by quietly alerting you via your smartphone or tablet when the water has reached the desired temperature. Connect it to your wi-fi to boil it remotely, or set the wake-up mode for that morning cuppa. We also like the water sensors, which send a reminder if there isn't enough in the kettle, and it speaks different languages, too.
7. Russell Hobbs Illumina: £54.34, Amazon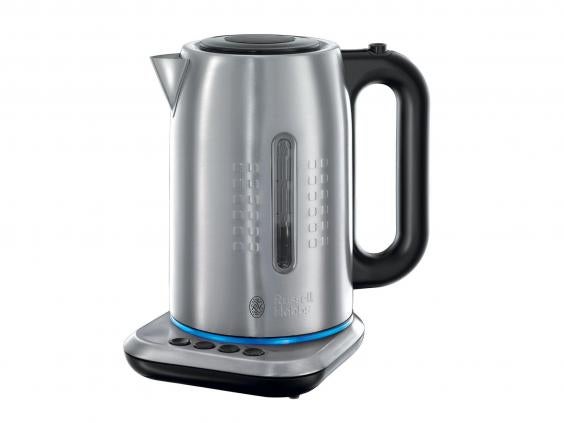 This is a good price for a kettle with different temperature options – in this case, 70°C, 80°C or 90°C, which are great for making drinks such as green tea and coffee. It boils fast and is simple to lift and fill up. But it's hard to see the water level very clearly and it builds up with limescale in hard water areas.
8. De'Longhi Distinta: £129.95, John Lewis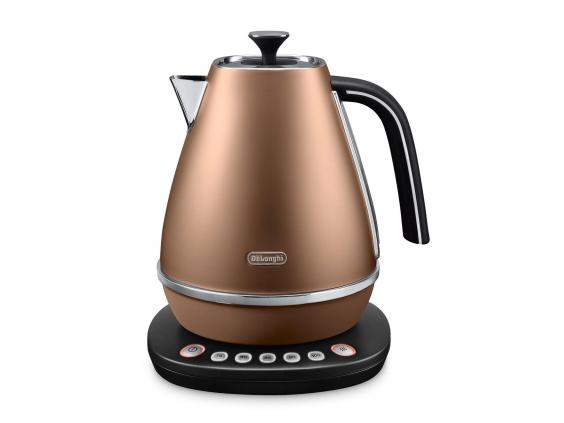 This stylish kettle is available in a range of metallic colours with chrome finishing. It's simple to use and can boil a single cup at a time, which is good news for keeping electricity costs low, as well as saving time. There are five temperature settings – 75°C, 80°C, 85°C and 90°C – and a keep-warm function that works for 20 minutes. And there's a matching toaster if you want to complete the look. The handle isn't as comfortable as others, though.
Verdict
The only fault we could find with the Bosch Styline TWK8633GB were the noise levels – and it's particularly good if you live in a hard water area. If you live in a soft water area, our top recommendation goes to Sage The Smart Kettle.
Reuse content