Whether you're commuting, on a lengthy flight or trying to concentrate in the office, noise-cancelling headphones can be a godsend.
In a nutshell, the headphones work by creating their own sound waves, which are 180 degrees out of phase with the penetrating waves, thus cancelling out the unwanted noise. On some models, especially the cheaper ones, this can lead to it feeling as the sound is actually being sucked out of your ears – like a milder version of your ears popping when the air pressure changes. Some people find this uncomfortable, although it doesn't bother others.
All the headphones on this list are active, using the method of noise-cancellation explained above, and therefore either require separate batteries or to be charged via USB. Be careful not to confuse them with passive headphones, which simply use insulation within the headphones to block out external noise – and are often cheaper.
The downside of active headphones is that, of course, they can run out charge. In some cases, this will just mean the headphones lose their noise-cancelling capability, and that you can still listen to them via a wired connection. However, when a Bluetooth-only pair runs of out charge, it stops working altogether – not what you need 30 minutes into a transatlantic flight.  
Most of the headphones we chose are over-ear, as the full ear coverage helps to block out the noise, although there some effective on-ear options here, too. We tested them in the IndyBest office, walking along a busy high street and on a noisy London Underground train, focusing mainly on noise-cancelling capability, sound quality and comfort.
1. Bose QuietComfort 25: £250, John Lewis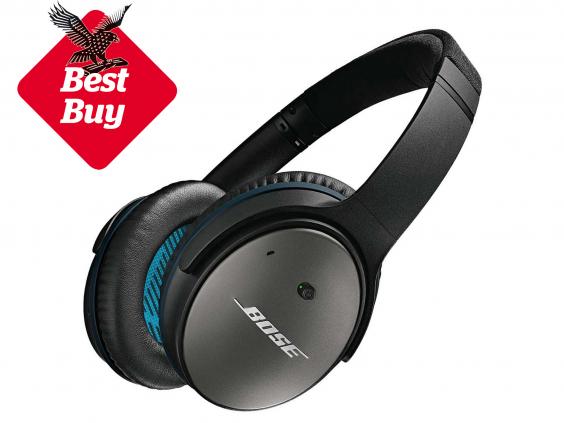 The Bose QuietComfort series has long sat atop the noise cancelling charts, and this latest iteration stays true to form. No other headphones we tried achieved the same level of near-silence, even when faced with the racket of an old London Underground train. The music it delivers is clearly defined and full, complemented by the comfortable over-ear cushions. Models for Apple and Samsung devices are available. There's no Bluetooth, and they require a single AAA battery.
2. Sony ZX770BN: from £99, John Lewis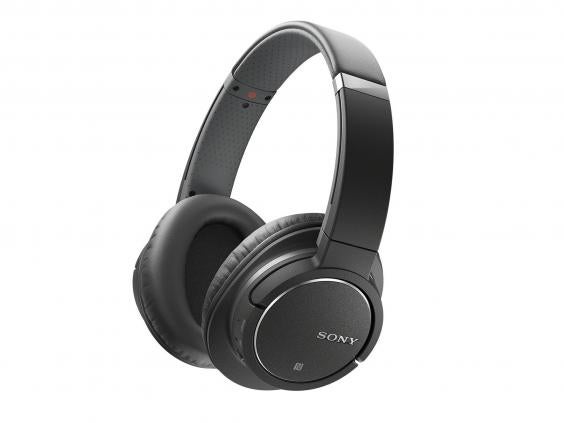 These headphones from Sony are the cheapest on our list, but they compete strongly against the pricier alternatives. This noise cancelling will eliminate the low-frequency rumbles and whirrs which really bother your listening experience, but you'll still be able to hear the faint sound of a passing car, for example. The headphones perform well over Bluetooth, but the best sound is achieved when using a wired connection. Bass is firm, not overpowering, and there's a lovely texture to the music. Around 13 hours of battery life.
3. Plantronics Voyager Focus UC: £169, amazon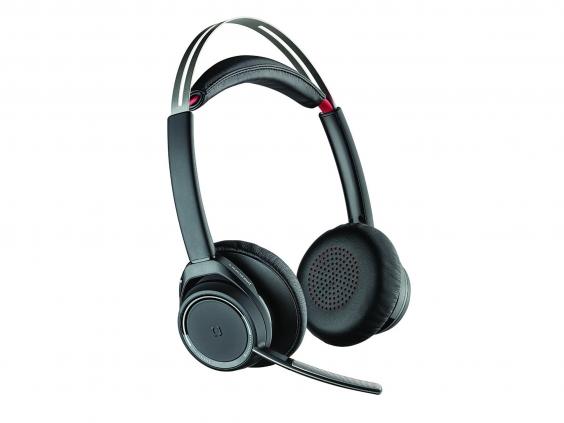 If you're looking for headphones that are suitable for both work and pleasure, opt for these. They're ideal for conference calls, as the flip-down microphone picks up your voice with great clarity. As with most headphones under £200, the noise cancelling isn't the greatest, but will eliminate any particular bothersome sounds. And on the commute home, you'll enjoy the full-bodied bass and clear highs while listening to music. Around 13 hours of battery life and Bluetooth only.
4. Sennheiser Momentum Wireless: £380, John Lewis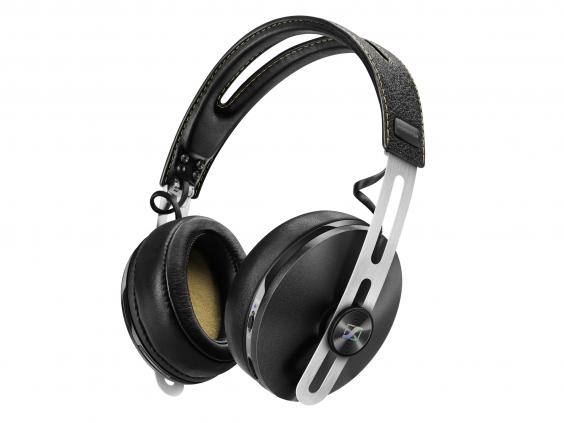 These may have a hefty price tag, but it's reflected in the quality. The distinctive stainless steel sliders look great, and the leather, over-ear cups are comfortable (although not the biggest we tried). They're the best-sounding Bluetooth headphones we tried, too, providing a clear, immersive listening experience. The integrated NFC is particularly handy if your device is enabled. The battery life can be as long as 20 hours or so, and if it does die, there's a cable to listen passively.
5. Parrot Zik 3: £280, Parrot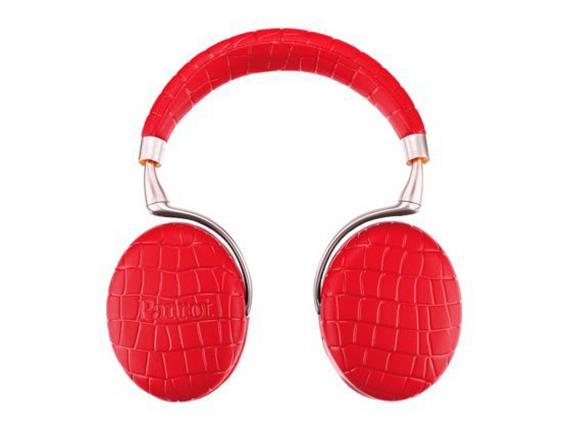 These headphones probably have the boldest a design on our list – the poppy red, crocodile-skin exterior is a sight to behold, and there are more designs available. But they're much more than just a fashion accessory. The noise-cancelling is highly effective in a range of environments, while the sound is detailed and clear. The right headphone has a touch-sensitive skin, meaning you can pause, play and skip tracks, and adjust the volume (although this does take some getting used to). The Bluetooth connection is among the best, and you can listen through wires, too.
6. AKG N60 NC: £200, amazon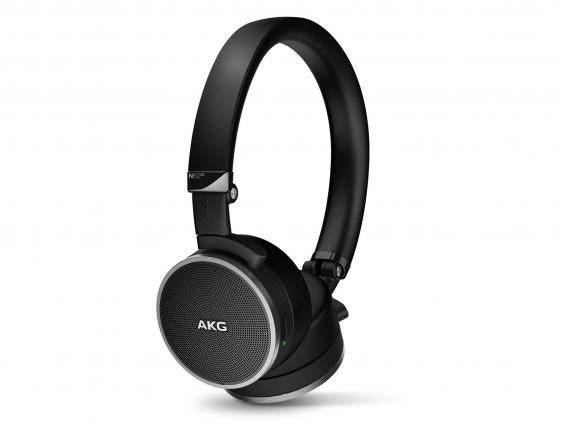 These exceptionally light (150g), on-ear headphones score highest in terms of portability, folding up into an impressively small travel pouch. The noise-cancelling is up there with the best of them, too, effective at both muting office chatter and nullifying the incessant hum of an airplane engine. The sound is natural, clear and punchy. There's no Bluetooth connection, though, so you'll be dealing with wires. 
7. Samsung LEVEL On Wireless Pro Headphones: £230, Samsung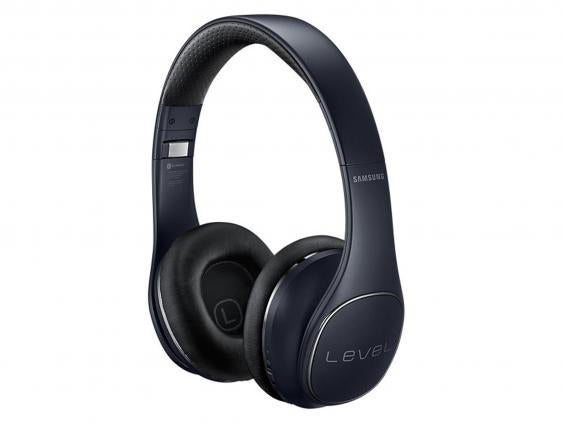 These headphones from Samsung are larger than most others out there, and are therefore best suited to people with larger heads. They are comfortable, though, with soft, faux-leather cushioning. You can control volume, change tracks and activate talk-in mode (to hear the world around you) by tapping and swiping the touch-sensitive right cup – it's effective once you've got to grips with it. The Bluetooth connection gives impressive sound quality with a warm tone, and you can also use a wired connection. 
Verdict
The Bose QuietComfort 25 headphones are the most effective noise cancellers on our list and, considering their excellent sound quality, the top spot goes to them. But the others here definitely deserve your consideration – especially the AKG N60 NC pair, which is the ideal travel companion. The Sony headphones' relatively low price tag means they come highly commended, too.
IndyBest product reviews are unbiased, independent advice you can trust. On some occasions, we earn revenue if you click the links and buy the products, but we never allow this to bias our coverage. The reviews are compiled through a mix of expert opinion and real-world testing
Reuse content