Now that music is stored on mobile phones, tablets, PCs or in the Cloud, why limit it with wires and cables? Connect your music source by Bluetooth or wi-fi and you have the freedom to put your speakers in the garden or on the beach. That is unless you still need a power cable, of course – most speakers here are battery-powered, apart from the Naim Mu-so Qb, B&O Play A9 and Bowers & Wilkins Zeppelin Wireless. The Ruark speakers are mains-powered but have optional clip-on batteries available. 
Bluetooth speakers offer a range of 10 metres between source and speaker, though some go further, but audio deteriorates after a distance. Some speakers here feature NFC (Near Field Communication) to make it easier to pair a speaker to a phone. Some also have Apple AirPlay which makes it especially simple to play from an iPhone, iPad or iPod touch. And look out for Spotify Connect which creates a seamless link between your Spotify account and the speaker. 
1. Naim Mu-so Qb: £595, John Lewis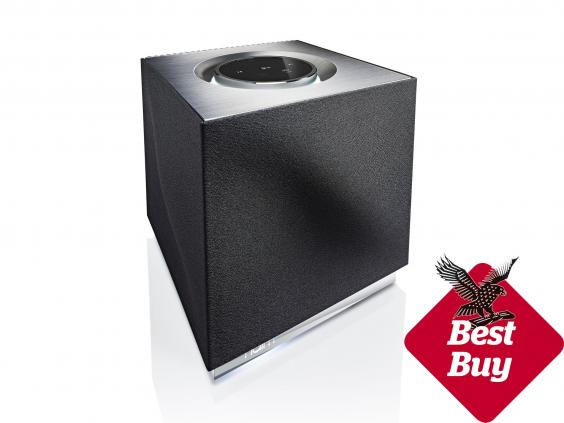 Naim's high-end audio skills are incorporated into this amazing-sounding speaker. The Salisbury-based company released the remarkable Mu-so last year and this is its smaller, cube-like sibling (pronounced 'cubey'). The big dial on top is highly tactile and includes a touchscreen. The sound is deep, bassy and effortlessly room-filling. This speaker is mains-only so you can't take it on picnics but for home use it's very impressive.
2. KEF Muo: £299.95, Amazon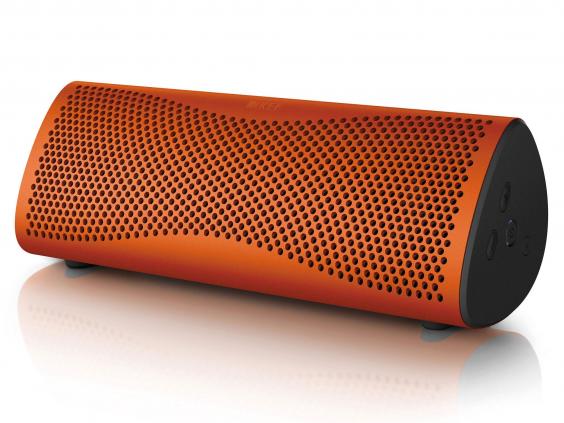 This handsome and well-built aluminium speaker is effortlessly portable (only weighing 0.8kg) and the battery lasts around 12 hours. This is a Bluetooth gadget, though it has NFC so it's easy to pair a suitable phone to it. For such a small speaker, the Muo has plenty of volume with reasonable bass levels, and it's distortion-free even when it's loud. Like most of the models here, you can use two Muo speakers together as a stereo pair. Available in a range of colours.
3. Marshall Kilburn: £205.44, Amazon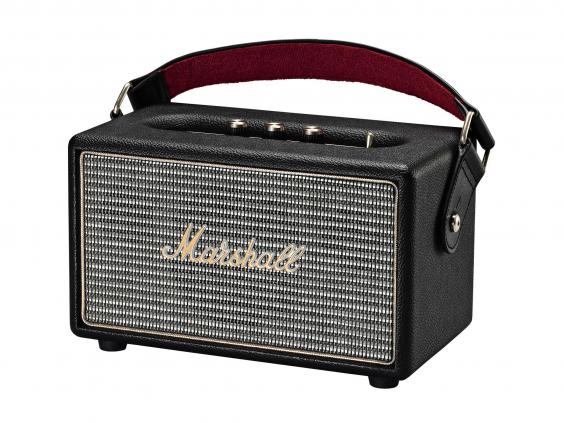 The Kilburn is styled to look like Marshall's professional speakers, down to clicky switches and twiddly dials. It has plenty of bass and decent volume (unsurprisingly given the brand's ubiquitous presence on rock concert stages). That's down to the hefty built-in sub-woofer, but the mid-range and higher notes are pleasantly clear. It's not as light as some here (3kg) but the battery promises up to 20 hours of listening. Mind you, that's calculated at 50 per cent volume, and you'll want to have this one turned up to 11.
4. JBL Flip 3: from £83.30, JBL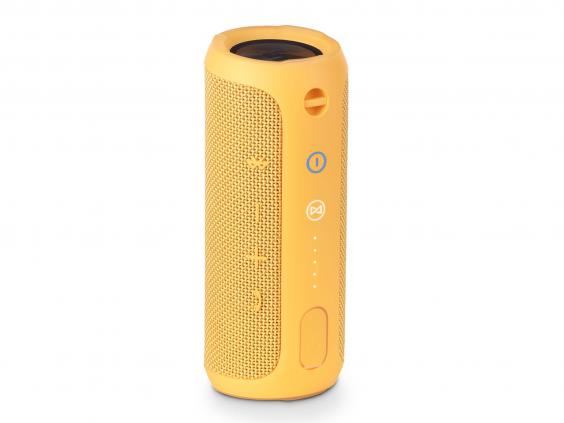 The chunky tube that is the JBL Flip 3 sounds impressive with warm mid-notes and strong bass thanks to special speakers in the ends. It's small enough to be very portable and since it has battery life of up to 10 hours, it'll last well through a party. It's splash-proof too, so it can endure even if it's playing poolside. Available in eight colours.
5. Bose SoundTouch 10: £169.95, Bose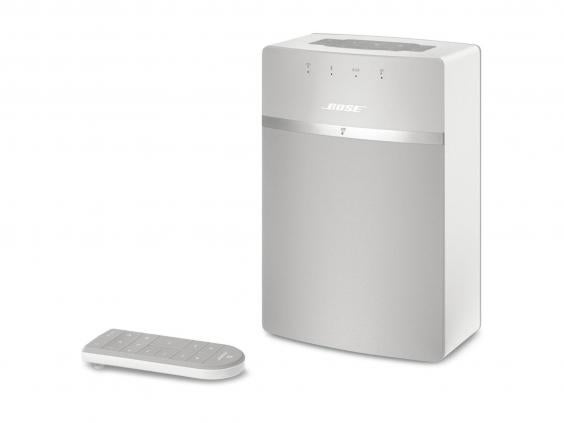 The Bluetooth speakers from Bose are known for outstanding sound and the SoundTouch 10 lives up to this reputation. It works with wi-fi as well as Bluetooth so you can play internet radio stations, for instance. Six preset buttons guide you straight to your favourite stations, playlists or even tracks, if you wish. The simple-to-use smartphone app means you can use your phone as a remote control. This is a multi-room capable system so you can add more speakers when you're ready. Weighing 1.87kg, this is probably one to just keep around the home. 
6. B&O Play A9: From £1,699, Beoplay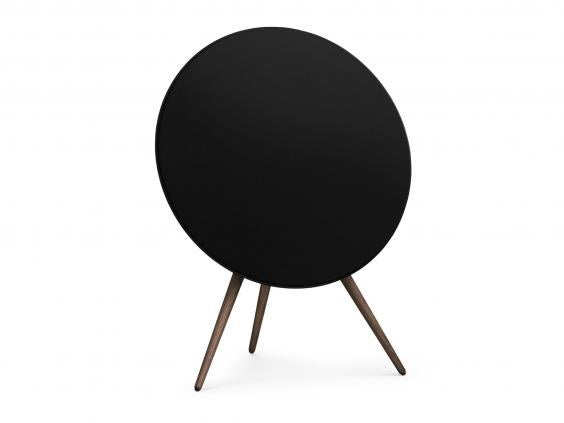 This isn't just a speaker, it's a piece of furniture. The three legs are sturdy and beautiful, and it can be wall-mounted, too. The sound is big and powerful with bass sounding from the rear speaker. As well as Bluetooth, the A9 is compatible with Apple AirPlay and has Spotify Connect built. It can be used for multi-room audio when you have more than one of them. There are special edition finishes with wool-blend covers available, too. It's expensive, but delivers great sound.
7. Bowers & Wilkins Zeppelin Wireless: £499.95, John Lewis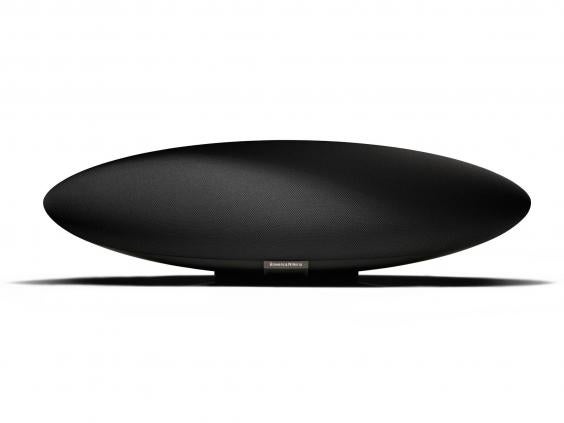 This is another mains-powered machine and is the latest in B&W's distinctively designed Zeppelin speaker range. It's easily the best yet from the company – the sound is powerful and wide thanks to the speaker's shape. And though it spreads the sound wide it's still precise and detailed, even at high volumes. As well as Bluetooth it features Apple AirPlay and Spotify Connect. Now available in white as well as black.
8. B&O Play A1: £199, Bang & Olufsen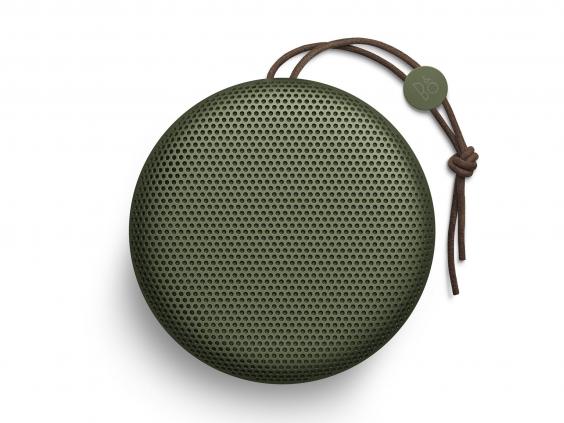 The beautifully crafted A1 offers the sound expertise Bang & Olufsen is known for in a lightweight, aluminium portable speaker, complete with leather carry strap. Although it's small, the speaker has decent 360-degree sound and a bigger, bassier sound than you would expect from the A1's size. The volume it's capable of is bigger than it looks, too. Battery life – if not quite the 24 hours B&O quotes – is extensive.
9. Bowers & Wilkins T7: £299.95, John Lewis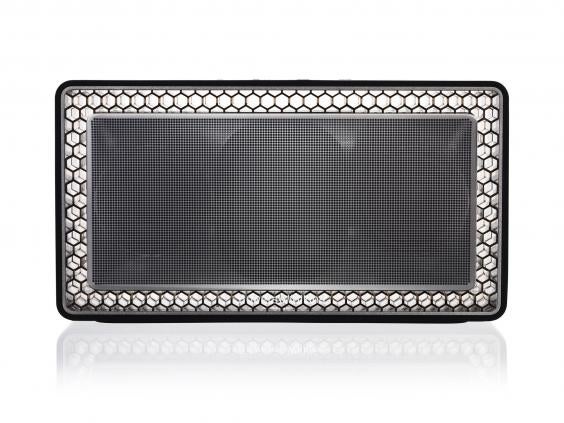 This is one of the most elegant-looking and great-sounding machines out there. Its 18-hour battery life is useful and this is light enough to be easily portable. Plus, its design means you'll want it on show – the honeycomb effect round the edge improves the sound, too by reducing the vibrations of the cabinet around it. It even plays a cute tune when you turn it on and off, and comes in a Burberry collaboration edition that's coloured gold.
10. Ruark Audio MR1: £299.95, John Lewis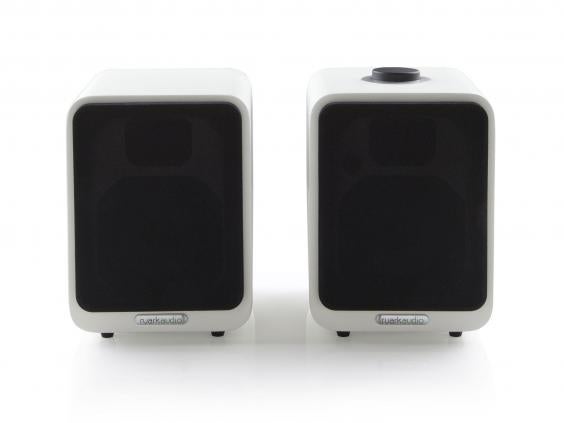 Why listen to one speaker when you can have two? These speakers from British audio company Ruark work brilliantly. They're easy to set up and capable of strong, punchy sound with rich detail and subtle accuracy in everything from vocals to orchestral sounds. They're mains-powered but battery packs which clip onto the back are available for al fresco enjoyment. The beautifully constructed speakers come in walnut or soft white and soft black options. 
Verdict
The absolute best sound here comes – no surprise – from the priciest models, the B&O Play A9, Bowers & Wilkins Zeppelin Wireless and the Naim Mu-so Qb, the last of which hits the sweet spot for exceptional sound at not too preposterous a price. The best completely portable, out-of-the-box models are the Bowers & Wilkins T7 and Kef Muo, which are both brilliant. Finally, for true stereo sound, Ruark Audio's MR1 twin speakers do the job well.
IndyBest product reviews are unbiased, independent advice you can trust. On some occasions, we earn revenue if you click the links and buy the products, but we never allow this to bias our coverage. The reviews are compiled through a mix of expert opinion and real-world testing
Reuse content