Ebook readers have monochrome e-paper screens which only use energy when they refresh the screen – that is, on page-turns – so batteries last weeks, not hours. All here have should last a month or more, when reading for an hour or so a day.
Additionally, they are easy to read in bright sunlight, through sunglasses, just like, you know, real books.
Most ebook readers also have lights for reading in the dark (all here apart from the basic Kindle do). Because light comes from the edge – they're not backlit – and they are much more restful on the eyes than conventional LCD-screened tablets. 
All the readers here have wi-fi, but some additionally have a 3G sim built in as well. Similarly, most now have touch-operated screens – all the ones we've featured do.
The dominant force in the market is the Amazon Kindle range, and its four main models are all part of this group as they're so good. They all have a six-inch display with 300 pixels per inch resolution, apart from the basic Kindle model. 
What may put you off reading on rival platforms is some feel less secure: Barnes & Noble made a really excellent reader, the Nook, but that publisher has pulled out of the UK market, transferring customers to Sainsbury's. Sainsbury's, however, is now closing its ebook service so Nook readers are being parcelled off to Kobo, a reputable and excellent Japanese publisher which makes good e-readers. Even so, some customers must be wondering what hit them. 
Kobo and Bookeen readers are also compatible with open ebook formats, but Amazon is not. 
1. Amazon Kindle Oasis: £269.99 Amazon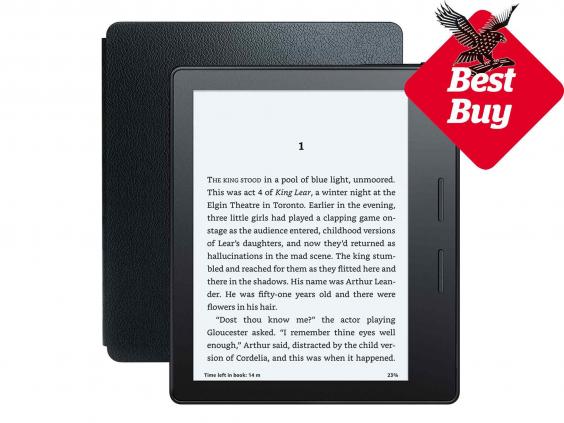 This reader is pricey, but it's by far the best Amazon has ever made. It's super light and thin. At first glance you wonder if Amazon has shrunk the screen but it's the bezel that's slimmed down – the Oasis has the standard six-inch display. It also has a leather cover, which attaches magnetically and cleverly conceals a supplementary battery. This means that if you read for half an hour every day, you could get up to eight weeks use between charges. The screen is pin-sharp, with resolution of 300ppi. This price is for wi-fi only – the model with unlimited 3G access costs £329.99. And, of course, you have access to Amazon's library of 4.5 million books.
2. Kobo Aura One: £189.99, Argos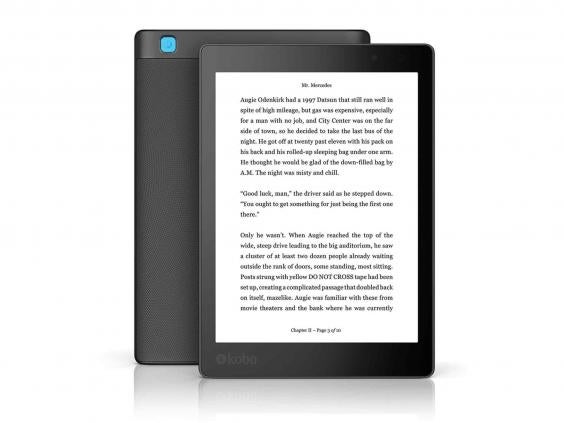 Kobo makes the strongest alternatives to the Kindle. This solidly built machine has a bigger screen than the Kindle's six-inch displays – this one's 7.8 inches make it a good choice if you fancy a larger page. It's also water-resistant, which is good in any gadget. And it has a unique extra, a mode to change the colour of the frontlight at night, reducing the blue tint common to these readers. You can adjust the colour to warm it up, though be warned, go too far and it suddenly looks bright orange. 
3. Bookeen Cybook Ocean: £170 (€189.99), Bookeen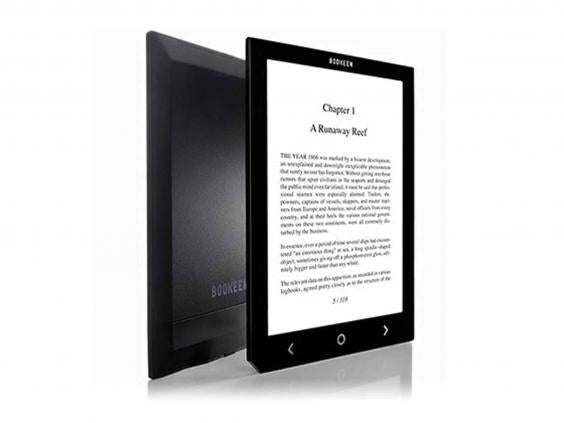 This French ebook reader manufacturer has a range of devices including this one which the company claims is the world's thinnest. It's uniformly 7mm thick while the Kindle Oasis is 8.5m where the battery sits, but just 3.4mm across the rest. It has an eight-inch screen, too. Screen resolution is the lowest on test, though, managing just 160ppi – readable but far from gorgeous. The battery lasts about a month. 
4. Amazon Kindle Voyage: £169.99, Amazon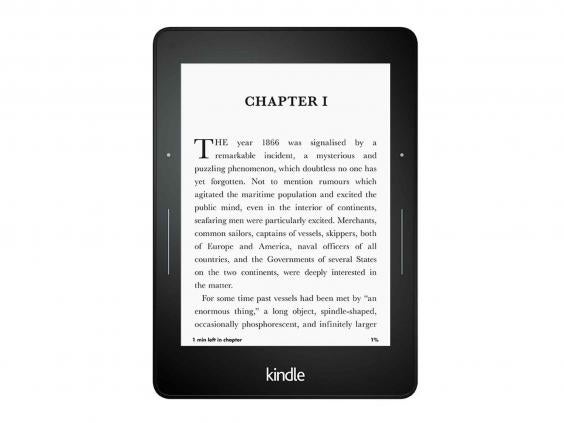 The Voyage is terrific, with a frontlight that automatically adjusts brightness according to ambient light. It has a 300ppi display that feels as sharp as print. The 3G version (£229.99) gives unlimited, free connection to the Amazon store wherever you can get a mobile phone signal. This is handy if you're finishing volume one of a book series lounging on the beach: you can download book two in under a minute without moving from the sand, you lazy thing. Amazon's interface has features to make navigating chapters easy, so you don't lose your place when bouncing to a footnote and back, say.
5. Kobo Glo HD: £109.99, Argos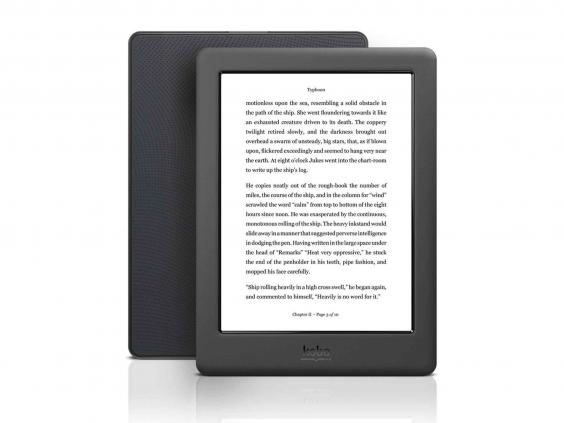 The lightweight Glo HD matches the 300ppi of the top-end readers and its storage is enough for 3,000 books (though, honestly, how many books can you have on the go at one time?). As with all the readers here there are plenty of fonts and text sizes to choose from. The OverDrive feature, on all Kobo readers here, lets you borrow ebooks from many libraries. Like Amazon, Kobo has a tablet app so you can read your books on an iPad, say, as well.
6. Amazon Kindle Paperwhite: £104.49, Amazon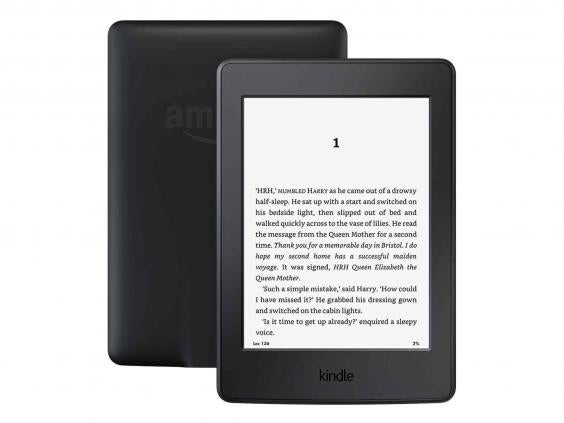 The Paperwhite is the lowest-priced Kindle with a frontlight for reading in dimly lit rooms. It works well and can store up to 4,000 books. Note that this price is so low because the lockscreen shows special offers or adverts. To be ad-free you need to spend £119.99. Those prices are for the wi-fi version. Want 3G? That'll be £169.99 or £179.99 without ads. 
7. Kobo Aura H2O: £139.99, Amazon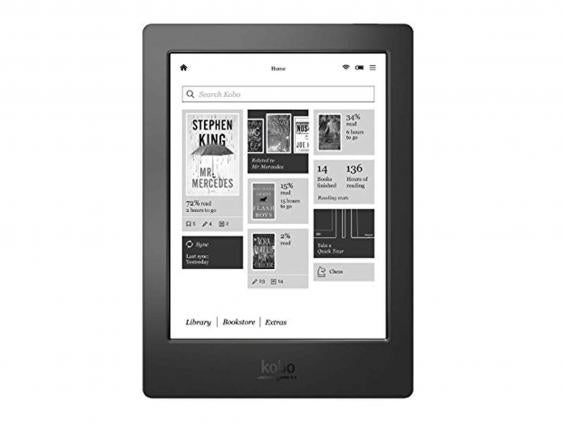 The Aura H2O is water-resistant, so you can read in the bath – hurrah. A flap covers the charging socket and the microSD slot (which allows you to store extra books, though the main memory is enough for 3,000 books). The display is bigger than a Kindle (6.8-inch) and decent resolution (263ppi). Kobo's soft-touch rubber back and contoured shape feel good in the hand. 
8. Bookeen Cybook Muse HD: £116 (€129.90), Bookeen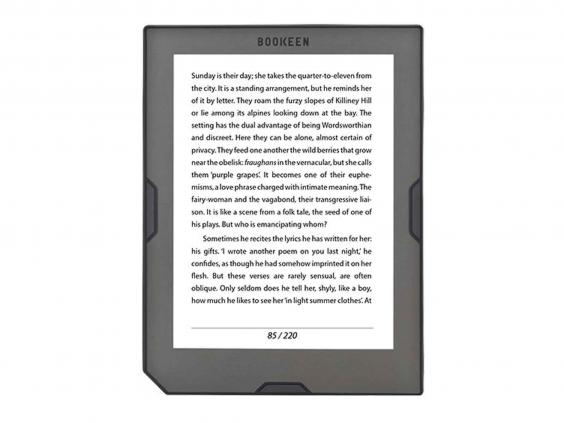 This is another ebook reader with a frontlight and capacitive touchscreen. It matches the 300ppi of the Oasis and Aura One. Unlike Amazon's Kindle readers, the Cybook models have a memory card slot so you can store more books, though the 8GB on board is enough for thousands of titles already. The design isn't as slick as on rivals, some will feel. Note that the French origin is evident when setting up your account and the Bookeen store is less well stocked than Kobo's or Amazon's but you're not limited to buying just from Bookeen's store.
9. Amazon Kindle: From £56.99, Amazon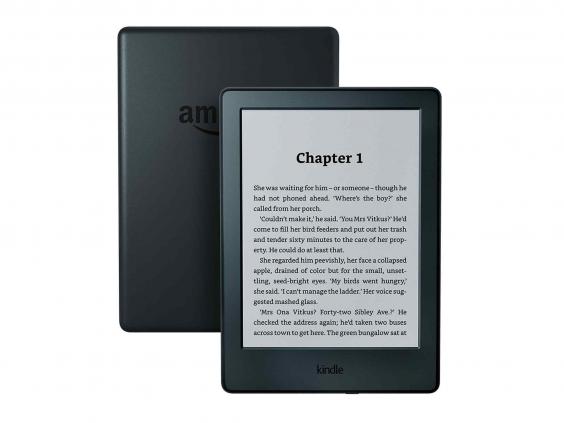 This is an entry-level reader but it still works brilliantly. There's no frontlight here but the price includes a touchscreen. Screen resolution is much lower (167ppi) than top-of-the-range Kindles but it's still readable. It's also the lightest Kindle apart from the Oasis – just 161g. Like the Paperwhite, this is the price with a lockscreen showing offers or adverts. To be ad-free you need to spend £13 extra. It's wi-fi only, as there's no 3G version available.
The Verdict: Ebook readers
For simplicity of use, Amazon's models stand out, especially its two priciest options, the Voyage and super-light Oasis. But Kobo's Aura One looks and feels great, has a bigger screen and can be read without anxiety in the bath as it's water-resistant. Kobo also has the biggest bookstore of over five million titles. Kobo and Amazon have proficient apps that mean you can read books on phones and tablets, too. 
IndyBest product reviews are unbiased, independent advice you can trust. On some occasions, we earn revenue if you click the links and buy the products, but we never allow this to bias our coverage. The reviews are compiled through a mix of expert opinion and real-world testing
Reuse content