You've closed all your apps, your phone brightness is turned down all the way and you're praying to the smartphone gods that your ever-dwindling battery survives until you make it within reach of a plug socket. But despite your best efforts, your phone gives up the ghost.
If this sounds like an all-too-familiar scenario, a portable charger would be a wise investment. From lipstick-sized packs that can give your phone – or any USB-chargeable device; for that matter – an extra bit of juice to see you through the next few hours, to larger, but still portable options that will revive your device many times over, the range is huge. 
Just how many times over a pack can recharge your device depends on its capacity, and the capacity of the device itself. This is measured in milliampere hours (mAh). An iPhone 6s, for example, has a battery capacity of 1,715 mAh, while the Samsung Galaxy S7 packs a 3,000 mAh battery. Larger devices, unsurprisingly, have much larger batteries – the iPad Pro's battery is 10,307 mAh. To work out how many times your charger will recharge the device, divide the charger's mAh rating by that of the chosen device. (So, a 10,000 mAh charger will fully revive your iPhone 6s around five times, considering no charger is fully efficient. To be sure that your device will get at least one full charge from the charger, make sure the phone's capacity is no more than 70 per cent of the charger's capacity). 
And remember, some of these chargers don't come with the lightning cable, which actually gets the power into your phone, so you'll probably need to carry around the one that was supplied with your device in the first place.
1. AmazonBasics Portable External Battery Charger 10,000 mAh: £16, Amazon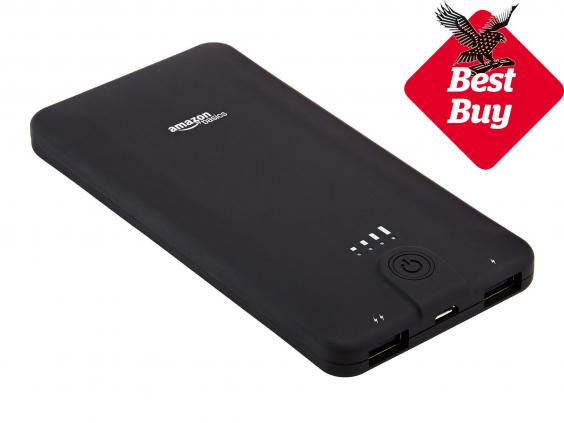 This charger is available with a of range of different capacities, ranging from 2,000 mAh to 16,100 mAh – the former giving most smartphones one full charge, while the latter will deal with a hefty tablet. We found a happy medium in the 10,000 mAh model, which strikes a balance between power and portability (it weighs 215g). There are two USB ports so you can charge two devices at once, and the 3.4 A output means your devices will be charged speedily. Four LED lights on the front clearly show how much juice is left in the pack. 
2. Anker PowerCore Mini Ultra-Compact Portable Phone Charger: £13, Amazon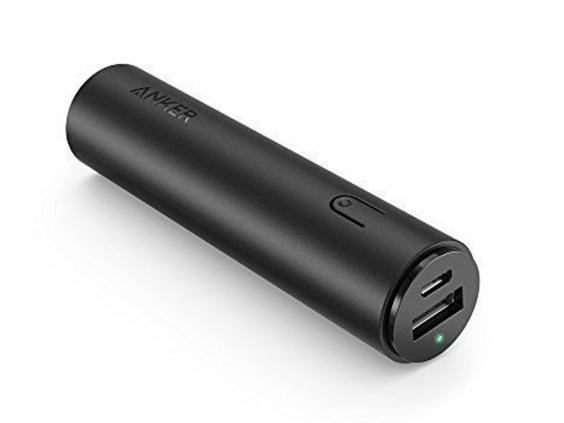 This is one of the most portable chargers on our list, about the size of a lipstick and weighing just 67g, meaning it will be imperceptible in a rucksack. With a capacity of 3,200 mAh and output of 1A, it will give an iPhone 6S a full charge in close to two hours, for example. A single LED light on the side of the charger changes colour from red, to yellow, to green to indicate how high the battery is (which wasn't entirely helpful to this colour blind reviewer, but will do for most people).
3. Proporta Stripe TurboCharger 12,000 mAh: £40, Proporta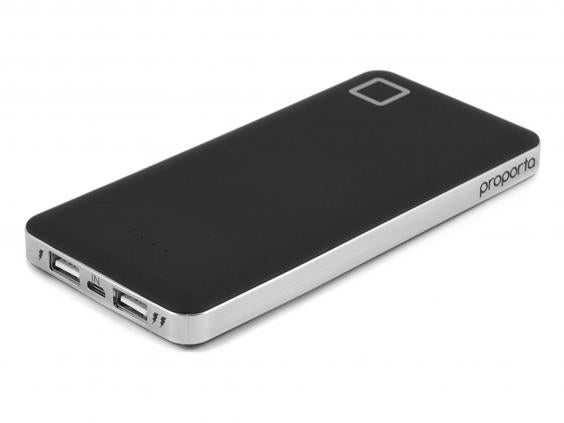 If you envisage you and your smartphone being without access to a socket for an extended time, or if you're looking for something to charge a tablet with a large battery, this is a good choice from Proporta. With a 12,000 mAh capacity, it will give multiple charges to all smartphones, and has two USB ports. The huge capacity does mean you'll have to wait for about seven hours for it to charge itself, but thanks to the 2.1 A output, your devices will be revived quickly.
4. Zendure 2nd Gen A8 Pro Portable Charger 25,600 mAh: £29, Amazon
This is the most expensive charger on our list by some way, but the old adage that you get what you pay for holds true. For one, it has by far the biggest capacity on our list, with a whopping 25,600 mAh. It also automatically detects which device you've connected, and adjusts its output accordingly to achieve the quickest charging time. And when your device is back up to full power, the charger will turn itself off automatically. There are four USB ports, which is handy if you're on a group outing. It weighs 482g.
5. RAVPower 20,100 mAh Portable Charger: £29, Amazon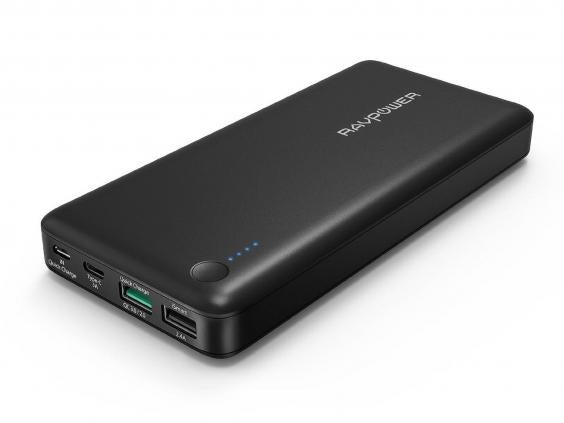 If you're after a charger with a very high capacity but don't want to pay for all the extra features of something like the Zendure above, RAVPower offers a good alternative. The 20,100 mAh capacity is enough to charge a smartphone many times over. And if your smartphone is compatible with Quick Charge 3.0 (such as the Galaxy S7 and Nexus 6, to name a couple) then are few faster chargers out there. It weighs 275g, so for the power it provides, it's not too hefty.
6. Lumsing Grand Series A1 Plus 13,400 mAh: £13, Amazon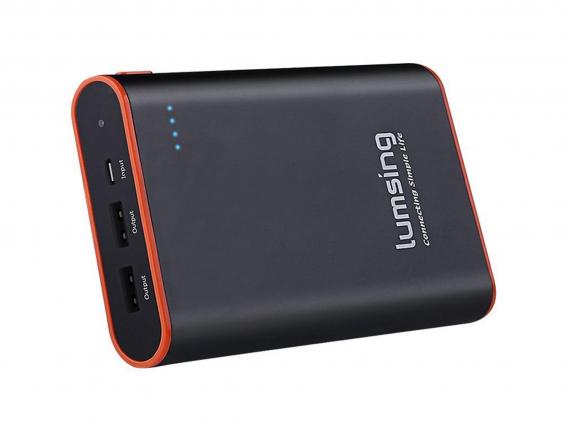 This is another no-frills charger, but one which combines compact design and impressive capacity at an affordable price. It will adapt its output depending on which device you're charging, to deliver the quickest results. There's also a LED flashlight in the top of the charger, which won't light the way on a pitch-black country path, but is useful if you're looking for something in a tent, say, after dark.
7. EasyAcc iChoc 5000 mAh: £18, Amazon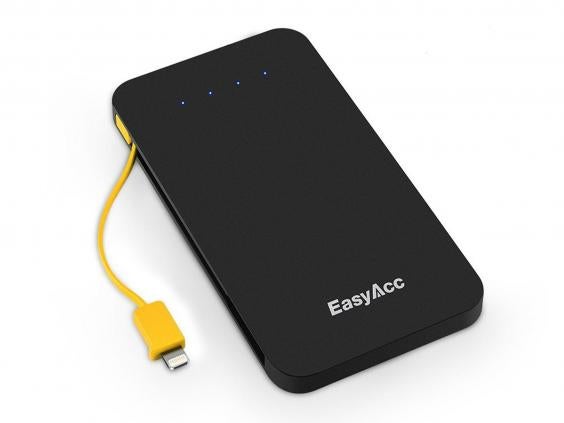 Weighing less than 40g, this is one to take out with you every day, especially as its 5,000 mAh capacity won't give you more than one or two full charges on most smartphones. Although it will charge all USB devices, this one is particularly aimed towards Apple products, thanks to the built-in lightning cable. Four LED lights indicate how much power is left, and there's a handy flashlight.
Verdict
Your choice should depend on what you value most in a portable charger – are you more interested in it being small and light at the expense of capacity, or do you need a heavy-duty charger, with weight and size not so much of a problem? When it comes to striking a balance between all of that, we'd recommend the AmazonBasics charger.  
IndyBest product reviews are unbiased, independent advice you can trust. On some occasions, we earn revenue if you click the links and buy the products, but we never allow this to bias our coverage. The reviews are compiled through a mix of expert opinion and real-world testing