If you only need a microwave for heating and defrosting, you probably need a solo microwave – a basic model for simple tasks like reheating coffee, cooking a ready-meal or defrosting chicken.
But if you want something more advanced, you may find you're better off with a microwave grill, which includes a heating element, or even a combi, which can heat, roast, crisps and brown just like a traditional oven.
Don't assume the pricier the better. Indeed, our roundup – which includes all three types - proves that some budget buys can be excellent. Nor should you assume that seemingly endless fancy features and programs are essential, as some households simply won't use them.
The machines in our round up - which vary from £40 to over £400 – should not only reflect which of the three types of microwave it is, but the capacity, how intuitive it is and whether it works well even if used for long periods of several times consecutively. A machine around £100 or under, for example, should get you a no-frills machine that does the basics well, whilst for nearer £200, you should expect to do a lot more than reheat leftovers – and this price-tag will often get you a larger capacity machine that's really built to last too. Anything more expensive is aimed at those who want perfection from their microwaves – and quite possibly an alternative to a conventional oven.
A final tip – don't forget to check out how easy it is to clean, how much room it takes up on the work surface and how quickly it does the job.
1. Wilko Colourplay: £50, Wilko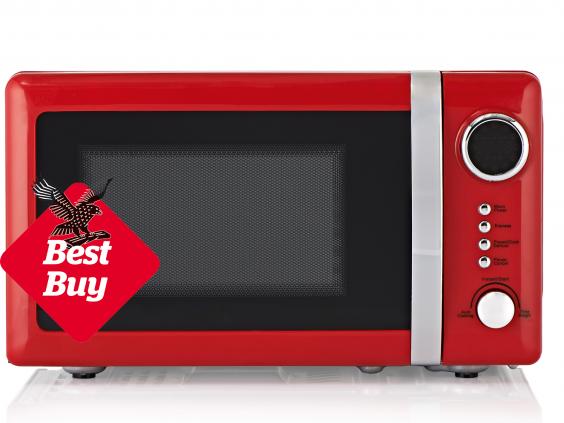 This cheery-looking solo microwave, which also comes in green, teal and purple, heats and defrosts evenly and fast. Indeed, while some poor-performing microwaves can produce food with some spots a whopping 40 degrees cooler than others, there wasn't a cold patch to be found in the food we cooked. It's energy efficient and excellent value.
2. Swan Retro SM22070: £80, Amazon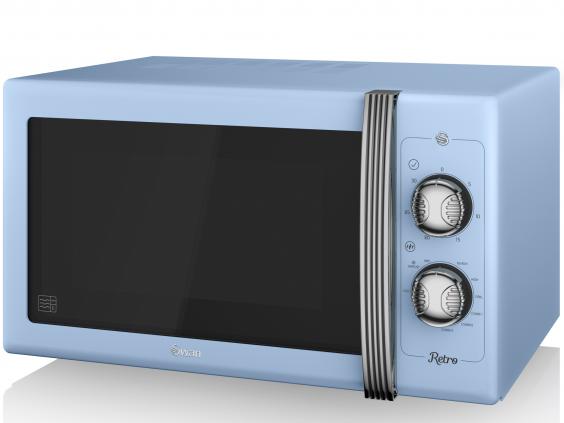 This vintage-looking machine not only looks funky – with several Fifties-inspired colour options –but it's roomy enough to fit family-sized dishes and the five power levels are quick to operate at the touch of a button – good for when you're in a hurry.
3. Dunelm Mill Candy Rose Microwave: £55, Dunelm Mill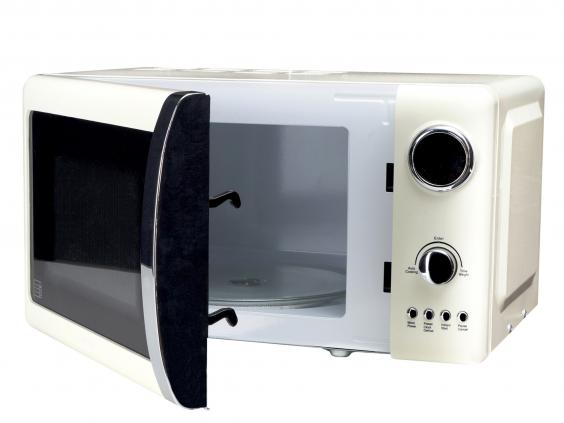 This retro-looking solo microwave, which is also available in pastel green, blue or pink, is proof that you don't always need to opt-for a well-known name. It cooks evenly and while it's smaller than some other microwaves inside, you can still fit in a 27cm plate.
4. Samsung MS28J5255: £140, John Lewis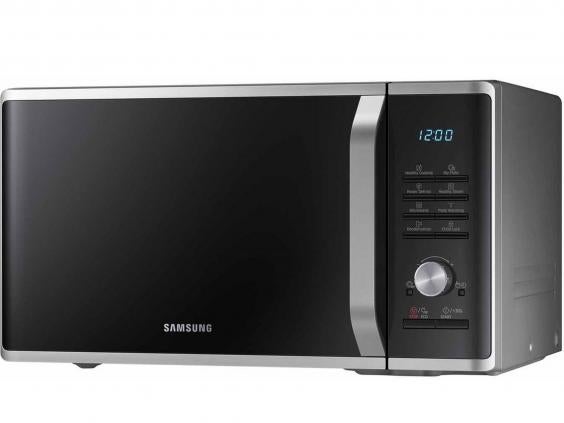 This solo microwave is quieter than most (you can even turn off the beeper). Also unlike many machines which start to heat less intensively when used for long periods, this heats effectively no matter how long it's on for. It defrosts well and has room for large casserole dishes, although it can be tricky to see inside while it's cooking.
5. Russell Hobbs RHFM2363B: £109, Amazon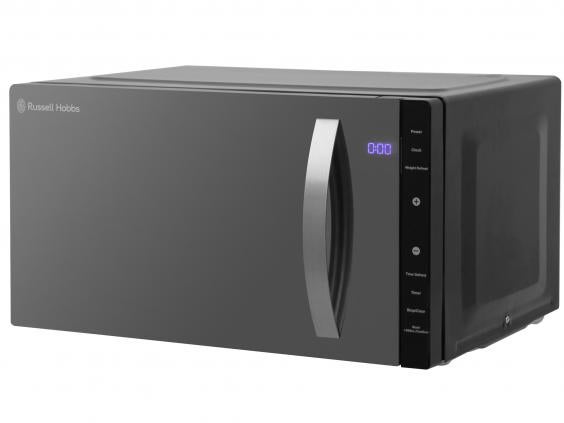 Unusually, this solo microwave doesn't have a turntable as the walls are designed to bounce and reflect microwaves around the inside. We found this led to even cooking and means it fits larger dishes than most. This was also the easiest to clean, although poor lighting means it can be hard to see food while it's cooking.
6. Miele Contour Line M6012, £365, Go Electrical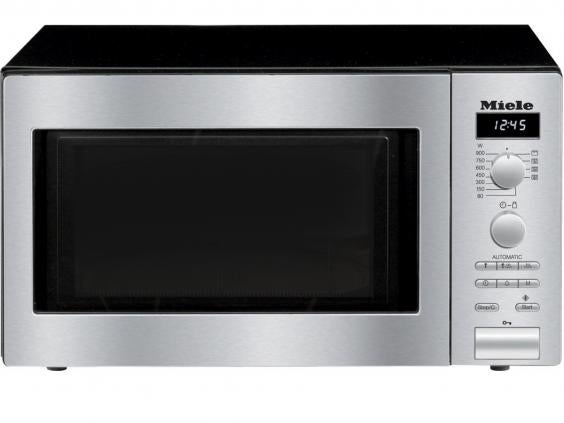 Conventional ovens often cost less than this, but if you eat a lot of convenience food (or home-cooking reheated) it could be a very useful addition.  When it comes to defrosting and heating, we found it faultless, as well as spacious, with 11 effective auto-cook and five auto-defrost settings. The grill works well too, although you might need to move the food around a couple of times during cooking to even things out.
7. Electrolux EMS30400OX: £156, John Lewis
With cook and grill functions, this one is a particularly good option for those who want to use their microwave for conventional cooking on a regular basis. The extra-large size makes it ideal  for larger families and we found the controls intuitive.
8. Sharp R959SLM: £194, Amazon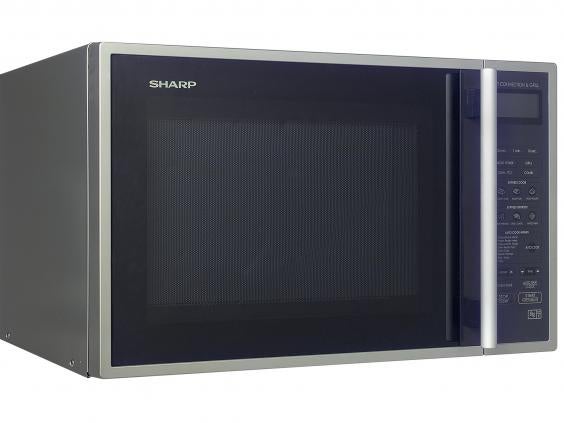 This large machine is brilliant at everything including grilling, defrosting, cooking, roasting, baking. There's plenty of room to cook for a large family and food remains moist, never dry. Despite its many functions, the controls are user-friendly and it comes with a decent instruction manual.
9. Panasonic NN-SD261MBPQ: £120, Currys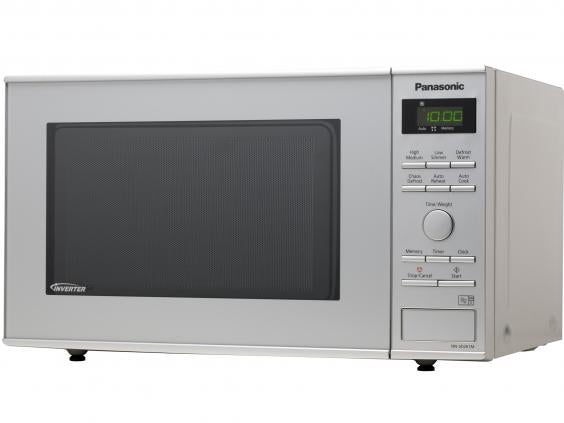 This solo microwave looks good and is excellent for basics like reheating and defrosting, as well as including 10 automatic cooking programs to ensure, for example, that that food simmers without boiling. It's exceptionally well made, so nothing should go wrong, and it's easy to use straight from the box, without having to trawl through an instruction manual first.
10. Sage Quick Touch Crisp: £350, John Lewis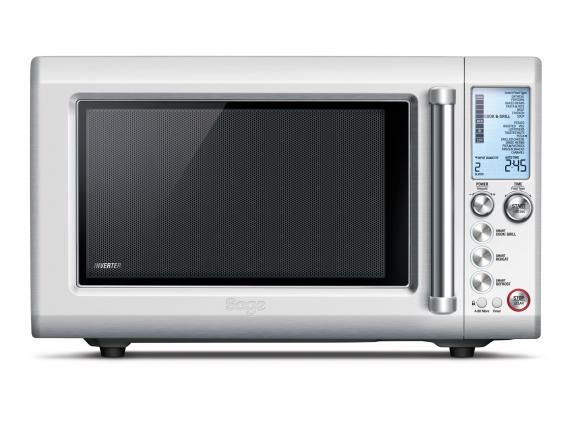 Try this if you eat a lot of pre-prepared dishes like quiches, pies and pizzas. Thanks to the clever integrated pan, the food can be elevated to help cook evenly and stop condensation collecting that can lead to a soggy bottom. Elsewhere. the smart settings mean you can select the type and size of food you're cooking and it will work out the optimum time and power setting. It's effective, and there are some really useful shortcut settings, like the soften button function.
Verdict:
For a great budget buy, we'd recommend Wilko Colourplay. If you want something a bit more advanced, Sharp R959SLM won't let you down.
IndyBest product reviews are unbiased, independent advice you can trust. On some occasions, we earn revenue if you click the links and buy the products, but we never allow this to bias our coverage. The reviews are compiled through a mix of expert opinion and real-world testing
Reuse content