These days, artificial trees can look so authentic that you have to feel the branches to make sure they're not the real thing.
Whichever tree you go for, you can rest assured that it will last you years and require very little assembly time when the yuletide season comes back round again. Plus, they're less messy and don't need watering. 
Prefer something unconventional, that doesn't even try to mimic real firs? We've got that covered too, with everything from a pom pom table tree to outdoor light-up bauble tree.
1. Hayes Pre-Lit Nordic Spruce Feel-Real: £259.99, Hayes Garden World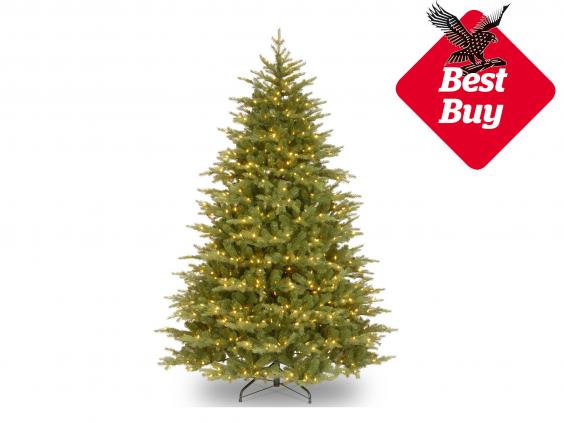 Family and friends will hardly believe this isn't the real thing, thanks to the natural-looking branches, which are set on a wire base that springs into shape from the quick-release bag – which is excellent when you get it out after months of storage. And it's pre-lit too. Available from 5ft upwards.
2. Design Vintage Black Eucalyptus Christmas Tree: £225, Design Vintage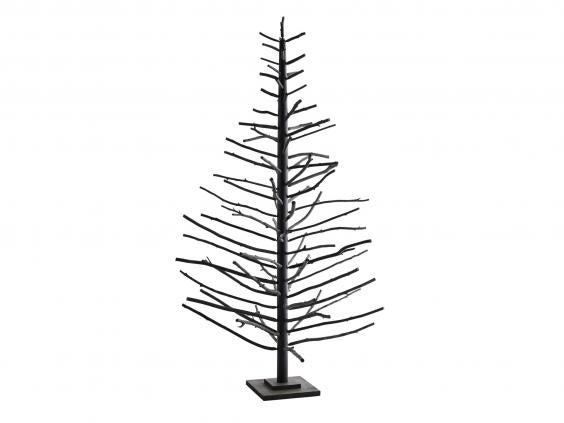 This contemporary tree – which is made entirely of Eucalyptus – does a great job of combining minimalist and natural. The result is a truly eye-catching and beautiful statement tree. Standing tall at 1.8m, you can decorate it or just leave it plain, and the branches fold up so you can store the whole thing in a long box.
3. Lakeland Light-up Bauble Tree: £74.99, Lakeland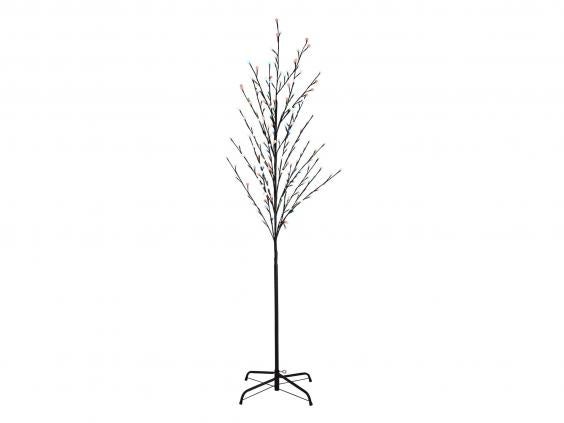 We love this fantastically low-maintenance alternative to a real tree. You just plug it in and watch the multi-coloured LED bulbs begin to sparkle, immediately adding some festivity to the room. At 1.8m tall, it's a good height too.
4. B&Q 4ft Fibre Optic Rotating Pre-Lit Christmas Tree: £56, B&Q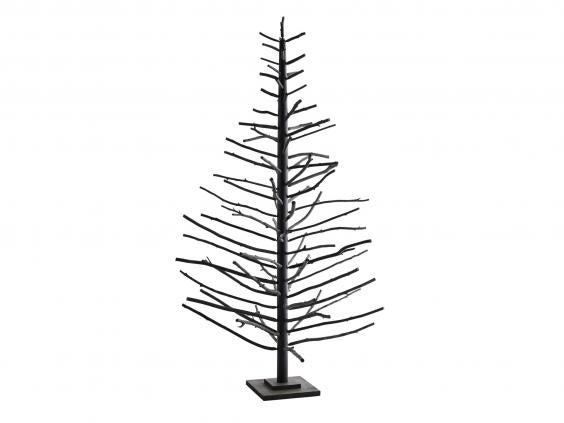 This 4ft tree is ideal for gadget enthusiasts, with a remote control that enables you to select both the colour of your tree, as well as rotating it 360 degrees, making it a real conversation piece and great fun to play with.
5. Homebase 7.5 ft Snowy Larch Artificial Christmas Tree: £80, Homebase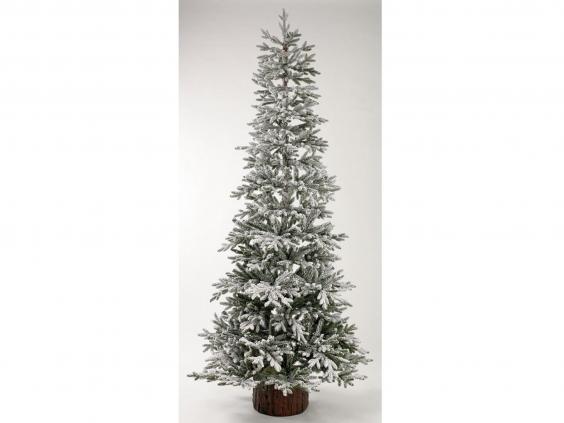 If you've got tall ceilings – a Victorian or Edwardian home, or a barn conversion, perhaps – then this towering tree is a stunner. We love the faux tree trunk base and the wintery finish. It's another one that you could easily leave unadorned, or decorate – but be sure to get a ladder for the angel at the top.
6. Neptune Albert Christmas Tree: from £84, Neptune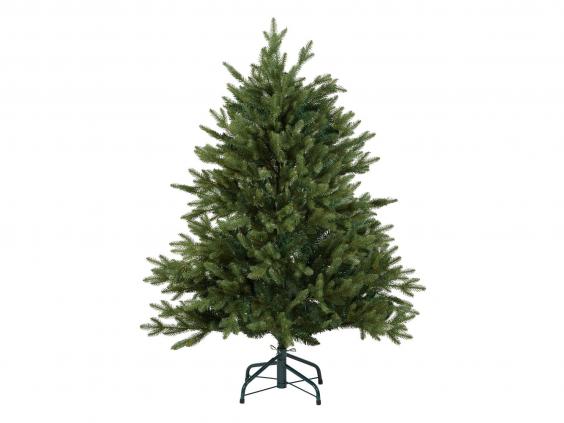 Modelled on a Douglas fir and available from four to 10 foot, this is a bushy, wide Christmas tree with full, dense branches that stands the test of time well. It's easy to put together and to store away, and with its high quality, it provides great value for money. 
7. Alison Cork Pre-Lit LED Glitter Tree: £49.80, QVC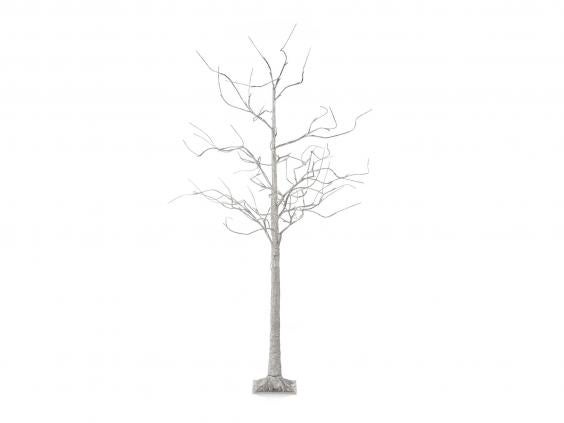 If you find traditional trees too twee, this contemporary alternative should hit the spot and add some instant festive cheer. Despite being 1.8m tall, it is subtle, as well as being sophisticated and easy to assemble. The secure base should withstand clumsy kids and pets wandering past. 
8. Christmas Tree World The White Colorado Fir Tree: from £24.49, Christmas Tree World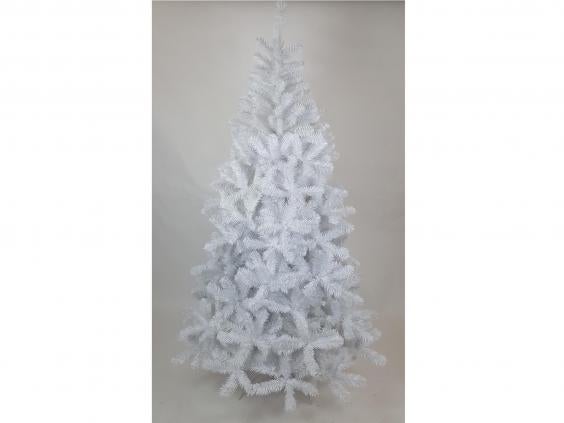 There was a time when most people would have run a mile from a pure white fake Christmas tree, unless they were of an age where they had the same colour hair. Not so now that this retro look is back in. This one is available from 4-8ft and has high quality PVC tips for the price.
9. John Lewis Pre-Lit Balmoral Porch Tree: £100, John Lewis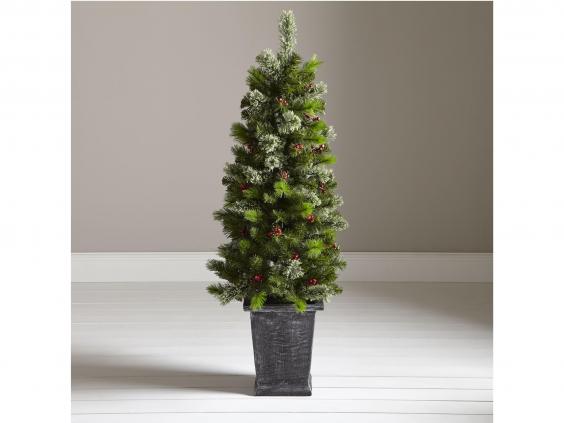 This 4ft tree will provide a really welcoming feel to your home, if left out on the porch – although it goes just as nicely inside. It features lights, faux but realistic berries, and snow-frosted braches – in other words, all the touches you need to evoke festivity this season.
10. Timbatree Alternative Wooden Christmas Tree: £149, Not On The High Street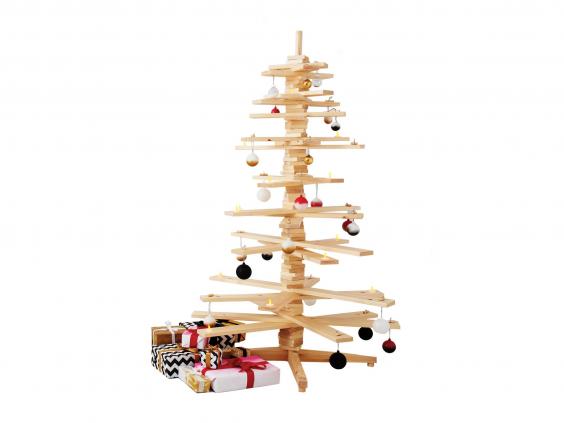 This stylish and well-made wooden tree takes just five minutes to put up, and it's easy too – with no screws or nails to fiddle with. Despite being made purely of timber, it lends itself to traditional baubles and decorations and it's available in small (90cm), medium (120cm) or large (180cm). 
11. Balsam Hill Chelsea Flatback: from £199, Balsam Hill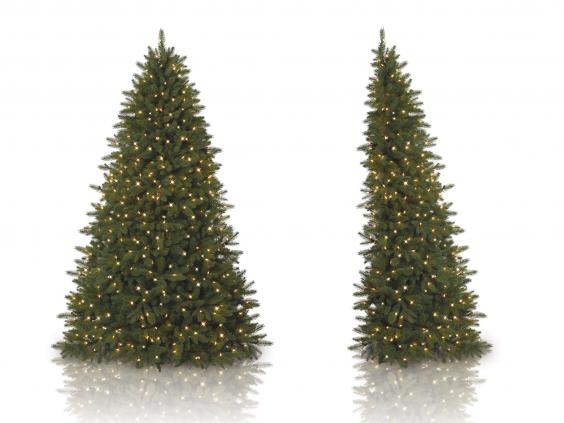 If you have limited space, but want a tree that looks like the real deal, this is a fabulous option as it is authentic, yet has a completely flat back, making it look much bigger than it is. There's a generous number of needle tips and it's a rich green, plus it's pre-lit. Available in six, seven or eight foot.
12. Chi Chi Moi Pom Pom Christmas Tree: £50, Not On The High Street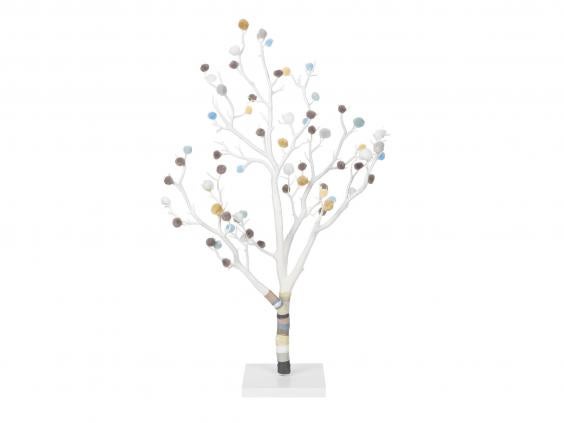 Standing at 80cm tall, this makes a stunning table centre piece, but you'll be sure to find a number of spots around the house in which it'll look great. We added fairy lights to ours to give it an extra twinkle, but it's not entirely necessary, thanks to the gorgeous pom poms, which are available in neutral or bright.
13. Marks & Spencer 3ft Fraser Fir Christmas Tree: £39.50, Marks & Spencer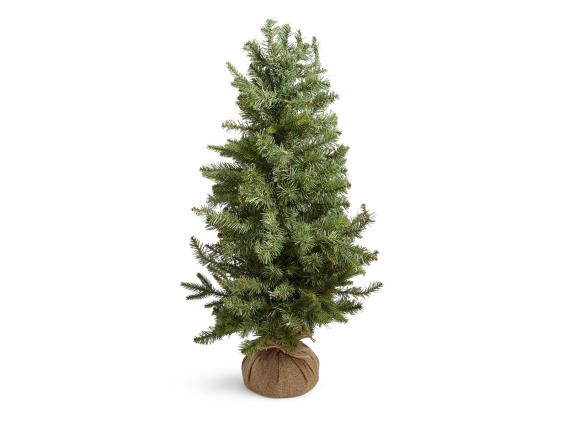 This diddy little tree will need a bit of separating to get the shape right, but once that's done, it makes for a realistic tree with full branches, all ready to decorate and use year after year either as a table decoration or stand-alone tree. It's a good price too.
The Verdict: Artificial Christmas trees
For authenticity, we were blown away by the Hayes Pre-Lit Nordic Spruce Feel-Real and Balsam Hill Chelsea Flatback – and for something completely different, we love the Timbatree Alternative Wooden Christmas Tree.
IndyBest product reviews are unbiased, independent advice you can trust. On some occasions, we earn revenue if you click the links and buy the products, but we never allow this to bias our coverage. The reviews are compiled through a mix of expert opinion and real-world testing
Reuse content