There's nothing worse than picking up a boiling pot to find the finger has worn through – cue screams, splatters and, inevitably, dinner on the floor. That's why we've sourced out and tested the hottest oven gloves available.
1. Kuhn Rikon Silicone Grip Oven Glove: £21, amazon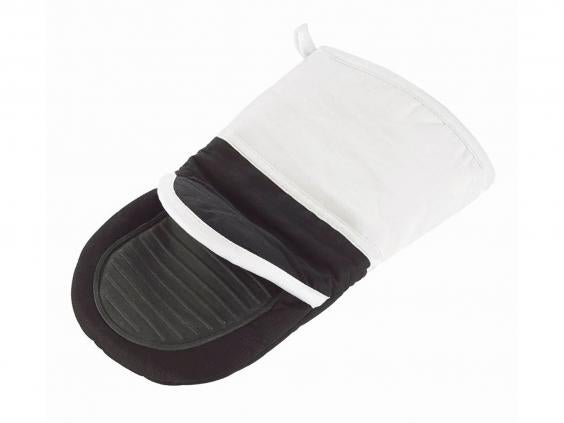 Kuhn Rikon is well known for its innovative designs and this glove is no exception. The cotton mitten, which is available in a number of colours, provides optimum flexibility, while the silicone palm pad, as well as being incredibly durable, means there's no risk of slips and scalding spillages. Particularly recommended for those with large hands.
2. Kitchen Grips: £15, John Lewis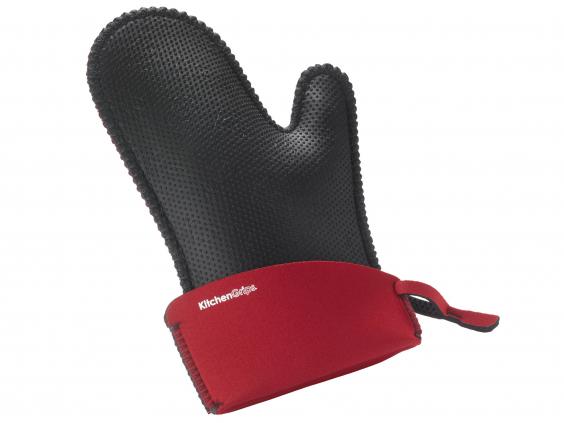 With its separate thumb, Kitchen Grips' grippy mitt makes picking up smaller items easy as pie, while its extendable cuff makes it the perfect choice for barbecuers – no more scorched arms. Surprisingly thin and available in a number of sizes, it protects against temperatures up to 260 Celsius and – best of all – you can just pop it in the dishwasher to clean.
3. Le Creuset Double Oven Glove: £17, John Lewis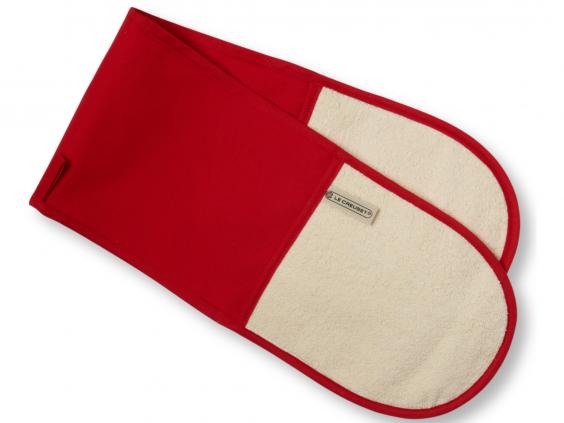 If there's one thing Le Creuset are experts are on, its hot and heavy pots. That's why they've come up with this double terrytowel glove, with its deep pockets designed to protect wrists against the dangers of fishing out a searing casserole dish from the back of the oven.
4. Lakeland Steam Stop: £21, Lakeland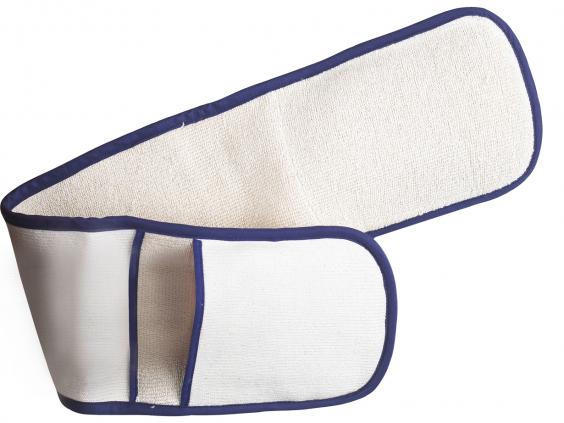 When steamy pots cause oven gloves to get wet, the heat is conducted through the water straight into your fingers, causing horrible burns and a nasty shock. Lakeland's steam-proof double glove, fitted with a PVC membrane, stops steam burns quickly. They're also heatproof up to an astonishing 360 Celsius.
5. Orla Kiely Multi Stem Double Oven Glove: £25, John Lewis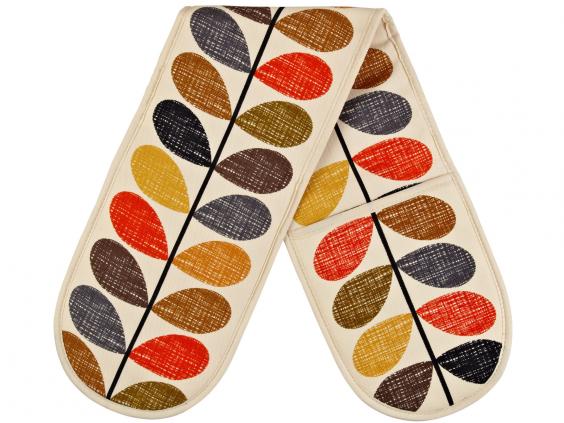 Ireland's queen of folky chic, Orla Kiely has designed this striking double glove, stamped all over with trademark olive greens, earthy browns and rusty reds. It doesn't just look good either; it works well too. Practical has never been so chic.
6. Coolskin GTX Mid Gauntlet: £23, amazon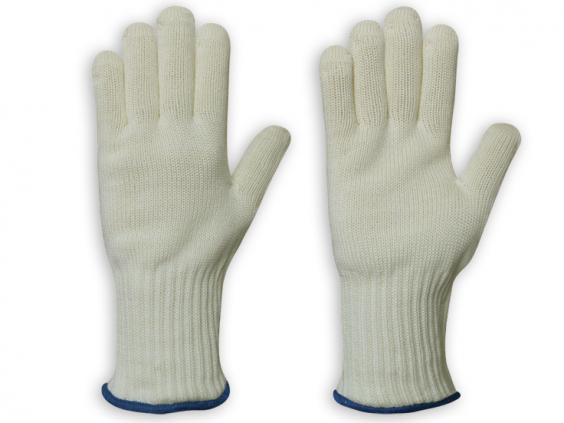 Coolskin have lots of copycats, but we're convinced that the original still reign supreme. Their gauntlet gloves have individual fingers for extra dexterity (excellent for getting things out of the microwave) and come in three well-fitting sizes. They're particularly popular with the elderly and the partially sighted who may not be able to tell if the hobs are still on or hot, as it's easy to do most kitchen chores with them still on.
7. AGA Traditional Oven Glove: £25, amazon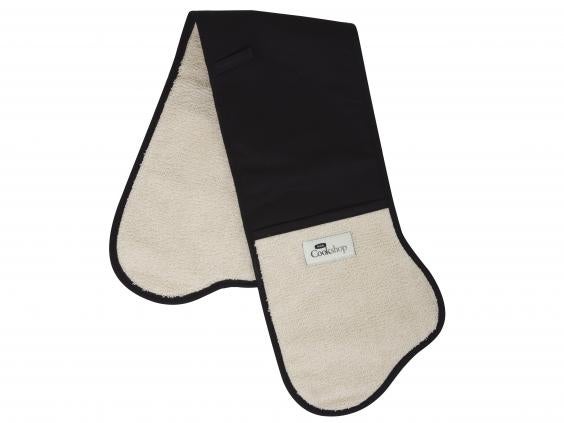 Anyone with an AGA knows the perils of reaching into their furnace-like ovens. AGA has designed this double glove with all the eventualities in mind; the pockets slip on and off quickly and the long central section means negotiating with large dishes is easy and safe. They also last for years, reminding us that sometimes it's best to go with what you know.
8. Suck Magnetic Double Glove: £20, amazon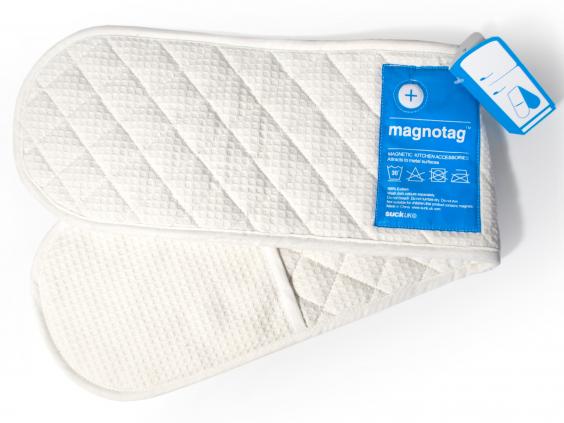 It may seem a little gratuitous to have a magnetic oven glove when the oven handle does the job perfectly well, but in fact they're rather revolutionary; anything that saves you time when handling hot stuff is a good thing. Just yank them off when you need them, and chuck them back when you're done. There's also a tea towel to match.
9. Howkapow Glove & Cake Gloves: £22, Howkapow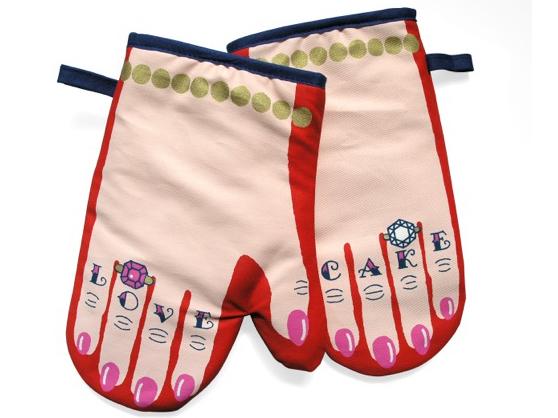 Bring a bit of biker bling into the kitchen with Howkapow's tattooed hands. Glam gourmands might opt for 'Love' and 'Cake', but there's a hardcore version too; 'Love' and 'Hate' come complete with hairy hands and geezer gold chains.
10. Zeal Steam Stop Double Oven Glove: £20, amazon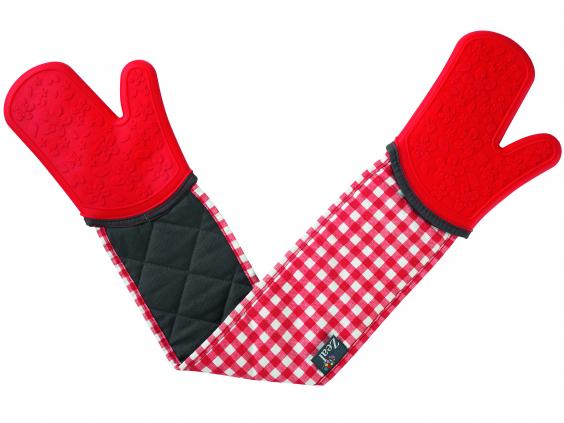 This red gingham double glove will brighten up any kitchen. The mitts fit snugly (even on smaller hands), but since they're made of silicone, they're actually surprisingly maneuvreable. Quite astonighingly, they're washing machine safe too.
Verdict:
While style-conscious chefs will no doubt be drawn to Orla Kiely's leafy double glove or Howkapow's tongue-in-cheek pair, there's certainly something to be said for going with trusted brands too; Le Creuset, Lakeland and AGA's oven gloves are well-known and loved for a reason.
IndyBest product reviews are unbiased, independent advice you can trust. On some occasions, we earn revenue if you click the links and buy the products, but we never allow this to bias our coverage. The reviews are compiled through a mix of expert opinion and real-world testing
Reuse content