Pressure washers can cost anything from £30 up to more than £500. A good starting point to finding the best one for your needs is to work out exactly what you'll want to clean and roughly how often it will need cleaning. 
An easy mistake is to assume the best machines are those with the most power or the most accessories – patio brush, car wash brush, lance, turbo nozzle, jet nozzle, just to name a few.  But if you only need a pressure washer for basics, such as cleaning bicycles and outdoor furniture, you'll be wasting your money. A compact, entry-level machine with a light pressure of around 100 bar will be absolutely fine. 
Mid-range machines, which usually have a pressure of around 110 bar, are better if you want to clean the likes of patios, fencing, cars, guttering and exterior paintwork.  Meanwhile, premium models have high pressure rates of 120 bar and above, along with accessories that are good for cleaning encrusted dirt, moss and weeds, along with extensive areas of paving, driveways, wooden decking, stonework, really grubby 4x4s or caravans. But make sure any machine in this range isn't so heavy that you can't move it and that it doesn't offer more power than you actually need. 
Whichever pressure washer you choose, make sure it's got a long-enough hose length (they range from 3m to around 6m) and think about whether you'll want to be able to vary the water pressure. Find out how easy it is to store and move around too, as well as how comfortable the handle and trigger is, particularly if you're going to need it for longer tasks. We'd advise choosing a washer with generous water flow too – the average is around 400 litres per hour.
1. Mac Allister MPW100D: £65, B&Q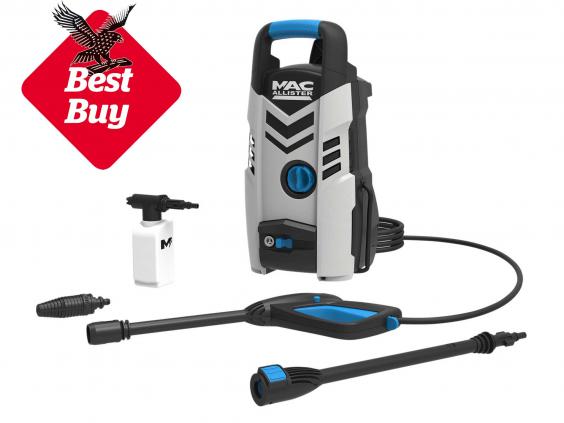 You won't disturb the neighbours with this pressure washer, as it's quieter than most others we tested. It's easy to move around, has a good hose length of 5m, and we found it did a decent job on small paving and decking areas, although stubborn weeds, moss and decking grime can be problematic as it doesn't have variable power options. 
2. Karcher K4 Control Home: £219, John Lewis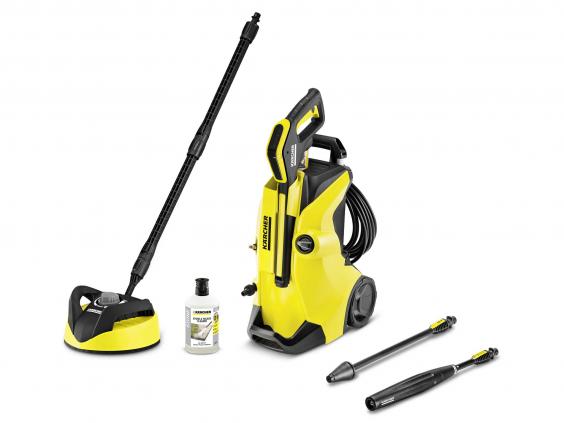 This durable washer is comfortable to hold and particularly effective when it comes to patios and decks, blasting weeds, moss, dirt and algae out of cracks and decking grooves with ease. We found the detergent (which it comes with) was decent and it's fairly economical with water. The different settings for different surfaces are easy to select on the LED display and there's a generous hose length of 6m.
3. RAC Pressure Washer: £135, amazon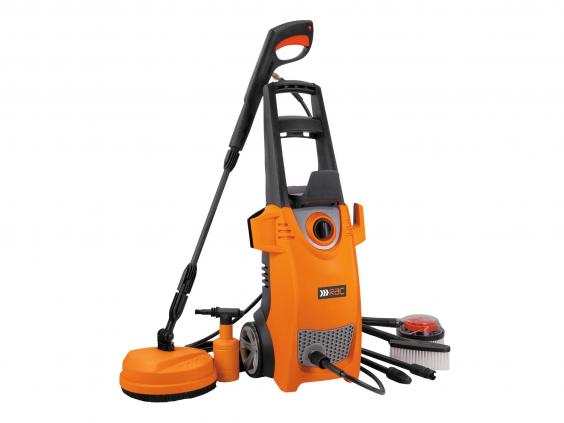 Noticeably more powerful than its cheaper contemporaries, but just as small and easily manoeuvrable, this does a sterling job at cleaning stone work, cars, bikes, caravans and decking, removing almost all the more entrenched dirt. There are accessories and attachments for every job – including brushes and nozzle adjustments – and it comes with soap dispenser and patio cleaner. At 6m, the hose is a useful length. 
4. Sovereign Pressure Washer: £40, Argos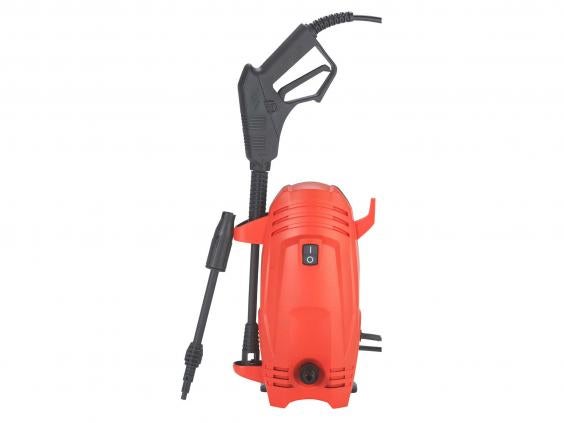 At 6.5kg, this bargain pressure washer is easy to manoeuvre and store due to its small size. It's great for lighter cleaning tasks such as small patios, children's outdoor toys and cars, and it has variable nozzles. But you'll struggle with more ingrained dirt, moss and weeds and the hose length is only 3m.
5. Qualcast Pressure Washer: £60, Argos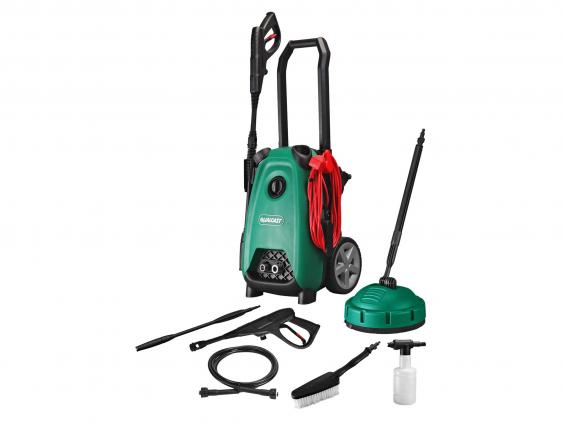 A compact, light and versatile machine, this has a great choice of cleaning jets and accessories for different jobs and is good for lightweight tasks such as paths, gutters and cars, although it's suitable for more heavy duty tasks. While most pressure washers are reliant on water being 'pushed' into the machine by the pressure of the water coming out of the tap, this one is designed to also 'pull' or 'suck' water through the pressure washer itself, meaning it can also draw water from a water butt or tank. Also unusually, you can also use this machine in a hose pipe ban.
6. Nilfisk Alto D-PG 140.4-9 P X-TRA: £266, amazon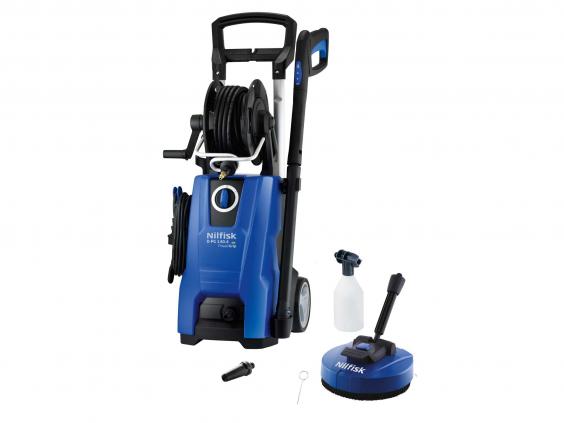 This has great build quality and we found it almost as good on patios and decks – even large ones – as the Karcher K4 and just marginally better on other tasks ranging from vehicles to unblocking drains to garden furniture. The pressure, which is an impressive 140 bar, can be easily adjusted down through seven stages. The control on the gun handle connects to the washer wirelessly, so unlike with most others on the list, you don't have to go back to the machine to make an adjustment. It's also easy to store due to the telescopic handle that reduces in height. 
7. Stihl RE 88: £105, Sam Turner & Sons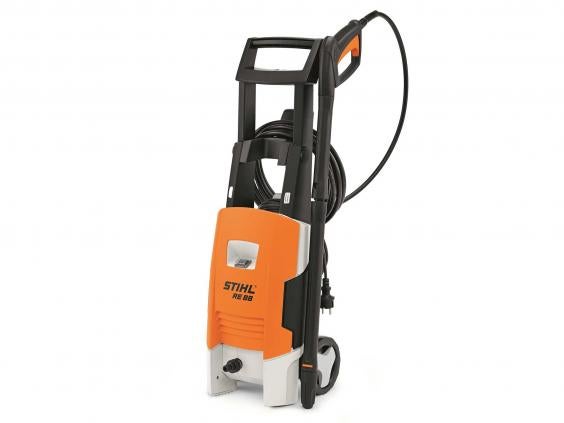 This has large wheels and integrated handles, which makes it easy to transport, while its slim design makes it simple to store. It's good at driveways, patios and decking – provided they aren't too entrenched with dirt - and handy features include anti-twist quick release coupling on the lance, to prevent the common problem of hose twisting. It's also quiet. On the downside, it vibrates more than some. 
8. Vax Powerwash 2500 Complete Pressure Washer: £140, amazon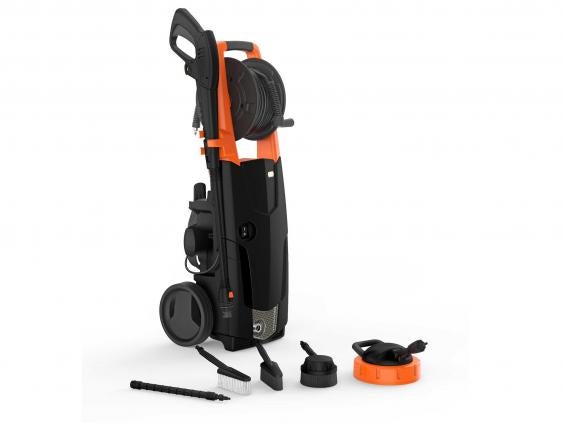 We found this was particularly versatile, working a treat on patios, driveways, fencing, sheds, garden furniture, edges and cars, with a satisfying jet of water that blasts away all but the most stubborn dirt. We liked the high pressure turbo nozzle, although we found it didn't have quite enough oomph for cleaning decking.
9. Bosch AQT 40-13: £140, amazon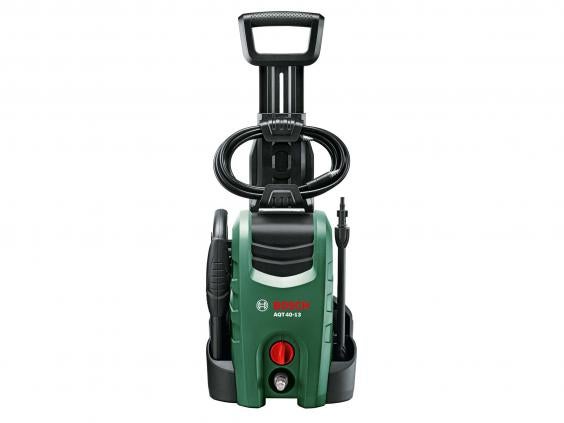 This upright, powerful pressure washer has a 6m hose and, unusually, the wheels are rubber tyred, which makes it quick and quiet to move around on any surface. Also in its favour is the height-adjustable fold-down handle and integrated accessory storage, both of which help if you're short on storage space. We found it cleaned all but the toughest, grimiest algae, moss, weeds and decking, proving particularly effective on concrete and stone. But it doesn't have a variable nozzle for different strength jets.
10. Karcher K7 Premium Full Control Home: £570, John Lewis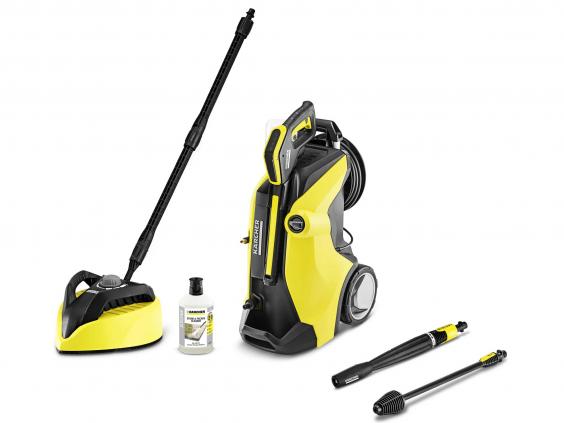 This semi-professional machine is the most expensive pressure washer in our roundup, but it's also got the highest flow-rate of 8.33 litres per minute, which makes it a godsend if you have a lot of tough outside areas that require on-going attention. We love the trigger gun that ensures the optimal pressure for every surface, the LED display for exact pressure setting and rotating pencil jet for cleaning every last bit of dirt. Makes particularly light work of weathered and moss-covered surfaces.
11. Stihl RE109: £230, Sithl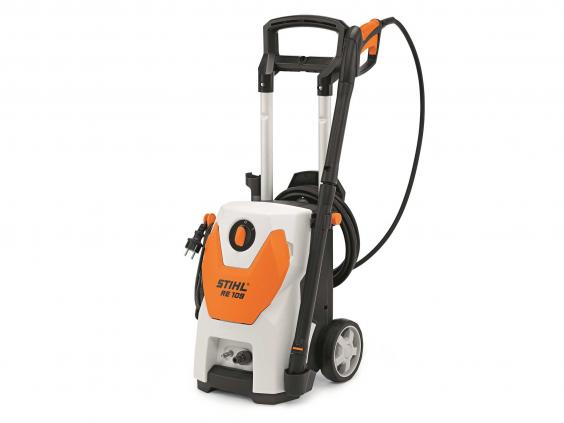 This compact but powerful machine feels extremely well engineered, with high water pressure that's easy to adjust, ready for the task in hand. It's heavy, but easy to transport and store, yet there are plenty of attachments available to buy separately, including surface cleaners and brushes. If you have jobs that entail really obstinate dirt and/or larger surfaces, this is a great investment.
Verdict 
For regular use on larger patios and decks, the Karcher K4 Control Home gets our vote. For a great entry level machine, we really liked the Mac Allister MPW100D.
IndyBest product reviews are unbiased, independent advice you can trust. On some occasions, we earn revenue if you click the links and buy the products, but we never allow this to bias our coverage. The reviews are compiled through a mix of expert opinion and real-world testing
Reuse content