Dogs love to chew and though they may have started life with a good old gnaw on your best brogues, it's advisable to introduce tough toys when they grow as the action helps keep their jaws in shape and their teeth clean. We've put a selection of playthings to the test with a panel of pawsome testers.  
The most important thing is to choose a toy that your dog won't chew into tiny pieces, as anyone with a hefty vet's bill for ensuing blockages will attest.  If you're going for a "character" toy, look for strengthened seams and minimum filling on fluffy toys, making sure the eyes are nose are embroidered rather than stuck on so they can't be swallowed. As for heavier plastic and rubber, always rotate toys to keep your pet's interest and have an eye out for damage, removing any toy that's starting to break up.
1. Busy Buddy Ultra Stratos Toy: £7.99, PetSafe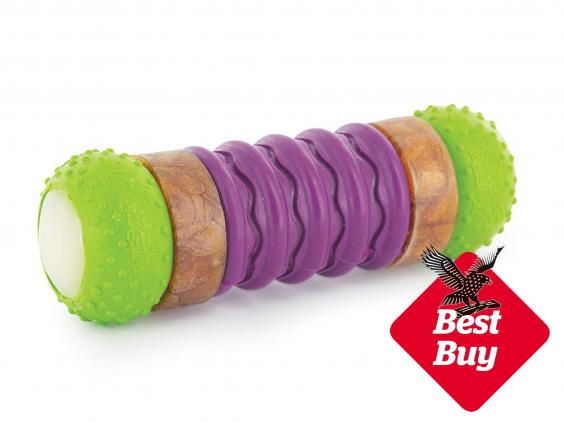 Our cockapoo tester was on the case with this toy before the package had even been opened. That's because there are a couple of delicious treat rings attached to the vanilla-scented rubber tube. As they're the same width, dogs have to work a bit harder to gnaw on them and they'll get a good chewing workout in the process. When they're gone, the ends can unscrew and you can replace the treats.
2. Biosafe Watermelon Dog Toy: £7.99, Dog's Trust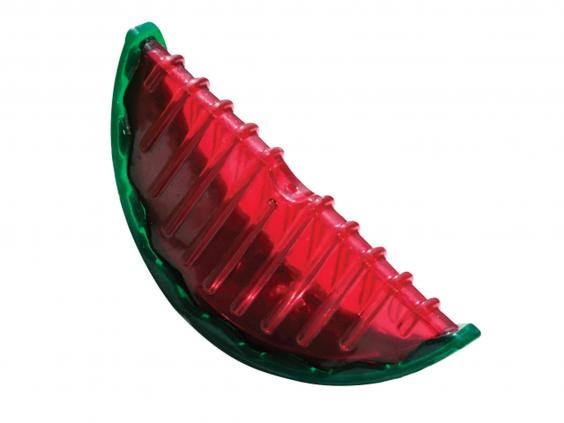 This watermelon toy is a great one to use in summer as it can be filled with water and frozen. Our schnauzer tester loved to lick as well as bite it – perhaps the fruity flavour was to her taste. If you've ever had to bin gunky pet toys you'll appreciate the fact this one has a special BioCote coating which helps prevent a build-up of bacteria and mould on its surface.
3. Ruffer and Tuffer Rope Ball: £5, Pets at Home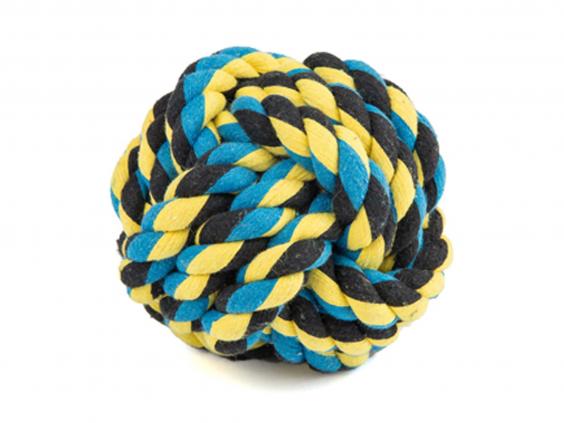 If you've ever given your chewer a loosely woven rope knot to pull on you'll know that pretty soon your home can look like an explosion at a macramé workshop. Thankfully, this cotton ball is very tightly woven so it's far harder-wearing. Ruffer and Tuffer make their toys in yellow and blue as they're the only colours dogs see. Our labrador tester loved a game of fetch with this – he just wasn't keen on returning it.
4. Fluff & Tuff Lucy Skunk: £18.99, Fetch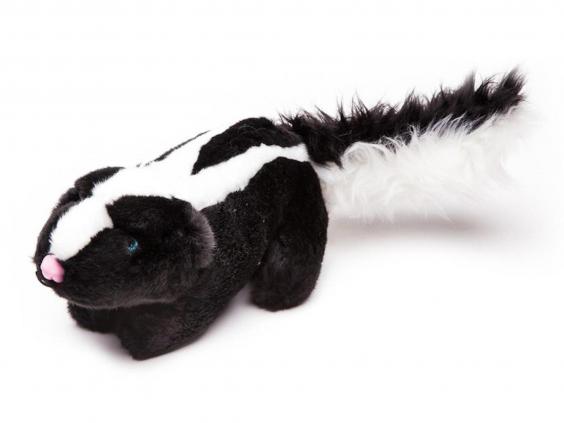 Considering our tester's Lucy Skunk has been buried, chewed, thrashed around, slept upon and been in the middle of a tug of war battle, it's come out pretty unscathed and is even still squeaking. Always choose a "plush" toy like this with a tough inner lining and non-toxic stuffing as normal soft toys will come apart too easily and can do damage if its inners are swallowed. Also look for embroidered eyes like Lucy's – anything attached or sewn on will be first to be destroyed.
5. Great & Small Tough Flyer: £13.99, Pets Corner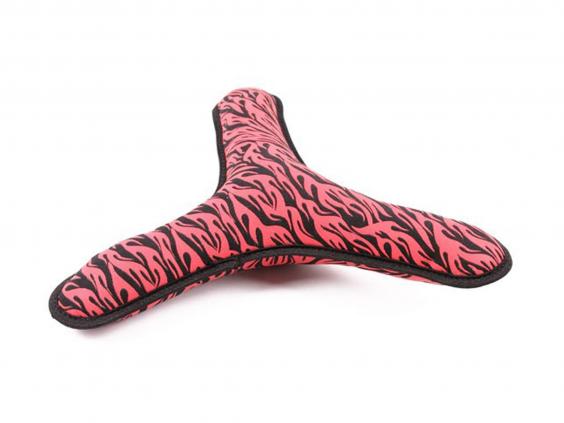 Some dogs love to chase but not all of them are ball fiends. You can really get a bit of distance on this toughie when it's airborne and it's hardy enough to withstand muddy trips to the park and hours of run-around. The seams are triple-stitched, so your furry friends might fly but the stuffing won't.
6. Happy Pet Tough Toy Frame Ball: £5.99, Amazon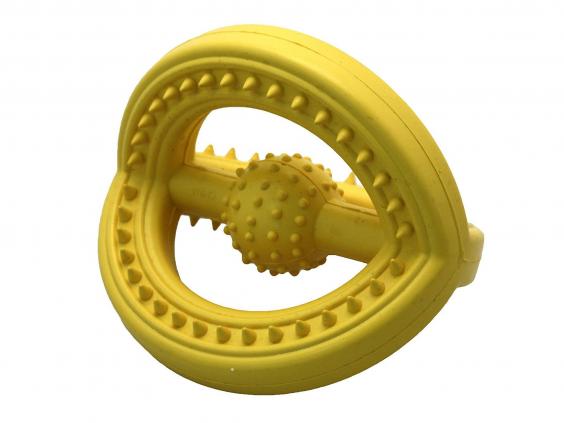 The great thing about this toy is its versatility. You can roll around for a game of fetch, grab one of the loops for a tugging game or leave Fido to chew to his heart's content. Throw it and it will bounce off the ground at an angle, leaving your dog guessing where it will end up next. If that happens to be lost in undergrowth the bright yellow of its rubber really helps keep track (it's also available in red and blue).
7. Rosewood Meaty Beef Takeaway Steak: from £4.99, Amazon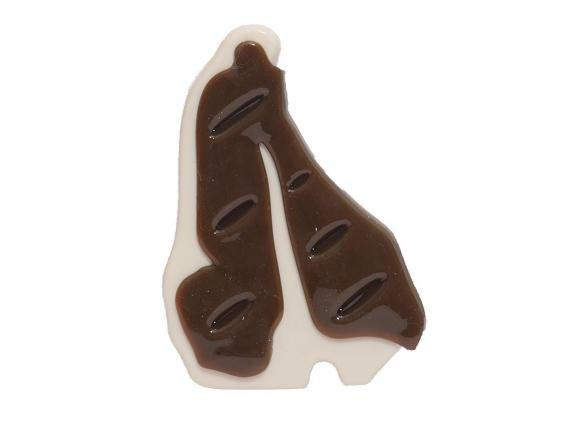 This T-bone steak chew looks like something from Tom and Jerry's fridge and it smells irresistible to dogs. The large size we tested was best suited to labrador sizes and above – but that didn't stop two small poodles fighting over it. It's quite weighty, so probably not one for throwing around, but your pet will love gnawing away at it in a quiet corner. Available in two sizes. 
8. Ruffwear Gourdo: £12.76, PetsPyjamas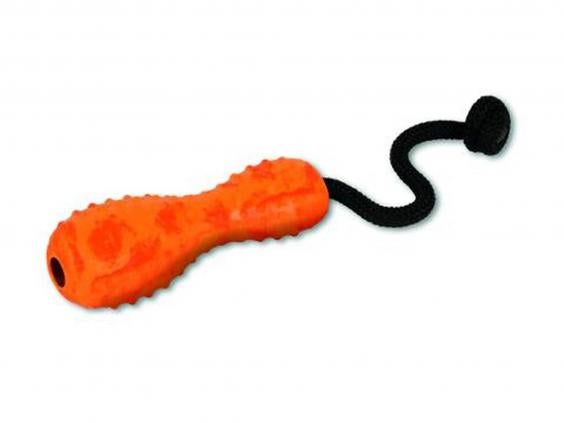 Made from natural latex rubber, large or small dogs can easily get a grip of this toy as the ends vary in thickness. Gums get a massage thanks to the bumpy texture and they'll really want to lavish attention on it as the Gourdo is a toy that can be filled with treats. A sturdy rope handle makes it easy to swing and throw and it'll withstand the most enthusiastic gnawing.
9. Tuffy Junior Duck: £12.99, Fetch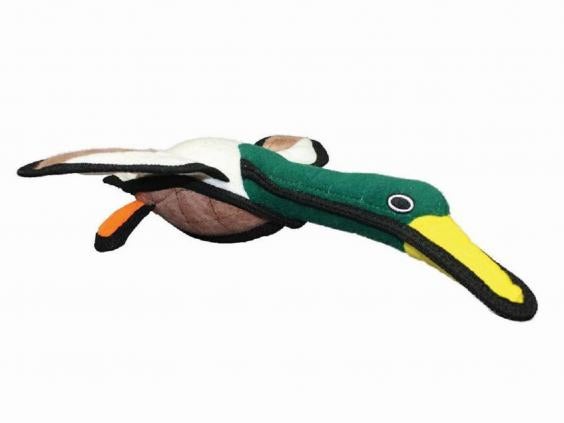 One for the retrievers, this duck is made from the most durable of materials. Manufacturer Tuffy scores toys on a durability scale from 1 to 10, with 1 being a cheap plush toy and 10 signifying that it's pretty indestructible. Ducky here is an 8 and will honk for yonks as his squeaker is protected by industrial grade luggage material, plastic coating and extra stitching which is then secured with nylon trim.
10. Planet Dog Orbee Ball: from £6.76, PetsPyjamas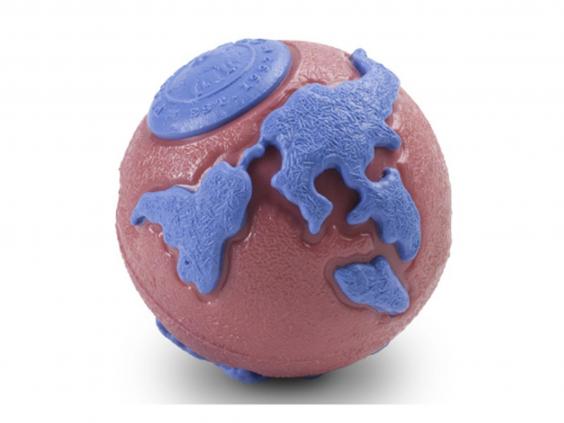 It's durable, colourful, chewy, mint-scented and springy, now all you have to do is pick the perfect size for your four-legged friend. The makers say this is the key to durability as a ball should not be able to fit into the back of your dog's jaw. This was a hit with the whole pack in the park as it bounced here and there unpredictably. Great fun.
11. Kong Squeezz Medium Ball: £3.89, Amazon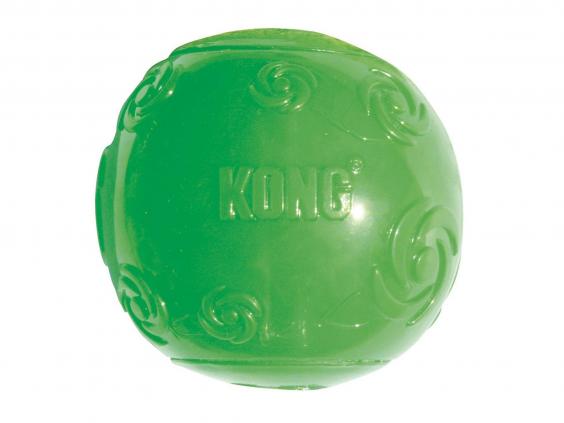 Our tester dogs didn't just love this, they were obsessed. Lightweight and durable, the squeak brought every other dog in the park over for a sniff and there was even a bit of a tussle as to who was taking it home. If your pet does somehow manage to pierce the thermo plastic casing, the noise should remain. Now is that a good thing when Rex wants to play till midnight? You decide. Available in four different sizes.
The Verdict: Tough dog toys
The Busy Buddy Ultra Stratos was a winning combination of intrigue and treat, meaning our tester was happy to play and explore on his own. But when the time came for a game of fetch it worked there too. However, for straightforward fun, the bargainous Kong Squeezz Ball gets extra points for ease of use as the medium size fits perfectly into the average plastic ball thrower.
IndyBest product reviews are unbiased, independent advice you can trust. On some occasions, we earn revenue if you click the links and buy the products, but we never allow this to bias our coverage. The reviews are compiled through a mix of expert opinion and real-world testing
Reuse content