With the rise of the flatscreen, TV units have become more like long and slim sideboards than bulky corner pieces that have to match with the rest of your furniture. 
There are designs to discreetly hide all the peripheral gadgets that go with modern TVs: DVD players, consoles and set top boxes, too. 
A good TV stand has at least basic cable management built in to stop things getting in a tangle, and closed cabinet-style designs should ideally have integrated ventilation too. Check the size of your TV before purchasing, and choose the width of your unit accordingly.
1. Muji oak AV unit: £295, Muji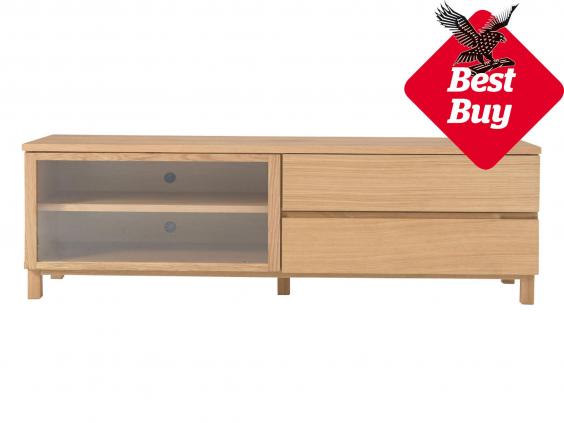 Muji's love of organisation goes further than its renowned stationery range. This 150cm-wide unit is made of American white oak and has two drawers with compartments sized for DVDs and CDs within. A tinted-glass hinged door hides two shelves for a DVD player or music player, and each has a small hole in the back for cable management. A very neat piece indeed.
2. Long Island TV unit: £189.90, Maisons Du Monde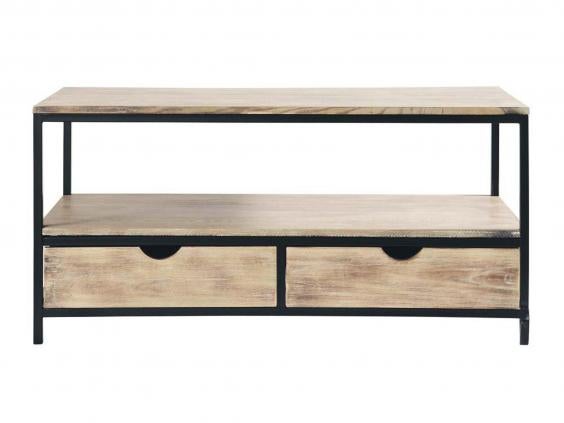 The industrial look of this well-priced unit by Maisons du Monde is down to a combination of black metal frame and solid fir wood. The wood is bleached to a light colour which makes the unit less imposing for neutral interiors. The two drawers provide useful storage. If you love clean lines, however, beware the open shelf which leaves trailing TV cables exposed.
3. Habitat Gem clear glass TV stand: £275, Habitat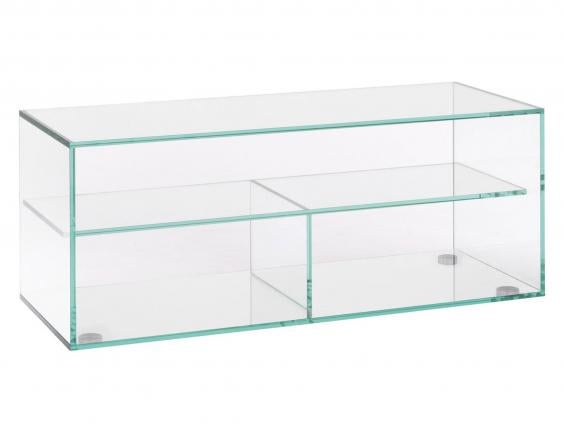 Habitat's Gem is a super contemporary stand made of 10mm toughened safety glass. The 90cm-wide unit is separated into three open shelves and has four disc-shaped feet of brushed aluminium. The striking looks of glass furniture do require extra care: use place mats under hot and cold drinks, and avoid cleaning products that may scratch. This stand is suitable for TVs up to 45 inches.
4. Conran Aiken slatted TV cabinet: £599, Marks & Spencer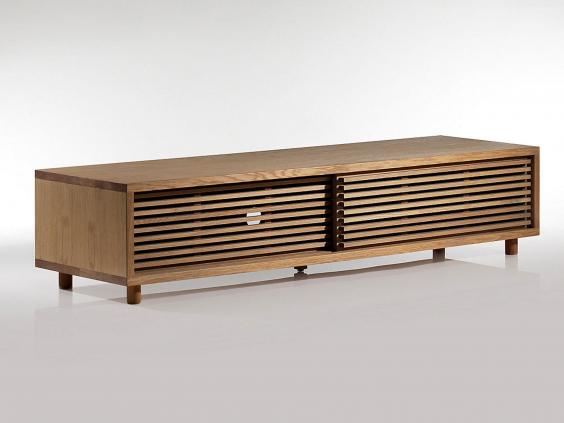 If you hate the sight of modern tech and cables, the Coran Aiken cabinet has a clever design solution. DVD players, set-top boxes – pretty much everything you can point a remote to – can hide away behind slatted sliding doors that allow infrared signals to pass through when closed. Made of oak and 160cm wide, this piece has the feel of solid furniture rather than tech accessory.
5. Hannah wide TV unit: £119, Very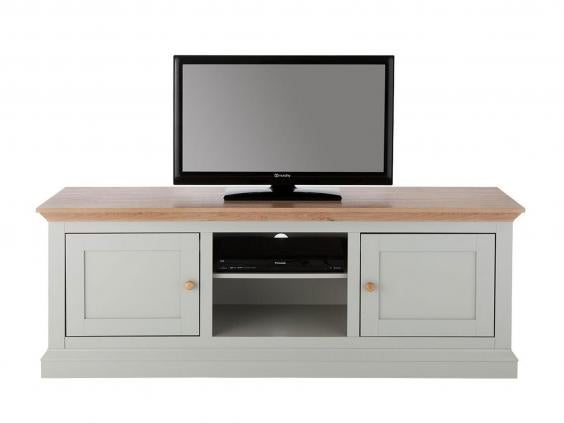 One for more traditional interiors, the Hannah unit from Very combines a chunky "oak-effect" top with surfaces painted sage green. There are two side cupboards for DVDs and a central shelf for a player. The shelf has a back with a circular hole for cables making them easy to tidy away. At 160cm wide, the unit fits TVs up to 66 inches. There is a matching range of lounge furniture.
6. OH Haus geo TV bench: £615, Houseology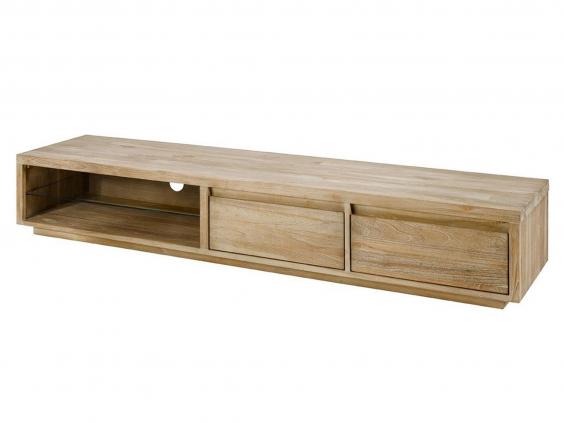 This premium TV bench is made of teak wood, sanded and stained in a pearl-grey colour for a beachy, coastal look. The design is fairly simple: one open recess with a glass shelf for a media player and a cut-out back for cables, and two generous drawers. At 180cm wide, this chunky furniture piece can easily accommodate large flatscreen TVs with room to spare.  
7. Swoon Editions Watson media unit: £249, Swoon Editions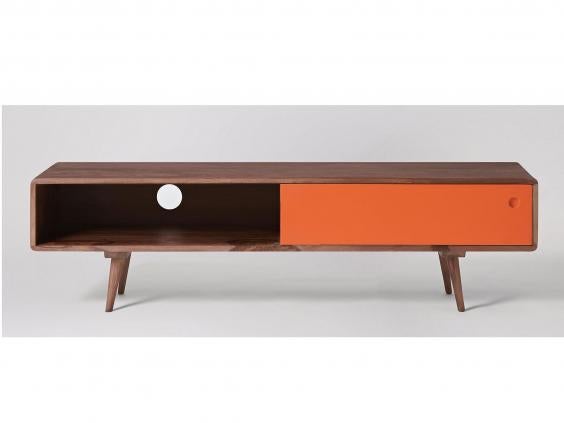 Harking back to the sideboard's heyday, this mid-century style unit from Swoon Editions has a retro feel. It has a rosewood frame with engineered back panel, and a sliding front panel for storing DVDs and other media behind. This one's a vibrant orange, but there is a white and natural wood version too. The unit is 140cm wide and delivery is free.
8. Techlink Panorama TV stand: £269.99, Currys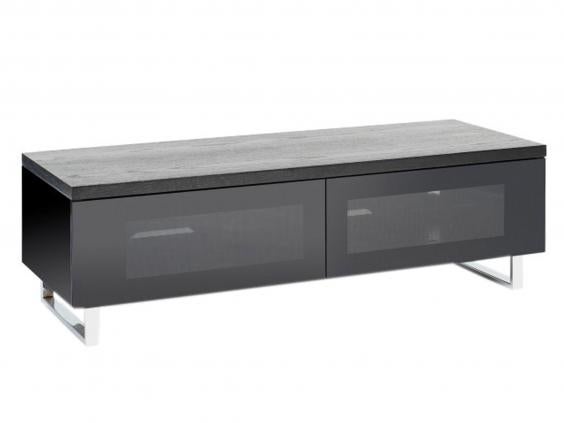 This stand is for the gadget lover who has it all. Four shelves can hold DVD player, console, Blu-ray and set-top box all at once. The two drop-down glass doors are remote-friendly too. There's individual cable management from each compartment to stop things getting in a tangle and the unit has air vents for keeping your tech cool. The unit is made of MDF and is made for TVs up to 60 inches.
9. Ikea Gettorp TV bench: £75, Ikea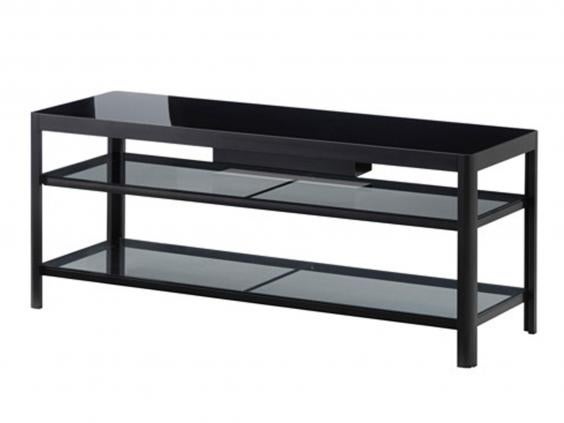 Ikea's bench has slick looks and is made of tempered glass and black metal. There's a cable management tray built in under the top for keeping things tidy. It's a fairly simple design, with two long open shelves that let you arrange your equipment as you like plus a few DVDs. The bench is compact, at 120cm wide it suits TVs up to 55 inches. There's a white and aluminium version too.
10. John Lewis Dante wide TV stand: £599, John Lewis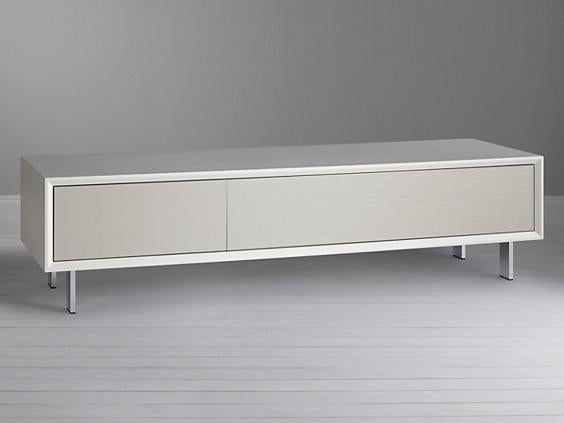 The Dante stand is a 160cm-wide luxury TV unit in lacquered MDF and made in Italy. The unit has a matte finish, and the front has a wave embossed effect. There's one drawer and a long slim compartment with a hinged door that hides and reveals your media equipment easily. There are holes in the back panel for cables and ventilation slots in the base to keep your tech cool.
Verdict
Muji's unit is simple and functional, incorporating storage for your DVDs and making it easy to keep on top of trailing cables. Made in oak and glass, it has a great solid feel for under £300. Similarly priced is Techlink's Panorama stand, which puts practicality first with lots of compartments, good cable management and ventilation.
Reuse content