Nothing beats the feeling of sinking your feet into pure wool. A good quality rug brings comfort and warmth to wood or tiled floors – essential as the nights get colder – and can be used to liven up your living space with areas of colour, pattern and texture. 
First check the area where you require a rug – bold designs look best given some breathing space, while neutral rugs can happily overlap with furniture. Natural wool is delicate too and requires extra care, as most, if not all, are dry clean only. 
Regular vacuuming in the direction of the pile will also stop your pure wool rug from pilling. And don't forget that underlay or rug pads may be required to stop it slipping on solid floors – this often isn't included and needs to be bought separately. Here's our pick of the best wool rugs.
1. Zara Home Multicoloured Wool Rug: £229.99, Zara Home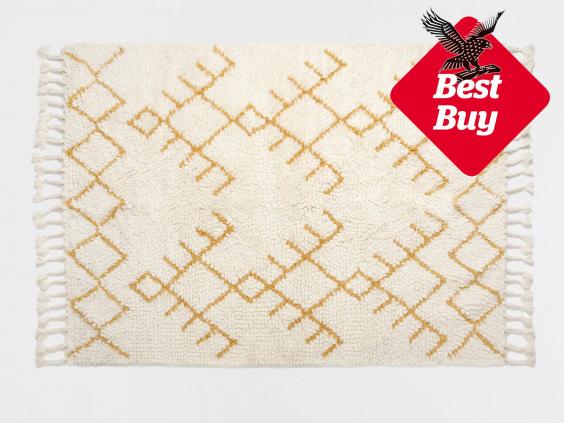 Moroccan-style Berber or Beni Ourain rugs are having a big moment. The minimal patterns and shaggy piles of these tribal rugs contrast well with contemporary furniture. Finding the real thing is tricky and expensive, but Zara Home's version is an affordable compromise in a wool-cotton mix. Yellow lines, rather than the traditional black, give this much-aped style a new spin.
2. Gandia Blasco Canevas Flowers Wool Rug: From £590, Houseology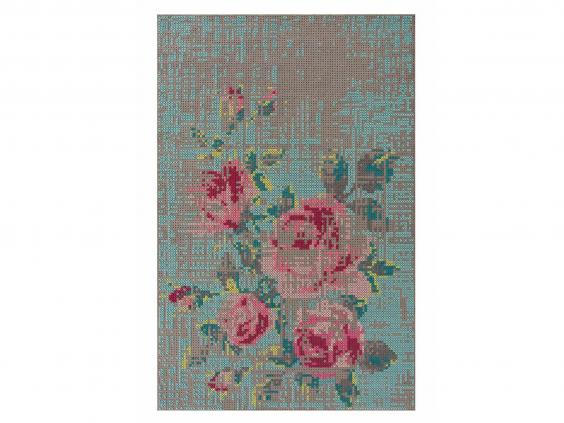 This unusual rug by Valencian brand Gandia Blasco has to be seen close up to be appreciated. Woven to resemble a giant cross-stitch with a floral design, the rug neatly blends traditional decoration with a modern touch. This is a rug you'll want to show off – the statement design would work well livening up a tiled hallway or living room with wooden floors. 
3. HAY Pinocchio Rug: £178, Really Well Made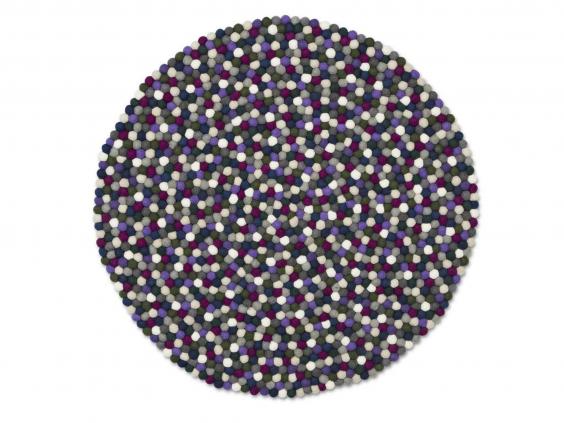 Danes know Pinocchio as a type of colourful, sugared liquorice ball; a sweet treat that inspired HAY to create a round rug with some real eye candy. The rug is made from individual balls of pure wool that are felted and strung together by hand by artisans in Nepal. There are four types of colour combination, and the rug comes in 90cm or 140cm diameter sizes.
4. Anthropologie Crewelwork Nelia Rug: £78-998, Anthropologie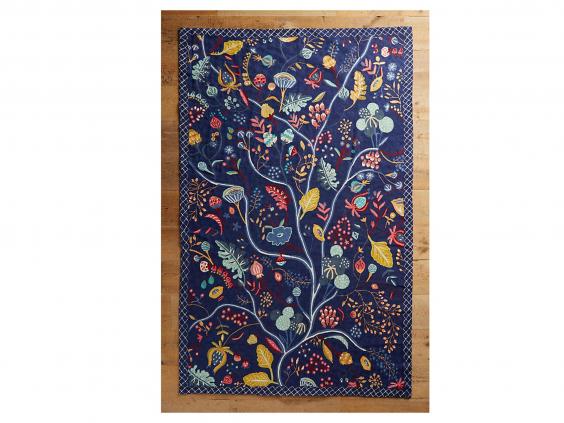 Crewelwork is an ancient type of wool embroidery where different types of stitch are used to bring basic shapes to life. The Nelia rug beautifully updates the style with a dense tangle of flowers, leaves, young buds and seed pods that will keep you finding new elements every time you look. The rug comes in five sizes and is flat enough to make a great wall hanging too.
5. Flair Rugs Prism Rug: £80-230, House of Fraser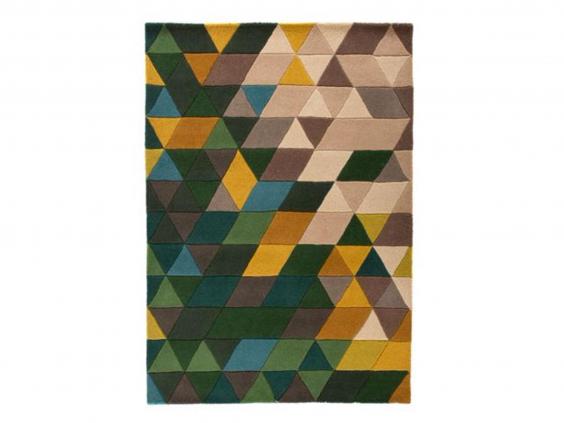 Hand tufting gives this pure wool rug an extra-plush feeling. The thick pile is divided into triangles of complementary colours – mustard yellow and forest green – which are designed to give the rug a three-dimensional effect. The vibrant colours and geometric style makes it stand out on dark wood floors The Prism rug comes in three sizes and is handmade in India. 
6. Habitat Kygo Rug: £160, Habitat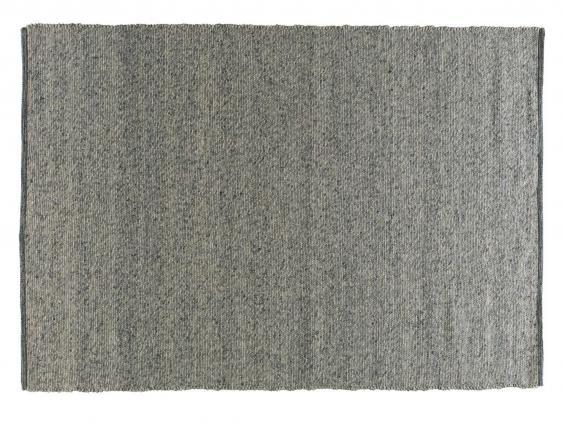 This rug has a neutral design where natural texture and tone take the place of bright colours or patterns. The rug is 77 per cent wool, which is just enough to maintain the cosy feeling and quality of a wool rug. A mix of cotton, viscose and polyester makes up the rest, making this one a touch more affordable and easier to care for. 
7. Urbanara Karise Rug: £279, Urbanara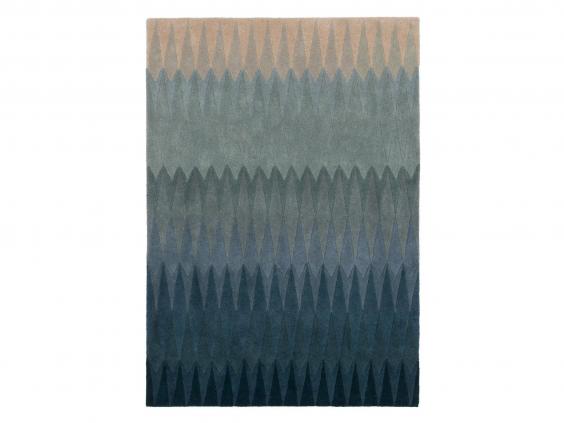 The Karise rug's deep 2cm pile is the first thing you notice – the hand tufted finish gives it a thick and luxurious feel. A geometric pattern of calming blues and greys are softly blended in a gradient suggestive of a watercolour landscape rather than a sharp grid. This 100 per cent new wool rug is made in India and certified by fair trade scheme Care & Fair. It comes in three sizes.
8. La Redoute Diano Bedside Rug: £59, La Redoute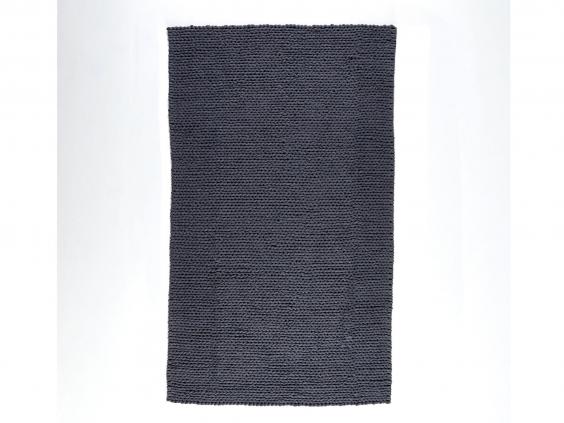 Perfectly-sized for the side of the bed, this pure wool rug from La Redoute is a treat for bare feet. The wool is a decent quality for the price; the knitted effect adds extra comfort and the irregular shape makes it look handmade. The soft wool is delicate and requires extra care – vacuum it regularly to avoid pilling. It comes in two neutral greys and has a lined back.
9. Plantation Rug Company Jessica Rug: £350-770, Plantation Rug Company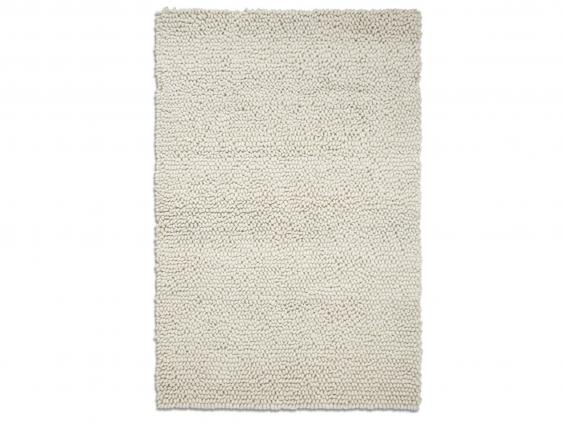 Loops of pure wool give the chunky rug its superior comfort factor – it's one you'll enjoy sinking your toes into day after day. Not the most practical rug, the light colour and soft texture mean it suits the bedroom best: marks and spills are bound to happen in more well-trodden areas of your home. Keep the kids away too: this rug is purely for grown-ups.
10. Normann Copenhagen Oona Carpet: £179.90, Normann Copenhagen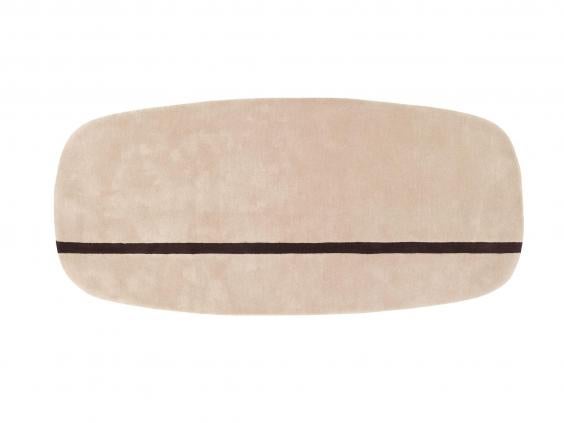 The shape of this 100 per cent New Zealand wool rug makes it unusual. The long oblong with smooth, rounded edges gives it a striking look, with just one black line contrasting with the background. In fact there's a family of three shapes and colours that could be combined however your space requires. The rugs are handmade and tufted for a plush effect.
The Verdict: Wool rugs
Soft, plush and luxuriously deep: Zara Home's Moroccan-style rug ticks all the comfort boxes. It looks good in contrast with dark wooden floors or layered up on existing carpet that may have seen better days. At 200cm x 150cm it's a decent size for the price – a genuine tribal rug can cost up to four times as much.   
Reuse content