While nothing can beat a freshly ground cup of coffee in the morning, our hectic schedules mean we might not always have the time. That's where coffee capsule machines come in. 
Offering a great alternative to expensive high-street coffee but far superior to a cup of instant, these machines are both convenient and cost-effective. In fact, one in three households now owns a machine, so it's clear that we aren't ready to forgo our daily caffeine fix. 
As pod machine ownership continues to grow, more brands are now offering compatible pods so you're not tied to the manufacturer's own-brand. Although there are various machines available, we've focused on Nespresso-compatible capsules, as while Dolce Gusto and Tassimo (which have different shaped capsules and different machines) are popular, there are limited alternative capsules aside the manufacturers' own.
You'll find there's less coffee in a pod than you get in your local coffee shop, so don't be afraid to double up for a more authentic taste, and don't pay too much attention to the strength rating stated – with no consistency between brands, it varies greatly. 
To be sure you're getting the most out of your pods, use filtered tap water (particularly in hard water areas) to stop the coffee tasting flat or bitter. 
One of the biggest bug bears of using a coffee pod machine is that your coffee goes colder, quicker. To avoid this, simply warm your cup by running a shot of water before adding the pod. If using milk, that should also be warmed before adding, and ideally use whole milk for a richer, creamier taste. 
Avoid capsules with a very dark roast, as these tend to mask the true flavour of the beans meaning brands can cut corners and use lower quality. It's the difference between a high-street chain coffee and an independent artisan one.
So whether you need an energising espresso, a comforting cappuccino or a lazy latte, the team at Crummbs has rounded up the best Nespresso-compatible coffee pods your money can buy.
1. Toast Coffee Taster Box: £14 for 40, Toast Coffee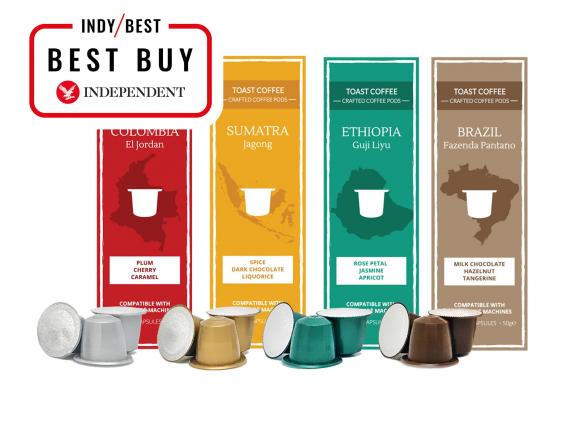 Toast only uses ethically-sourced single-origin speciality coffee beans in its pods, all of which are graded by one of only six female graders in the country. She clearly knows her stuff because on a blind taste test between this and a "proper" coffee, we chose this every time. This great value taster pack contains four different blends, but we particularly love the Brazilian blend with tasting notes of milk chocolate, hazelnut and tangerine. Toast recommends you use the espresso setting on your machine as smaller drinks allow for the delicate flavours to really shine through.
2. Pact Fahem Limu Natural Pod: £17.50 for 40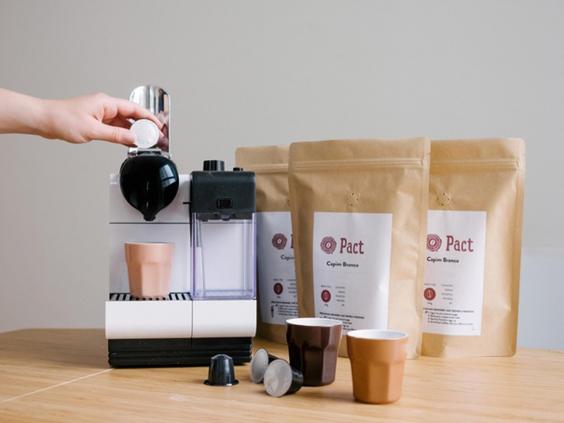 Roasted, ground and filled in the UK, Pact sources the coffee beans for its pods directly from an environmentally conscious plantation in Ethiopia. Pact is a subscription service first and foremost, but you can buy one off bags as well. It only does one coffee pod, the Fahem Limu Natural Pod, but it's an excellent one – the medium-dark roast provides a full mouthfeel with juicy fruits and a balanced acidity. It's all delivered to your door in a letterbox friendly pack.  
3. Dualit Nespresso Compatible Compostable Indian Monsoon Coffee Capsules: £2.99 for 10, Lakeland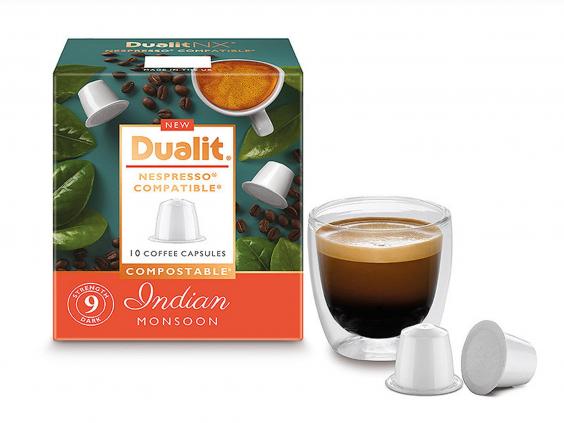 These pods are a blend of three different coffee beans sourced from small cooperative farms in southern India. They have been dark roasted for a strong taste but provide a creamy, smooth drink with a long lasting, surprisingly spicy finish. These coffee capsules are fully compostable, so pop them in your recycling bin when you're done with them. At just under three quid, we think they're amazing value, too. There are other flavours in the range, included a decaf option.
4. Nespresso Explorations Limited Edition Capsules: £20 for 20, Nespresso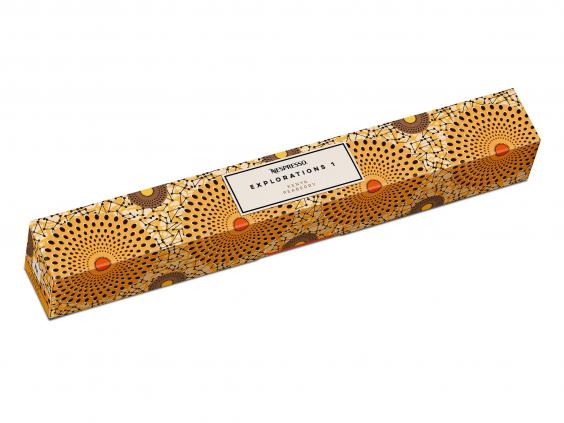 Available for a very limited time, Nespresso has a new twin pack of rare and contrasting coffees from Laos and Kenya. Both are Pure Origin, which means they've been sourced from a single farm. The climate of the Bolaven Plateau in southern Laos results in a well-rounded espresso with a hint of acidity, while the Kenyan "Peaberry" has a jammy fruity flavour. Perfect if you're looking for something a little different from your regular "purple one". 
5. Taylors of Harrogate Colombia Huila Espresso: £15 for 60, Amazon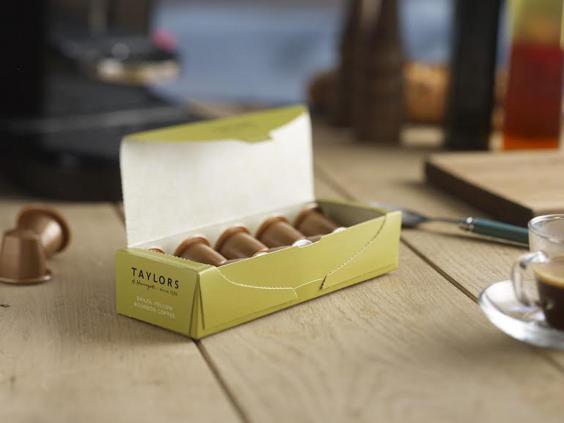 This capsule from Taylors of Harrogate – which has been in the tea and coffee business for well over a century – is sourced directly from a Rainforest Alliance-certified farm in Huila, famed for being the best coffee-growing region within Colombia. The slow roast results in a great balance of subtle sweetness and refreshing acidity. There are other capsules available in the range, spread across the globe from Brazilian Yellow Bourbon to Indian Karnataka Dark Roast.
6. M&S Peruvian Single Origin Pods: £3 for 10, Marks & Spencer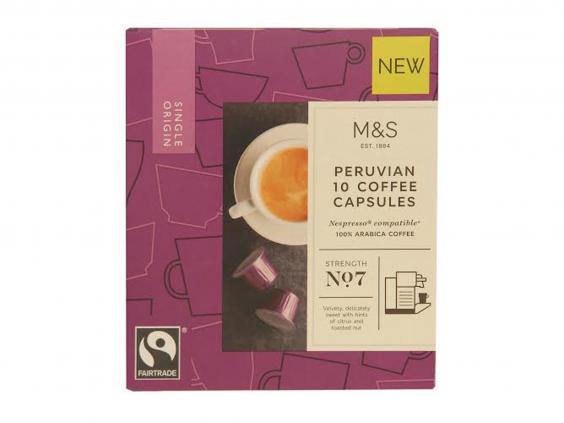 These aromatic Fairtrade coffee capsules have a slightly sweet note to them, which is naturally found in the medium roast. Expect a hint of acidity, a touch of nuttiness and a squeeze of nectarine on the palette. The Arabica beans are packed shortly after being roasted to lock in the freshest flavour. There are plenty of other flavours in the range, too.
7. Starbucks House Blend Espresso Capsules: £5.90 for 20, Starbucks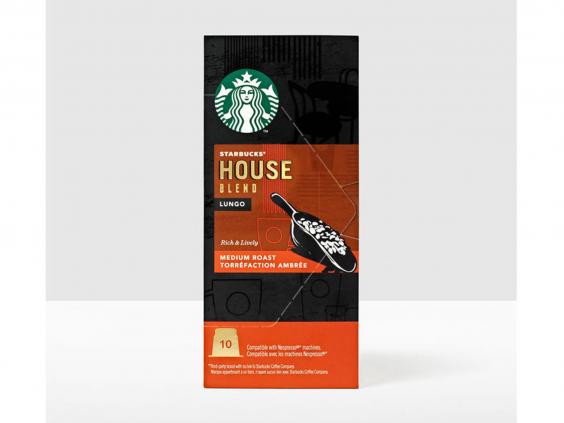 If you normally grab your morning coffee from Starbucks, you might want to consider switching to its capsules for a DIY cuppa (at a fraction of the price). The house blend is the same concoction as was originally created back in 1971 – the first ever on its way to becoming today's coffee giant. Expect notes of nut and sweet cocoa with a medium roast. If you're buying in-store, you can grab a free Starbucks recycling bag to store all your pods in.
8. Cru Kafé Light Roast: £3.49 for 12, Ocado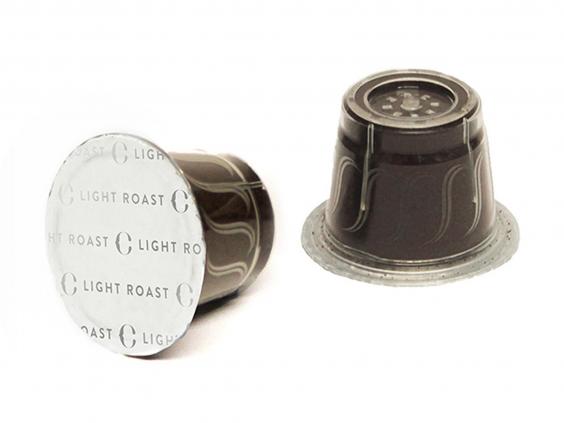 A blend of three Arabica beans from Peru, Mexico and Ethiopia, this lightly roasted style results in a creamy, chocolate biscuit taste with a touch of balanced acidity. Cru blends, roasts and grinds the beans itself and only buys organic produce from ethical farms. It's best enjoyed as an espresso, so if you tend to add milk we'd advise using two pods. There are six other pods in the range, from Dark Roast to Decaf.
9. Coffee Hat Panama Capsule: £4.95 for 10, Harrods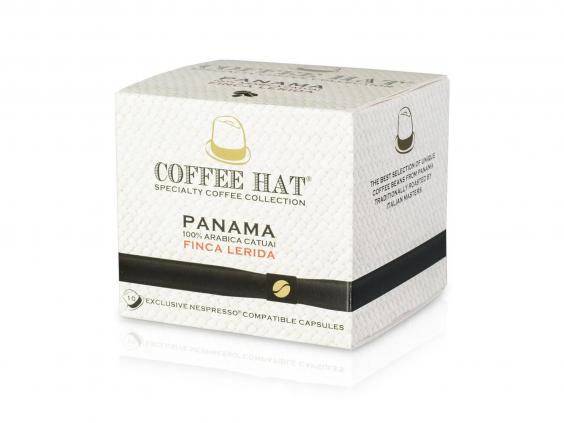 The Finca Lerida coffee plantation has won many international awards including "World's Best Coffee" from the American Specialty Coffee Association, which is where these premium pods get their coffee beans from. What's clever about Coffee Hat is you can buy add-on "hats", which enable you to get a frothy milky top, for example. This is a fruity coffee with a chocolate finish.
10. Sainsbury's Colombian Nespresso Compatible Coffee Pods, Taste the Difference: £2.50 for 10, Sainsbury's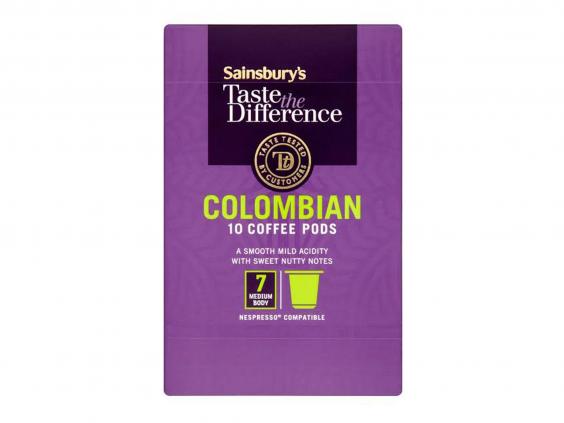 These pods give a smooth and nutty single-origin coffee with a lovely crema. It's great value, and ideal if you get through lots of coffee in your house – working out at just 25p a pod. We found the flavour worked well with or without adding milk and there was no need to add sugar. Also in the Sainsbury's range – Intenso, Lungo and Ethiopian.
The Verdict: Nespresso-compatible coffee capsules
This was a tough one to call but in the end we had to award our Best Buy to the newbie, Toast. The young brand has put its heart and soul into sourcing the finest beans on the planet, investing in a highly qualified grader to ensure top quality at every stage. All of the flavours in its range tasted artisanal and unique, holding their own against a shop bought cup of joe. It's worth mentioning that the extraction time was slower than some other brands, which is intentional, due to the fine grind that's used. The extended contact with the water draws out more of the delicate flavours of this lightly-roasted speciality beans – so be patient. 
IndyBest product reviews are unbiased, independent advice you can trust. On some occasions, we earn revenue if you click the links and buy the products, but we never allow this to bias our coverage. The reviews are compiled through a mix of expert opinion and real-world testing
Reuse content