From the spiky prickly pear cactus to the delicate, tumbling string of hearts, house plants have come a long way since the spider plants you used to propagate at primary school. Instagram feeds and hipster homes alike are currently subject to a botanical takeover. Those with a penchant for interiors relish filling trendy concrete and macramé planters, plus unusual foliage and shapes, while for the holistic-minded the care, outside-in and air-purifying health benefits are what appeals. 
"I think that as most people in cities are living in small apartments or houses without gardens, they are inspired to bring greenery indoors, growing things on their windowsills and buying cacti or succulents to help green up their homes," says Sophie Lee, the founder of trend-leading plant shop Geo-Fleur. "People are also now interested in propagating their plants and giving their plant babies to friends – especially pilea peperomioides – so it's creating a community of plant lovers."
Key to the trend is that many of the more popular plants are low-maintenance and therefore easily approachable for the less green-fingered. Sophie recommends starting off with a cacti collection: "They like to be kept really dry and misted once every ten days to increase the humidity. Most people over-water their plants by drowning them in water, forgetting for two weeks and then drowning them again. Given bright light and a nice warm room, most house plants will survive."
Some, such as oxalis, donkey's tail and fittonias are less easily found online due to their delicacy, so we haven't included them in this round-up. If you're lucky enough to live in London though, head to the shops for a bigger range: Geo-Fleur (Stratford), Botany (Chatsworth Road) and Grace & Thorn (Hackney Road and Brick Lane), plus Botanique (Exmouth Market and Stoke Newington) and Prick London (Kingsland Road), which currently don't sell online but are worth a visit.
Or if you want a helping hand with your newfound plant-owning responsibilities, try Sophie's book Living With Plants or Rose Ray and Caro Langton of RoCo's book House of Plants.
1. Haworthia in concrete and metallic pot: £18, Geo-Fleur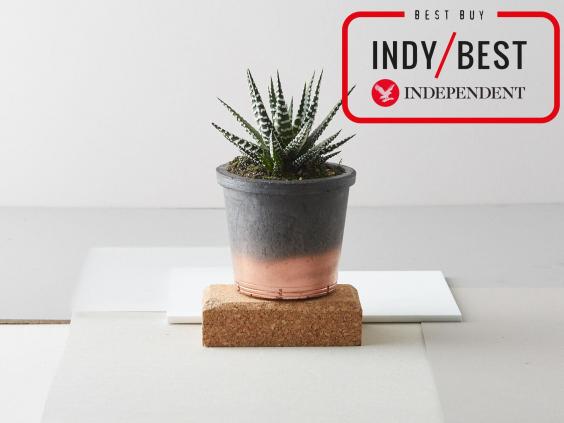 Geo-Fleur was one of the companies leading the trend for terrariums and cacti and remains one of the best for its sheer range of beautiful plants available to buy online (and will make more than one appearance on this list because of it). We love this copper-bottomed concrete pot, also a favourite of Instagrammers everywhere, with a spiky, zebra-striped haworthia, but you can also get it with a classic succulent or cactus.
2. Small gem himmeli with caput medusae: £30, RoCo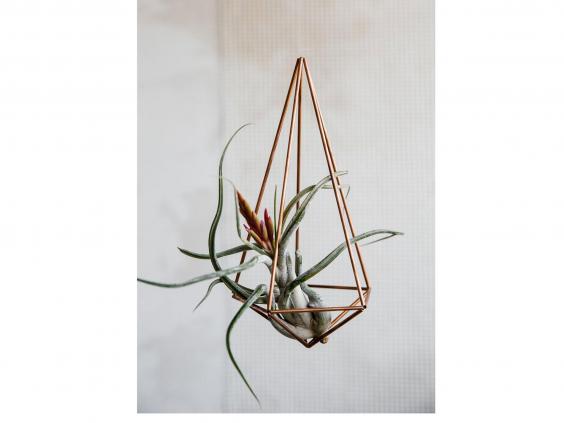 Air plants are the perfect first step for those with a track record of killing plants. Needing no soil to grow (they take their nutrients from the air), they are sustained by sunlight and the occasional spritz of water. This caput medusae comes in a copper hanger (which you construct yourself, with simple instructions) and will flower red and purple if conditions are warm enough. 
3. Monstera deliciosa: £25, Forest London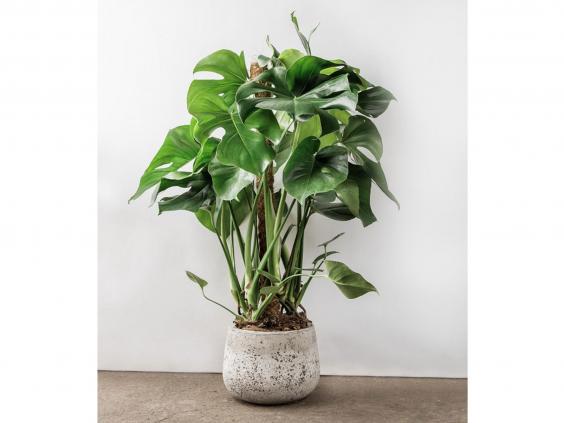 The monstera deliciosa, better known as the Swiss cheese plant because of the holes in its large leaves, has a retro feel thanks to its popularity in interiors in the 50s (the plant makes an appearance in the iconic Eames case study house #8). It is a big climber that can easily take over a corner of a room – this one starts at around 70cm tall – so not one for a windowsill. 
4. String of hearts plant: £25, Botany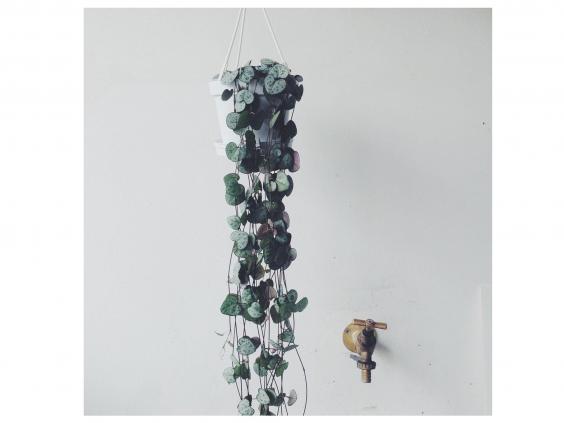 The string of hearts, or ceropegia woodii, is a very forgiving plant in that it hates being over-watered so is better neglected than over-tended. It's tumbling leaves make it ideal for suspending from the ceiling or on a high shelf, with this one coming in a functional white plastic hanging pot. The green dappled leaves become more silver with drought and it will grow bizarre tiny fly-trapping flowers if left to its own devices for long enough. 
5. Animal succulent head: £18, Grace & Thorn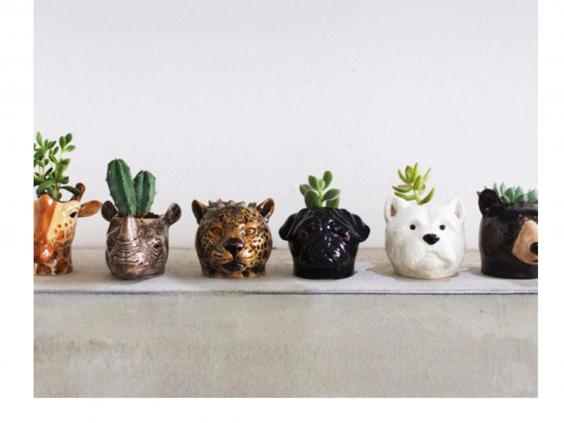 For a little kitsch, East London florists Grace & Thorn sells this amazing range of animal head plant pots, from rhinos to bulldogs, which come planted with a mini succulent. Succulents require a good half-day of sunlight, so are best placed in a bright position. Water until the soil is completely wet, then leave to dry out entirely before watering again. If in doubt, go easy: over-watering is a surefire way to kill a succulent, as it can cause rot.
6. Pilea peperomioides: £14.50, Botanic Tribe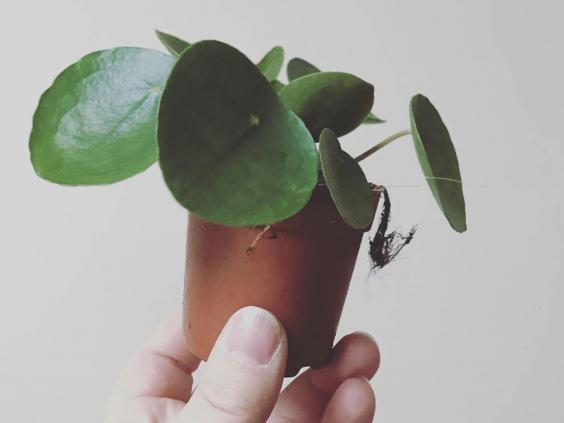 The pilea peperomioides, or Chinese money plant, is a particularly trendy number at the moment, and is made to share as it is easily propagated from cuttings. It likes bright, indirect light and watering only when dry. Plant-lovers will find it hard to resist only buying one thing from Botanic Tribe, however, as its website stocks everything plant-related, from DIY macrame hanger kits and cactus seeds to plant-illustrated mugs and prints. Available from notonthehighstreet.com. 
7. Maranta: from £10, Geo-Fleur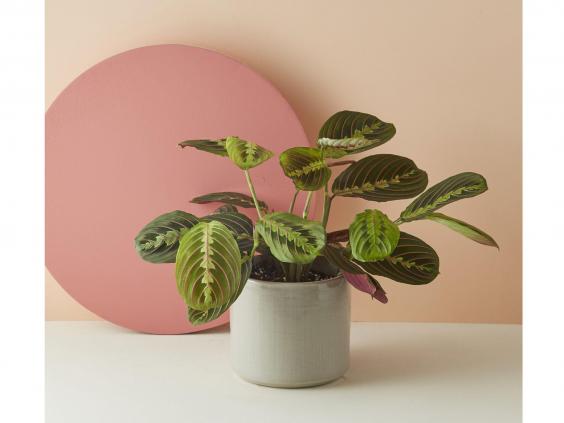 The maranta, or prayer plant, makes the list simply for the beauty of the shots of hot pink that run through its leaves. Keep it away from direct sunlight, as this may fade its leaves, and never let it completely dry out before watering. It is particularly mesmerising for the way its leaves rise and fall with the lights, and for the way new leaves grow up the shoots and uncurl. The maranta is a low-growing plant, reaching a maximum height of around 30cm, so is great for a table-top or windowsill arrangement. Available with or without grey pot.
8. Marimo moss ball: £1.49, Aquarium Plants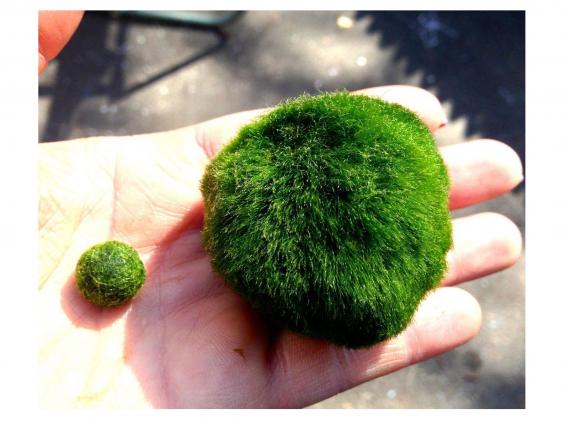 OK, this is a weird one, but hear us out. The marimo is a ball of moss that  lives completely submerged in water. It might not look like much on its own but, placed in a beautiful glass vase or bottle (anything with neck wide enough to fit it in: four or five centimetres) it has an exotic beauty and needs no care other than fresh water once a week. Available from amazon.co.uk. 
The Verdict: House plants
For its Instagram-friendly copper and concrete pot and low-maintenance but striking inhabitant, Geo-Fleur's haworthia is a great place to start, while Botany's string of hearts gets our vote for being the prettiest, least fussy plant on the list.
IndyBest product reviews are unbiased, independent advice you can trust. On some occasions, we earn revenue if you click the links and buy the products, but we never allow this to bias our coverage. The reviews are compiled through a mix of expert opinion and real-world testing
Reuse content