Home sewing is having a moment. Whether you're returning to long-lost skills from earlier in life or picking up the fabric shears for the first time, how do you even begin to choose your all-important sewing machine? 
The variety of options available can be baffling and your ideal match will depend on what you'd like to make. Do you see yourself whipping up cushions and quilts? Or sewing yourself a whole new wardrobe? As well as machines I've used when making my own pieces – you can see those on my Diary of a Chain Stitcher blog – I've pulled together the advice of some of the best home sewers in the business to test out machines with features to suit every budding stitcher. 
A well-chosen machine can last you a lifetime and I recommend investing in something sturdy that can handle some experimentation while you flex your creative muscles. Too many confusing features can overwhelm a beginner but which are essential? A quality straight stitch, zigzag and the function to sew a buttonhole in either one or four steps will see you through a surprising amount of projects. 
Features like memory options and a lever to lift the presser foot with your knee are probably only necessary if you're sewing more often than part-time. Equally you can probably do without a dual feed, which evenly pulls the fabric through from both above and below. It's a handy feature when using tricky fabrics but you can buy a separate foot to do this if needed in future. However, a needle up/down function and a bobbin that loads from above with a clear cover so you can see when it's running out could be invaluable.
Some might feel traditional manual machines are easier to understand but during my research, Tony at Lewisham and Deptford Sewing Machines opened my eyes to the wonderful world of computerised machines and how they can save you time and hassle when just starting out. Many of these modern machines can select the optimum length and width of particular stitches for you, removing the guesswork and limiting your mistakes.
1. Janome 7025 Sewing Machine: £219, John Lewis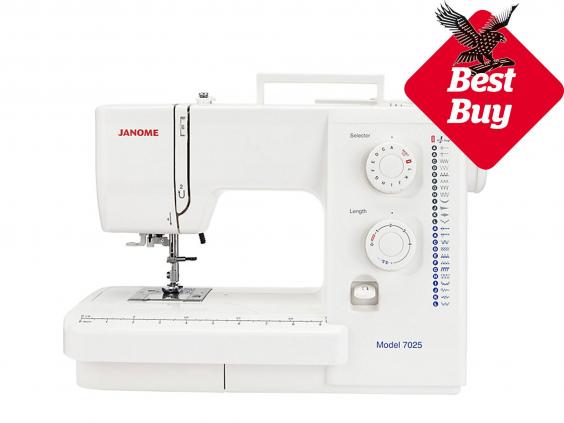 Very similar to the Janome 525 used on The Great British Sewing Bee, but a touch more affordable, this model ticks all the boxes. Three dials select stitch type, length and width. There's an automatic one-step buttonhole and easy to load bobbin with clear cover, and it feels weighty with more metal parts than most machines in this price range. The set-up of this will feel comfortable and familiar to anyone who has done a bit of sewing in the past and learnt to sew on classic manual machines.
2. Brother Innovis NV15 Electronic Sewing Machine: £219, Amazon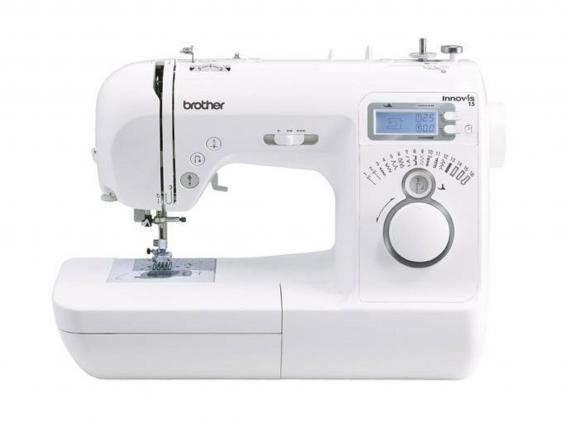 This model is the one that changed my mind about computerised machines. I thought all the features might be too confusing for a beginner but found it very intuitive when I tried it out. The 16 stitch options, including stretch stitches, are selected with a simple jog dial and it has all the electronic essentials with a stop/start button, speed limiter, needle threader and needle up/down control. Threading is so easy – the machine even pulls the bobbin thread up for you.
3. John Lewis JL110 Sewing Machine: £99, John Lewis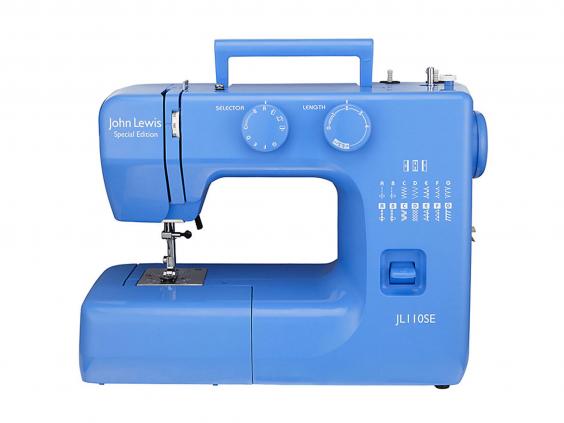 If you're on a budget and just dipping your toe in the waters of home sewing, this basic machine will do the job very nicely. The 14 stitch options are plenty for the majority of projects and the classic set-up means you can get sewing fairly quickly with a read of the manual. If you're looking to sew with stretch fabrics, you might miss being able to control the stitch width plus the bobbin is concealed behind a door on the front which can be tricky to access if you get in a tangle. But it's a sturdy machine and is available in a lovely range of colours.
4. Brother JK4000 Sewing Machine: £299, John Lewis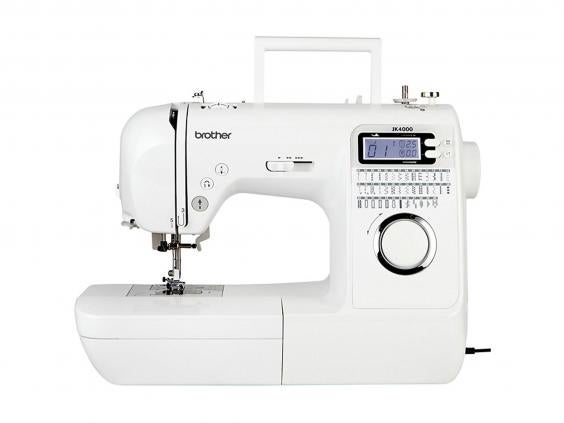 Although marketed to those with intermediate sewing skills, a good friend of mine purchased this fully computerised model as her first machine and is in love. If you've got big sewing dreams of making jeans and coats, it's a machine that will grow with you, and is good value for money considering the multitude of features it comes with including speed control and a stop/start button with automatic foot release so you don't even have to use the foot pedal. Stitches are easily selected using the dial and LCD screen. 
5. Janome DC3050: £319, John Lewis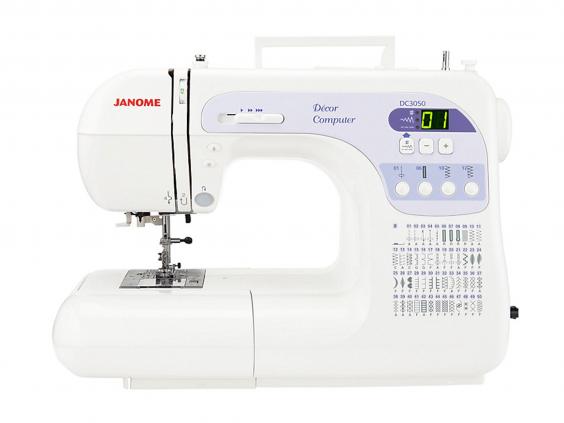 Another easy-to-understand computerised machine which won't be outgrown quickly, this has 47 pre-programmed stitches and three styles of one-step buttonholes to choose from. It's a true workhorse which handles a variety of different fabrics with ease, from slippery silks to thick coating that some of the more basic machines may struggle with. It doesn't come with as many feet as some machines in this price bracket but the bonus of buying a Janome is that a wide range are readily available to purchase fairly inexpensively. 
6. Singer 4411 Heavy Duty Sewing Machine: £199, Amazon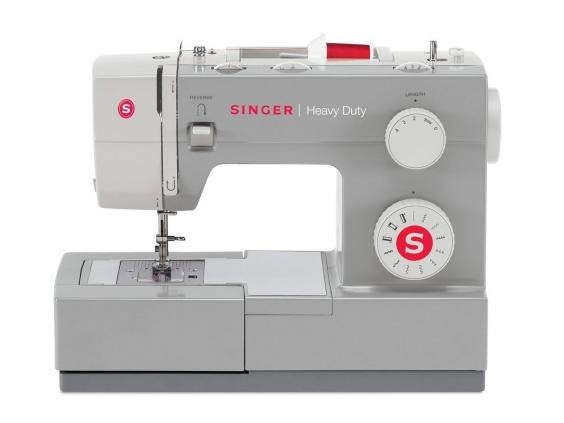 As the name suggests, this is a sturdy piece of kit that handles heavier upholstery fabrics, denim, leather and vinyl like a dream. It stitches smoothly and can still be used for delicate and lightweight fabrics, but it does sew at some speed so that might put off beginners wanting to sink their teeth into intricate projects. Other entry-level manual Singer models felt a little flimsy so the metal frame and components were a pleasant surprise and the stitch quality and ease of use surpassed my expectations when tested. In fact I worked on one for a couple of days and had no niggles at all.
7. Bernina B215: £549, Amazon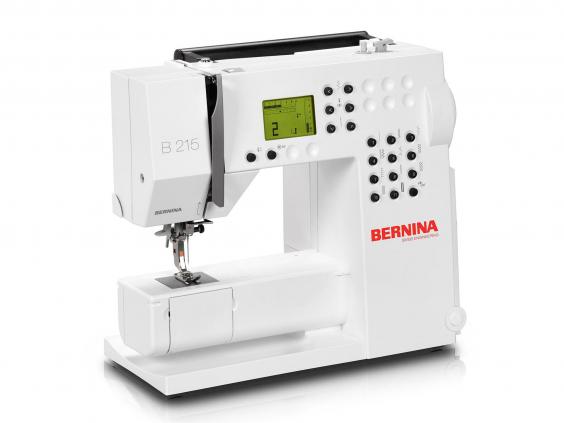 This is one of the more affordable models from the much-loved Bernina brand and is up there with the easiest of computerised machines to operate on the market. Press the button next to the stitch you want and away you go. It combines all the features of the other machines reviewed (with the exception of a stop/start button) and can be personalised with vinyl "skins" which you can design yourself. The LCD screen even shows you which snap-on presser foot to use. Additional machine feet and accessories can be expensive but if you're ambitious about your new hobby or are starting out in the industry, a reliable machine like this is well worth the investment.
The verdict
The Janome 7025 stands out as the best affordable all-rounder. It's a strong, straightforward machine that can handle a wide variety of fabrics and should meet all your needs. If you prefer the idea of a computerised model, the Brother Innovis 15 also covers all bases. Both are great choices from reliable brands that strike a good balance between overly complex and too basic to cope with more challenging projects as you improve
To see more of Fiona's sewing advice and tips, see Diary of a Chain Stitcher, or follow Fiona on Instagram
IndyBest product reviews are unbiased, independent advice you can trust. On some occasions, we earn revenue if you click the links and buy the products, but we never allow this to bias our coverage. The reviews are compiled through a mix of expert opinion and real-world testing