If chopping, slicing, blending, mixing and whisking are the bane of your life, it's time to invest in a food processor. But while all of them claim to make fast and light work of food preparation tasks like this – leaving you with of finely sliced carrots, creamy mayonnaise or perfectly whisked egg-whites – the reality is often very different. So we have worked our way through machine after machine, changing attachment after attachment, making everything from curries to cakes and sauces to salads. These are the nine that made the cut.
When buying your food processor, don't be led purely by price. It may be that a budget model meets your needs, particularly if you don't cook in large quantities and/or only need occasional usage. Also be sure to think carefully about what attachments you need. Most machines chop, slice, grate and mix, but not all of them whisk, whip and knead. Also consider if you want an extra blender attachment – not all of them have it. Make sure the machine is easy to keep clean as the time you save in food prep may be made up for in washing up. And decide if you want to keep it out on the worktop (good if you'll use it regularly) or store it away (for more occasional use). For the former, you'll need to check you have enough space for the machine (including vertically – food processors can be a tight squeeze under overhead cabinets) and for the latter, make sure it's not too big and heavy – and that it has a box for the attachments. 
Other things to consider are the size of the feeding tube; capacity and number of bowls (many come with a mini bowl too); how powerful the machine is; the noise levels; overall quality of the parts; and finally, the customer service of the manufacturer in case something does go wrong.
1. Bosch MCM3501: £120, John Lewis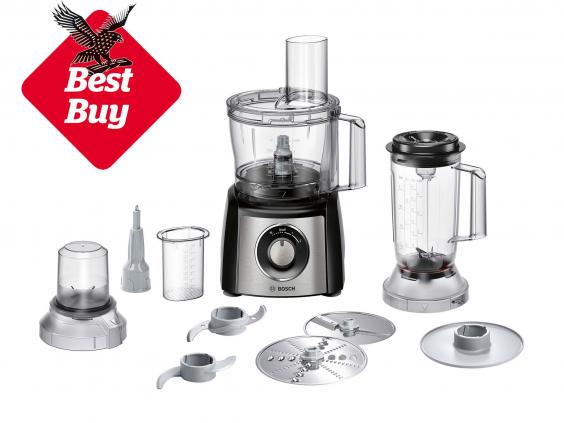 It's hard to believe this compact and relatively cheap machine can pack in over 50 functions including slicing, grating, chopping and blending – and it's pretty quiet too. A great all-rounder for smaller kitchens, it has accessories that can be stored away neatly and are easy to slot in – although be careful of the blades, which are razor-sharp and it's not as fast as the more expensive machines in our round-up.
2. Panasonic MK-F800: £371, Amazon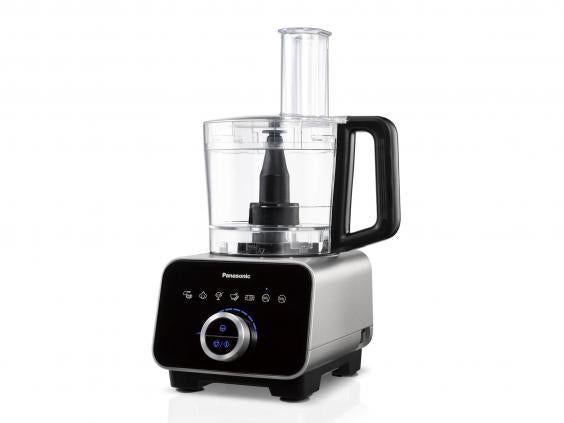 This swanky-looking machine, with its glass touchscreen panel and five automatic programmes, will look right at home in any hi-tech kitchen. A good job, really, as it's so big and heavy that you'll probably have to leave it on the worktop. It's exceptional at whisking, whipping and grating, although slicing and pureeing are slightly less impressive. Be prepared to keep schtum when it's on as it sounds like a freight train.
3. Andrew James Food Processor with Blender: £65, Amazon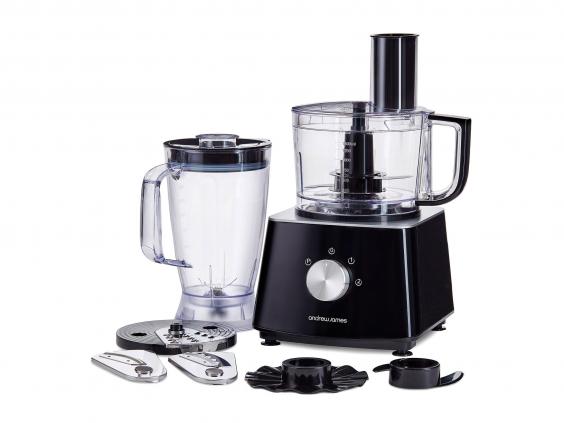 You get a lot of bang for your buck with this versatile bit of kit that includes a blender, mini chopper, juicer and grinder, along with oodles of blades, whisks and more – all of which take the elbow grease out of preparing smaller batches of foods. On the downside, many customers complain that the plastic can be prone to splitting, although if anything does go wrong, the customer service is second-to-none.
4. Sage Kitchen Whizz Pro: £300, John Lewis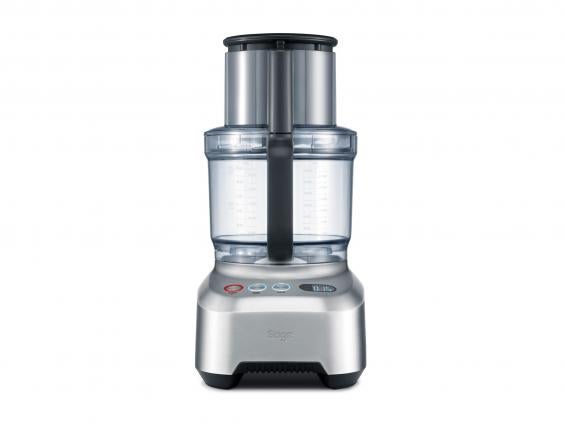 This fancy machine promises you the world and actually, it pretty much delivers it – in the culinary sense anyway. The blending, chopping, grating and slicing functions are particularly great and the extra-wide food chute comes in handy, as does the fact that the parts and bowl are dishwasher-friendly. But it weighs a tonne and is ever so slightly less fast and comprehensive than the Magimix and KitchenAid.
5. Vonshef 2.5L Food Processor: £35, Amazon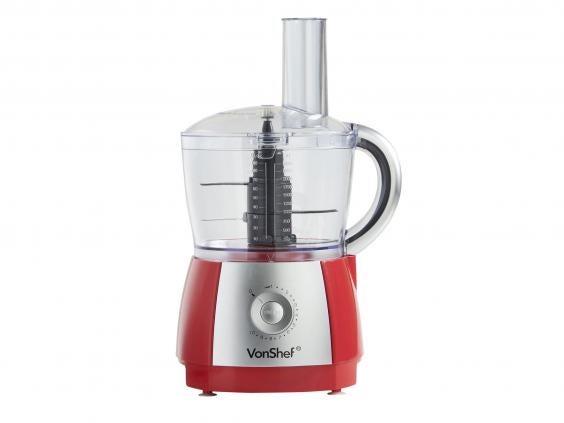 We love this little 10-speed machine, whose force is so mighty that you feel there's nothing it couldn't blitz through, even on the middle settings. Our tests in chopping, mixing, slicing and shredding all produced top results, although it can take the patience of a saint to lock the bowl and lid into place correctly and the quality of the plastic isn't the best – but it's as you'd expect as such a low price.
6. KitchenAid Artisan 4L Food Processor: £350, John Lewis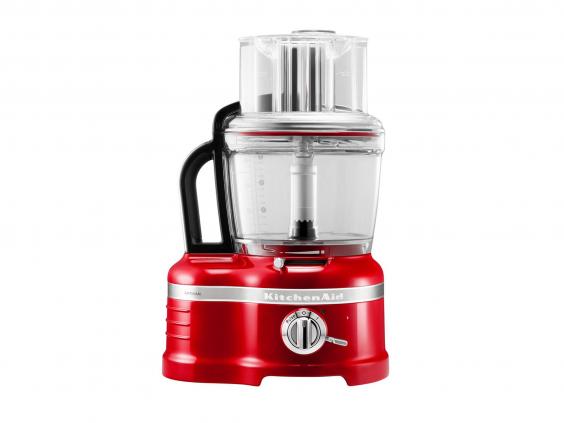 The daddy of all food processors, this is as good as having your personal sous chef. Blending, mincing, mashing, dicing, kneading and grating are just a few of the tasks this large capacity machine embraces with ease and finesse. We particularly love the ability to change the slicing thickness and the different-sized feeding tubes. Faults? Well, none really, except for the eye watering price-tag.
7. Cuisinart Easy Prep Pro: £125, John Lewis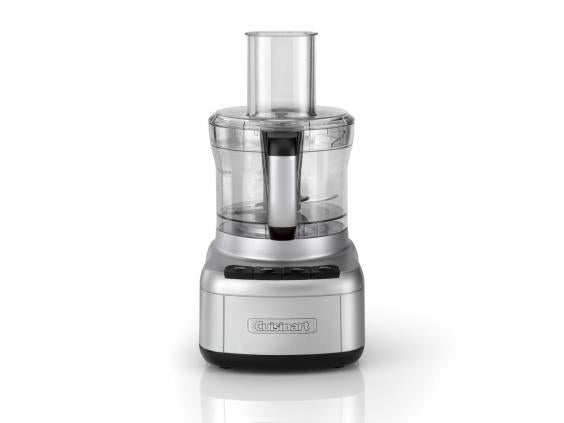 A great worktop companion for smaller kitchens, this machine takes up no more room than a mini processor, but is surprisingly powerful and quiet. It's a star when it comes to everyday chopping, puréeing and blending, but slicing and grating are not its forte and it doesn't whisk or whip. Nor is it the fastest, but it's lightweight, if you do need to store it away.
8. Kenwood FPM250: £69, John Lewis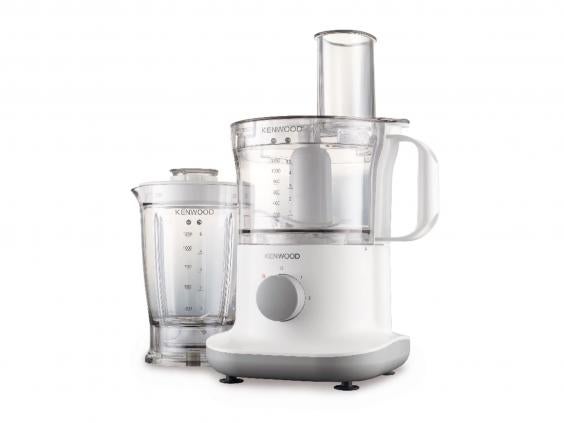 Another strong contender for bijou kitchens, this is a simple, cheap and small model with two speed settings. It does a grand job at chopping, mixing, kneading, grating, slicing and blending, but whisking and whipping is poor and you can't store the attachments away. For Mary Berry wannabes, for whom whisking and whipping is a must, consider its big sister, the FPM250, which also looks more swish.
9. Magimix 5200XL: from £282, Amazon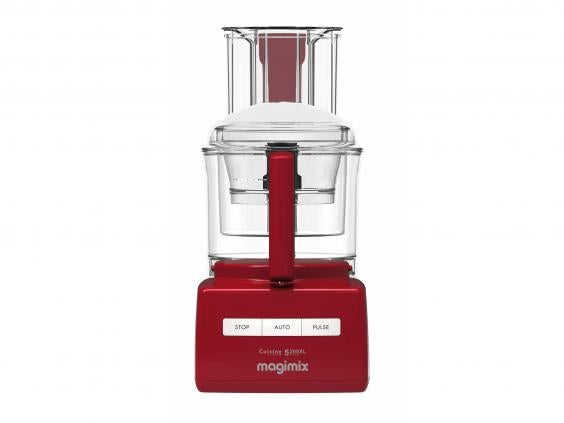 Jamie Oliver uses the word Magimix synonymously with the term food processor – a reminder that this brand was responsible for the UK's first ever models. This one has been made with keen cooks in mind, working quickly and quietly through large quantities and excelling at every task, thanks to the 13 accessories (including three different-size bowls, an egg whisk and a citrus press). It's ridiculously heavy, though, and it would be even better if it had variable speeds.
The Verdict: Food processors
We can't quite believe the Bosch MCM3501 comes in at the price it d oes, given the quality and versatility. But if you want something even more comprehensive and upmarket, both the KitchenAid Artisan 4L Food Processor and Magimix 5200XL are an absolute dream to work with if you have cash to splash. (If you prefer glass and want slightly bigger capacity, go for KitchenAid; while the Magimix is slightly quieter and feels just a bit more powerful). The Sage Kitchen Whizz Pro certainly lives up to its name if you can't stretch to over £300. Meanwhile, at the budget end, it's the Kenwood FPM250 that gets the biggest thumbs up from us.
IndyBest product reviews are unbiased, independent advice you can trust. On some occasions, we earn revenue if you click the links and buy the products, but we never allow this to bias our coverage. The reviews are compiled through a mix of expert opinion and real-world testing
Reuse content