It's not just looks that matter when it comes to buying a new kettle. First off, you need to decide which type to get – electric or stovetop. Speed is significant too, with boiling times differing by up to two minutes between the fastest and the slowest. Besides meaning you have a longer wait for your cuppa, you'll use more energy with the slower electric kettles.
Noise may be important to you too – if it is, look out for models such as the Dualit Classic, which are approved by Quiet Mark. Then there's capacity to consider, which usually ranges between 1.5 and 1.7 litres, although you can get smaller ones such as the Sage Compact Kettle. 
Is the kettle easy to fill? Is the viewing window easy to see? Does the handle have good grip? What about energy efficiency? Is there a removable filter which collects limescale? And is the kettle easy to look after? Finally, do you want different temperature options for brewing different types of tea and coffee? Once you've figured out exactly what you want, here are the kettles that will fulfil your requirements.
1. Bosch TWK8631GB Styline Kettle: £59.99, Argos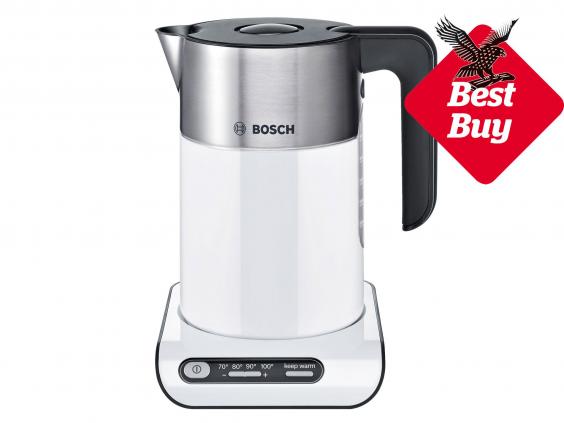 This isn't the newest Bosch kettle available, but we reckon it's the best. Available in black or white, it's got four settings from 70-100°C and will keep the water at that temperature for 30 minutes, making it a great option for anyone who enjoys green and white teas, black and oolong teas or herbal infusions and coffee - all of which have variable optimum temperatures. It's easy to fill and has one of the best limescale filters we've seen. But it is noisy and the loud beep that tells you it has boiled can't be turned off. 
2. Wesco Classic Stainless Steel Stovetop Kettle: £74.99, Lakeland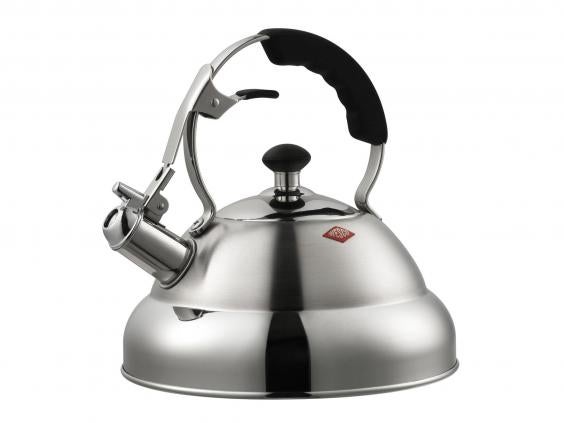 If you're a traditionalist who prefers a stovetop kettle with whistling spout, this will make a handsome addition to your kitchen. Made by the German company Wesco, which has been going for more than 150 years, it's well-built and the wide base means it's quick to boil. It's also got a really comfortable and cool-to-touch handle, and it can be used on all hob types, including induction. But it is rather expensive.
3. Russell Hobbs Textures Plastic Kettle 21270: £19.99, Amazon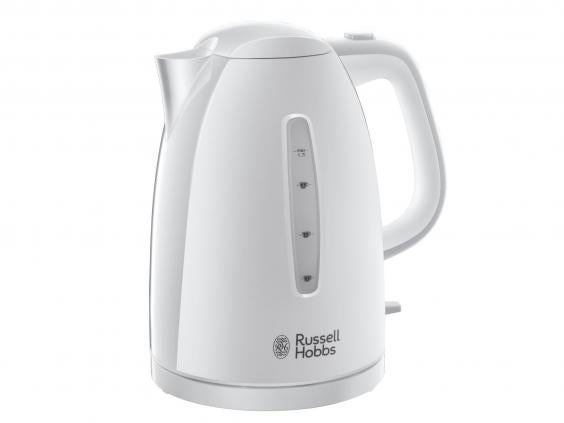 If ever there was proof that the most basic looking kettle can hide a treasure chest of nifty features, this is it. It's affordable, speedy, lightweight (great for older folk with weak wrists), quiet, easy to fill and it can boil just one cup of water if that's all you want. On the downside, the filter of this kettle – which is available in black or white – isn't up to much, so you might get some limescale in your tea if you live in a hard water area. 
4. Dualit Classic Copper Kettle: £145.99, Lakeland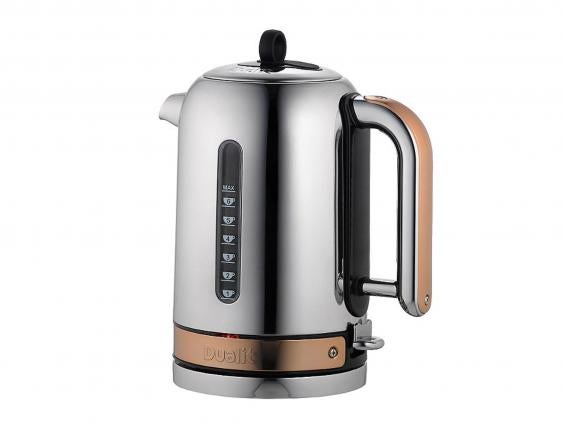 Not only is this the speediest and quietest of all the kettles we tried (with Quiet Mark approval), but it looks smart. The premium price tag also gets you a unique replacement element, which means your kettle should last you years longer than most, and you can boil a small cup of water, which makes it eco-friendly. It has a lovely pouring action, but it's not the easiest to keep clean and the filter means you can get flakes of limescale in your tea in hard water areas. Available with or without the added copper effect.
5. Kenwood Persona Glass Kettle ZJG800CL: £89.99, Lakeland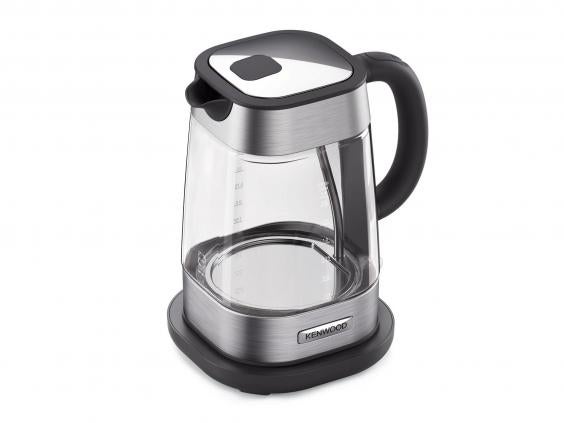 Glass kettles are all the rage at the moment, but many of them start to look cloudy and grimy pretty quickly. But that's not so with this elegant-looking and extremely durable one, which boils water quickly and saves electricity. It does this by allowing you to boil a single cup at a time and by switching itself off the second it has stopped boiling. While some lids get sticky or don't open very wide, this is lovely and easy to fill, but the handle isn't as ergonomic as some.
6. Smeg KLF11 Kettle: From £109.99, John Lewis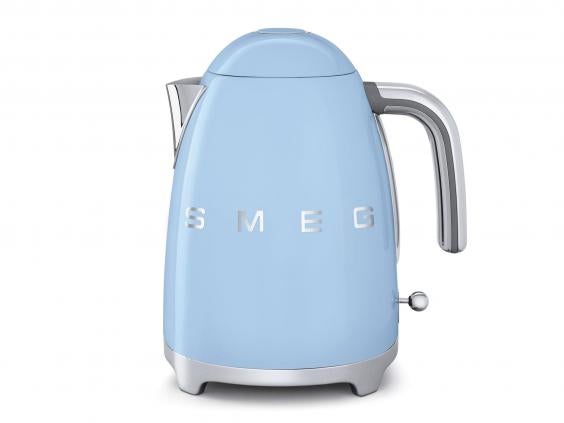 This retro-looking kettle is available in a wide range of funky colours, making it an instant win when it comes to aesthetics. Practically, it's speedy and has a great limescale filter, as well as switching itself off the moment it's boiled (many don't). But be warned, it's one of the heaviest kettles we tried and it's not that easy to see how much water is inside.
7. Breville High Gloss VKJ946 Kettle: £50, Amazon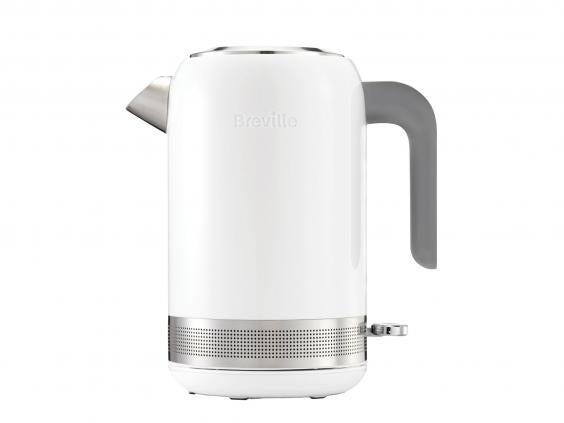 If your first waking thought is how desperate you are for your morning cuppa, then you'll love this fast-boiling kettle. And there's no need to wake the rest of the family up either as it's also one of the quietest we tested (although not quite as quiet as the Dualit). It's easy to fill and can boil a single cup, but it's tricky to gauge how much water is in the kettle and the limescale filter isn't the best.
8. Sage The Compact Kettle: £63, Lakeland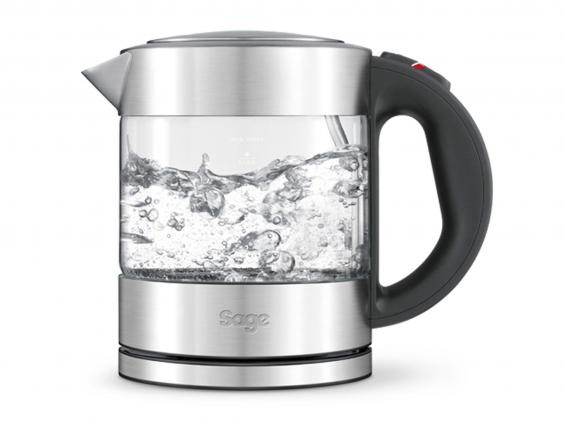 If you live alone and only want a small kettle that boils the equivalent of four cups of water (including just one at a time), this is a great option. The glass outer means you'll be in no doubt as to how much water is left in the kettle and it looks stylish too. Niggles include the shape of the handle, which isn't that comfortable to hold and it doesn't have a filter, which can lead to bits of limescale pouring out in hard water areas.
9. Kate Spade New York Spot Stovetop Kettle: £60, John Lewis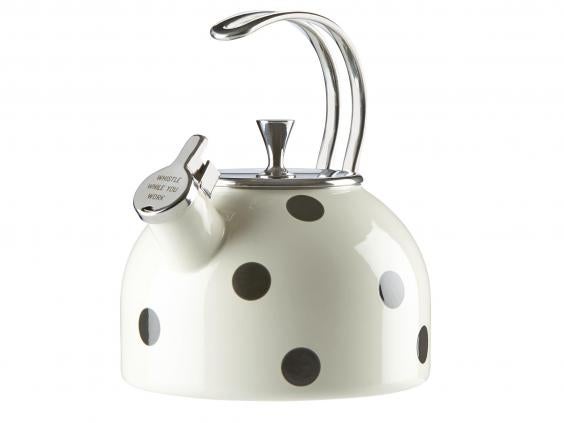 This one is another great looking stovetop kettle that works on all hobs, including induction. It comes from one of New York's favourite designers, Kate Spade, who is a relative newcomer to the world of kettles. She's made up for lost time though with this funky design that cleverly combines vintage charm with modern aesthetics. It's a doddle to fill and has a good pouring action, although it's not the fastest at boiling and be careful, the handle can get hot.
10. Russell Hobbs Illuminating Glass Cordless Kettle 21600: £54.99, Argos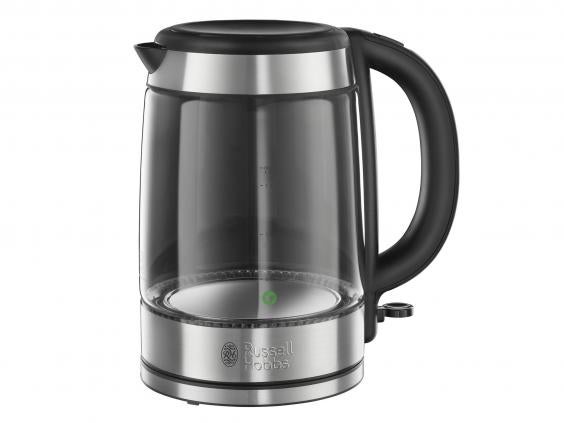 This glass kettle – which turns blue when it boils - ticks lots of boxes as it has an ergonomic handle, is lightweight and boils quickly. You can boil as little as 250ml water, which saves on electricity and water, and it's got an excellent limescale filter, so you get no nasties in your tea. The lid opens easily, which is lucky as you can't fill it from the spout if you're in a hurry. And although it's not the quietest, we've certainly heard louder.
11. DeLonghi Avvolta Kettle: £109.99, Lakeland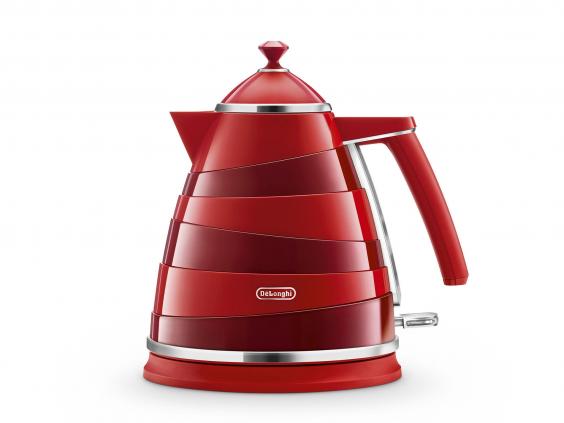 Delonghi has a long history of making chic-looking kitchen accessories, thanks to its great team of Italian designers. This one has something of a marmite effect though, so it's not for everyone, but we think it's a dazzler and performs well too. It has a good limescale filter and is quick to boil, as well as being relatively quiet. The water level isn't the easiest to see though, and the lid can get a bit sticky after a lot of use.
12. Swan Retro SK261050BLN Jug Kettle: £29, Amazon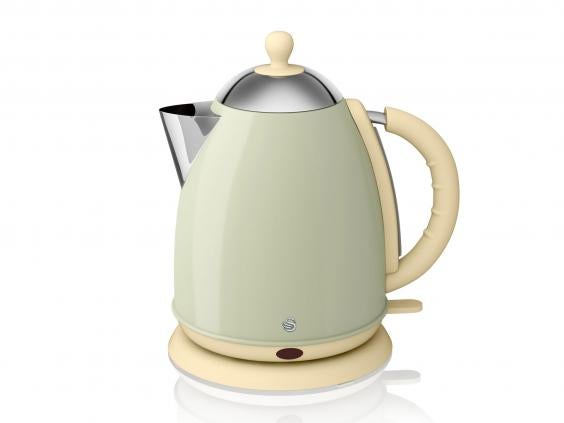 We love this contemporary looking kettle with a retro twist, which is available in five colours. It's quick to boil, easy to fill and pour, and has a particularly impressive limescale filter, as well as a 1.9-litre capacity, which means nobody misses out on the first round of cuppas. But it's easy to burn your hand on the lid if you're not careful and you can't boil less than three cups-worth of tea at one time.
The Verdict: Kettles
The Bosch Styline TWK8631GB is a fabulous kettle for anyone who wants different temperature options and it has fewer niggles than many other kettles we tried. But it's not quiet and if that's a top priority for you, our vote goes to Dualit Classic Kettle, which looks smart and is highly practical. For the best budget kettle, you won't do better than the Russell Hobbs Texture 21270. 
IndyBest product reviews are unbiased, independent advice you can trust. On some occasions, we earn revenue if you click the links and buy the products, but we never allow this to bias our coverage. The reviews are compiled through a mix of expert opinion and real-world testing
Reuse content