There's no point scrubbing away at your bike, car, driveway or garden tools in an attempt to obliterate dirt and grime when you can use a pressure washer to get the job done in a fraction of the time. Indeed, a good pressure washer blasts out water at high speed so you can clean pretty much anything outside. They use much less water than a garden hose and many come with a range of accessories for different jobs: patio brush, car wash brush, lance, turbo nozzle, jet nozzle, to name a few.
Think about what you need your machine for before you rush off to buy one. If you only want it for basics such as cleaning bicycles and outdoor furniture, there's no point in getting a top-of-the-range model. A compact, entry-level machine with a light pressure of around 100 bar will be absolutely fine. 
Mid-range machines, which usually have a pressure of around 110 bar, are better for patios, fencing, cars, guttering and exterior paintwork. And finally, premium models – which have high pressure rates of 120 bar and above and often come with lots of accessories – can tackle the most engrained dirt, as well as large areas of paving, driveways, wooden decking, stonework and 4x4s or caravans. 
Check out how heavy the machine is (especially if you'll need to move it around a lot) and how big it is (particularly if you're short on storage space). Are the hose and cord long enough? Do you want to be able to vary the water pressure? How comfortable is it to hold, especially for longer periods? Try to get a washer with generous water flow too – the average is around 400 litres per hour.
We've tested the following machines on everything from vehicles to patios to bring you the best of them, within all budget ranges.
1. Nilfisk Compact 110 Home & Car Pressure Washer, £79.99, Argos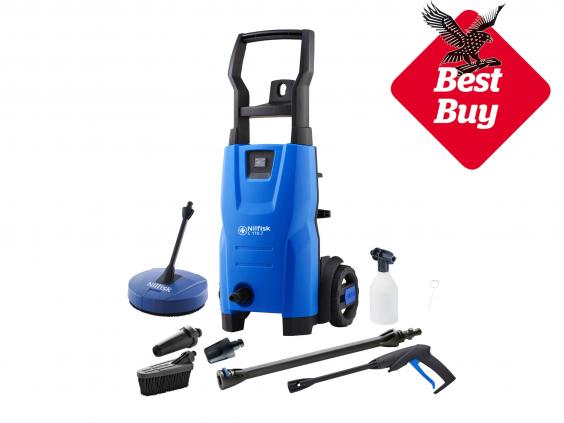 This small but powerful machine comes from one of the top names in the industry, whose pressure washers rarely disappoint. This is one of its cheaper models, yet the five cleaning accessories and three nozzles, as well as a long lead (5m), make it particularly versatile. Plus it doesn't take long to put together or get going. Especially good on windows and cars.
2. Karcher K5 Premium Full Control Plus, £449, Amazon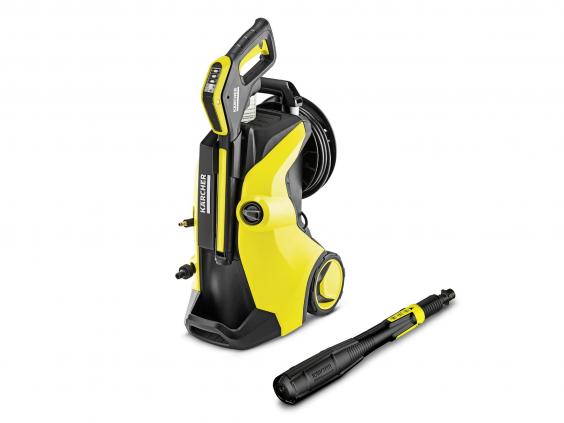 There's pretty much nothing this pressure washer can't clean up, but it still manages to be kind to delicate surfaces (provided you use the right attachments and setting – the maximum pressure is 145 bar, while the minimum is 20). Even decades-old grime across a huge patio posed no challenge. Nifty features include LED lights in the handle, which help you check the correct pressure setting has been chosen, and the astonishingly effective patio cleaner. But it's pricey, quite cumbersome and your arms ache after a while. 
3. Vax Powerwash 2500 Complete P86-P4-T, £199, AO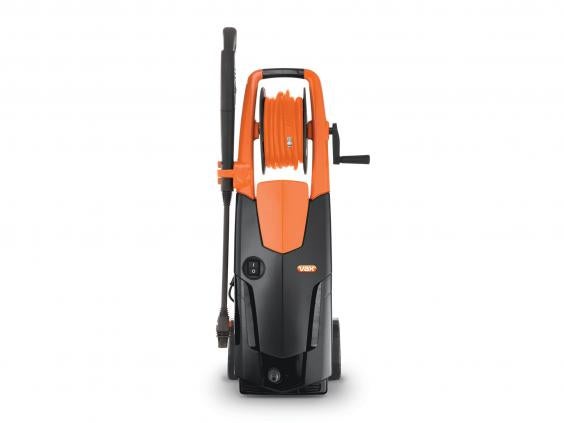 This is Vax's most powerful pressure washer and we found it makes short work of small and large tasks, leaving everything from motorcycles to driveways sparkling and clean, with no shortage of oomph (160 bar) and seven attachments, although it doesn't do it with quite the same speed as the more expensive machines in our round-up. The 10m hose will be a draw to many, although be warned that it takes time to reel it back in again after use.
4. Vonhaus Compact High Pressure Washer, £49.99, Domu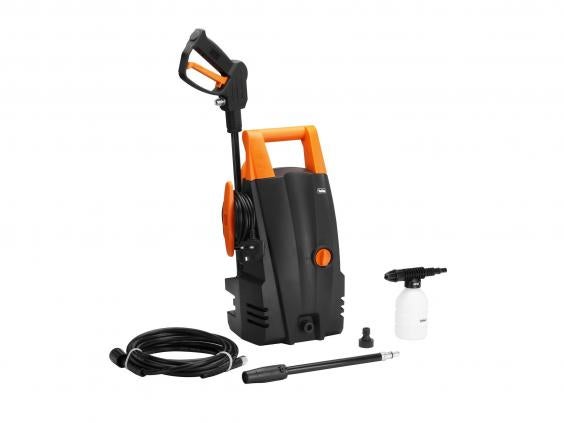 This no-frills, 105 bar pressure machine is the cheapest in our round-up and ideal for people who want something for simple jobs such as bike and car cleaning, although it stops short of getting entrenched grime out of the likes of concrete driveways. The hose and cable (both 5m) are flexible – good for reaching tight spots. It's compact, too, making it easy to store. The instructions could be clearer and the nozzle adjustment less fiddly, but neither are deal breakers.
5. Titan TTB669PRW Pressure Washer, £74.99, Screwfix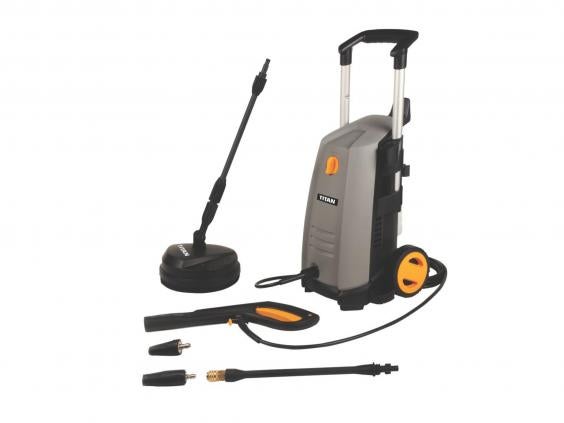 This felt as well-built and powerful (130 bar) as some others we tested for twice the price and the patio attachment and long hose came in useful, although the hose is a bit on the flimsy side. It takes just minutes to put together and the interchangeable nozzles and attachments are quick and easy to fix on and remove. Best for smaller jobs and cleaning patios. 
6. Nilfisk Powergrip D-PG 140.4-9 XTRA 140 Bar Pressure Washer, £259.99, Machine Mart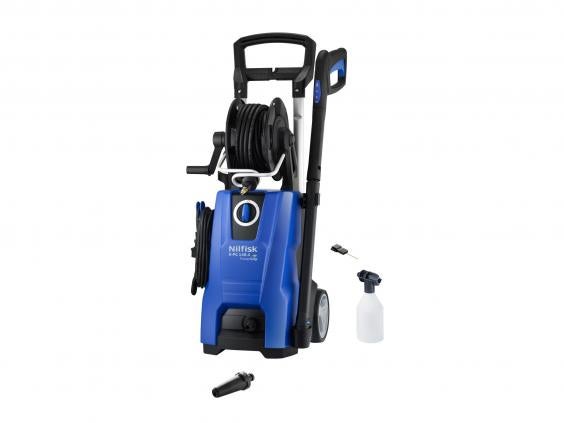 If you've got a sizeable driveway or patio prone to picking up dirt or a big vehicle to keep clean – but you don't want to stretch to over £300 – then this 140-bar pressure washer is for you. The additional accessories mean it's also a boon for smaller jobs and the wireless technology means all the control is in your hand – in the trigger gun – saving you having to go back to the machine to adjust the pressure, which in turn helps save water and energy. It's easy to store and move around too. 
7. Andrew James Immacuclean Pressure Washer, £74.97, Amazon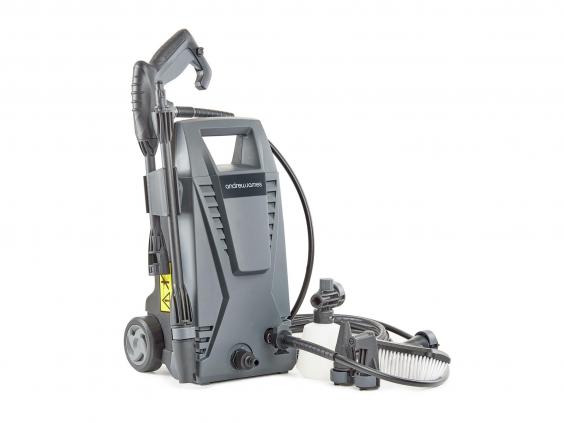 This lightweight, compact and flexible entry-level machine, with 105 bar pressure, comes from a family-owned company that has built up an excellent reputation both in terms of affordability and customer service. It also stands out for its impressive array of extra adaptors that you can swap over easily and quickly for jobs such as cars and garden tools. We also liked the long 6m hose and the adjustable nozzle, with four different types of sprays. But it's quite loud.
8. Karcher K2 Full Control, £99.99, Amazon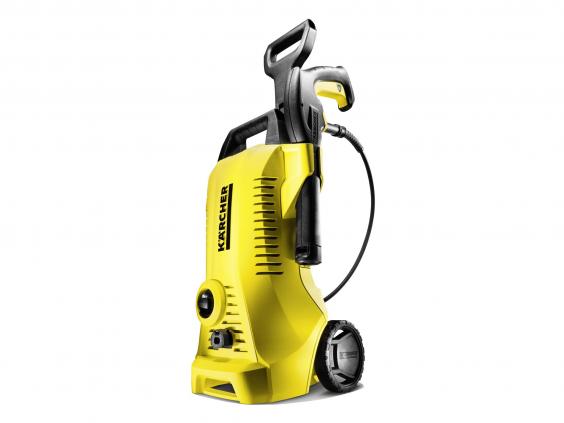 Launched this year, this machine gets everything from bikes to garden furniture – as well as patios and decking – looking like new in no time, plus it also gets brownie points from us for the efficient detergent suction tube. It feels robust without being heavy and it gives you plenty of control over the power of the spray. At 4m, the hose could be longer, though.
9. Stihl RE129 Plus Pressure Washer, £316, Just Lawnmowers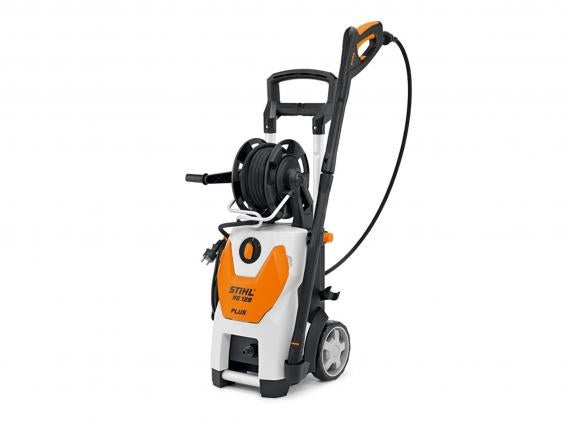 This extremely well-engineered, semi-professional and robust machine – with 135 bar pressure – is just the ticket for heavy-duty cleaning jobs such as removing entrenched algae from driveways, and it won't damage delicate surfaces thanks to the variable spray fan-jet nozzle. It's also easy to store due to the telescopic handle that reduces in height. We like the fact that you can control the pressure from the gun itself. But it is heavy and loud.
10. MacAllister 1300W Pressure Washer, £48, B&Q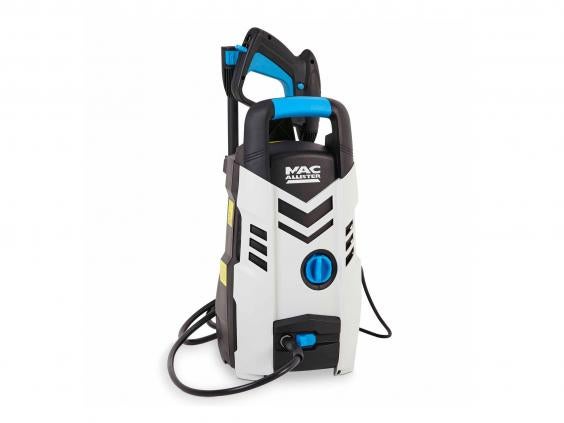 No need to irritate the neighbours with this compact and lightweight machine, as it's quieter than most others we tested. It's got 100 bar pressure, is easy to manoeuvre and does a decent job of cleaning paving, decking, cars and suchlike, although stubborn weeds, moss and decking grime may pose a challenge as it doesn't have variable power options.
The Verdict: Pressure washers 
Anyone with a good knowledge of the world of pressure washers will nod enthusiastically when you mention the Nilfisk brand and we were impressed with its Compact 110 model. For something more comprehensive, the Stihl RE129 Plus is a fabulous investment, while the Karcher K5 Premium Full Control Plus is a dream-come-true for those who need to remove more entrenched grime from larger areas on a regular basis.
IndyBest product reviews are unbiased, independent advice you can trust. On some occasions, we earn revenue if you click the links and buy the products, but we never allow this to bias our coverage. The reviews are compiled through a mix of expert opinion and real-world testing
Reuse content