The freedom that comes from cutting the cord on a vacuum cleaner is tremendous – you can reach higher, lower and around the corner without a cable holding you back. Cordless vacuums tend to be smaller and lighter and they're easier to get out to sort a quick spill, though bigger cordless machines can be almost as powerful as a corded cleaner. 
But with cordless, the battery is key. It limits the length of use, especially if you opt for full power. Smaller cordless machines, referred to as handhelds, are designed for quicker jobs when you don't need a full-size vacuum cleaner and run for shorter times, often as little as 10 minutes. 
1. AEG CX7 LI-45 Animal: £200, John Lewis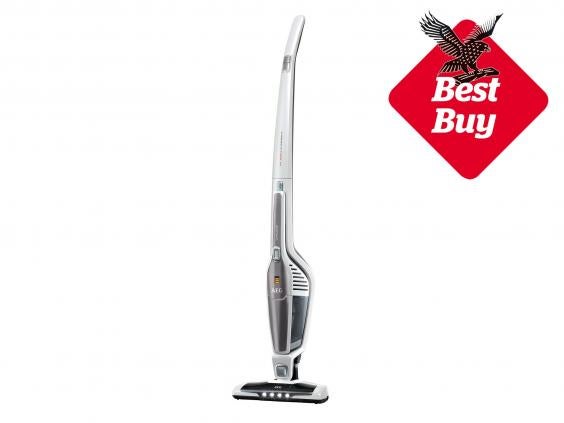 Can't decide between handheld or full-sized? Now you don't have to. This has a removable unit that pops out of the main stick for those smaller jobs. LED lights on the main unit shine on dust lurking in shadows under the wardrobe, say. And there's an excellent hair and dirt removal system on the motorised brush roll – you just press a pedal to untangle caught fibres. There's also a specific nozzle on the main unit for picking up pet hair. This vacuum runs for 45 minutes between charges. It even stands upright on its own.
2.52kg (weight), 0.5L (capacity)
2. Dyson V8 Absolute: £460, Amazon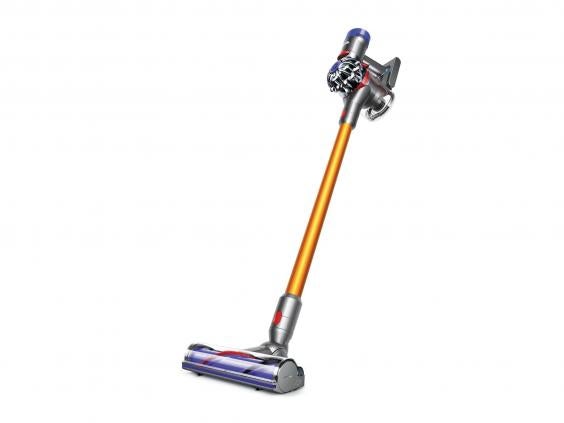 This latest Dyson has a run time that's twice that of its predecessor – it can last for up to 40 minutes, more than most rivals manage. The dirt pick-up on the V8 is highly impressive and it's light and easy to manoeuvre. It comes with a full-length wand so you don't have to bend down – or reach too high – and an additional cleaner head for hard floors is included. It also has a maximum power mode which lasts for a shorter period (seven minutes) between charges. An improved bin-emptying system means every bit of dust is squeezed out effortlessly.
2.61kg, 0.54L
3. Dyson V6 Top Dog: £170, John Lewis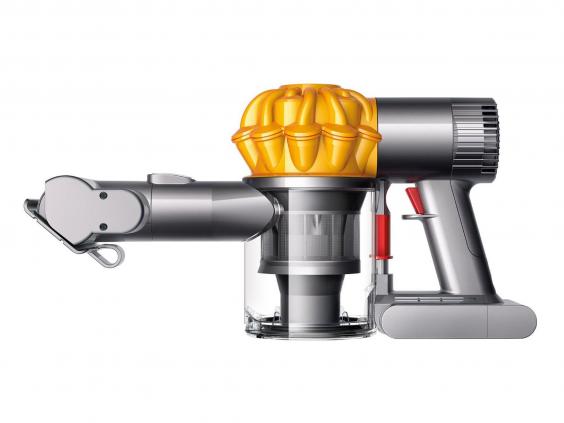 Dyson calls this a handheld, as although it's cordless, it's designed for smaller tasks. It is capable of cleaning all around the home but lacks the full-length wand of the V8 above. It also runs for a shorter time (20 minutes) and shorter still on max mode. Highly powerful and satisfying to use, the V6 comes in four different versions including one for car and boat cleaning and one with a motorised tool especially designed to clean your mattress, capturing allergens as it goes. The range of V6 cleaners is consistently good.  
2.04kg, 0.4L
4. Black & Decker WDB215WA Dustbuster: £45, Amazon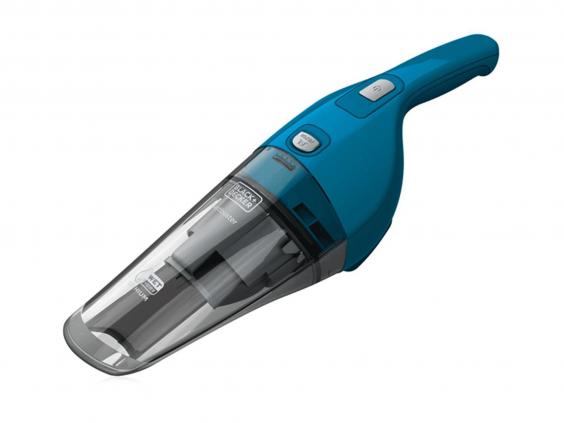 The Dustbuster handheld is reasonably light (1.9kg) and has a large nozzle to pick up bigger debris – everything from broken glass to pet food. The bin capacity is smaller than many but it's easy to empty thanks to a quick-release system and the dirt bowl and filters are washable. It's wet-and-dry capable thanks to a squeegee accessory, and there's a soft brush for upholstery. Simple to use and great value.
1.9kg, 0.37L
5. Vax U85-ACLG-B Air Cordless Lift Duo: £140, Amazon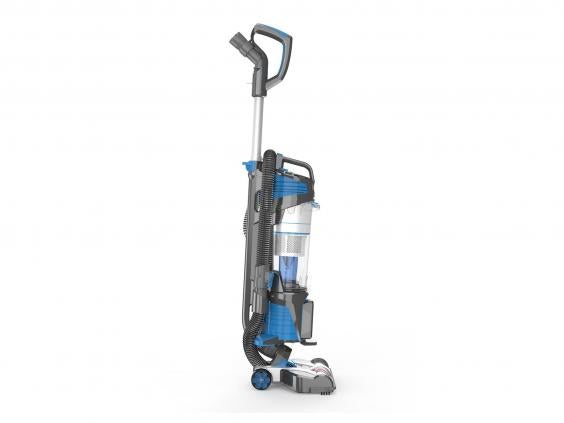 This is a full-sized machine which runs for a total of 60 minutes – much longer than other models here. It also has a larger bin capacity than most cordless cleaners. The cylinder detaches from the main unit so it's easy to lift it up and reach to clean higher. Note that there are two batteries, each running for half an hour and each needs three hours to recharge.
5.5kg, 1L
6. Hoover SJ72WWB6 Jive: £30, Amazon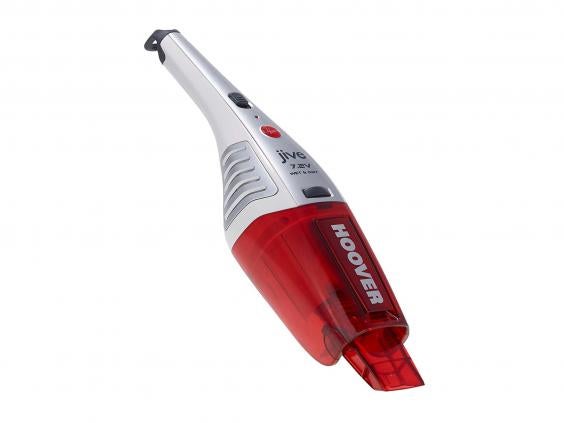 Hoover's jauntily named and brightly coloured Jive has a crevice tool that flips out to handle debris in awkward places. A squeegee tool handles wet mess. This handheld is small and light (it weighs less than 1kg) but the flip side to that is the capacity is small and run time limited to 10 minutes.
0.9kg, 0.3L
7. AEG AG5104WD Rapido: £49, Amazon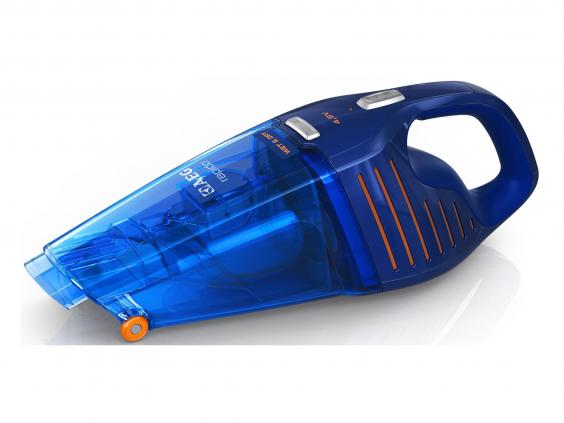 The Rapido series from AEG is strong on details – like the little wheels at the front to slide across the surface without sucking the fibres out of the carpet. It's also designed to handle wet spills as well as dry thanks to a built-in rubber blade. The ergonomically shaped handle makes it easy to use and there's a charging stand which can be wall-mounted. Runs for 10 minutes between charges.
1.28kg, 0.5L
8. Bosch Athlet BCH6RE8KGB: £230, John Lewis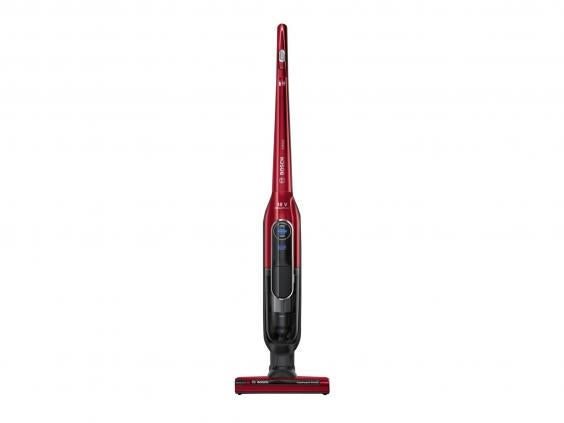 Like the Dyson V8, this cleaner has extended run time, up to 40 minutes between charges. Note that the recharge time is also long – six hours to reach 100 per cent charge. The Bosch is designed to have suction at the sides as well as the front, to ensure you get cleaning results at the edges of rooms, too. The motorised brush offers strong performance.
3.3kg, 0.9L
9. Vorwerk Kobold VC100: £129, Vorwerk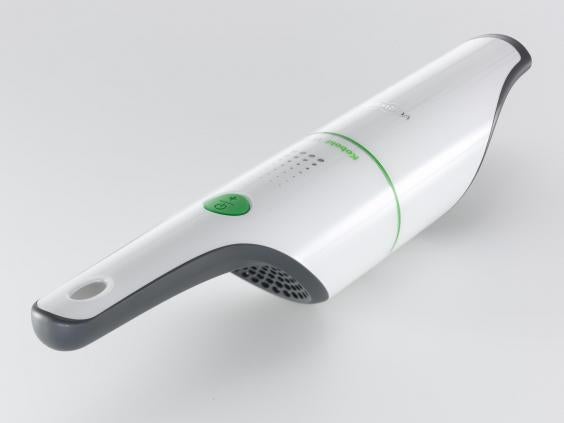 The futuristic-looking Kobold is light and ergonomically well-balanced. Its size and weight means the dust canister is the smallest on test (0.2 litres). It runs for around 20 minutes, though chances are you may have filled it by then. There are no extra tools so getting into tiny corners isn't as easy as most rivals. But it works very well on smaller tasks especially. 
750g, 0.2L
10. Hoover 14.4v Capsule CA144BU2: £50, Amazon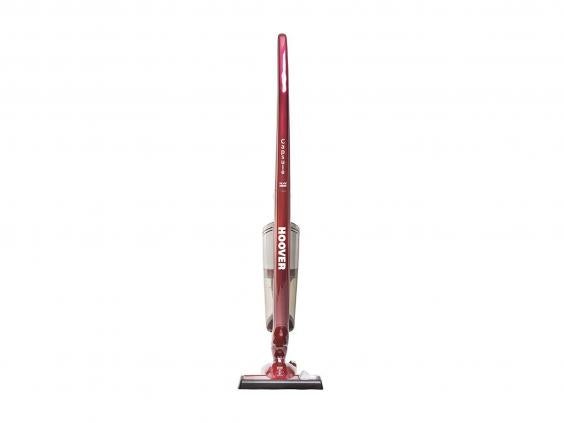 Like the AEG CX7 above, the Capsule 14.4v is a full-sized stick vacuum with a removable handheld which pops off the back, ideal for cleaning the stairs, for instance. It has a more powerful motor than many handhelds and is easy to manoeuvre. It runs for 20 minutes between charges and it has the biggest capacity on test apart from the Vax U85.
2.6kg, 0.7L
The Verdict: Cordless vacuum cleaners
The Dyson V8 Absolute and Dyson V6 Top Dog offer the best design, cleaning performance and usability, but come at a price. Still, the AEG CX7 LI-45 Animal is versatile with its removable handheld built in to a bigger machine. The Vax U85-ACLG-B Air Cordless Lift Duo has bigger bin capacity and outstanding run time if you don't mind changing batteries half way. Also, the wet-and-dry AEG AG5104WD Rapido is worth a look, though the capacity is smaller than some here.
IndyBest product reviews are unbiased, independent advice you can trust. On some occasions, we earn revenue if you click the links and buy the products, but we never allow this to bias our coverage. The reviews are compiled through a mix of expert opinion and real-world testing
Reuse content