If there's one mode of transport kids seem to love, it's scooting. Whether it's a three wheeler or two wheeler, and whether it's a recreational scooter, stunt scooter or folding scooter, the fact is you'll be hard pushed to find a child of any age who doesn't enjoy one type or another.
No wonder there's such a big market for scooters out there. So we've created a guide that will help you find the sturdiest, safest and most fun scooter for your child's needs, whether it's getting to school or hanging out at the local skate park. We've got all ages covered, from the Vtech 3 in 1 Zebra Scooter for tiny tots right up to the District Colourline V4 Series Custom Scooter, which is aimed at kids aged 12 plus.
1. MGV VX4 Team Complete, £120, amazon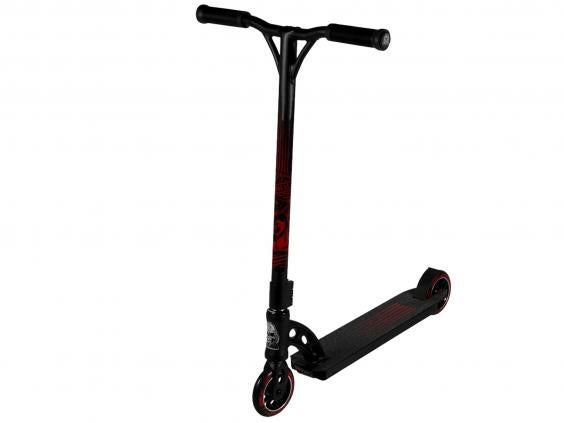 The well-made, durable and fixed frame VX4 is this year's model of the 2013 bestselling VX3. It's massively popular with older children aged eight and over, who are getting their first taste of skate parks and wanting to learn tricks and ride ramps. No amount of aggressive riding seems to be too much for it to handle.
2. Vtech 3 in 1 Zebra, £38, amazon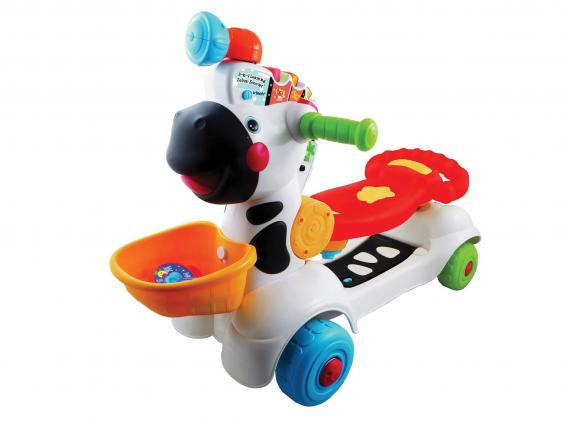 There's no need for tiny ones to miss out on scooting fun. Indeed, with this machine, which is so much more than a scooter, they can push, sit and ride, as well as scoot, around on it, while also learning about colours, animals and habitats. There are encouraging phrases, as well as lots of other noises and flashing lights. 
3. Grit Tremor, £127, amazon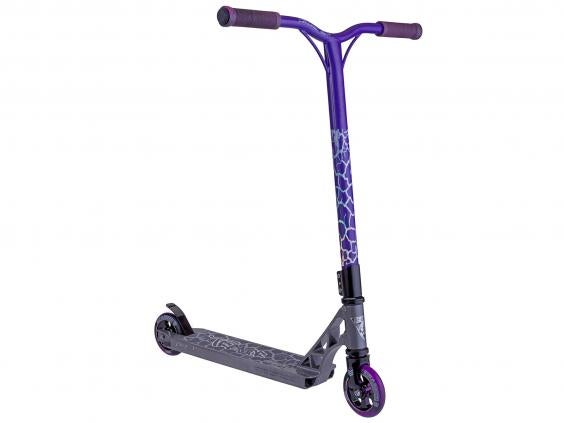 Intended for the more serious scooter rider, aged eight and over, this is ready to go straight out of the box. Available in a wide range of colours, it is good value for money and it boasts a reliable and sold compression system, along with excellent bar design. In fact, the attention to detail is hard to beat and it looks the part too.
4. Mini Micro T-Bar, £60, amazon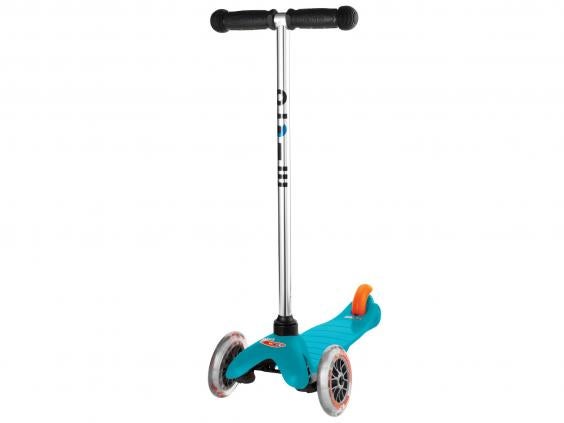 Most parents are familiar with the ubiquitous colourful Micro Scooters that you see everywhere from the school run to local parks. Their phenomenal success comes down to the stability and ease of use that benefits even young toddlers, giving them confidence and independence. They are also great value, portable, stylish and light.
5. Ozbozz Nebulus VaVa Voom, £18, amazon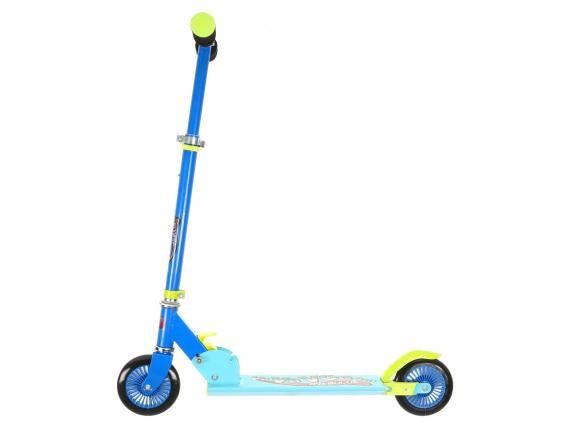 No, you didn't read the price wrong and no, it's not a pile of rubbish. In fact, this is Halfords' best-selling scooter because it's easy to fold away, has a good rear brake and handlebars that are easy to adjust and click into place. Aimed at children aged five and over, it has a striking blue and lime coloured frame and best of all, it's amazing value for money.
6. District Colourline V4 Series Custom, £100, skatehut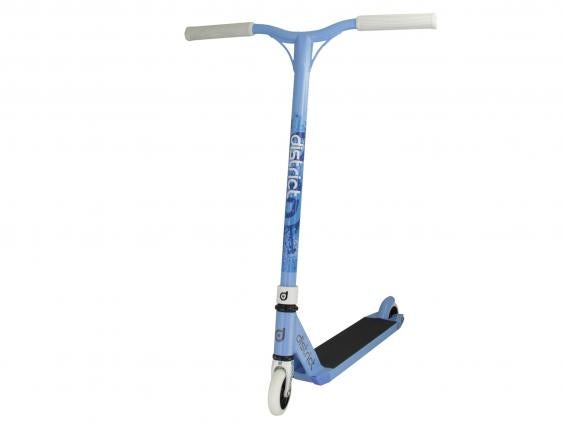 Experienced older riders aged 12 and over who are after an optimum performance scooter need look no further. This is durable and strong, yet surprisingly lightweight and it can withstand some really serious skatepark use. Pricey it is, but it's made using top-notch components, making it easily the best in this age range.
7. JD Bug Pro Street V3.0, £50, Amazon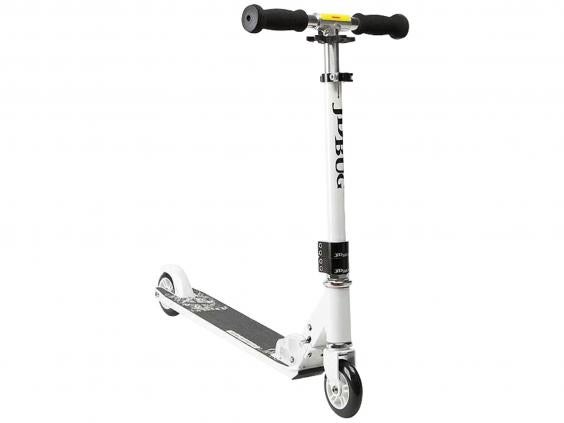 This entry level folding scooter, with adjustable handlebars, is one of the lightest recreational scooters around, but it's also one of the most stable and robust. In fact, it's recognised as the safest folding aluminium scooter in the UK. It's aimed at kids four and over, although you often see three-year-olds using it too.
8. JD Bug Pro Stunt Zombie, £50, toyrus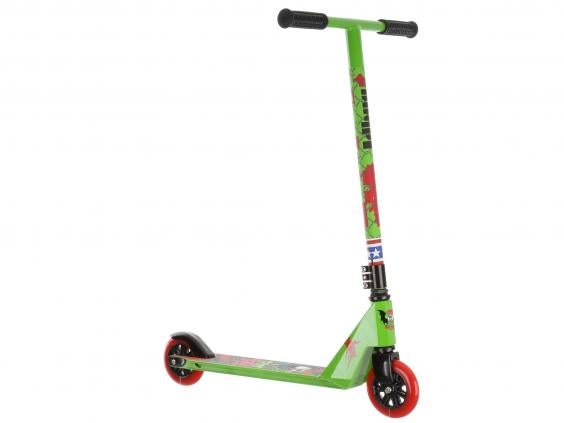 With aircraft grade aluminium design, alloy triple clamp and steel fork and head tube, this is ideal for kids to try out their stunts and tricks. Officially, it's aimed at children aged eight and over, but in truth it's popular with six and seven year-olds too. Yes, there are cheaper alternatives, but none so cool and high spec.
9. Micro Sprite, £90, micro-scooters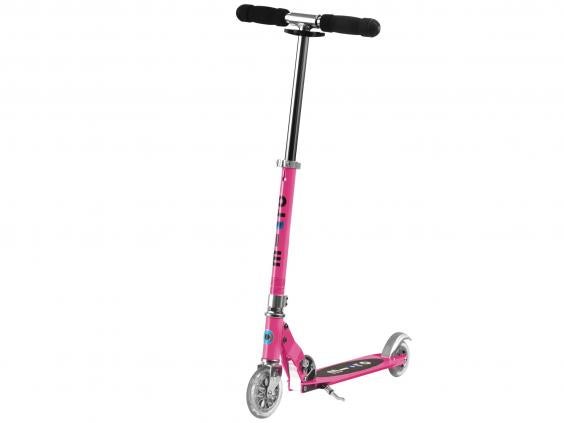 Micro scooters are best known for their three wheelers, but they've done a great job with this robust, easy-folding scooter for children aged five plus who are looking to move up to a two-wheeler. It will see them through to about 12-years-old and it steers like a bike, with 360 degree turning.
10. Radio Flyer My First Scooter, £45, amazon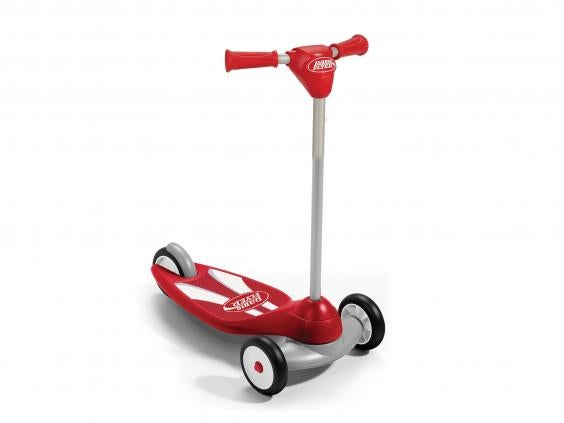 This bright red foldable scooter from the iconic American brand is a great introductory scooter for littluns on the move. It's sturdy and compact and specially designed to reduce the chance of wobbles, thanks to the three wheels. The base has a tapered end at the rear, leaving a nice clear kick path. 
Verdict:
For beginners, it's hard to beat the Mini Micro T-Bar, which has recently launched some fantastic new colours to its already wide range. And for youngsters who are getting their first taste of skate parks, the MGV VX4 Team Complete is a brilliant buy. Not only will it stand the test of time, but it seems to be able to put up with any amount of aggressive riding.
IndyBest product reviews are unbiased, independent advice you can trust. On some occasions, we earn revenue if you click the links and buy the products, but we never allow this to bias our coverage. The reviews are compiled through a mix of expert opinion and real-world testing