So summer is nearly here, and that means warmer weather to go family camping.  If you've never been camping before – or if it's a long time since you were under canvas – then the choice and range will surprise you. Gone are the tents of old, replaced by sturdy modern designs which are bright, airy and spacious. And if you opt for the inflatable variety, a large five-person family tent can be ready within 20 minutes.
Instead of using poles, inflatables use air pumped in through a valve to give the tent strength and rigidity. The benefit is it takes a lot less time to pitch an inflatable than a pole variety – but they tend to be quite a bit more expensive.
When considering size, bear in mind that the number of people a tent claims to house and the reality might be different when you have the whole family plus belongings in the mix. If you can, it's a good idea to see the tent up in a shop to get a gauge of the actual space. Or if you're buying online, look closely at the measurements of the sleeping and living quarters. 
Another important factor when looking for a tent is the hydrostatic head rating. This is a measure of how much water in millimetres the material of the tent can resist before it starts to leak through. Obviously the higher the number here, the better – but of course, a hydrostatic head increases the price of the tent quite markedly. For most family camping, a rating of between 3000 – 4000mm would be fine.  Above that, you'd be equipped for the worst the British weather could throw at you. Below that and you should pick mainly fair weather days to go on your trip.
The tents on the list were selected as a good cross section of the models on the market this summer, and were tested by doing what they are designed for – family camping.  So, we pitched the tents as per the instructions (while the kids kept an eye on the time), then we lived in them for a few days to thoroughly give them the once over.
1. Vango Airbeam Inspire 600: £750, amazon
Vango was the first company to bring inflatable tents into the mainstream market with its AirBeam range and they're impressive, keenly priced models. This spacious six-man has been given an update for 2016. The sturdy air chambers are now a larger diameter, which improves the stability, and the flysheet fabric more durable. At 7.5m x 4.5m, six sleep comfortably in the bedrooms, which can be used in various combinations and folded away for flexibility. The living area is large, too, and the covered entrance to stop rain from dripping in is a welcome addition, as is the darker fabric used that reduces the amount of early morning light. There's a fully sewn-in groundsheet to stop draughts and bugs and a hydrostatic head of 6000mm means it should be able to stand up against whatever the British summer throws at you. It's quick to pitch, too – we got it up in 20 minutes.  
2. Regatta Vanern 4 Tent: £170, amazon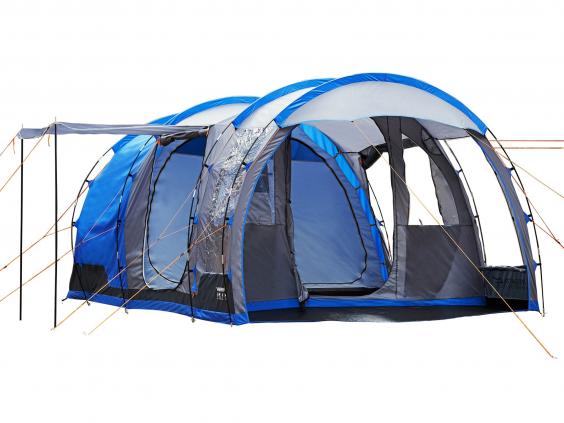 Regatta is a relative newcomer to tents, but we're impressed by its range. The Vanern (available as a four or six-man) is a tunnel tent so there's no crossing of poles to contend with when you're getting it up. The large bedroom has a removable divider, allowing for some privacy between parents and children.  The living area is spacious and the side doors, which convert into canopies, are a nice touch. The 5000mm hydrostatic head of the fabric keeps it in line with the competition on waterproofing and we like the fact there's a sewn-in ground sheet. The whole bag – tent plus poles – is relatively light, and the colour-coded poles make it not-too-tricky to pitch (Regatta says it takes 20 minutes and we managed it in 25). 
3. Wild Country Zephyros 4 Living: £347, amazon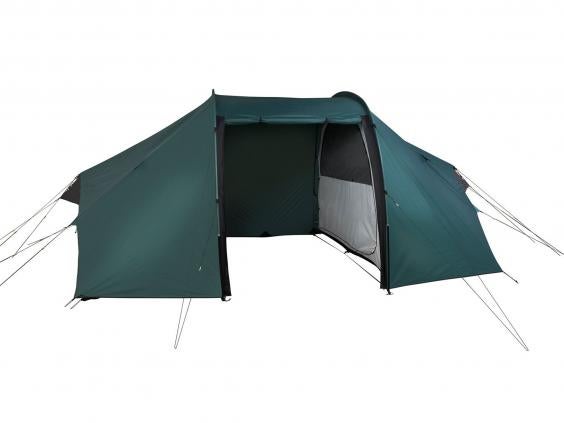 This company's heritage is in tents designed for backpacking and hiking shows. This quality, but no-frills option is designed for families who really want to embrace the true camping experience. So, there isn't a sewn-in ground sheet, for example, but a sheet toggled between the two bedrooms that face each other with a central living area. It is very light – 7.1kg – so it's one you can carry if you're heading to a more remote location. Pitching is easy and takes only marginally longer than the 15 minutes Wild Country states. It's tall, airy and you feel safe and away from the elements – the hydrostatic head of 4000mm gives you peace of mind.  
4. Freedom Trail Sendero 4: £99, Go Outdoors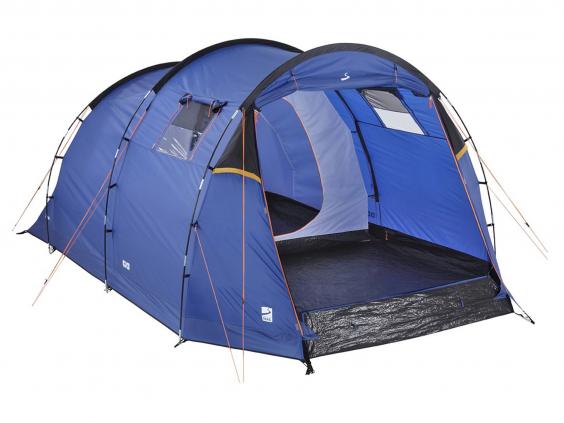 If you're camping on a budget, and the forecast is decent, this from Go Outdoors' entry-level range is ideal. Freedom Trail has pulled off a clever trick in just pairing things back, rather than getting rid of features. So, instead of four or five windows, there's two; instead of 4000mm hyrdostatic head, it's 2000mm. But, it still has luminous guy ropes and a sewn-in ground sheet. It's light at just over 10kg, and pitches easily – around 25 minutes. There's no canopy over the door and the colour of bedroom fabric is a bit bright, but there's little to complain about at this price.  
5. Hi Gear Radiance 5: £200, Go Outdoors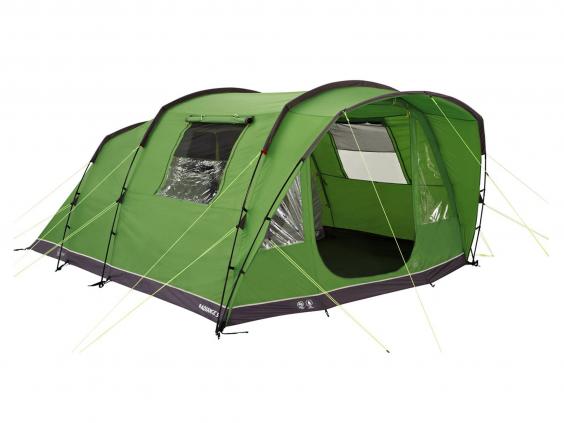 Another of Go Outdoors' exclusives, this is a tunnel-style with a little extra. It sleeps up to five people and at just under two metres, there's plenty of headroom. More than half the tent's length is taken up with the bedroom, which does leave it feeling a little cramped in the living area with five bodies in there. That said, it's a good weight – under 15kg – and takes around 25 mins to pitch with easy-to-follow instructions. The sewn-in ground sheet and bright guy ropes are welcome, as is the small built-in canopy over the only door at the front. The hydrostatic head is a decent 4000mm.
6. Easy Camp Tornado 500: £336, amazon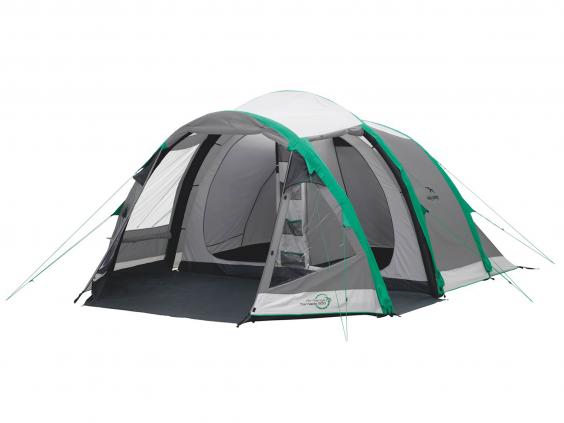 This one is impressive for the price. For starters, it's an inflatable tent, so no more struggling with poles. It has a respectable hydrostatic head of 3000mm and plenty of storage pockets. The tent pitches within 10 minutes, with three separate air tubes requiring inflating with the large pump provided. Brightly coloured guy-ropes also help to keep them visible at night. There's plenty of headroom inside and the bedroom comfortably sleeps five people, with a removable hanging divider should everyone be happy being in the same room. We'd say it's better for four than five – and sewn-in groundsheet lovers won't like it, but it's still a good buy. 
7. Airgo Cirrus 6: £750, Go Outdoors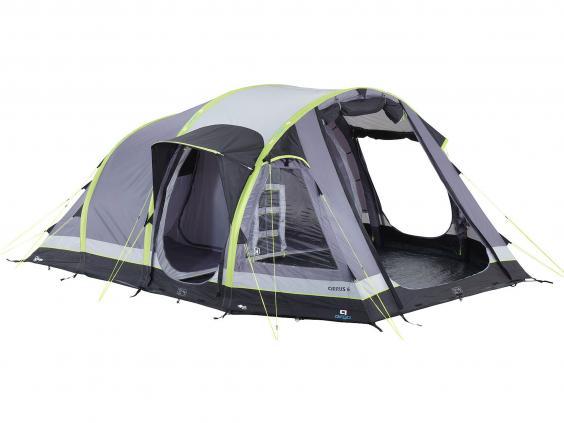 Airgo is Hi Gear's range of inflatable tents. This is at the larger end of the range – 5m x 4m – and it still has a spacey feel even when there are six people in it. The bedroom is a good size and can be configured as one big room for six, two smaller rooms for three in each or one can be unclipped and stored away giving more living space. Doors are big; there's a large front door and two side doors, including one with a rain hood that can be opened without getting rain in the tent. There's one inflation point, so there's no moving around the tent to connect the pump to different valves. The double-skinned beams are amazingly rigid when inflated and at 6000mm hydrostatic head, it will withstand the rain as well as the wind. The downside of the size and sturdiness is the weight – just under 28kg all in. The website states it inflates in 60 seconds, and it's not too far over that – although you still have the guy ropes to pitch.
8. Nigor Laughing Owl: £1070, amazon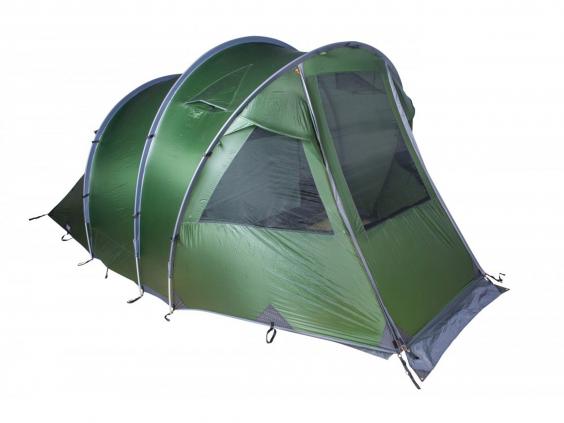 If Bear Grylls went on a family camping holiday, we imagine he'd take a Nigor. This is extremely lightweight at under 6kg and small enough to be put in a decent-sized backpack. With a hydrostatic head of 10,000mm, water isn't getting through to the inside and the tough fabrics with reinforced stress points mean it's going to remain standing in all weathers. Pitching is quick – three poles means it's a simple job done in 15 minutes. The vestibule has been designed so it can store bikes overnight, and the bedroom can easily sleep two adults and two children – but best with the smaller children on the outside of the bedroom as tall adults might find it a bit short. There are windows galore, making it seem airy – but as this is semi-extreme family camping, there's no sewn-in groundsheet.
9. Eureka Southern Valley BTC RS: £1672, amazon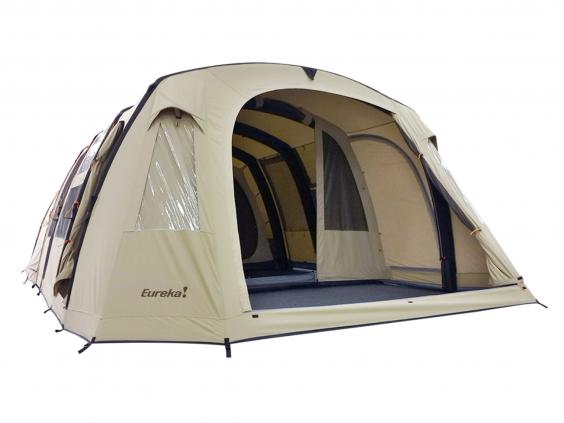 This large tent has three bedrooms in which five people can sleep comfortably. The space is made up of a large living room with windows and doors at either side, and a front-enclosed canopy area. These can be separated off to make two rooms, or pull the divider back, and there's one big space. The headroom is very generous – some 15 cm more than most tents – and it has a very airy feel thanks to the eight large windows. Pitching a traditional pole tent this size would be a challenge, but as it's an inflatable model, it's easy. A hydrostatic head of 4000mm is good and the sewn-in groundsheet in the main living room will stop beasties, with the extension having a flat footprint too. Optional extras include a fitted carpet. At 45kg this is heavy, so it's not one for the roofbox. 
10. Outwell Montana 6P: £625, amazon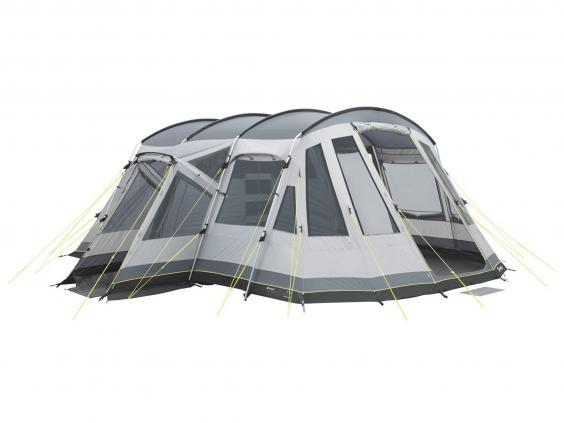 This tunnel tent design has been around for years – for good reason. It's a well thought-out, spacious tent with plenty of Outwell's signature pocket storage. You get three doors – including a porch on one side – and a bedroom you can divide into two three-berth compartments. The living space is big enough for a family and loads of camping equipment (and there are add-ons you can buy). The hydrostatic head is an impressive 6000mm and the sewn-in ground sheet keeps those bugs at bay. Pitching isn't quite as easy as the inflatable options; with four poles to assemble and thread through sleeves, it needs two people to get up.  But, with practice, it can be ready in 30 minutes. It is fairly heavy – over 30kg – but Outwell cleverly have separate bags for the tent and the poles, making it more manageable to move.  
Verdict
For those not certain camping is for them, the Freedom Trail Sendero 4 offers a great way into the life for only £100.  The Wild Country or the Nigor are fantastic if you're an adventurous family wanting to get away from it. But for us, the best buy at the moment is the Vango Airbeam Inspire 600. It's a large tent which sleeps six, but the extra room is worth it, even if you are a family of four – and because it's inflatable, the extra size doesn't mean it increases the time it takes to put up.
IndyBest product reviews are unbiased, independent advice you can trust. On some occasions, we earn revenue if you click the links and buy the products, but we never allow this to bias our coverage. The reviews are compiled through a mix of expert opinion and real-world testing
Reuse content