Children (and adults) who regularly jump on a trampoline reap a whole host of benefits, according to research – not just the obvious health benefits, but persistence, concentration, muscle control and coordination.
But how do you go about choosing the best trampoline for your needs? The first thing to consider is size. While very small ones can be good for adult fitness or toddlers, the general rule is that 6ft trampolines are ideal for young children and smaller gardens , while 10ft and above are suited to larger gardens and older children and teenagers.
You should also think about accessories. Bear in mind that the majority of accidents happen on trampolines with no enclosures and that a ladder will stop children from jumping off the trampoline, which is another major cause of trampoline accidents. If you plan to use your trampoline all year round, a weather cover and an anchor kit will protect it from the elements.
Think about longevity too, ideally opting for a trampoline with a long guarantee on the frame as these are the hardest parts to replace.
1. JumpKing JumpPOD Oval, £430, ebay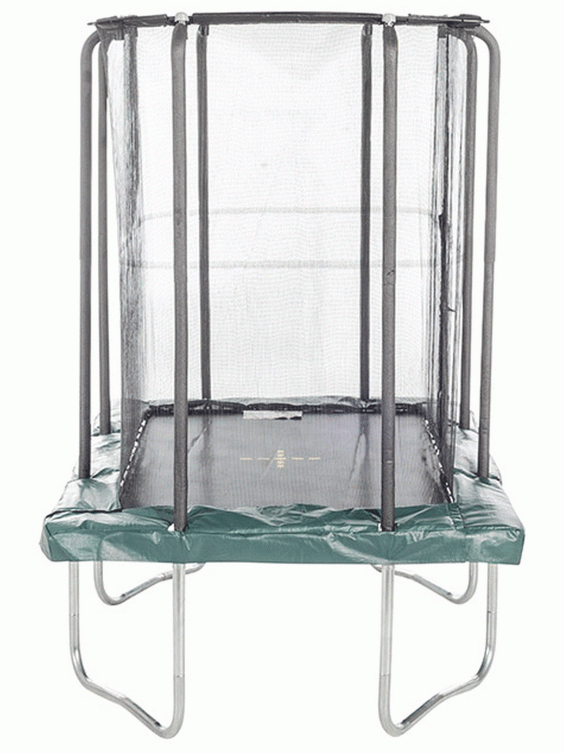 While round trampolines automatically bring you back to the middle, regardless of where you start bouncing, this oval one has three different bounce areas, as well as providing a higher user weight limit. So if you do get more than one person bounding at once, it's much safer. It's great for narrower gardens too and this one is built to last, with extremely high quality materials.
2. Plum Whirlwind Trampoline, £300, amazon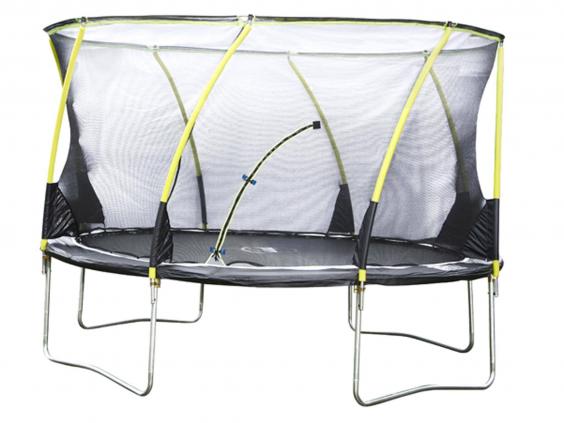 Plum produces a range of trampolines for kids of all ages to exercise energetically outside. This one includes a swirl effect enclosure with colourful green outer foam, which curves in to protect the jumper from springs, whilst maximising jumping space. The galvanised steel base ensures protection from rust and longevity.
3. Early Learning Centre Junior Trampoline, £36, elc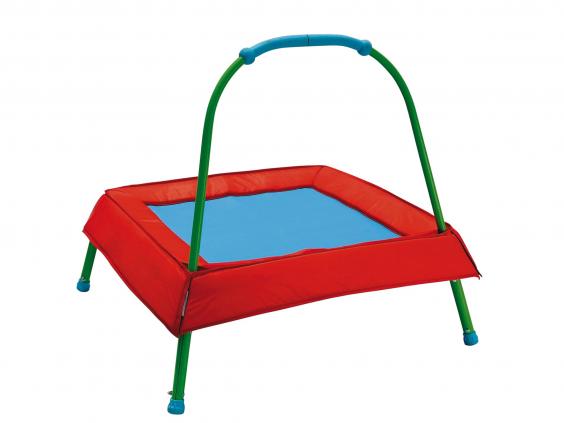 Toddlers love bouncing more than kids of any other age, making this trampoline with safety padding and an easy grip handle a great investment for younger children to help improve coordination and balance. Think of it as a more affordable version of a bouncy castle to enjoy all year round, either inside or out.
4. Springfree Oval Trampoline, £1,045, toysrus.co.uk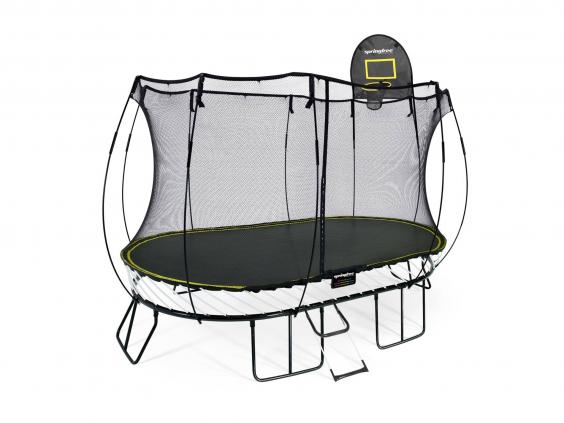 Springfree trampolines, which are sold in 29 countries and which are endorsed by Royal Society for the Prevention of Accidents (ROSPA), were designed by New Zealand engineer Keith Alexander, after he was shocked to discover the extent of trampoline related injuries among children. Following 15 years of injury prevent research, he created this safe, spring free option.
5. Skyhigh Plus Trampoline, £340, amazon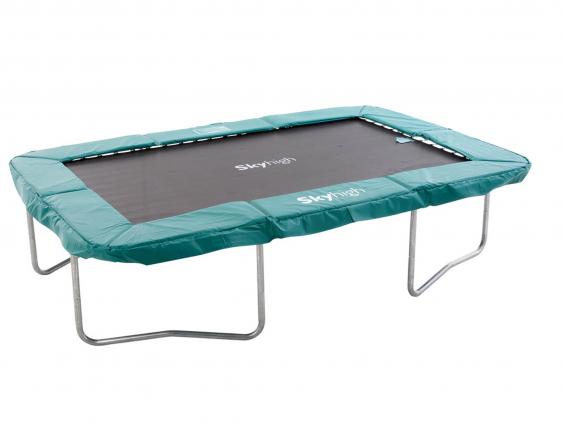 The thickness of the pads and the number of springs in this trampoline means it's far superior to most others in this price range. The rectangular shape means it will fit into most gardens and enables you to practise tricks, jumps and precision bouncing. You can use it how it is or dig it into the ground so that the bed is ground level. Alternatively, you can buy a safety enclosure.
6. Plum Junior Trampoline, £100, elc.co.uk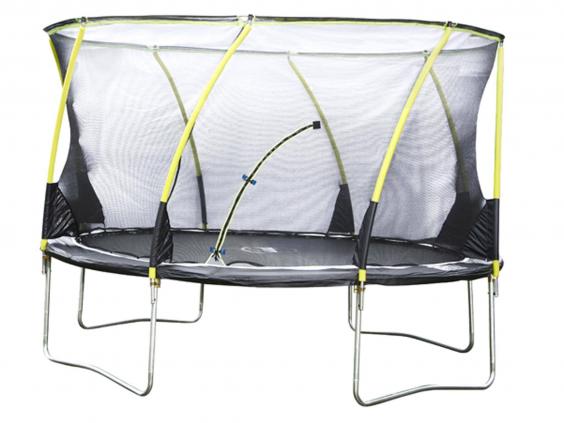 This colourful trampoline is a good option for younger children, who are just discovering the joys of bouncing outside. Helping to increase balance, strength and coordination, it has a safety net to provide confidence and safety and it's small enough for most garden sizes. The enclosure keeps the user in a safe area, reducing the risk of falling.
7. Reebok Trampoline, £60, johnlewis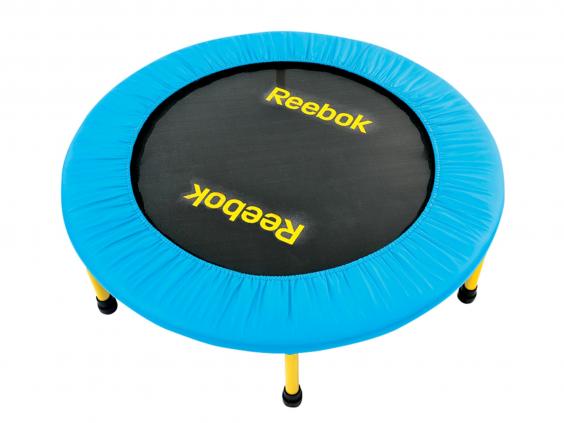 Who says trampolines are only for kids? Adults have long used small trampolines for low impact workouts, which are proven o help reduce stress and tone muscles. This one from Reebok has  a sturdy six-leg platform and solid spring system. It's washable and folds down flat, making it simple to store.
8. TP Genuis 2 Octagonal SurroundSafe, £350, johnlewis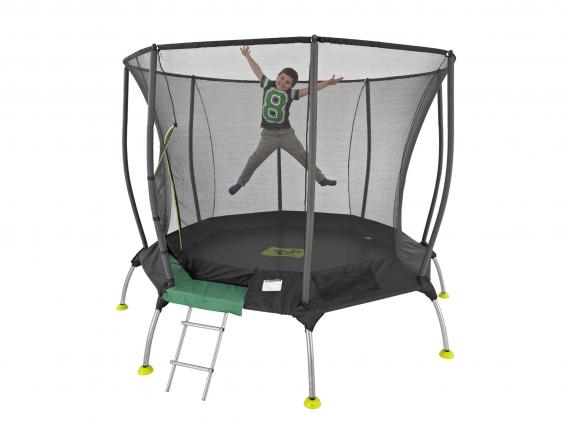 This claims to offer more than one million bounces, which should keep kids busy for a few years. But its real stand out point is the octagonal shape, which provides a more predictable vertical bounce than round ones. Safety features include the springs being inaccessible from inside the trampoline, and this latest version has a new patented igloo-style door for extra play value.
Verdict:
The Springfree Oval Trampoline has a brilliant safety record, but it does come with a very large price tag. The JumpKing JumpPOD Oval is your next best bet – a fabulous all rounder that blends well in a garden and really is built to last and with safety in mind. Still too expensive? Plum is renowned for their high quality outdoor toys and we think their Whirlwind Trampoline is one of the best trampolines available.