Wearable technology has evolved in leaps and bounds since the days of the cumbersome pedometer that could be strapped to your waistbands but inevitably ran out of battery ten minutes into your run.
Watches and other devices have become smarter, sleeker and more sophisticated and the market is now jam-packed with price tags to match most budgets. You can expect everything from GPS tracking and heart-rate monitoring, all the way up to barometric altimeters on the more expensive models. 
With summer approaching and marathon season in full swing, now is the time to supercharge your run with one of these great gadgets, helping you to keep track of your progress and achievements more easily than ever before. 
We tested them in the parks and on the roads of London, and on treadmills across the city. Here are our top picks. 
1. Fitbit Blaze: £139.95, John Lewis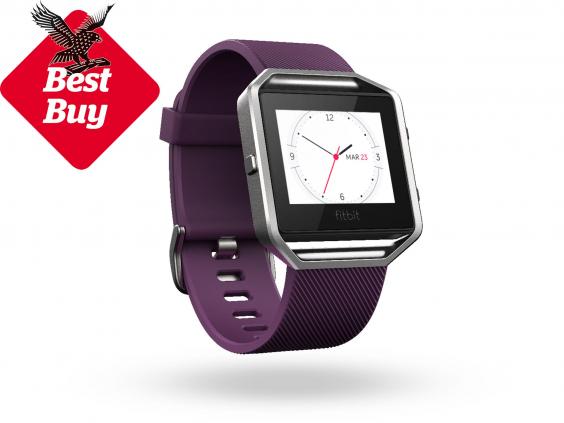 The Blaze boasts all the same features as the Charge 2 (featured below), but this one has a bigger screen and also offers a special function called "Fitstar", which essentially transforms it into a mini-personal trainer on your wrist, with instructions for your work-out flashing up on-screen. If you want to blast your abs and transform your run into a whole-body workout, then Fitstar is your friend. Unlike the Charge 2, the Blaze also allows you to turn off incoming call alerts if you don't want to be disrupted when you head out for that run; perhaps a small detail, but one that can make all the difference when you're in the zone. The main difference between the two Fitbit models featured here, though, lies in the design. The Blaze has a bigger face and a gunmetal casing, which some reviewers have said make it look slightly more masculine than the Charge 2, which is a sleek band. But it's not as bulky as many of the other pieces on the market and is, in fact, slimmer even than the Apple Watch. 
2. Fitbit Charge 2: £99.95, John Lewis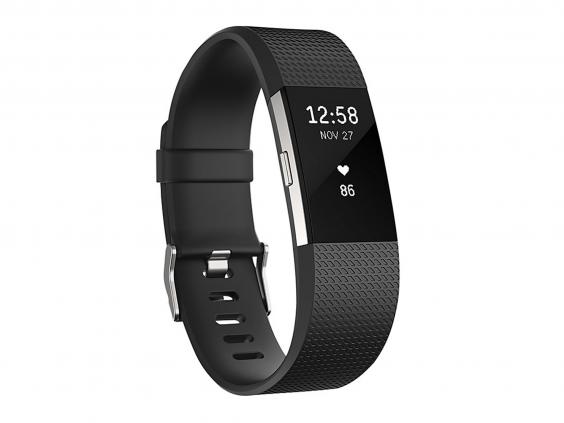 This is a great model for people who are looking to incorporate more general exercise into their lives. It's very easy to use and once it's charged up its ready to go. It continuously monitors your heart rate, step count and sleep, tracks calorie and water intake, reminds you when you haven't moved for a certain period of time, and also has a function that provides guided breathing sessions for relaxation. For running, it records distance, pace and time, but in order to get more granular details, like a map of the route or a mileage breakdown, you need to log on to the app (available on iOS, Android and Windows). The interchangeable strap is relatively narrow and unobtrusive, so fits well under a sleeve. And the display is four times larger than the previous model's, so it's easy to read, even while on the go. It's also the cheapest of the bunch when it comes to reliable, sophisticated running watches, so if you're keen to give a fitness tracker a spin but not sure you'll commit, then this might be a good choice. 
3. Garmin Forerunner 35: £144.99, John Lewis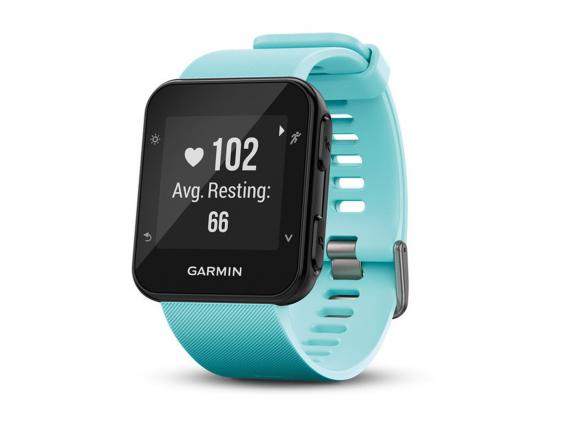 Visually the Garmin Forerunner 35 might not quite live up to some of its peers. It looks a little dated and the screen is monochrome and not touch sensitive, but what it might lack in design it tries hard to make up for in function. It hasn't got the ability to track things like stride length, which some of Garmin's pricier models do, but it does offer a great overview of stats while you're running and gives you the ability to switch between various screens to very easily monitor distance, time and pace, heart rate zone, current heart rate and calories burned. The strap, while aesthetically perhaps not to everyone's taste, is really comfortable and easy to put on and take off, even on a sweaty wrist. 
4. Garmin Fenix 3 HR: £333.07, Wiggle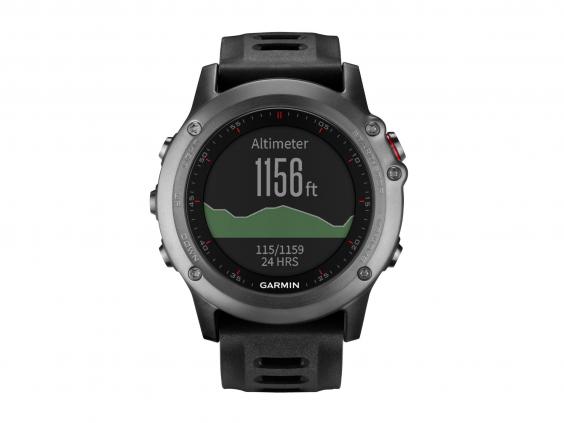 One of the pricier models out there and a veritable treasure trove in terms of function, the Garmin Fenix 3 is an all-rounder for the multi-discipline athlete. It may be able to do plenty, but wearing it can feel like a bit of a workout in itself. It weighs 82g and stands 16mm from the wrist, making it much chunkier than many other watches out there, so not ideal for the delicate-wristed sportsman or woman. But it also packs a serious punch when it comes to functions: motion sensors, a barometric altimeter, an electronic compass, a heart rate monitor, Bluetooth and wifi are just some of the strings to its bow. It tells you when the sun sets and rises and has functions specifically designed for anything from skiing to stand-up paddle boarding.
5. Suunto Spartan Sport: £399, Cotswold Outdoor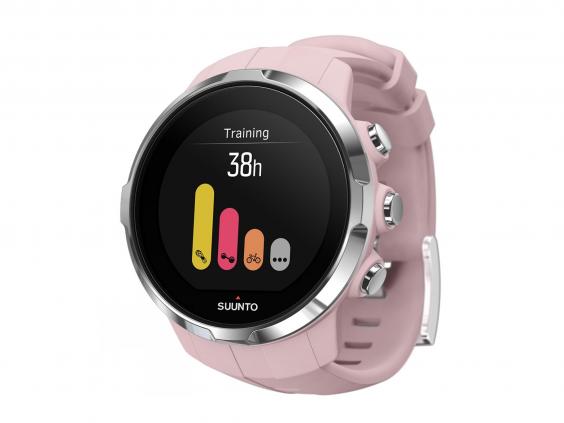 This is another fairly bulky model, but the classic-looking watch face gives it a much more elegant feel than some of its competitors, and makes it just as wearable to work or dinner as on the track or in the gym. The Finnish brand, which has its origin in compasses, is not as well known in the UK as some of its peers, but the Spartan Sport steps up to the challenge of providing really simple and efficient no-nonsense tracking. Like the Garmin, it can also be described as a bit of an all-rounder. It has a colour touch screen, a compass and about 16 hours of battery life while in training mode. As is to be expected of the price tag, its GPS is reliable, and it offers tracking features for more than 80 sports. It's also water resistant down to 100 metres. The strap is particularly comfortable, even in warm weather. 
6. Polar M200: £129.50, Polar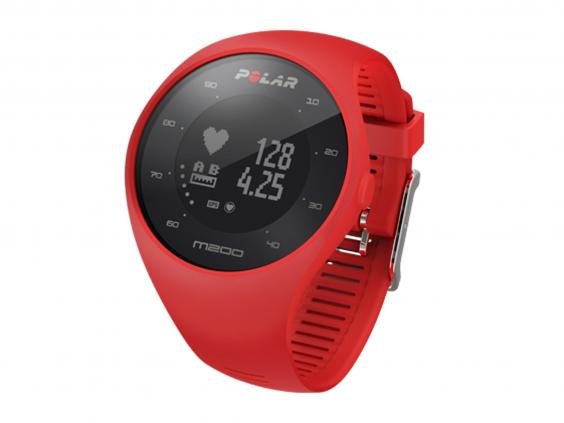 A lot can be said for simplicity when it comes to running watches and, for this reason, the Polar M200 stands out from most of the pack. It's more affordable than many of the other models and you barely need the instruction manual. In terms of design, durability is the first thing that comes to mind, so it might not be a natural accessory for a black tie event and doesn't have the most comfortable strap on the market. It's not touch screen and just has two buttons, but it's refreshingly instinctive to use. It tracks all the most important measures by GPS and we were impressed by its accuracy when running. The sleep tracker on it is not quite as accurate as Fitbit's, for example, but as a basic running companion with all the essentials and none of the excessive bells and whistles, you can't go wrong with the Polar.
7. Apple Watch Series 2: £369, John Lewis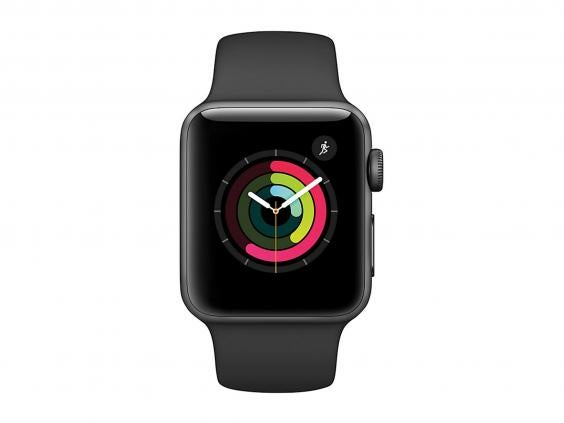 The Apple Watch Series 2 doesn't pack in all of the advanced features that some of the more specialist running watches have – you'll only get limited information on your location, your times and speed, for instance. But what it lacks in technical features it more than makes up for in style and ease-of-use, and as well as being a running watch it's also a brilliant activity tracker, a communications device, notifications centre and normal timepiece. Apple has done a lot to improve the Series 2 over the original Watch, and it now boasts waterproofing and an in-built GPS so that you don't need to carry your phone along with you. That adds to all the existing features, like easy ways of getting your music from your phone to your watch, and plenty of social features for competing with your running friends.
The Verdict: Running watches
If you're a runner with an all-around interest in health and wellbeing who's looking for an accurate, easy-to-use fitness tracker that you can keep wearing once you've stopped training, and if you don't want to completely break the bank, then the Fitbit Blaze is your ideal training buddy.
IndyBest product reviews are unbiased, independent advice you can trust. On some occasions, we earn revenue if you click the links and buy the products, but we never allow this to bias our coverage. The reviews are compiled through a mix of expert opinion and real-world testing
Reuse content